A fan's guide – the club from early doors to today
Five-time Bosnian champions, twice champions of Yugoslavia, FK Sarajevo are owned by entrepreneurs from the Far East and sponsored by Turkish Airlines, who see potential in this club founded in the immediate aftermath of World War II.
Eternal rivals of working-class railway team Željezničar, the Bordo-bijeli, the Maroon-and-Whites, always attracted the better connected members of Sarajevo society.
Based at the Koševo City Stadium, the Olympic Stadium that staged the opening ceremony of the 1984 Winter Games, FK Sarajevo also benefit from a contemporary training centre. Opened in 2015 in Butmir, near Sarajevo airport, it was financed by Vincent Tan, the Malaysian owner of Cardiff City who now has a 30% stake in FK Sarajevo.
Outside the complex stands a statue of FK Sarajevo legend Želimir Vidović, an ethnic Serb, who was executed by Serbian forces while transporting injured civilians during the Siege of Sarajevo in early 1990s.
The key figures from the club's earliest beginnings in 1946 had similar complex backgrounds. Once SD Torpedo were founded from a merger between Udarnik and Sloboda, they became a key Sarajevo institution in post-war Yugoslavia. As was the case in other Communist régimes, this club enjoyed certain privileges, and attracted the best local players of the day.
The club's first chairman was Safet Džinović, who had fought with Tito's Partisans during World War II. The name change from the Moscow-pleasing Torpedo to Sarajevo was suggested by the editor of the Partisan newspaper Oslobođenje.
By contrast, the player-manager who soon led FK Sarajevo to their first major honour, the Second League title, and promotion to the top Yugoslav tier, was the Miroslav 'Meho' Brozović, a member of the national team of the Nazi puppet state of Croatia during World War II. He would twice return to Koševo, and win FK Sarajevo their first Yugoslav title in his retirement season of 1966-67.
Back in 1947, the authorities built a stadium for the club, cut into the hillside of Koševo, which would also host Yugoslavia international matches and major athletics meets.
FK Sarajevo maintained a regular presence in the top division, holding their own against the top sides from Belgrade, Zagreb and Split, and usually coming out on top in passionate derbies with Željezničar from 1954 onwards. Scoring the goals was Asim 'Hase' Ferhatović, more than 100 in a maroon-and-white shirt, his last season coinciding with the swansong of manager Brozović, and that Yugoslav title. The Koševo stadium later took the striker's name.
For their debut campaign in the European Cup, Sarajevo pushed eventual winners Manchester United reasonably close in the Second Round, Best and company playing out a 0-0 draw in front of 45,000 at Koševo, then winning 2-1 at Old Trafford.
The next European appearance, and top-class Sarajevo team, came in the 1980s. A teenage attacking midfielder, Safet 'Pape' Sušić, had arrived from Krivaja Zavidovići and ended the 1979-80 season as top league scorer. Although he left for a stellar, decade-long stint at Paris Saint-Germain in 1982, Sušić is considered the best Bosnian player of all time.
The team he left behind also included later Betis and Sochaux defender Faruk Hadžibegić, later five-time Sarajevo manager, striker Husref Musemić, and attacking midfielder Predrag Pašić, who earned himself a transfer to Stuttgart with his player-of-the-season performance in 1984-85. It was enough to claim another Yugoslav championship.
With a mass exodus of players, Sarajevo failed to spark at home or in Europe. The club's last game in the Yugoslav League, a defeat at Red Star Belgrade, came one day before the Siege of Sarajevo started in April 1992.
The team managed to escape the city to fly to Split and play a series of humanitarian friendlies around Europe, Asia and the Middle East. Sarajevo also competed in the first, skeleton, Bosnian League in 1994-95. Derby games with Željezničar were reinstated – Sarajevo won their first Bosnian Cup in 1997 thanks to a victory over their city rivals – and took a first Bosnian title in 1999.
Denied European qualification as a play-off with the Croat Herzegovina divisional winners never took place, Sarajevo had to wait until another league title in 2007 before they were able to shine in Europe's premier club competition. Beating Belgian League runners-up Genk on aggregate, Sarajevo failed to reach the group stage of the Champions League at the final qualifying round.
Two years later, Sarajevo narrowly missed out again, when Cluj gained qualification to the Europa League group stage thanks to a 3-2 aggregate win.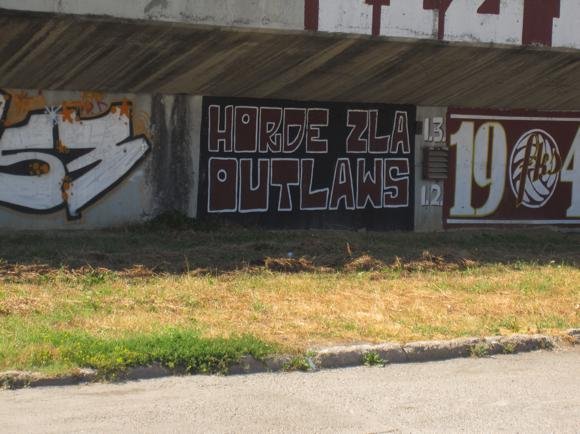 By the time Malaysian billionaire Vincent Tan arrived in December 2013, he had already owned Cardiff City for more than three years. Apart from a win against Cardiff's Under-21 side, changes resulting from the takeover did not become apparent until 2014-15, when Sarajevo claimed the scalps of Haugesund and Atromitos in the Europa League before falling to Borussia Mönchengladbach at the Play-Off stage.
In the league, 26,000 crammed into the Koševo Stadium to see Sarajevo and Željezničar play out a 0-0 draw. FK would go on to win the title by three points over their city rivals, goals coming from Macedonian international striker Krste Velkoski.
Two years later, he returned to partner experienced Bosnian international Mersudin Ahmetović up front. Scoring 68 goals in 33 games, in 2019 Sarajevo broke Zrinjski Mostar's stranglehold on the Primijer Liga and completed the double by beating Široki Brijeg over two legs in the Bosnian Cup final.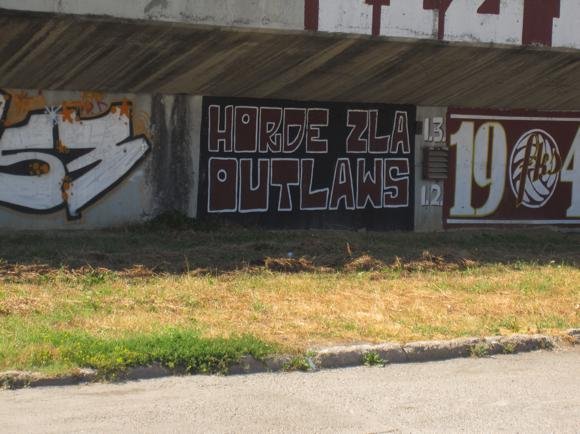 The field of dreams – and the stands around it
Opened in 1947 shortly after FK Sarajevo were founded, the Koševo City Stadium has long been Bosnia's national stadium, hosted the opening ceremony of the 1984 Winter Olympics, international athletics meets and major events such as the post-war U2 concert of 1997 and the visit of Pope that same year. After up to 70,000 had gathered for Bono and John Paul II, the installation of individual seats the following year halved capacity.
Bosnia's national football team, meanwhile, preferred the talismanic and more intimate Bilino Polje Stadium in Zenica. Even the Under-21 vacated Koševo for the Bosnia FA training centre in Zenica.
Football passion at the Koševo, also named after former FK Sarajevo star Asim 'Hase' Ferhatović, was reserved for derby day or European games involving either rival side. It was here that Željezničar would took on Alan Shearer's Newcastle in the decisive qualifying round of the Champions League in 2002, in front of 38,000.
Which is not to say that Sarajevo's Horde Zla don't generate noise and colour in the north end, the Tribina Sjever. Depending on numbers, away fans are given most of the south end, the Tribina Jug (B1-B4). Older Sarajevo fans sit on the east side in the Tribina Istok, press and VIP on the west side, Tribina Zapad.
Going to the stadium – tips and timings
Koševo is between two steep main roads, Patriotske lige and Alipašina, north of town. Bus 20 runs up Patriotske lige to the Stadion Koševo stop on the east side, buses 12A, 14A, 15A and 16A to the Stadion Koševo stop on the west side and south, away end.
A taxi from town would only be around 6KM/€3.
Buying tickets – when, where, how and how much
Tickets are distributed through KupiKartu, either at exchange offices in Sarajevo's main shopping centres, such as City Centre by Marijin Dvor tram stop or travel agencies such as Kompas at Maršala Tita 8. KupiKartu also sells online.
On match days, tickets go on sale from the blagajna windows around the concourse as you walk down from Patriotske lige to the stadium.
For domestic fixtures, tickets are around 3KM-4KM/€1.50-€2 for the Tribina Sjever, 8KM/€4 for the Tribina Istok and €12/€6 for the Tribina Zapad. For major European games, it's 5KM/€2.50, 12KM/€6 and 15KM/€7.50.
Shirts, kits, merchandise and gifts
The main club shop is in town at Maršala Tita 38B (Mon-Fri 8am-5pm, Sat 10am-1pm), with another outlet (Mon-Fri 10am-8pm, Sat 10am-2pm) in the historic centre in the Gazi Husrev-begova retail hub Bezistan, by Zelenih beretki and the Hotel Europe. You can also find Sarajevo and Željezničar tracksuit tops and shirts at the stalls near Baščaršija Mosque in the old quarter.
Sarajevo scarves are displayed for sale on match days around the concourse just off Patriotske lige.
Pre-match beers for fans and casual visitors
Between Patriotske lige and the main entrance to the stadium, the Restoran Stadion is the ideal spot pre-match, a friendly local bar/restaurant with the scarves and shirts of visiting fans – Hearts, Feyenoord, Valencia – hanging in a goal net dividing the bar area from the dining tables. Seats are also set up outside.
Also on this side of the stadium, on the main road, the Caffe Bar Dundee at Patriotske lige 29 is a comfortable shisha bar with football shown and coffee, soft and energy drinks also served.
If you're walking up Patriotske lige from town, halfway up, the Restoran Maksumić at No.20 is a classic Bosnian grill restaurant where affordable meat favourites such as ćevapi and pljeskavica are wolfed down with Sarajevo beer.