A fan's guide – the club from early doors to today
Polish champions again in 2021, Legia Warsaw also top the all-time league table. Legia's passionate fan base and Warsaw location have encouraged foreign investment and brought recent success. Legia play at the rebuilt Polish Army Stadium, where features include a statue of all-time best player Kazimierz Deyna.
There's also a club museum. Its displays begin with paintings of mounted Polish officers in World War I uniforms who formed the club in 1916. Legia's first game was against city rivals Polonia, in 1917. Ten years later, Legia played in the inaugural Polish league.
In the immediate post-war restructure of the Polish game under Communism, Legia became CWKS, the Central Army Sports Club, around the time that a striker arrived from Lvov, later influential coach. Kazimierz Górski.
Górski had bowed in 1953, two years before CWKS won their first title, successfully defending it in 1956. Taking over from Górski as star striker was Ernst Pol, still all-time top scorer in the Polish league.
With Legia regaining their original name but retaining state support, Górski returned as coach. Under his charge, defender Jacek Gmoch came into his own, helping Legia win two more Polish cups in 1964 and 1966.
That year, Czech coach Jaroslav Vejvoda arrived from Dukla Prague, Kazimierz Deyna from Łódź and Robert Gadocha from Kraków. Deyna established himself as a creative midfielder, Gadocha as a prolific left-sided forward.
Legia finished league runners-up in 1968, winning the title in 1969.
In the European Cup, Deyna scored late goals in each leg to beat a strong St-Étienne side. Eventual 1970 winners Feyenoord beat Legia in the semi-final, though Deyna's team retained the domestic title. They made it through to the European Cup quarter-finals the following season, but lost out on away goals to Atlético Madrid.
Goalkeeper Jan Tomaszewski arrived from his native Wroclaw and, along with Deyna and Gadocha, he became part of a promising Poland side under former Legia legends Górski and Gmoch.
Winning the Olympic gold with Deyna and Gadocha in 1972, the following year Poland beat England 2-0 in Chorzów before famously drawing at Wembley 1-1. Tomaszewski's heroic performance helped Poland achieve qualification for the 1974 World Cup, and an eventual third place.
Both Deyna and Gadocha left for America, and players such as Dariusz Dziekanowski came in, Legia twice winning the league under coach Pawel Janas in the mid 1990s. It was a fellow Pole, Krzysztof Warzycha, who ended Legia's best run in the Champions League, a quarter-final defeat by Panathinaikos in 1996.
Fans' favourite Artur Boruc was the next major arrival, playing keeping goal for part of the successful campaigns of 2001-02. Behind the scenes, a complex and long-winded legal battle dragged on between Legia's majority owners, Korean transport company Daewoo, and the Polish military who owned the stadium and land around it. Eventually the City of Warsaw took over the ground, and new club owners ITI signed a deal to rebuild the stadium from 2006 onwards.
On the pitch, returning striker Marek Saganowski was a major factor in the title win of 2013, along with Serbs Miroslav Radović and Danijel Ljuboja. The latter's departure for Lens in 2013 allowed Georgian Vladimir Dvalishvili to shine in 2013-14.
Legia seemed set on progress in the subsequent Champions League, the Polish champions beating Celtic 4-1 in Warsaw and 2-0 in Glasgow. However, four minutes then cost Legia dear, coach Henning Berg having brought on defender Bartosz Bereszyński in the 86th minute of the second leg, the tie already won. Quite amazingly, UEFA awarded it to Celtic and despite Legia's appeals to the Glasgow side's better nature, the decision stood.
In 2016-17, a win over Dundalk sent Legia to the group stage at last, having won another Polish title thanks to a hatful of goals from Hungarian international striker Nemanja Nikolić. Heavy defeats by Real Madrid and Borussia Dortmund were counterbalanced by a pulsating draw against the Spanish title-holders in an empty Legia stadium – then a win over Sporting Lisbon in a packed one. Rare European football into the new year saw a tight tie with Ajax end in a solitary goal for the Dutch side over two legs.
Despite dismal failure in Europe to teams from Kazakhstan and Moldova, Legia went on to win a third consecutive league title in 2017-18, an away win at Lech Poznan in the last round considered valid despite fan trouble preventing the match from running a full 90 minutes.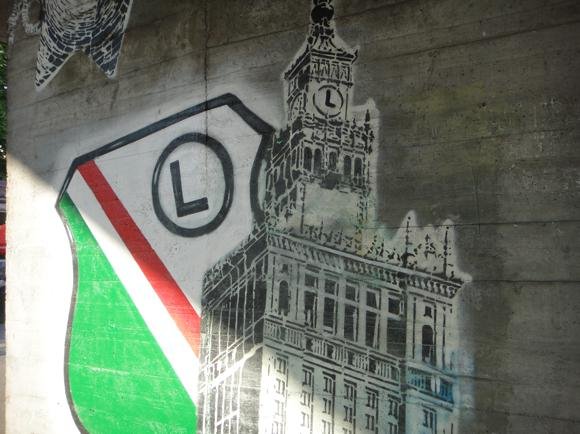 The field of dreams – and the stands around it
The Stadion Wojska Polskiego ('Polish Army Stadium') has been the home of Legia Warsaw since 1930.
With the setting up of the Polish league in 1927, Marshal Piłsudski, whose forces had formed Legia just over a decade earlier, financed the building of a one-stand stadium in Śródmieście on the west bank of the Vistula.
While the rest of Warsaw's Old Town was flattened during the war, the stadium survived. During the Deyna era, it hosted a number of key international matches, nearly 24,000 packed in for the visit of Feyenoord in the European Cup semi-final of 1970.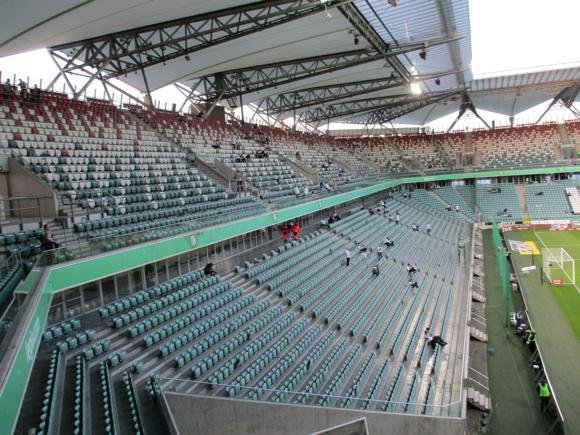 More European progress in the 1990s turned focus onto the urgent need for modernisation. Drawn-out discussions over ownership were eventually settled when a €110 million rebuild was agreed upon in 2006.
All the stands, two-tiered and roofed are new, though the original façade of the old Kryta one from yesteryear has been kept. Opposite, the East Stand has been named after Kazimierz Deyna, whose statue was mounted outside the home Žyleta stand on the eve of Euro 2012. Originally the East Stand, Žyleta is now the nickname of the North Stand behind the goal – the pitch was slightly reoriented during the rebuild.
Away fans are allocated four sectors (121-122, 221-222) in the nearest half of the South Stand (Trybuna Południowa) to the West Stand (Trybuna Zachodnia), by the Piaseczyński Canal.
Capacity is 31,000, 33,600 if standing places are made available.
Going to the stadium – tips and timings
Several buses serve the stadium. The easiest way to get there is to head to Politechnika metro station, then take one of five buses (the 143, 182, 187, 188, 523) to Rozbrat four stops away. This puts you on the bridge overlooking Łazienkowska and the stadium – there will be a huge match poster on one of the residential blocks.
Alternatively, from Jasna near the central metro station of Świętokrzyska, the 107 (every 15mins) takes 15-20mins to reach Legia-Stadion on Łazienkowska, eight stops away.
A taxi from the city centre shouldn't cost more than 20zł, less from Politechnika metro station.
Buying tickets – when, where, how and how much
The ticket office (Mon-Fri 11am-7pm, Sat 10am-5pm, Sun 11am-3pm, pre-match days, match days from 8am) is on Łazienkowska, by the club shop, museum and sport bar. The POK office next door also distributes Fan Cards (Karty Kibica), without which locals cannot purchase tickets for any domestic fixture. Fan Cards are also available online for Polish nationals. Foreign nationals should be able to buy match tickets in person upon production of a passport or ID card, without having to purchase Fan Card – but cannot purchase online.
Prices start at 40zł (32zł for children), 50/40zł for better seats, 65/52zł for the best. They rise by about 30% for prime games, such as the visits of Wisła Kraków and Lech Poznań.
Shirts, kits, merchandise and gifts
The large, bright Legia shop (Mon-Fri 10am-7pm, Sat 10am-7pm, Sun 10am-4pm, match days) by the sport bar and ticket office on Łazienkowska proffers shirts home and away, as well as stylish Legia T-shirts featuring a map of Warsaw.
Also on this side of the stadium is a Warsaw Fans' Shop and an outlet for Legia ultras Žyleta, while over the footbridge, the Sklep Kibica selling more striking gear related to Legia's crew and Polish translations of hooligan literature from England. Further along on this side of the road are stalls lined with various Polish football scarves.
Explore the club inside and out
Legia's excellent museum (Mon-Fri 11am-7pm, Sat, Sun 10am-4pm, free) opened in April 2006, on the 90th anniversary of the club's foundation. Collated by Wiktor Bołba and fellow Legia fans, the collection tells the story of the club from 1916 onwards. Old shirts, vintage photographs and archive press cuttings illustrate a century of football history.
Pre-match beers for fans and casual visitors
The sport bar/restaurant Łazienkowska 3 (Mon-Fri 9am-10pm, Sat 11am-10pm, Sun noon-9pm) by the club shop and ticket office is one of the best of its kind. This expansive and tasteful establishment displays archive black-and-white shots from the club's history, each framed by celluloid strips for retro effect.
There's also a kids' area with a table football table, and themed dishes on the menu. The house speciality is the Rogal Deyny ('Deyna bagel'), created to a recipe by the late Legia star's wife, its shape inspired by the 'gravity-ignoring curve' of the great midfielder's goal against Italy at the 1974 World Cup. 'Bagel' is doing it a disservice – this is a hulking crescent roll stuffed with meat, complemented by salad and, ideally, a glass of draught Žywiec beer.