A fan's guide – the club from early doors to today
Twice champions of Poland, Śląsk Wrocław are based at one of Poland's stadiums built for Euro 2012, the Stadion Miejski, recently renamed the Tarczyński Arena Wrocław. The Wojskowi have dipped their toes several times in Europe since winning their second league title that same year.
Considering this is the flagship club of the third largest city in Poland, however, silverware has been pretty scant when compared to Warsaw, Poznań or Kraków. The reason for this relatively modest return could lie in Wrocław's fractured history. For the first half of the 20th century, this was a German city, whose football teams were integral to the regional set-up of Greater Germany.
Not only did Wrocław, as it became known after Breslau, lose almost its entire German population after 1945, including several renowned players, the city and its German-built stadiums lay in ruins after one of the worst sieges of the war.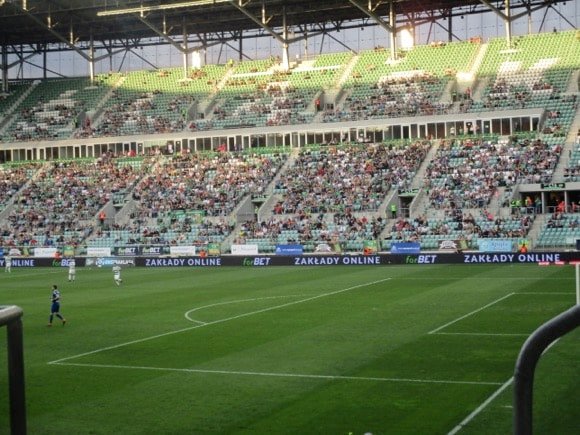 Though resources were extremely limited, the formation of sports clubs boosted morale and lent a sense of normality returning. Wrocław was also rediscovering its Polish character following centuries of Hungarian, Habsburg and Germanic rule.
Of the tens of thousands of Poles arriving here for the first time, a group of officers from the sapper corps in Przemyśl, near the newly created border with the USSR, decided to establish their local identity by setting up the Klub Sportowy Pionier. The following year, 1947, they merged with Podchorążak, formed by army officers, to become Legia Wrocław.
Unlike in Warsaw, where the name Legia ('Legion') prevailed, here only the nickname stuck: Wojskowi or 'military'. By 1957, the club was Śląsk Wrocław, based at the Stadion Oporowska, a hangover from the pre-war German era. Except for the stand-out season of 1963-64 which ended in a first promotion to the top flight, little of note happened until the mid-1970s.
Though the club had had to let later World Cup goalkeeping hero, locally born Jan Tomaszewski, go to Warsaw, Śląsk welcomed the arrival of defender Władysław Żmuda, voted Best Young Player of the 1974 tournament in which Poland surprised many by taking third place.
It was another Władysław Żmuda who led Wrocław to their first league title in 1977, a low-scoring but well-drilled side whose key players – goalkeeper Zygmunt Kalinowski, midfielder Jan Erlich, striker Zygmunt Garłowski – were on the fringes of the national squad.
Having made their European debut in the UEFA Cup in 1975, losing to Liverpool at the more prestigious Stadion Olimpijski, Śląsk Wrocław flopped in the European Cup two years later, setting an unfortunate of international underachievement.
Flipping between the top and second tiers, the club nearly folded in the early 2000s when embroiled in a match-fixing scandal. In many ways, the decision in 2007 to grant Poland co-hosting rights of Euro 2012 saved Śląsk Wrocław. Realising they needed a strong home team to be based at the new stadium they would build, the City of Wrocław bought the cash-strapped club and arranged for state-run sponsors to back it.
Achieving immediate promotion, Śląsk earned the wrath of fans in Kraków and Warsaw for being granted a privileged passage back to the top. Lechia Gdańsk, with whom Śląsk supporters enjoy a friendly relationship, were similarly castigated. 
Nonetheless, it was through the hard work of coach Orest Lenczyk, returning to Śląsk Wrocław 30 years after his last spell in the early 1980s, that the Wojskowi rose up the table to claim a runners-up spot in 2011.
A year later, with attacking midfielder Sebastian Mila at the top of his game, Śląsk nicked the title a point ahead of Ruch Chorzów. The club had begun the 2011-12 campaign by leaving behind the Stadion Oporowska and moving into the 45,000-capacity Stadion Miejski, attracting its record attendance soon afterwards when a crowd of nearly 43,000 watched Wrocław overcome the friendly opposition of Lechia Gdańsk 1-0. Games against Zagłębie Lubin and Wisła Kraków remained fierce, with heightened security.
While the logistics of having a home ground out by the ring road on the city's far north-western outskirts barely mattered when Śląsk were riding high, the club soon slipped into a pattern of mid-table finishes and disappointing performances in Europe. A win over Bruges in the Europa League of 2014-15 only led to a 9-1 aggregate defeat by eventual winners Sevilla.
Improved league form in 2020-21 saw goals from the prolific Spaniard Erik Expósito push the Silesians into a European place for the first time in six years. 
The Canarian was still a vital member of the Śląsk squad as 2023-24 unfolded, top league scorer before international break in September 2023. Chances are provided by compatriot winger Matías Nahuel, once of Tenerife.
The field of dreams – and the story behind it
The 45,000-capacity Tarczyński Arena, recently renamed after a local meat conglomerate, is both the home of Śląsk Wrocław as well as a regular stage for international fixtures. Poland have played here a dozen times or so, first facing Italy in a showcase friendly shortly after the stadium opened in 2011.
Most recently, the Eagles took on Wales for a Nations League fixture here in 2022, ten years after the Euros for which the arena was built. Warsaw architects JSK Architekci were responsible for the design, characterised by the Teflon-covered, fibreglass mesh that glows bright green for domestic fixtures involving Śląsk, red and white for Poland internationals. 
JSK did well out of Euro 2012, also designing the national stadium in Warsaw, and new airports in Gdańsk and here in Wrocław. These huge showcase projects carry huge price tags, in this case, 730 million złoty, just over a third of the stadium's counterpart in Warsaw, and borne by the City of Wrocław which owns it.
JSK's concept, of setting the arena in a large esplanade, is fine on the drawing board but in reality, for domestic games at least, nothing really happens here – the surroundings feel barren and windswept, with little reason to linger unless you need to queue for tickets.
Inside does feel intimate, however, a continuous bowl of four single-tiered stands of green seating steeply rising over the pitch. This is the largest league ground in Polish football.
To get a sense of what it's like and take a few snaps, unless you're here leading up to or just after a major fixture, you can access the viewing platform (daily 9am-3pm) in Trybuna D, climbing the 166 steps for a bird's eye view.
The home end is Trybuna B nearest ulica Królewiecka while away fans are allocated a corner of Trybuna D opposite (sectors 127, 225-228, 325-328), nearest main ulica Lotnicza from town. Press and VIPs sit in Trybuna A, nearest aleja Śląska.
Going to the stadium – tips and timings
The stadium is way out north-west from the city centre, in the same general direction as Wrocław Airport.
From central Rynek, trams 3, 10 and 20 run every 10-15mins and take 20mins to reach Stadion Wrocław (Lotnicza), services operating until around 11pm at least.
If you're arriving into town by rail, trains run from Wrocław Główny every 1-2hrs to Wrocław Stadion (journey time 12mins), connected to the stadium by a long overpass.
Buying tickets and snagging merchandise
Two club shops, one behind the home end of the Stadion Miejski on ulica Królewiecka, the other at the club's previous stadium of Stadion Oporowska south-west of town by Pl Srebrny tram stop, sell tickets.
On match days, it's 5zł/€1.15 dearer from the outlet on the stadium concourse nearest tram-lined ulica Lotnicza. Purchased in advance, you pay 25zł/€5.70 in Trybuna B/D behind the goals, 35zł/€8 for most seats in sideline Trybuna C, 45zł/€10.25 for the best seats in A and C. There's an even bigger discount for Polish-only online sales at bilety.slaskwroclaw.pl.
Bottle-green, red and white shirts, scarves and T-shirts hang in both shops and at the Sklep Kibica, plac Nowy Targ 24 in the city centre. Look out for the 'Legends' series of T-shirts, featuring a classic retro photograph of a star from the past with his autograph embossed over it.
Pre-match beers for fans and casual visitors
Before taking the tram from Rynek to the game and certainly coming back afterwards, many fans meet at the U Beatki bar beside Casa de la Musica on the main square, its small interior covered in Śląsk stickers, its terrace busy. A TV in the corner shows matches.
There's little around the stadium itself, the nearest locale being two tram stops or 10min walk away by Metalowców. Zielony Rower Food & Garden at Lotnicza 72 serves both the tennis club next door and local cyclists, rower meaning bicycle. Sporty types can reward themselves with a draught beer, glass of wine or a pizza, and relax on the decked terrace, surrounded by greenery.
The kiosks inside the stadium dispense Tyskie beer (8zł/€1.80) and Polish half-baguette sandwiches, zapiekanka, lathered in ketchup.