A fan's guide – the club from early doors to today
Once the most successful Czech side of the modern era, Sparta Prague dominated the domestic game but failed to make serious in-roads in Europe as star players were constantly being sold to the West. Petr Čech, Tomáš Rosický and Pavel Nedvěd all made their names at the Letná.
The 33-time Czech champions, most recently crowned in 2014, have since been surpassed by Viktoria Plzeň and, perhaps more pointedly, Slavia Prague.
The club was founded as Královské Vonohrady, or King's Vineyard, in 1893. They became AC Sparta a year later. The eternal rivalry between Sparta and Slavia, the 'Derby S' began in 1896 with a friendly match whose result is still disputed to this day.
Attracting working-class support, Sparta earned the nickname Železná, 'Iron', Sparta, because of their fighting qualities. This earned them a string of Czech titles between the wars, plus successful participation in the Mitropa Cup, forerunner of today's European competitions. The star of the day was inside-forward Oldřich Nejedlý, top scorer for finalists Czechoslovakia at the 1934 World Cup.
When the post-war Communist authorities insisted in renaming the club Sparta Bratrství, then Spartak Sokolovo, supporters still called their club Sparta, and the name was officially recognised in 1965. The club won the title that same year, driven by star midfielder Andrej Kvašňák.
Dipping in and out of form, Sparta enjoyed consistent success in the free market economy after 1989. Owned first by Petr Mach, then by the entrepreneurial Rezeš family, Sparta were able to nurture or purchase the best footballing talent in the country. Title winners throughout the 1990s, Sparta made the European Cup semi-final group in 1992 and the Champions League on regular occasions from 1996 onwards.
By then, star of the Euro 96 tournament Pavel Nedvěd had been sold to Lazio after winning three straight titles with Sparta, the second two making the club champions of an independent Czech Republic after the break-up with Slovakia in 1993. Without competition from Bratislava, Sparta could romp home season after season. 
By the time a teenage Tomáš Rosický left for Borussia Dortmund after a stellar performance at Euro 2000, he had already won two Czech crowns. Soon afterwards, Petr Čech was setting national goalkeeping records as an 18 year old newcomer from Chmel Blšany, keeping a clean sheet for 903 minutes. It was a habit he carried over to the Premier League, where his 202 games without conceding won't be broken for a long time.
Although influential coach, former team captain Jozef Chovanec, later left to take over the Czech national side, the players he moulded continued to dominate at home and make progress abroad, Sparta making the second group stage of the Champions League in 1999/2000. Chovanec then returned in 2008.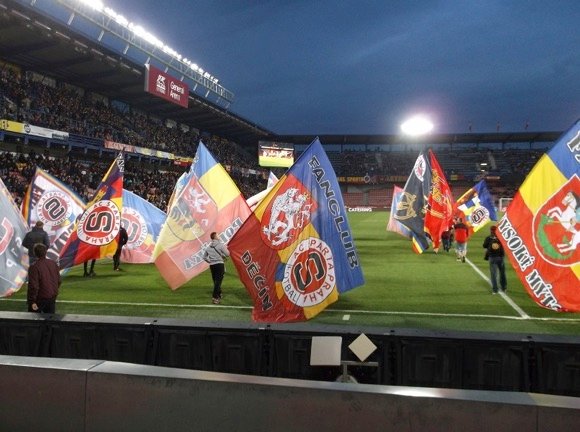 A run of ten championships in 13 seasons briefly ended in 2007, before goals from Ivorian Wilfried Bony helped Sparta to another title in 2010. In 2014, it was Czech Josef Hušbauer who provided the goals, and Tomáš Vaclík who stopped them. 
Both also played a prominent role in the cup final. Hušbauer scored an equalising penalty well into stoppage time against Plzeň, then converting his spot-kick in the shoot-out, while Vaclík produced the decisive save that saw Sparta do the double for the first time since 2007. Tellingly, Hušbauer was sold to a newly moneyed Slavia in 2015, as Sparta's eternal rivals gained momentum.
Sparta kept in the hunt, both at home and abroad. The sale of showcase talent allowed players such as attacking midfielder Bořek Dočkal to shine, his early goal in Rome leading to a 3-0 whitewash of Lazio in the Europa League in 2015-16. He hit another in the home leg of the quarter-final with Villarreal, but a high-scoring tie had already swung in the Spaniards' favour.
Sparta then topped their group the following season, a win over Inter compensating for a heavy loss at Southampton. At home, however, Slavia were in the ascendency, leaving Sparta trailing in their wake. 
Goals from Gabonese international Guélor Kanga led Sparta to long-awaited domestic silverware in 2020, a cup victory over Liberec, and the subsequent European campaign saw Lukáš Juliš return from long-term injury to put five past Celtic in two Europa League group games – but these highlights were all too rate. A year later, Rangers were defeated at the Letná, a 1-0 win avenged by a 2-0 defeat at Ibrox.
As Sparta tried a foreign coach, former Danish international defender Brian Priske, in 2022, after a revolving door of Czech ones, a 4-0 league defeat at Slavia that October showed the mountain he had to climb to push the club back into real contention.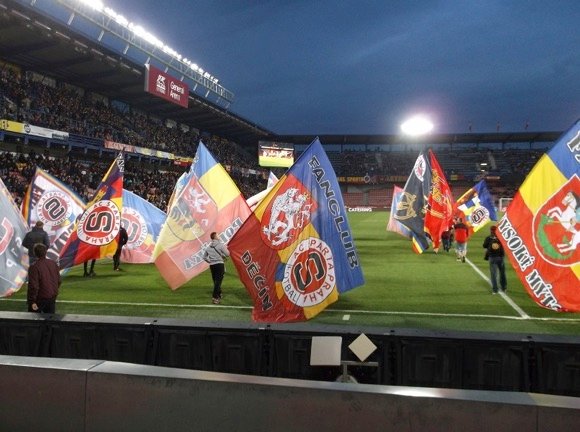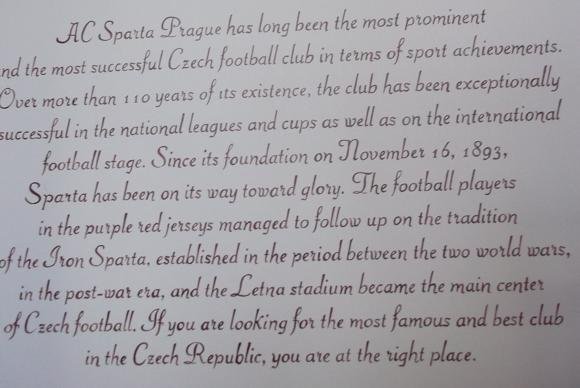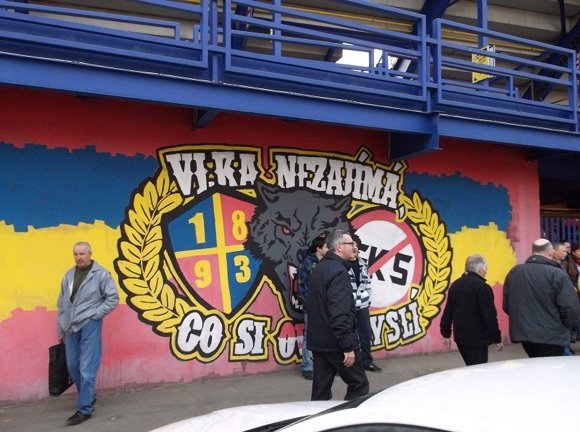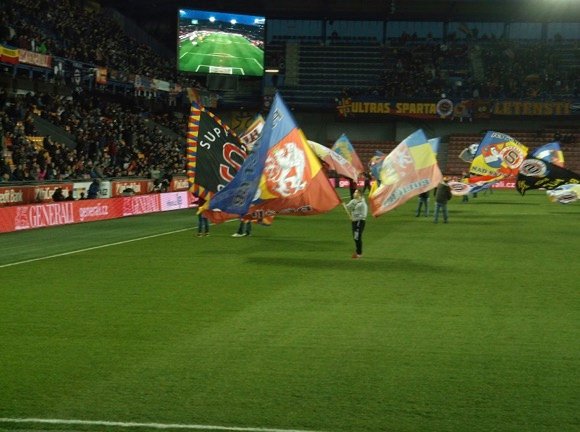 The field of dreams – and the stands around it
The former Generali Arena, renamed the epet ARENA in late 2022, is known by all as the Letná, after the adjacent park and playing field where Sparta first played in the 1890s.
Set near a bend in the Vltava river just north of Prague city centre, the Letná saw modest stands erected as games with Slavia became bigger crowd-pullers. It also played host to the great Czech team between the wars, but all was lost to a terrible fire in 1934, including Sparta's already considerable haul of trophies, two months before Nejedlý and company made the World Cup final that year.
Rebuilt four years later, the Letná continued to host Sparta games to the post-war European era, but by the 1970s its limitations were clear to see. The authorities hired local architect Cyril Mandel, famed for designing other sporting venues in town, to come up with the perfect football stadium.
Built to Mandel's specifications as four neat, enclosed stands, the Letná offers a clear view of the action to home, away and neutral spectator alike. Intimate, too, with plenty of natural light, the Letná became all-seated in the 1990s, and would soon assume the role of Czech national stadium. 
A capacity of just under 20,000 is generally more than enough to suit the modest needs of Czech domestic football – yet small enough to generate atmosphere.
Home fans gather behind the south goal along Milady Horákové, through Gate 1A, particularly in sectors D45-D49 and H37-H38. Away fans are diagonally opposite, through Gate 5, in sectors H85-H86 and D91-D94. Gates 2 and 3 lead to neutral spots along the touchline, Gate 1 to the VIP and press seats.
Going to the stadium – tips and timings
Either take green metro line A to Hradčanská, then walk for ten minutes along Milady Horákové, or take trams 1, 12 and 25 that run the length of this street every 10mins between Hradčanská and Vlatavská on red metro line A.
Buying tickets – when, where, how and how much
The main ticket office is the Zákaznícke Centrum (Mon, Tue, Thur 9am-noon, 1pm-5.30pm, Wed 9am-noon, 1pm-7pm, Fri 9am-noon, 1pm-4pm, match days) on the nearest side of Milady Horákové to Hradčanská metro station. 
Tickets are also available online in English through the club.
Seat prices are cheap, even when raised for European games. Tickets (Kč130-Kč400/€5.50-€17) for league matches go on sale the week before the game.
Shirts, kits, merchandise and gifts
The Fan Shop Letná (Mon-Fri 10am-6pm, match days 3hrs before kick-off, 1hr after final whistle) stands by Gate 1, where Milady Horákové meets U Sparty. 
With a cabinet of fame featuring great former stars on one wall, here you'll find retro Sparta kits, Sparta jigsaws and Sparta toasters, as well as copy of the club's foundation charter. The three stars sitting above the Sparta badge on the first-choice maroon tops represent 30+ titles – away kit is yellow with maroon pin stripes.
Other merchandise, including old-school bobble and bucket hats, show the traditional Sparta colours of blue, yellow and red.
If you're in town, there's an old-school Sparta shop (Mon-Fri 10am-5pm), stocking football paraphernalia among the cycling gear, on Betlémské náměstí.
Pre-match beers for fans and casual visitors
Going for a pre-match drink before a Sparta game depends on which direction you're travelling. If you're coming via Hradčanská metro, then each side of the station are the old-style Restaurace Dejvická filled with vintage beer signs, and the more standard Restaurace Hradčanská over the main road.
Towards the Vltavská end, there's a row of terrace bar-restaurants near Letenské náměstí, one tram stop from Sparta. On the parallel streets of Čechova and Šmeralova, you'll find the lost paradise of Ztracený ráj, with its large, pub-like interior and hefty bar menu. Vegtal opposite is a vegetarian restaurant but not too po-faced to offer al the classic Czech beers in one place.
Over on Šmeralova, Fraktal caters very much to carnivores, with a similar beer selection as it's under the same umbrella. Klub Ajeto is part-bar, part-amusement arcade, with its many games machines and dartboards, but there's pool, too, plus table football, and Gambrinus and Pilsner Urquell on draught.
Nearer Vltavská metro station, U houbaře on Dukelských hrdinů is a standard if cosy bar-restaurant, opposite what was once the wonderful Výčep Železná Sparta bar, filled with images depicting club history. Hopefully, photos of the team in 1909 and Letná in the 1920s have found a good home. It's now a kebab shop.