A fan's guide – the club from early doors to today
Czech champions in 2022, Viktoria Plzeň have picked up six titles in a little over a decade, overtaking Sparta Prague as the only credible challengers to newly moneyed Slavia Prague.
Viktoria are a recent phenomenon. Their string of titles in the early 2010s allowed them to surpass Slovan Liberec, the previous provincial challengers to the Prague duo.
Coached by Pavel Vrba and led by veteran attacking midfielder Pavel Horváth, 'Viktorka' won their first league crown in their centenary year of 2011, when Horváth was named the club's Player of the Century.
Honourable mentions were given to Petr Čech and Pavel Nedvěd, who both played at Škoda Plzeň, as Viktoria were then known, early on in the careers, Plzeň-born Čech from the age of seven.
Yet Viktoria did little before 2011. Formed in August 1911 by a local railway official, Viktoria spent their first two decades taking on other local sides in West Bohemia.
The club turned professional in 1929 and performed creditably in the top flight through the 1930s, when Czech football was at its height. Viktoria achieved a third-place finish in 1933, behind Sparta and Slavia Prague, their teams providing almost all the 22-man squad that made the 1934 World Cup Final.
A new stadium, today's Doosan Arena, was built in 1955, though the post-war period was otherwise unremarkable. Forced to undergo five name changes before becoming Škoda Plzeň in 1965, the club yo-yo'd between top and second flights, the goals of local hero Stanislav Štrunc and a Czech Cup win in 1971 the only highlights.
Gaining back their old name in 1993, Viktoria fared slightly better in the independent Czech league dominated by clubs from Prague, but were still on forced to sell on Čech and Nedvěd.
Viktoria's gradual rise to recent glory was instigated by the 2008 arrival of coach Pavel Vrba from MŠK Žilina, Slovak champions the year before. Equally opportune was the financial crisis at Sparta, who offloaded a number of players to Plzeň. Crucially, this included former Czech international Pavel Horváth.
Winning the Czech Cup in 2010, Viktoria went one better in 2011 by pipping Sparta to the league crown. With goals from Daniel Kolář, Jan Rezek and Marek Bakoš, Plzeň simply outscored their opponents, and stood atop the table for every round from the third week on.
Horváth, Kolář, Bakoš and company then surprised many in Europe, gaining third place in a Champions League group that also contained Barcelona and Milan, and only losing to Schalke 04 in the Europa League in 2012. Napoli, Atlético Madrid and Académica Coimbra were all put to the sword in the same competition a season later.
For the successful league campaign of 2012-13, it was a lean goals-against tally that kept Viktoria ahead of Sparta and Liberec. Slovak keeper Matúš Kozáčik, Plzeň-born back David Limberský and Slovak international centre-back Marián Čišovský provided defensive experience, with midfield dynamism generated by a seemingly ageless Horváth.
Viktoria lost out to Sparta Prague in both league and cup in 2014, the league by a country mile and the cup on penalties. Plzeň picked themselves up to snatch back the league title in 2015, then hold on to it in 2016, Slovak international Michal Ďuriš hitting a purple patch that season before being seeing out his career at lesser clubs in Russia and Cyprus.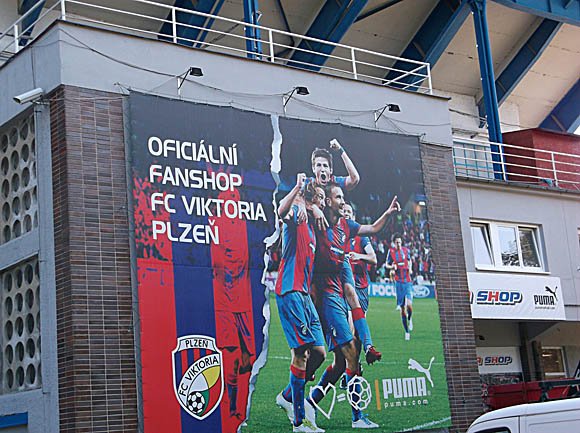 His departure signalled the return of Michael Krmenčík after a string of loan deals had banished him to obscure teams around the Czech Republic. Seizing the opportunity, the tall striker found his shooting boots for Viktoria and the Czech Republic. His goals helped Plzeň record 14 straight wins to start the 2017-18 title race, one that was never in doubt by November. 
Plzeň also came close to reaching the quarter-finals of the Europa League, veteran striker Marek Bakoš hitting a brace to take the Round of 16 tie with Sporting Lisbon to extra-time at the Doosan Arena, but the Portuguese had the edge. The following year, Dinamo Zagreb barred the way one stage before, after Real Madrid and Roma had attracted near full houses to the Doosan Arena during the group stage of the Champions League.
The next such occasion was equally glamorous if disastrous, heavy defeats to Barcelona, Bayern and Inter in 2022. In between, Michal Bílek's Viktoria had pipped Slavia to the Czech title, thanks to goals from French striker Jean-David Beauguel. The former Dukla man had had a previous run-in with Bílek when both were at Zlín in 2018, the forward asking the coach to leave him out of the side after he had signed a pre-contract to go to Plzeň.
The field of dreams – and the stands around it
Refashioned from the original Štruncovy Sady ground and renamed in 2011, the 11,700-capacity Doosan Arena has since staged plenty of European action. The smallest stadium to host Champions League group matches in 2013-14, the Doosan Arena attracted Plzeň's first average five-figure crowd during the successful league campaign of 2012-13.
Viktoria have been based here since 1955, when the Štruncovy Sady hosted a Spartakiad sports festival for West Bohemia. Before then, Viktoria first played local-league games at a field at Královské náměstí, today's náměstí Míru on the city's southern outskirts, before moving to Luční ulica and the Stadion Viktoria in 1930. 
There, just over the river from today's Doosan Arena, the great pre-war Czech stars of the day all played, as well as Mitropa Cup opponents Juventus. Viktoria was destroyed by an American bomber and a subsequent fire in 1945.
Originally holding 35,000, Štruncovy Sady hosted a couple of minor internationals but suffered severe damage during the terrible floods of 2002. Plans were mooted to build a new ground in Bory, south-west of town, but the club went ahead reconstructing Štruncovy Sady – despite its unsuitability for European games.
Work went on through 2011, with Viktoria hosting their European campaign in Prague. In February 2012, Schalke were the first foreign visitors to the revamped stadium.
For European games, away sides are generally allocated no more than 600 tickets, the entrance clearly marked at the far end of the main stand, Hlavní Tribuna. Home fans gather behind each goal, North (Sever) and South (Jih), sections marked 1-5 and 12-15 respectively. Facing the main stand is the Tribuna Východ, or East Stand.
Going to the stadium – tips and timings
The stadium is an easy, shortish walk from both town and station, on the other side of main road Tyršova. Bus 28 stops at Na Rychtářce on Tyršova, but doesn't go through town.
Buying tickets – when, where, how and how much
For domestic league fixtures, the standard price for a seat in either stand is Kč150/€6.30, Kč120/€5 in the corners. There are ticket offices behind either stand. Few matches are complete sell-outs.
Shirts, kits, merchandise and gifts
The modest Oficiální Fanshop Viktoria Plzeň behind the main stand sells branded beer glasses and bottle openers, as well as copies of Pavel Horváth's book Můj Příběh Nekončí – 'My Story Does Not End'.
Pre-match beers for fans and casual visitors
The only bar at the ground is the Retro Grill above the main entrance, offering sausages and Gambrinus beer.
Behind the East Stand (Tribuna Východ), hidden in greenery, is the charming 1.CLTK Plzeň Tennis Club, 'established 1893', with a photo of turn-of-the-century locals in boater hats, long skirts and trousers. Somehow this bucolic little spot with its wooden terrace survived 40 years of Communism.
Just off the main road of Tyršova, Groll is a classic Czech tavern and restaurant, offering Lotr beer brewed in-house according to traditional methods. Named after Josef Groll who created Pilsner in 1842, it screens TV football and provides standard Czech pub dishes.