The field of dreams – and the story behind it
The Wellington Regional Stadium goes by several other names, both by way of description and to fulfil a six-year deal with sponsors. Dating back to 2020, this agreement is with Sky, as in TV – indicative, as this major broadcaster sees value in being associated with New Zealand's hotbed of soccer, home to the only mass fan culture in the domestic game.
Ring of Fire is one of the stadium's nicknames, a reference to its bowl shape and the lively, colourful support within it. This support is provided by fans of Wellington Phoenix, men's and women's teams, aka The Nix, New Zealand's only representatives in A-Leagues otherwise dominated by Australian clubs.
Another nickname for the stadium, somewhat quaintly, is the Cake Tin, describing the lid-like roof that runs atop the bowl, four floodlights fixed to it and Wellington's waterfront beyond.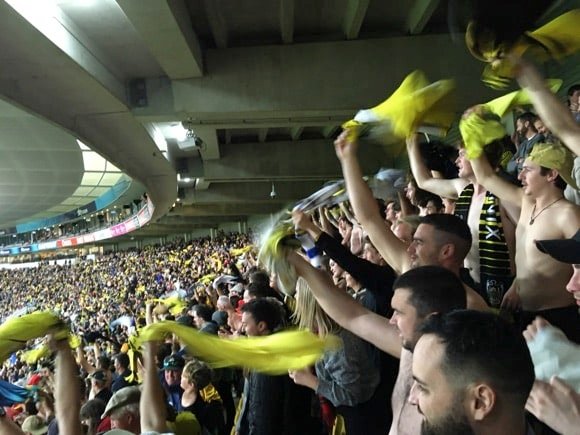 On the city side – central Wellington is a goal kick away – are train tracks, and the stadium was built in 1999 on land reclaimed from the railways. Owners, the regional and city council, now find themselves sitting on a goldmine, of course, and at last the nation's capital has a superb public amenity for major sports events. 
The Rugby World Cup of 2011, the Cricket World Cup of 2015 and several rugby league test matches have taken place here – but most of all, soccer has found a home in this land of rugby.
If New Zealand's men's soccer team, the All Whites, have a vital qualifying fixture, it's going to take place here. The 1-0 win over Bahrain that led to heroics at the South Africa World Cup was played before 35,194 in 2009, then a record for a football match in New Zealand. 
There was a slighter higher gate for the visit of Mexico for the inter-continental play-off of 2013 despite the All Whites taking the field up against a 1-5 aggregate deficit and by 2017, extra seating had helped bring the record attendance for a soccer game in New Zealand to 37,034 for the 0-0 draw against Peru.
The women's national side, the Football Ferns, take on Philippines here in the group stage of the 2023 World Cup, one of nine games here, another highlight being world champions USA v 2017 European champions, the Netherlands.
Official capacity for the tournament is 31,000 although 34,500 could be accommodated, up to 39,000 with extra seating. For domestic fixtures, hard-core Nix fans stand and bounce in Aisles 21 and 22 at the south end of the ground.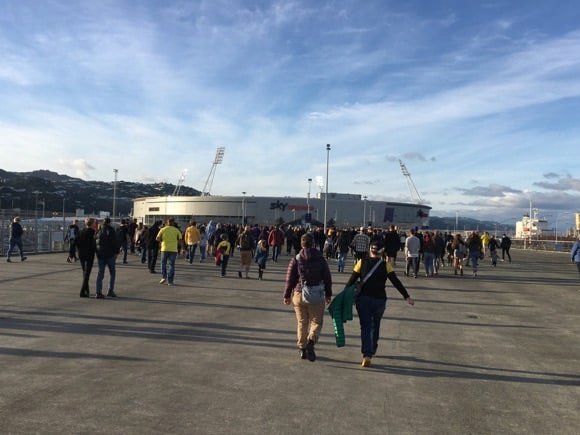 Going to the stadium – tips and timings
From Wellington Airport, an Airport Express AX bus runs every 10-20mins to Wellington station, journey time 30mins, the nearest stop to the stadium. From the platforms or Thorndon Quay just north of the station, an elevated walkway leads you there, allow 7-8mins. If you're at the waterfront, there's a walkway from Shed 21.
For the Women's World Cup, match-ticket holders can ride local buses and trains for free on the day itself.
Payment is otherwise by Snapper top-up card (NZ$10 immediate upload, sold at convenience stores around town – look out for the red fish sign. Touch out before you alight otherwise the full fare will be charged.
From the airport, the AX bus fare is NZ$4, cash or card NZ$5. Metlink public transport mainly consists of buses and trains – you can only pay contactless on the Airport Express AX bus, otherwise it's by Snapper or cash only. There are no ticket offices or machines. Ferries and the Cable Car have a different pricing system.
Pre-match beers for fans and casual visitors
The two classic pre-match fans' pubs sit near Wellington High Court and Parliament Buildings. The Old Bailey on Lambton Quay allows you to start the day with breakfast, move on to a hearty lunch and at some point get stuck into a glass, pint or jug of Monteith's from Greymouth or Tuatara from Paraparaumu. These come in many forms, their wonders to perform, including a specially brewed Phoenix IPA and a Hazy Pale Ale. There's TV sport, too.
The Backbencher on Molesworth Street reopens in July 2023, ready to serve its match-winning cuisine and welcome the yellow army of Nix fans warming up before kick-off.