November 25 is the anniversary of 6-3. In a dark bar in Budapest, simply called 6:3, candles, solemn handshakes and a loop-video replay of the match in question mark another year gone since 1953. Hungary gave England, and the world, a lesson in football, only to lose the World Cup a year later.
The bar theme is no coincidence – it was once owned by Nándor Hidegkuti. His deployment as a deep-lying forward that Wembley afternoon was as crucial, if not as visual, as the famed Puskás drag-back.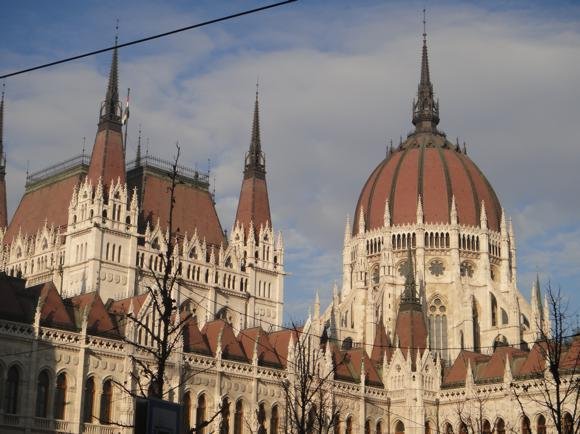 Tactical nous and tradition always characterised Budapest's great clubs – Ferencváros, Újpest, MTK – founded in the late 1800s.
Ferenc Ray, the Hungarian thought to have introduced football from Switzerland, played for neither, but Budapest Torna Club (BTC), inaugural winners of the Hungarian league in 1901.
Touring teams (particularly Southampton) and the arrival of influential English coach Jimmy Hogan from a Viennese internment camp in 1916 helped establish Hungary's superior passing game. MTK's György Orth and Imre Schlosser of Ferencváros (FTC) were among its key early exponents.
Domestic football, dominated by Budapest, turned professional in the 1920s. Hungary reached the World Cup Final in 1938, and emerged from the war with talented duo Ferenc Puskás and 'Cucu' Bozsik playing a modern version of Hogan's game at Kispest, a sleepy suburb of south Budapest.
With the Communist restructuring of sport, Kispest became the army side, Honvéd. Called up were forward Sándor Kocsis, FTC goalkeeper Gyula Grosics, practically Hungary's finest XI, in fact. Along with MTK's Hidegkuti, this formed the 'Aranycsapat', the Golden Team': the Magic Magyars.
After 6-3, Hungary repeated the lesson: 7-1 over England at Budapest's newly opened Népstadion. After the improbable defeat to West Germany at the 1954 World Cup Final, Hungary saw its game cut off in its prime when Honvéd's senior and junior players stayed on tour abroad during the 1956 Hungarian Uprising. Bozsik and Grosics came home – to a broken nation.
Puskás and Kocsis became stars in Spain. Coaches Béla Guttmann, Pál Csernai, and later  Puskás himself, successfully took the Hungarian game abroad.
During the silver age of the 1960s and 1970s, with packed league double-headers at the Népstadion, MTK, Újpest and Ferencváros all reached European finals. Even little working-class Vasas made in-roads.
As state sponsorship withered, the fur coats came out, bundameccs ('fur coat match') local slang for fixed. The game was up. After 1989, poor crowds and poorer football typified any given Saturday. Vác won the title in 1994, and Budapest's century-long near monopoly on the championship was over. All that was left was the FTC-Újpest derby.
With Ferencváros forcibly demoted for financial irregularities, political favour fell on dominant provincial side Debrecen.
Today these same politicians, headed by football-mad Prime Minister Viktor Orbán, have backed a major stadium rebuilding programme across Budapest and Hungary. The former Népstadion, renamed Puskás Ferenc, will open in 2019. The national side, meanwhile, play at the Ft13.8 billion 21st-century arena at Ferencváros. The Groupama Aréna was the scene of wild celebrations in November 2015 when Hungary beat Norway in a play-off for Euro 2016, their first major finals for 30 years.
Elsewhere, league crowds are still pitifully low, even at Honvéd, where a young side won the club a first title for 24 years in 2017. Vasas also enjoyed a mini-revival, gaining a European place, before moving to Újpest for 2017-18 while their own stadium is rebuilt.
As for MTK, also recipients of a new stadium on the same site as the old one, relegation in 2017 has actually meant a slight increase in attendances – though gates couldn't really get much lower. The ground, impressive outside, underwhelming within, is named the Hidegkuti Arena. The deep-lying striker of the 6-3 game would have appreciated the honour – and a Euro 2020 hosting award going to the Puskás Ferenc Stadion.
Bearings
Budapest's Liszt Ferenc Airport is 16km (ten miles) south-east of town. Terminal 2 is the only one in operation, comprised of adjoining buildings A and B. Most budget flights depart from Terminal 2A. Terminal 1 closer to town is not open to the public, although the rail terminal opposite still functions.
The No.100 bus leaves from outside Terminal 2 Arrivals every 30min until 1.20am. Journey time to three central points, Kálvin tér, Astoria and focal Deák tér, is around 45min, depending on traffic. From each of these stops in town, the first airport-bound bus sets off at 3.40am. The service requires a special airport shuttle ticket (Ft900/€2.90), available from the machine by the airport stop or from metro stations in town. Stamp the ticket as you board.
Next to the No.100 airport stop, the 200E bus (every 7-12min) runs to the nearest metro station of Kőbánya-Kispest (20min journey time), directly linked with the central hub of Deák tér. Long-term work on blue metro M3 until 2020 is closing the line until 8.35pm weekdays and all weekend. Replacement buses (potlóbusz) will increase journey times. Those looking to travel to Ferencváros can use the No.1 tram, which also serves MTK and the Ferenc Puskás Stadium.
Each leg of a journey – such as the 200E bus, then onward travel – requires a regular ticket to be stamped. A single is Ft350/€1.12, a book of ten Ft3,000/€9.60, available from machines at major stops including the airport, and at metro stations. Foreign credit cards are accepted. The BKK public transport network consists of four metro lines, buses, trams, trolleybuses, electric trains and boats. Night buses also run, along with the 24hr No.6 tram along the city's busiest boulevard, the Nagykörút.
To and from the airport, the miniBUD communal minibus service is approximately half the price of a taxi, and so only economical for single passengers. A journey to/from the city centre is around Ft4,000/€12.80. When you come out of Arrivals, you'll see a kiosk with queue running from it – this is for the Főtaxi (+36 1 222 2 222) service into town. Give your destination to the dispatcher and a car will pull up in 2min. The standard fare into town is around Ft7,500-Ft8,000/€24-€25.60.
Around the city, you may be best using a different company – Budapest Taxi +36 1 777 7777 is usually reliable. Be careful of taxis waiting outside major hotels and nightlife hubs, particularly Gozsdu udvar.
Bed
The official Budapest Tourist Office website is extremely poor, with no hotel information.
While the Puskás Ferenc Stadion only reopens in 2019, the hotels around it are convenient for Keleti station, and the No.1 tram to MTK and Ferencváros. On the Kerepesi út side of the stadium, the Danubius Hotel Arena Budapest is a four-star with a pool, gym and spa. Slightly further away are the conference-friendly Green Hotel and, opposite each other on Cházár András utca, the spa-equipped Lion's Garden Hotel and comfortable, budget Dominik Pánzió. The Royal Park Boutique Hotel is handier for Keleti.
Of historic interest and at a main transport hub convenient for Keleti station and the Puskás Ferenc Stadion, the Astoria is also right in the city centre. Slap opposite MTK, the ACHAT is an upscale German chain four-star.
Near Ferencváros, the standard Hotel Tulip Inn Budapest Millennium is particularly convenient as it's also on the main road to the airport.
Budapest is renowned for its spas and spa hotels – the legendary Gellért has a unisex and pricy spa, iconic façade – and rooms in need of modernisation. On the same Buda bank, Lánchíd 19 is a classy design hotel whose best rooms overlook the Chain Bridge.
Near Pest's bar vortex, the Soho Boutique adds flair amid many apartment rentals. Nearby Boscolo Budapest was once the famous New York Palace, revamped decades later. Rooms merit the money – but visitors should eat elsewhere.
Downtown mid-range City Hotel Pilvax plays up its location, the coffeehouse where the 1848 Uprising was instigated.
Bars
Budapest is a great bar city, the scene extensive enough for the many stag parties not to become too overbearing. District VII, where Kazinczy utca meets Klauzál tér, is the hub. Within it, the Gozsdu udvar passageway is flooded with revellers.
Other spots, such as Liszt Ferenc tér and Ráday utca, comprise mainly characterless tourist traps.
Districts V, VI, VII and VIII in Pest are full of bars where TV football is a focus – the Stifler chain currently has several burger-and-soccer sports bars on and off the Nagykörút. For something a little more individual, funky Café Kárpit (VII.Wesselényi utca 12) offers cheap beer until silly o'clock.
Named after the Chain Bridge it stands near, the Buda-side Lánchíd Söröző at Fő utca 4 is a homely, retro-themed bar/restaurant with two rooms, old Who videos in one, TV football in another.
Up past nearby Oktogon, the Millennium da Pippo is calcio-centric restaurant of authentic Italian heritage, down to its following of La Juve. Note also the pizzas themed after Italy's 2006 World Cup winning team.
Of the other sports bars, downtown Champs is tastefully decorated, with painted likenesses of Hungarian Olympian heroes since 1896. It also runs a summer terrace sports bar on Margaret Island. Up in Óbuda, a short hop on the No.17 tram from Margaret Bridge (Buda side), the Puskás Pancho Sport Pub, part of the Symbol restaurant/nightclub complex. Menu, décor and on-sale souvenirs relate to 'the Galloping Major', Pancho to Madrileños, Öcsi to Hungarians.
The 6:3 (IX.Lónyay utca 62) is a borozó, or wine bar, which in Budapest means silly cheap and slightly gloomy. A wood-panelled cabin little changed since 1953, it displays mementoes of that famous day, including the splash from a special edition of the Esti hírlap ('We won in London') and the timeless action shot of Puskás and co running away laughing from a recently filled net. You'll find it close to the Boráros tér stop on main tram line Nos.2, 4 and 6.
Finally, in the departures terminal of Budapest airport, Scando sports-bar chain O'Learys allows for a farewell pint and gawp at football before you board your plane.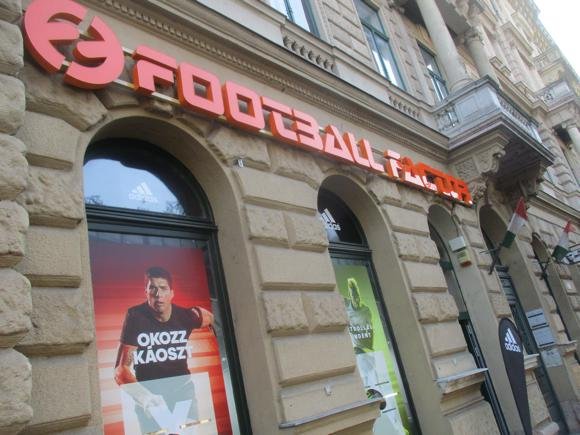 Shops
Hungary, Ferencváros and Újpest tops are among the international football merchandise on offer at Lion's Sport, on Rákóczi út halfway between Blaha Lujza tér and Keleti Station. Football Factor at Andrássy út 81 deals more in kits of top European sides, and the latest multi-coloured boots. Another branch has opened at the Allee shopping mall in Buda.
More niche is a tiny emporium tucked away at the back of a courtyard on Budapest's main shopping thoroughfare, Váci utca. Hungarian Football-Sport Shop, signposted at No.23, is a treasure trove of Khrushchëv-era badges, scarves, shirts and pennants.
Tourist souvenir chain Memories of Hungary usually stocks a number of Puskás-related items, mugs, T-shirts and replica shirts. You'll find a branch near the Basilica, one by the Fishermen's Bastion in the Castle District and one at the airport.
Gallery