Major League Soccer kicks off this weekend with one expansion franchise: Los Angeles FC. Bringing the MLS complement to 23, LAFC has an in-built anti-Galaxy bias, thanks to fans of defunct Chivas USA, as Tony Dawber explains.
There's a new kid on the block in the world's glamour capital. This Sunday Los Angeles FC makes its MLS debut with a hike up to chilly Seattle. Fans can fly there for $239, a club trip including breakfast and cocktails at LAX, with a stack of promo gear. Trouble is, it's a one-way deal – the club promises 'assistance' for the homeward journey.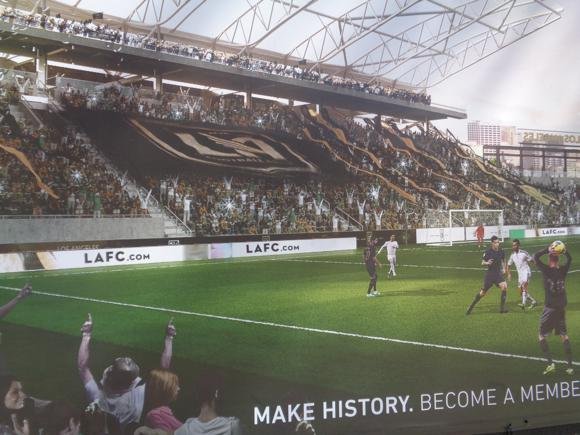 The black-and-gold won't run out at Banc of California Stadium until April 30th – a month after the first derby at LA Galaxy.
Oh yes, there's already an MLS club in the neighborhood. Think soccer in Tinseltown and you think of LA Galaxy.
Long-time big guns of the US game, Galaxy hit a celebrity-studded peak in the golden days of David Beckham and Robbie Keane a decade ago.
But Galaxy has struggled in recent years, and now faces a new threat in its own backyard.
Galaxy's Stubhub Center, with its training complex for the US men's national team and 8,000-capacity tennis stadium, is out in the leafy suburb of Carson, 25 miles southeast of downtown LA and its busy soccer bars.
But by contrast, new, purpose-built Banc of California stadium puts LAFC at the heart of things, right next to the Memorial Coliseum, setting for the 1984 Olympics.
Though it's a few miles from Beverly Hills, there's a ready-made touch of movie glamour, with Hollywood superstar Will Ferrell a co-owner of the fledgling club.
The city's sprawling, unforgiving suburbs should provide LAFC with much of its support. Its first MLS game has yet to start, and already the ultras groups are organized: fearsome-sounding Black Army 1850, the Cuervos, Expo Originals, District 9 Ultras and Lucky Boys. Several link back to Chivas USA, which, until its 2014 demise, found traditional support among the Hispanic population, making it the poorer relations of LA Galaxy.
LAFC ultras are overseen by an umbrella group known as 3252 Union, its name deriving from the capacity of the club's safe-standing area, steepest in MLS. Its digits add up to 12, signifying LAFC's twelfth man. Already, 17,500 full-membership season tickets have been sold.
In the light of the U.S. World Cup failure and a groundswell of criticism aimed at MLS, LAFC is a brave gamble. Box office flop or smash, it should be fun to watch.