A fan's guide – the club from early doors to today
Schalke 04, die Königsblauen, enjoy legendary status in the German game. Although modern honours have been confined to the remarkable UEFA Cup victory of 1997 and the odd domestic cup, their reputation stems from the glory days before the formation of the Bundesliga.
As their name suggests, Schalke were founded in 1904, as Westfalia Schalke, later changing colours to royal blue. Playing with short passing and fluid movement (the 'Schalker Kreisel'), a team starring in-laws Fritz Szepan and Ernst Kuzorra made nine national German finals between 1933 and 1942, winning six times. As FC Gelsenkirchen-Schalke 04, they drew 70,000 crowds to the Glückauf-Kampfbahn, where they never lost a league match in 11 years. The locality, renamed Ernst-Kuzorra-Platz, remains a hub of classic Schalke bars today.
Their last national title came in 1958. Dortmund and Bayern came to prominence before a bribery scandal in 1971 laid Schalke low.
For the 1974 World Cup, a new stadium was built, the Parkstadion, just north of the old venue in a greenbelt area towards Buer. By now the hero was Reinhard 'Stan' Libuda, an inventive winger nicknamed after Sir Stanley Matthews. A hero for both Schalke and Dortmund, Libuda died in poverty just as his beloved Schalke set off on their UEFA Cup run of 1997. Under Huub Stevens, Olaf Thon and a solid unit of relatively unsung heroes held their nerve in the final by winning a penalty shoot-out against Internazionale at the San Siro.
There was more drama four years later when Schalke were minutes from winning a Bundesliga title before Bayern (who else?) snatched an injury-time winner in Hamburg. With a massive investment by Russian energy giants Gazprom, the Königsblauen have been there or thereabouts almost every year, regular top-four finishers and dangerous in Europe.
Coach Ralf Rangnick led Schalke to a Champions League semi-final in 2011, after a dramatic 5-2 win in the San Siro over Internazionale in the quarter-final, Raúl scoring in both legs. The legendary Spanish striker bowed out a year later, leaving the goal-hunting to Klaas-Jan Huntelaar and Hungarian Ádám Szalai. 
But it was young prodigy Julian Draxler who most caught the eye in 2013-14, his speed and shooting taking Schalke to a Champions League spot before being called upon for national duty in Germany's successful World Cup campaign.
His transfer to Wolfsburg in 2015 was balanced by the arrival of another young midfielder, Johannes Geis, from Mainz – and a relatively easy draw for the Europa League group stage in 2015-16.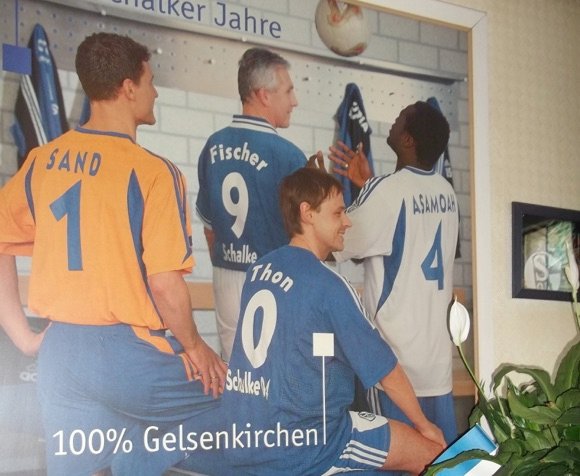 The field of dreams – and the stands around it
A World Cup and Champions League Final host, the Veltins-Arena is a multi-functional (speedway, ice hockey, American football) venue that replaced the Parkstadion on the same site in 2001.
A capacity of 61,500 for Schalke games can be converted for international matches by replacing the 16,000 with seats for an overall 54,000 gate. Both pitch and roof are retractable. As well as huge video screens, the former Arena AufSchalke features a superb club museum, a café-restaurant named after pre-war legend Kuzorra, and a 5km pipeline of beer (Veltins, natürlich) that dispenses 50,000 litres on match days.
The arena comprises four stands: the home end of the Veltins-Nordkurve; the Erdgas-Tribüne opposite (blocks V and W with a separate entrance on Hermann-Eppenhoff-Weg for visiting fans); and the prime seats in the Gazprom-Tribüne and ERGO-Tribüne.
Payment everywhere is by Knappenkarte, an in-house chip card widely available around the ground in €10, €25 and €50 denominations, the remaining balance refundable.
Going to the stadium – tips and timings
S-Bahn 302 leaves Gelsenkirchen station every 10-15 mins from platform 1 (right at the bottom of the escalator), direction Buer Rathaus/Arena. It's 12 stops and takes 15 minutes. Match-ticket holders travel free – otherwise you need an Einzelticket Preisstufe A (€2.40) from the machine upstairs. 
The main Schalke bars are by Ernst-Kuzorra-Platz, eight stops from the station. From the Veltins-Arena stop, cross over the high walkway and veer right.
Buying tickets – when, where, how and how much
Tickets can be bought by free registration online. The main ticket outlet is the S04-Servicecenter (Mon-Fri 9am-6pm, Sat 9am-2pm/kick-off) by the training pitch and Charly's Schalker bar north of the stadium on Ernst-Kuzorra-Weg.
Visiting fans pay €26 for a seat in sectors X or Y in the Südkurve (Erdgas-Tribüne). A seat higher up behind either goal is €31, €41.50 lower down. The best seats are €52. Standing places (€15.50) in the Veltins-Nordkurve are invariably taken.
Shirts, kits, merchandise and gifts
The matchday Arena shop is on the corner of the ERGO-Tribüne and the Nordkurve. There are also outlets (Mon-Fri 9am-6pm, Sat 9am-2pm and 1hr before/after kick-off) by the training pitch on Ernst-Kuzorra-Weg and downtown at Ahstraße 4 (from 9.30am Mon-Sat).
For something a little more unique, near the old ground four tram stops from the current stadium at Ernst-Kuzorra-Platz, you'll find old S04 postcards at Der Mythos souvenir shop.
Explore the club inside and out
Arena tours (€9/€5 under-21s) last 75 minutes and take place at least twice most afternoons. They allow free access to the wonderful Schalke-Museum (Nov-Feb Tue-Sat 10am-5pm, Mar-Oct Tue-Fri 10am-6pm, Sat-Sun 10am-5pm; €5/€3 6-21s, under-6s free), which gives a real flavour of the Kuzorra era. 
German-speakers will love original interviews with old Schalke stars, and anyone can enjoy the pre-war archive footage. Note also the replica of a Schalke fan's bedroom and Ernst Kuzorra's private photo album.
Pre-match beers for fans and casual visitors
Two classic spots sit along Kurt-Schumacher-Straße at Ernst-Kuzorra-Platz, near the old ground four tram stops from the stadium. Auf Schalke is party central pre-match, a DJ spinning booming club songs to two packed rooms bedecked with Schalke imagery. 
Alongside, its main door off the main drag, the traditional Vereinslokal S04 offers a taste of the pre-war days, with a wonderful collection of black-and-white photos decorating the wooden interior. This really was the post-training local for Ernst Kuzorra and his team-mates. 
Also in this little hub, you'll find a quick bite at the equally themed Schalke Imbiß and old S04 postcards at Der Mythos souvenir shop.
At the stadium, the best choice is Charly's Schalker, by the training pitch on Ernst-Kuzorra-Weg, with a tasteful display of Schalke history on the walls and a terrace overlooking the practice turf. A more business-oriented clientele would prefer the welcoming Ess Null Vier at the Courtyard by Marriott hotel, and its match-day menu.
Behind sector 27 of the Nordkurve, the Café-Kneipe Kuzorra by the Arena Shop features images of the pre-war legend, while the Tibulsky bar-restaurant between sectors R and T in the Gazprom-Tribüne offers a panoramic view for those who reserve on match days.