A fan's guide – the club from early doors to today
Champions of Hungary in 2018, Fehérvar FC represent the town of Székesfehérvár at the gateway to Lake Balaton – and traditionally, also its its main employer, the Videoton electrical manufacturing company, after whom the club was named until 2018.
Founded as a works team – Vadásztölténygyár SK ('SK Hunting Rifle Cartridge Factory') in 1941, the club made the second flight NBII in 1957-58 then, as VT Vasas, the top flight NBI a decade later.
That same year of 1967, the Sóstói Stadium opened just south of the town's main train station. Renamed Videoton SC in 1968, by the mid-1970s, 'Vidi' had claimed a league runners-up spot and gained their first taste of European football, holding Napoli to a draw and beating Fenerbahce 4-0 at the Sóstói.
The golden era came in the mid-1980s. Finishing third in the league in 1984, Vidi set off on an improbable run in the UEFA Cup, beating Dukla Prague before putting four past Paris Saint-German at a shocked Parc des Princes. Scorer of two that night was József Szabó, 'The Giraffe'. Top league scorer the previous season, Szabó would prove crucial to Vidi's progress to the 1985 final – when his absence in the first leg played an equally vital role.
In between, Vidi famously snuck through against Manchester United when Frank Stapleton and Arthur Albiston missed penalties in the shoot-out at the Sóstói. Hero of the night was goalkeeper Péter Disztl, whose brother László played at centre-back.
 The semi-final with Zeljezničar required Vidi to hold on to a 3-1 lead from the Sóstói, a crucial late away goal from József Csuhay saving the day in Sarajevo with the Bosnians 2-0 up and cruising to the final. 'I put everything into that shot,' Csuhay was to say later. 'All my hope and venom.'
Without the threat of Szabó in the home leg of the final, Vidi crumbled to Real Madrid, Michel, Butragueño, Valdano and all, falling 3-0. They saved face in the second leg at the Bernabéu, scoring the only goal late in the game.
With Hungary still Communist, the army side, Honvéd, cherry-picked the Disztls from Videoton while Újpest Dózsa claimed midfielder István Palkovics. Szabó, meanwhile, left for a miserable time in Greece but to this day remains Videoton's highest scorer.
As for the coach, Ferenc Kovács, 'Feri bácsi', was eulogised when Vidi veterans were recently interviewed for a 30th-anniversary film, Az utolsó kupadöntö ('The Last Cup Final') in 2015. As a player, he starred for MTK in the Cup Winners' Cup Final of 1964 – surely the only Hungarian to feature as player and coach for a Hungarian side in European finals. He, too, had a sorry time abroad, at Las Palmas, but soon returned to Videoton.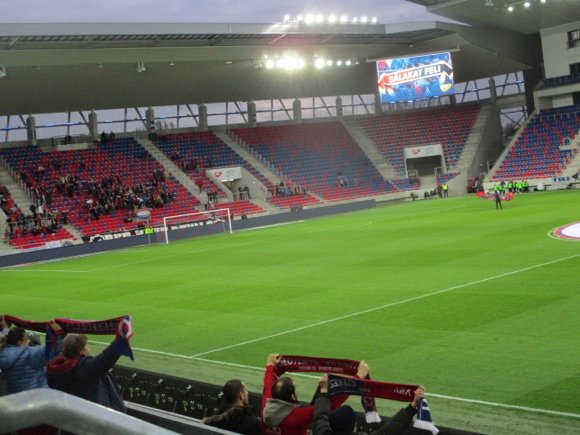 Vidi trod water for two decades, even sinking to the lower flight. They were rescued by Viktor Orbán, football-mad Prime Minister of Hungary, who had a cartel of his political and banking cronies put money into what is effectively his local club. Better players, better managers and a new stand at the Sóstói helped toward a first ever Hungarian Cup in 2006, League Cup wins and, in 2011, an elusive league title. Goals from Brazilian striker André Alves saw Vidi lead the table from late summer onwards and not look back.
Wily, title-winning coach György Mezey was inexplicably replaced by Paulo Sousa, the first of three Iberians who had patchy success in Europe. Wins over Sporting Lisbon and FC Basel stand out, though Vidi only managed to gain a second league crown in 2015. Goals from the prolific Nemanja Nikolić, a naturalised Hungarian, helped Videoton over the line.
Incoming coach Bernard Casoni had to do without Warsaw-bound Nikolić in 2015-16 – relying on talent such as Ádám Gyurcsó, produced by Vidi's feeder team, Puskás Akadémia, founded by Viktor Orbán and based in his childhood village of Felcsút. With the rebuilding of the Sóstói Stadion, Vidi installed themselves there from 2016.
Pipped at the post for the 2017 title at Honvéd, and making steady in-roads into Europe, Vidi welcomed the arrival of another Nikolić, Marko, a title winner as coach of Partizan Belgrade. Neck and neck with Ferencváros through the 2017-18 campaign, Vidi edged ahead to claim a third league title.
Playing major European games at Ferencváros while the final touches were being put to what would soon be the MOL Aréna Sóstó, Videoton became rebranded MOL Vidi after the main Hungarian energy company. Surprising Malmö in the Champions League qualifying stage, Vidi gave a gutsy performance to take AEK to the wire in Athens. A last-minute attempt by inspirational veteran captain Roland Juhász nearly swung the crucial play-off tie back to parity.
Qualifying for the group stage of the Europa League, Vidi put in a creditable performance against Chelsea at Stamford Bridge and gained back-to-back wins over PAOK, achievements to stand alongside the Europa League run of 2012-13. The UEFA Cup final of 1985, however, remains in a class of its own.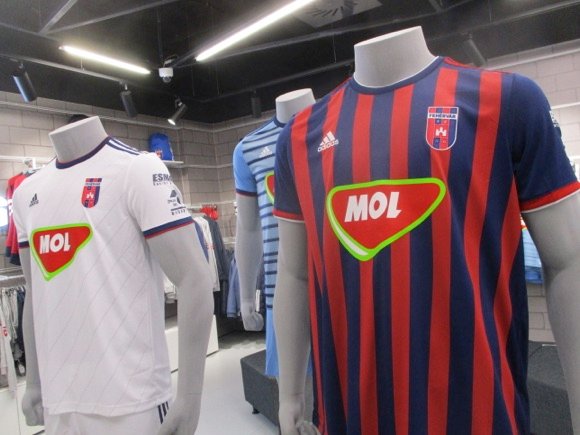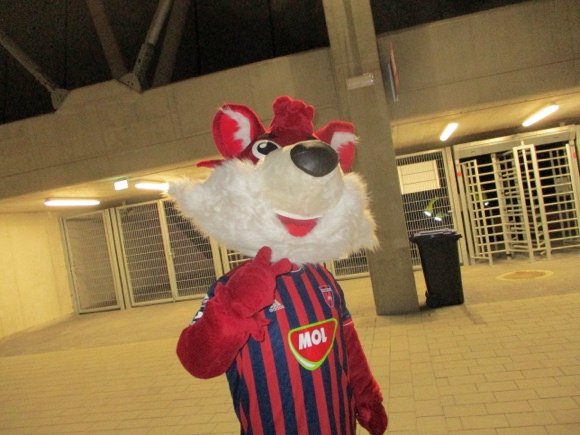 The field of dreams – and the stands around it
Opened in 1967, the Sóstói Stadion witnessed many of Vidi's greatest moments and even staged a few internationals. Here, Flórián Albert played his last game for Hungary, a 3-2 victory over Yugoslavia in 1974, and Edin Džeko gained an early cap for Bosnia in his country's 1-0 defeat in 2007.
An open bowl with one main stand, the Sóstói was significantly renovated for three consecutive yet unsuccessful bids to co-host the Euros, but was then left behind in the mad scramble to rebuild Hungary's stadiums. 
Reconstruction didn't begin until the end of the 2015-16 season, when Vidi moved to partner club Puskás Akadémia in nearby Felcsút. Seats at the Sóstói were sold off to season-ticket holders for the price of a newspaper, though it's not clear what happened to its distinctive floodlights, elegantly fashioned in the shape of an egg-timer.
Playing major European games at Ferencváros, Vidi still managed to notch up another title success while the new stadium was being completed.
Opened in November 2018, the MOL Aréna Sóstó has a capacity of 14,000. Home supporters are mainly lined along sideline sectors C1-C6, the hard-core ones in designated RBD in Stand D behind the south goal. 
Away fans are allocated the corner section ('Vendég') between sector B5 behind the north goal and sector C1, entrance through gate IX. Stand D behind the north goal is generally left empty unless there's extra demand. VIPs and press watch the game from main Stand A, accessed via Csikvári út.
Integrated into the stadium are a bar and the club shop while around it, the cemetery and Szöglet ('Corner') supporters' pub remind older fans of visits far earlier in the past.  
Going to the stadium – tips and timings
The stadium is walkable from the train station. Walk to the far end of platform 1, then cut straight through the car park. You then hit the main road, Széchenyi utca. Veer left. After the overpass, turn right at the roundabout. The stadium is right ahead.
Buses 11 and 11A still serve Sóstói temető, the cemetery, but they're pretty infrequent.
Buying tickets – when, where, how and how much
At the stadium, tickets are usually sold at the Vidi Shop (Mon-Fri 10am-1pm, 1.30pm-5.30pm) and the No.1 ticket office (Mon & Wed 1pm-6pm, Fri 10am-3pm, match days), both on the Csikvári út side.
In town, the main city ticket office (Mon-Fri 9am-6pm, Sat 9am-1pm) at Hlemer-ház, Oskola utca 2-4, by the central square of Városháza tér, and the Petőfi Kultúrtanszék (Mon-Fri noon-6pm) near the bus station at Arany János utca 22, also distribute.
English-language online sales are organised through Jegymester. A ticket office operates on Csikvári út by the stadium on match days.
Prices are broken down into four categories: the best seats in katégória I, A1-A3 in the main stand, then katégória II (C2-C4 opposite), katégória III in the outer sideline sections C1 and C5-C6 nearer the corner flags, and katégória IV behind the goals in B1-B5 and D1-D6, as well as B6 for visiting supporters. 
These cost Ft4,000/€10.70, Ft2,850/€7.65, Ft2,050/€5.50 and Ft1,700/€4.60 respectively, discounted for seniors, women and students at Ft3,450/€9.25, Ft2,050/€5.50, Ft1,500/€4 and Ft1,150/€3.10  in each price bracket. Prices rise slightly on the day, and for the visits of the big clubs from Budapest.
Shirts, kits, merchandise and gifts
Open on match days, the large Vidishop by the main entrance stocks home tops of red-and-blue stripes, and away ones of white with red-and-blue piping. 
Other goodies include T-shirts bearing the club's foundation date of 1941, a 200-piece jigsaw puzzle of the stadium and coffee mugs displaying the Vidi mascot Stopli ('Stud', as in football boot), a fox in the thumbs-up mood.
Pre-match beers for fans and casual visitors
During the 1984-85 UEFA Cup run, players met at the Pokol Pince, where coach Ferenc Kovács would demonstrate tactics with matchsticks on the tablecloths. The restaurant still operates, though it's a fair trek from the stadium – in fact, it's so far south-west on highway 7, it's just over into Szabadbattyán. 
Although it has its own stop for regional buses, in practical terms, on a match day you'll probably need a car or a taxi to cover the 4km to/from the ground.
Near the ground on Csíkvári út looking towards the cemetery, the Szöglet ('Corner') Espresszó is a little supporters' bar with a TV and pennants of Vidi's European games over the counter. It's recently been smartened up, with a terrace instead of a solitary table for smokers, and a decent-sized pool table inside.
By the Vidi Shop, the neat, simple Söröző offers draught Dreher, Pilsner Urquell and Floris Kriek, plus a standard menu. TVs show match action. Inside the ground, card-only kiosks serve Dreher Gold beer and wine spritzers at Ft590/€1.60. A handy TV screen means you shouldn't miss any of the action while you order.