A fan's guide – the club from formation to today
The newest expansion team in MLS represents a city with one of the oldest and proudest soccer legacies in the United States. Here, where the Mississippi and Missouri Rivers meet, the game took root among church organizations and colleges decades before a ball had even been kicked in other major urban hubs of America.
In the early 1900s, St. Louis had its own leagues, plural, hosted its own Olympic soccer tournament, and later nurtured a crop of home-grown players who were instrumental in creating the biggest sensation in World Cup history.
No wonder, then, that this is the only city in the U.S. with its own Soccer Hall Fame, established more than half a century ago.
And yet it took nearly three decades for MLS to come to St. Louis. After initial negotiations in 2018, St. Louis City joined (and ultimately won) the Western Conference in 2023. The club had effectively replaced Saint Louis FC, a member of the de facto second-tier USL Championship between 2014 and 2020. 
Fan group, the St. Louligans, originally formed to support USSF club AC St. Louis in 2010 before follow Saint Louis FC, duly regrouped in 2023 to ensure a full house every game at CityPark, the spanking new soccer-specific stadium by Union Station.
While the contemporary expansion of soccer in St. Louis can be clearly traced through the allegiances of the St. Louligans, the game's heritage reaches way back, long before the city even staged the Olympics and the World's Fair in a single year, 1904.
Sport had been woven into the urban fabric of St. Louise since the 1860s, when baseball games were played on a patch of land acquired by Swiss-born immigrant, August Solari. Today a large plaque at the corner of Dodier Street and Grand Boulevard marks where the later-named Sportsman's Park once hosted the St. Louis Browns baseball team, founder members of the National League in 1875, and later the St. Louis Cardinals.
In between, in February 1882, shortly after the first grandstand was erected here the previous summer, 2,000 spectators gathered to watch 'the return game of foot-ball between the Hornet and Hurley teams', according to the St. Louis Globe-Democrat. 
Played 'according to the Association Foot-Ball Rules of Great Britain', including a break after 45 minutes, although the goalkeeper was not allowed to use his hands. A look at the teams reveals English names in one XI, and Irish ones in another.
The fact that it was a 'return game' may refer to an earlier one played between Irish and English students the Sunday after Thanksgiving in 1881.
Three years later, the Western Canada FA XI visited, although little is known about the game that took place. What we do know is that the national men's team of the United States only played its first match a year later, in East Newark – St. Louis really was America's first soccer capital.
This is underlined by the fact that there were enough local teams to form the St. Louis Association Foot Ball League in 1890, won by high school students, the Kensingtons. Scots railroad workers, the Blue Bells, then lifted the trophy in 1893, when a rival division, the Sodality League for mainly Catholic teams, was created.
After the two merged, the roster of champions featured names such as St. Louis Shamrocks and St. Teresa. From 1906 to 1908, only one ruled supreme: St. Leo's. Also representing a Catholic men's organization, the 'Blue and White' was significant not only for those three league wins – St. Leo's was the first soccer team in St. Louis to turn professional.
This occurred around the time of the 1904 Olympics, when soccer was perhaps surprisingly included. By way of comparison, when the Games was staged in Los Angeles in 1932, two years after the first World Cup, the sport failed to feature in the program of 117 events.
St. Leo's occasionally played at the Christian Brothers College, whose team won the silver medal for soccer at the 1904 Games thanks to the 2-0 defeat of fellow locals, St. Rose Parish. Galt F.C. from Ontario took gold thanks to resounding wins over both opponents. The
three-team tournament took place two months after the main Olympic event that summer, Francis Field the venue for the soccer games, and track and field events, among other disciplines. It remains the main sports stadium for Washington University today.
Spearheading the first golden age of soccer in St. Louis, St. Leo's enjoyed professional status for a decade, until the Catholic Church withdrew its backing in 1918. It dominated the first iteration of the St. Louis Soccer League before teams sponsored by prominent local companies ­– Ben Miller hats, Scullin Steel, Stix, Baer and Fuller department store – held sway.
All three won U.S. Open Cups between the wars, when more than a dozen finals were staged in St. Louis, two attracting crowds of 15,000 to Sportman's Park.
The second gilded era centered around an area of town called The Hill. Set on high ground, this compact square mile just south of Forest Park housed a mix of Lombards and African-Americans, Irish and Germans, sportsmen and musicians. Josephine Baker was born where Sublette Park now sits, while baseball hero Yogi Berra grew up on Elizabeth Avenue during the wild days of Prohibition and blues singers celebrating its shady allure.
It was in this milieu that a group of soccer players first learned the game, a hardy, street-smart quartet who would form the backbone of the U.S. team which famously beat England at the 1950 World Cup. All four had Italian roots, and all four played for St. Louis Simpkins-Ford, sponsored by an auto dealership, twice U.S. Open Cup winners shortly before the tournament in Brazil.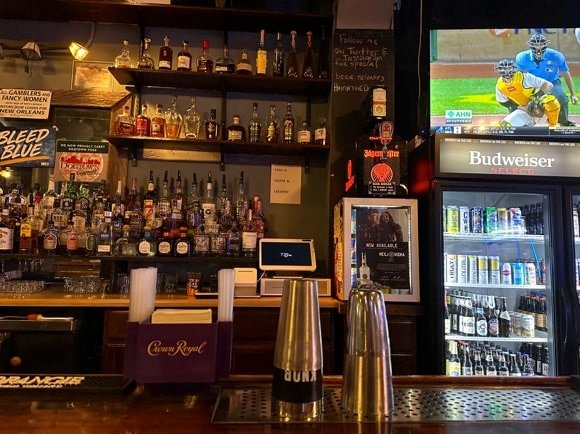 Heroic goalkeeper Frank Borghi, recipient of a Purple Heart for bravery in World War II, had started out as a baseball player but later switched to soccer. His brilliant saves at Belo Horizonte kept England at bay for the whole game. In front of him, Charlie 'Gloves' Colombo steadied the defense at center-half.
At inside-right, Gino Pariani had left his bride of three days to board the ship for Brazil, where he opened the scoring in America's first game against Spain. At outside-right, Frank Wallace, born Frank Valicenti, had survived 16 months in a Nazi POW camp, before five seasons battling defenders in the rough-and-tumble of the St. Louis Major Soccer League. Wallace nearly got on the scoresheet himself late on that fateful afternoon in 1950 but was denied by a last-ditch clearance by Alf Ramsey. The final score was nearly 2-0.
But 1-0 it was, thanks to a glancing header by Haitian dishwasher, Joe Gaetjens. Two more figures are worthy of mention: Defender Frank Keogh, from the long line of St. Louis soccer players of Irish extraction; and Dent McSkimming. 
A sportswriter during the first golden age of soccer in St. Louis, McSkimming had the foresight to go to Brazil in his own time and on his own dime after his long-term employers at the St. Louis Post-Dispatch had refused to send him. The only American journalist at the tournament, McSkimming submitted one of the few reports to appear anywhere in the American press the next day.
It was only decades later that the players gained the recognition they had long deserved. Each of the five St. Louis members of the team died in the city where they were born. Meanwhile, the U.S. had to wait another 40 years before they qualified for the World Cup again.
At local level, St. Louis Simpkins-Ford gave way to St. Louis Kutis as the dominant force, although the St. Louis Major Soccer League it was dominating folded in 1954. The club still managed to win the U.S. Open Cup in 1957, the same year that St. Louis Kutis represented the United States for the World Cup qualifying tournament, the last of four straight defeats staged in St. Louis.
A decade later, in the wake of the 1966 World Cup, North America woke up to soccer again. And again, St. Louis was among the pioneers, hosting one of ten clubs to join the inaugural National Professional Soccer League. Most were based at huge venues, St. Louis Stars at the newly built Busch Memorial Stadium, home of the St. Louis Cardinals baseball team and one of the last places the Beatles played live.
Fronted by veteran Yugoslav striker Bora Kostić, an Olympic gold-medal winner in 1960 – still far and away to top league scorer for Red Star Belgrade – St. Louis Stars attracted crowds of just under 10,000 in the 50,000-capacity arena. Though the NPSL only lasted a year, St. Louis Stars was one of eight teams to make the transition to the inaugural NASL in 1968.
For one half of the 1969 season, it was represented by Kilmarnock, before attendances really dwindled and clubs began to fold. St. Louis Stars would also play at the smaller Francis Field, where the 1904 Olympic soccer tournament had been staged, and stood out from the rest by fielding mainly American, often local, players.
This continued even into the Pelé era, when the Brazilian superstar paved the way for the greatest names in the game – Franz Beckenbauer, Johan Cruyff, George Best – to cross the Atlantic. A workaday defender from Southeast London, John Sewell, had made the same journey almost unnoticed in 1972, leaving behind long stints at Charlton and Crystal Palace. Making the NASL All-Stars Team that same year, alongside Graeme Souness, Sewell set up the equalizer for high-scoring Polish striker Kazimierz Frankiewicz in the NASL Final, played in a violent thunderstorm at the modest Hofstra Stadium in New York.
The opponent, of course, was Cosmos, which had made its NASL debut the year before at Busch Memorial Stadium, and won its first title before 6,000 soaked spectators. Pelé changed all that, of course, although St. Louis had its own reasons to celebrate in 1975. Under Sewell as coach, and with ex-Chelsea keeper Peter Bonetti in place for a year, Stars won the Central Division, just missing out on Soccer Bowl '75 after a 1-0 defeat at Portland in front of 33,503 people.
Almost as many filled much of Busch Memorial Stadium for Pelé's last visit in his farewell season of 1977. The following year, the St. Louis franchise moved to Anaheim, taking Sewell and UMSNT regular Al Trost. California Surf did not claim his midfield partner Pat McBride, however, also St. Louis-born and also in the U.S. squad for major qualifying tournaments.
Developing under the wing of parish and Catholic youth teams in St. Louis, as generations had done before him, McBride stayed loyal to his hometown, taking on a coaching role at St. Louis Steamers, founded in 1979 to join the inaugural Major Indoor Soccer League (MISL) at St. Louis Arena. Again basing its team on home talent, the Steamers drew 18,000 to its opening game that December.
Remarkably, long after the soccer bubble had burst in the NASL game, indoors the Steamers was still playing before crowds of around 15,000, more than hockey side St. Louis Blues. Al Trost even returned to St. Louis to replace McBride for two seasons. Stars included locally born Tom Galati and Ty Keogh, both midfielders in the U.S. national side, although razzamatazz also kept the crowd coming back. 
Keogh was the son of 1950 World Cup hero Frank Keogh and would go on to coach soccer at Washington University, location for Francis Field. He followed in his father's footsteps, too, by attending four World Cups, starting with America's return in 1990 – as a broadcaster for the major networks.
Without a suitable venue – Busch Memorial Stadium, where U.S. beat Trinidad in 1985, was a shade too small – St. Louis was overlooking as a World Cup host in 1994 despite its soccer heritage. It was to miss out on the rollout of MLS integral to the agreement to grant the U.S. the World Cup, continuing to focus on the indoor game while cities such as Dallas, Denver and San Jose clocked up season after season of Major League experience.
While a contemporary iteration of the Steamers operated until 2006, the St. Louis Ambush played through most of the 1990s before its revived namesake joined the Major Arena Soccer League in 2013. Crowds of around 2,500 still gather at the Family Arena in St. Charles to see their matches.
As for the 11-a-side game, the short-lived AC St. Louis played in the second-tier USSF at the Anheuser-Busch Soccer Park in Fenton in 2010, although the backstory has far more resonance than just another name listed in the St. Louis Soccer Hall Fame. Behind the club was Jeff Cooper, a graduate of St. Louis University Law School, who had fallen in love with soccer at high school, so much so that he went to London to sit on the board at Brentford.
Cooper had been the first to bring MLS to St. Louis, in 2008 and 2009. His failed bid morphed into AC St. Louis, which would fold in January 2011. On the plus side, the team in yellow and green did attract support from St. Louligans, a local fan group whose passion for soccer still burns brightly, although today it's for MLS side St. Louis City.
Another anomaly, Anheuser-Busch Soccer Park was opened in 1982 by the world-famous brewery based here in St. Louis. At 5,500 capacity, it had been created for collegiate and youth soccer – quite incredibly, in the late 1980s, it staged several vital qualifying matches played by the U.S., including two for the 1990 World Cup. The whole Italia '90 adventure started here.
As Anheuser-Busch was being taken over by Belgian-Brazilian brewing giant In-Bev, and the credit crunch was hitting hard, Jeff Cooper had acquired the sports complex for his soccer operation. After it imploded, he sold it to World Wide Technology, co-founded by Jim Kavanaugh, a former soccer player at Saint Louis University and the St. Louis Steamers.
St. Louis continued to host prestigious one-off soccer fixtures between major clubs from Europe – Chelsea, Manchester City, Real Madrid, Internazionale – before crowds of around 50,000 and above. Kavanaugh, having rebranded Soccer Park, West Community Stadium, set up Saint Louis FC, using the same fleur-de-lis logo as his alma mater and, like the university, spelling out the first name in full.
Affiliated with Chicago Fire of MLS and encouraging support from the St. Louligans, Saint Louis FC competed in the second-tier USL Championship without much distinction. It folded soon after the pandemic hit, which was just when CEO Kavanaugh was deep in negotiations on another project: MLS.
In 2015, MLS Commissioner Don Garber visited St. Louis as rumors swirled about a multipurpose stadium to be shared with NFL's Rams. The following January, the Rams franchise moved to Los Angeles, leaving the way free for a new soccer team, the proposed stadium site being right by Union Station.
After taxpayers balked at the price, investors were brought in to bypass the need for municipal or tax dollars. By the spring of 2019, renditions were produced for a stadium of 22,453 capacity, and by August, the deal was sealed. Its crest featuring the Gateway Arch, St. Louis City Soccer Club came into being.
The philanthropic Taylor family, long respected in St. Louis, along with Jim Kavanaugh, spearheaded the ownership, women prominent in top roles. Another vital cog was put in place when the board appointed Lutz Pfannenstiel as sporting director of the new club. Probably the world's most traveled goalkeeper, a man who has played between the sticks from Albania to Singapore, who has coached from Cuba to Namibia, and written about his adventures in a bestselling book, Pfannenstiel has also worked as a soccer analyst on CNN, ESPN and BBC.
Stadium construction halted by the pandemic, Pfannenstiel had two years to appoint a coaching staff and build a squad. Head coach Bradley Carnell had high-level experience in his native South Africa and in Germany's Bundesliga, while Pfannenstiel headhunted Swiss international Roman Bürki for team captain. Not only that, but Bürki became the highest paid goalkeeper in MLS, the savvy sporting director knowing how to create a team from the back rather than make headlines with marquee signings of strikers on the wane.
Few soccer fans in Europe, South America and Africa would recognize many names in Pfannenstiel's squad. Key midfielder Eduard Löwen had had a successful spell at 1.FC Nürnberg as a Germany U-20 international around 2018, while alongside him, Swede Rasmus Alm had played in his domestic league for a decade. Up front, João Klauss had come through youth setups in his native Brazil before scoring regularly in the Finnish, Austrian and Belgian leagues.
None of these players had hit great heights but all were in their mid-twenties' prime, with several seasons of experience at top levels in Europe. The persuasive Pfannenstiel had convinced them all that there was a new start for them in St. Louis.
Helping sway his argument, CityPark is a rare case in MLS of a new-build, soccer-specific stadium financed and owned by the club which plays there. It's also in Downtown West, right beside Union Station, a historic landmark, 539-room hotel and connected to both lines of the city's MetroLink network (and therefore the airport). MLS duly agreed to accept St. Louis as an expansion club in the summer of 2019.
It would be another four years before it saw serious match action, the Reds' home debut against Charlotte in March 2023. The second of five straight wins, the match attracted a packed house of 22,453 at CityPark, setting a pattern for the season to come. There was even full capacity for the visit of third-tier Union Omaha for a U.S. Open Cup fixture.
In MLS, the St. Louligans in the crowd were rewarded with a string of wins, including a 4-0 victory over local rivals Sporting Kansas City, the last goal coming from Kansas-born Nicholas Gioacchini. The former Orlando striker was a regular throughout the campaign, alongside the revelation of the season, Indiana Vassilev, formerly of Aston Villa, whose performances earned him a call-up to the U.S. under-23 squad in October 2023.
St. Louis City, meanwhile, won the Western Conference at the first attempt, proof that you don't have to be an MLS old-timer to sail into the playoffs – but decades of soccer experience also help.
The field of dreams – and the story behind it
The latest MLS stadium to open as of 2023, CityPark improves upon all the soccer-specific stadiums that have gone before it. Few other venues are as central, right in Downtown West of St. Louis, alongside the Union Station long converted for leisure and relaxation.
None are as intimate, the furthest seat 120 feet from the action. Hardly any stadiums are owned by the club that plays there. Few sit beside the club's own training pitches and HQ. Few lie in the shadow of their host city's most iconic sight, in this case the Gateway Arch, linked by a series of green, public spaces leading to the banks of the Mississippi.
Other major plus points include a canopy roof to allow light onto the grass pitch, amplify fan noise, and lending an airy, spacious feel while keeping spectators dry. Through the gaps, you might catch glimpses of the heritage brick architecture surrounding the stadium, rather than out-of-town parking lots and malls.
Much of that fan noise is generated behind the north goal, a general admission area of safe standing based on the German model, though the atmosphere is pretty raucous around the ground, with every game a sell-out at 22,435 capacity.
The location of St. Louis, a relatively easy hop from Kansas City, Nashville, and Chicago, means that away fans can fill out sector 200 in the upper tier of the East Stand nearest the South Stand. VIP suites line the upper tier of the main West Stand.
If anything, the only criticism that can be leveled at CityPark is cost, partly driven by the team's early success – with a waitlist for membership, resale ticket prices can soar in the run-up to gameday. The stadium has been designed to extend to 25,000 capacity, which may have to be considered sooner rather than later.
Going to the stadium – tips and timings
St. Louis Lambert International Airport is 14 miles (23km) northwest of downtown St. Louis, directly connected by MetroLink light rail to Union Station (30min journey time) and the city center every 20mins. CityPark is a 10min walk from Union Station, today a hotel and retail center. The next stop, Civic Center, serves Gateway Station for Amtrak and interstate bus services. Note that 'Stadium' on MetroLink serves the Busch Stadium ballpark.
The two-line MetroLink (base fare $2.50) dovetails with the MetroBus network (base fare $1). Bus lines 4 and 94 stop right by CityPark at Market @ 20th Street WB, alongside prematch bar Maggie O'Brien's.
A two-hour transfer pass available on the transit app is $3, a one-day Adventure Pass $5. Tickets are also available from Metro stores at major stations.
The airport is a hub for low-cost carrier Southwest Airlines, with links to dozens of U.S. cities. It uses Terminal 2 – both terminals have MetroLink stations and vending machines for tickets, by Door 1 of Terminal 1 and Door 12 of Terminal 2.
Taxi zones are at Door 14 of Terminal 1 and Door 12 of Terminal 2. Fares include a $4 airport levy – venerable Laclede Cab (+314-652-3456) should charge around $40 into town, depending on the destination. Once you're in town, CityPark is an easy walk from major sights and attractions.
Legal parking spots near the stadium are best sourced through Spot Hero, with a downloadable app, weekend rates around $10-$25. Metered parking is generally free after 7pm and all day Sundays. Spots should be found around Union Station and St 18th St. There's also limited free parking at the nearest bar to the stadium, Maggie O'Brien's (2000 Market St, St. Louis MO 63101).
When, where, how, and how much
Tickets for St. Louis City are like hen's teeth and non-members will probably have to pay a hefty $100+ at least on the resale market. Membership is best arranged by reserving a place on the waitlist through myCITY+ (annual subscription $50), the club's portal that offers priority access to purchase single match tickets. The total fee of $55 includes membership when any becomes available.
The club otherwise distributes through SeatGeek, which charges upwards of $100 per seat, often up to $150. Sightlines are excellent, intimacy and atmosphere are guaranteed, but you'll get a better overview of the play from the even pricier sections over the halfway line, lower 104-107 and upper 204-207 in the East Stand.
Jerseys, souvenirs, and all kinds of gear

You'll find merchandise stocked at CITY Pavilion (Mon-Fri 10am-6pm, Sat 11am-6pm, Sun 11am-5pm), a sleek, glass-fronted cube building facing the stadium on Market Street.
Bearing the name of local pet-food firm Purina as sponsors and the club crest inspired by the Gateway Arch and the confluence of the Mississippi and Missouri Rivers, the primary jersey veers towards a magenta shade of red. The secondary jersey in gray has been nicknamed the Spirit Kit, borrowing its color from the Arch and its pinstripes from the steel beams that shape the stadium. Magenta red is repeated along the neck and sleeve trim, with 'CITY Founder' embossed on the back of the neckline, a nod to those who kept the faith to bring MLS to America's first soccer capital.
On this note, look out for Inaugural, a 300-page history of soccer in St. Louis, available as a limited edition from October 2023.
Enjoy the full matchday experience

The slight downside of CityPark's Downtown West location is that it isn't surrounded by acres of parking lots – which means that pregame revelry and grazing take place at Lou Fusz Plaza designed for the purposed on the east side of the stadium. Giant screens are also set up, with music and activities for kids.
You'll also find fans gathering for communal eats outside the Schlafly Tap Room on Locust Street, Maggie O'Brien's on Market Street (for both, see below) and around Union Station.
Matchday beers at the stadium and downtown
Nearest bar to the action is green-fronted Maggie O'Brien's on Market Street, which underwent a substantial renovation as soon as news of the stadium opposite was confirmed. Now awash with TVs, it expanded its bar counter to offer 20 draft options, including Zwickel and Underdog from local craft brewers Urban Chestnut. Global beers make appearances in the ever-changing list, though Guinness, and shamrock-themed burgers, are a constant. Maggie herself was the grandmother of long-term owner Eddie McVey, her namesake tavern in operation since 1979.
Also close, a block north of the stadium on Locust Street, the Historic Schlafly Tap Room stands out as the first brewpub to open in St. Louis since Prohibition. As in 1991, management is select in the beers it stocks and showcases its own Bavarian Weiss, Kölsch and Just a Bit Hazy IPA, to pick out three of many. 
While it might be a little hard to tell when packed with St. Louligans and loud prematch bonhomie, the building itself was designed by Samuel L. Scherer, first Director the St. Louis Art Museum, in the early 1900s.
At Union Station, The Pitch Athletic Club & Tavern was unveiled on the eve of the stadium hosting its first MLS game, under the motto 'Soccer Fans Unite'. While it lacks the lived-in legacy of Maggie O'Brien's just across St 20th St, it does provide superior pub food and draft beers (Ayinger Bräu-Weisse, Yuengling, Menabrea Ambrata) amid slightly manufactured Anglo pub surroundings. This huge, retro-fitted, TV-dotted establishment is overseen by local group Lodging Hospitality Management, responsible for many prominent hotels around town, including Curio here at Union Station.
While by no means the cheapest place in town either, it's worth bearing in mind that beer inside the stadium sells for around $10, possibly why it's not chucked about with such abandon during goal celebrations.
Just north of the stadium along focal Washington Avenue two blocks up from Locust Street, attractive drinking destinations include Brick River Cider, purveying the artisanal apple drink of the same name, as well as substantial breakfasts and imaginative shareables. Plenty of TVs, too, for sports action.
A few blocks closer to the city center, Hair of the Dog is has a more neighborhood feel but probably offers more beers than any of its rivals, 250 or more, including 43 on tap. Foosball, pool and pinball keep the customers occupied, and there's TV sports, too.
 Further towards the river a couple of blocks, The Over/Under Bar & Grill puts the accent on quality gastro as well as sports, beamed on 37 HDTVs including a vast projector screen on the patio. Happy hours weekdays 2.30pm-6pm help the medicine go down.
Right by Busch Stadium, Paddy O's is a large sports bar in the classic mold, with 3am closing on weekends for those who want to hit the dance floor or take in a DJ set.
Following the local soccer scene
1882 First recorded game in St. Louis, at Sportsman's Park.
1890 St. Louis Association Foot Ball League formed.
1904 St. Louis stages Olympic Games. Francis Field hosts soccer tournament involving three teams, two from St. Louis.
1920 Representing local milliners, Ben Millers wins U.S. Open Cup, the first of three St. Louis teams to lift the trophy between the wars.
1948-1950 St. Louis Simpkins-Ford twice wins U.S. Open Cup with a team featuring five members of the USMNT squad for the 1950 World Cup.
1950 U.S. creates the biggest shock in World Cup history, beating England 1-0 in Brazil. Five players come from St. Louis, including heroic goalkeeper Frank Borghi.
1967 St. Louis Stars formed, plays in NPSL, then NASL, at Busch Stadium.
1970 St. Louis Soccer Hall of Fame founded on the 50th anniversary of the Ben Millers' U.S. Open Cup victory.
1978 St. Louis Stars franchise moves to Anaheim as California Surf.
1979 St. Louis Steamers formed, plays in MISL.
1982 Anheuser-Busch Soccer Park opened by the brewery of the same name, stages several international fixtures later that decade.
1988 St. Louis Steamers folds.
1992 St. Louis Ambush formed, plays indoor NPSL until 2000.
1994-96 St. Louis misses out on co-hosting the World Cup and joining inaugural MLS.
1998 Second iteration of St. Louis Steamers, in operation until 2006.
2010 AC St. Louis plays a single NASL season based at Anheuser-Busch Soccer Park. Beginning of the St. Louligans supporters' group.
2013 St. Louis hosts showcase friendlies involving Chelsea, Manchester City, Real Madrid, and Internazionale, in front of capacity 48,263 at Busch Stadium and 54,184 at The Dome a local soccer record.
2014 Saint Louis Football Club formed, based at Anheuser-Busch Soccer Park, now called World Wide Technology Soccer Park.
2019 St. Louis City formed as an expansion club in MLS. Green light given to CityPark.
2020 Saint Louis Football Club folds,
2022 CityPark opens.
2023 St. Louis City joins MLS. Wins Western Conference.