Dublin is where 50,000 gather to roar on Ireland's national side in a modern arena chosen to co-host Euro 2020. Across town from the Aviva, half-a-dozen clubs, four a century or more old, strive to attract 3,000-plus crowds in a two-division, 20-team domestic league.
Attempts to increase gates are gradually succeeding but not helped by the popularity of England's Premier League and dominance of Gaelic football. Apart from the Aviva, built on the site of rugby temple Lansdowne Road, Ireland's largest dozen sports stadiums are all geared to towards the national game, overseen by the Gaelic Athletic Association (GAA).
Ireland's largest sports association actively discouraged soccer for decades. It wasn't until 1971 that the GAA dropped its ban on its members even watching soccer – and 1971 that Ireland's national team started to share Lansdowne Road with its rugby counterparts.
Until then, Dalymount Park had been the home of the round-ball game, hosting its first match in 1901 between Dublin's most enduring clubs, Bohemians (the Bohs) and Shelbourne (Shels). No longer suitable or safe to handle competitive internationals, particularly after the Charlton-era national side had gained momentum and mass support from the 1980s onwards, the Dalymount was abandoned to its remit of hosting the Bohs.
With no Dalymount, no Lansdowne Road after its demolition in 2007, and the Aviva three years away, Ireland's soccer team needed a stadium. Other towns have rarely been an option. Though Dundalk, Cork and Waterford broke the Dublin monopoly on the domestic league from the 1930s onwards, the national side has only played four home games outside Dublin since the first in 1924.
Every nation has its sacred sport, every sport its sacred ground. Such is Croke Park. Named after a 19th-century archbishop who stood up for Irish rights, GAA stronghold Croke Park witnessed the Bloody Sunday massacre of 1920, when 13 spectators and a Gaelic footballer were shot dead by British-backed forces during a match between Dublin and Tipperary.
The War of Independence led to the creation of the Irish Free State and, subsequently, the Republic of Ireland. In 1921, eight Dublin teams formed the Free State League, later called the League of Ireland, breaking away from the Belfast-dominated Irish Football League. A separate Free State national team then played at the 1924 Olympics in Paris.
In 2006, Ireland played their last match at Lansdowne Road before its demolition. More than 80 years after Bloody Sunday and more than 40 since the soccer ban, the GAA met to decide whether Ireland's soccer team, and its rugby counterpart, could play at Croke Park. In a seminal decision, temporary permission was granted. Robbie Keane, Shay Given and Damien Duff duly strode out in what was the second biggest sports stadium in Europe – for a dismal 1-0 win over Wales.
Meanwhile, across town, another stadium saga had long been unfolding in south Dublin. While the Bohs had been formed near the North Circular Road in 1890, Shelbourne and Shamrock Rovers hail from southside Ringsend. This simple north v south dynamic was skewed when former the former Ringsend residents were forced to groundshare northside Tolka Park from the late 1980s onwards. For Rovers, it followed the controversial sale of their revered Glenmalure Park in southside Milltown.
Shels and the Bohs had long had their own battles, played out in the pre-1921 Irish Football League, each winning the equally Belfast-dominated Irish Cup. Theirs is considered the oldest Dublin derby.
Rovers' fierce north-south rivalry with Bohemians echoed the one they once shared with former Tolka Park residents Drumcondra. The Hoops and the Drums often locked horns for the title from the late 1940s to the mid 1960s.
Ireland's most popular and most titled club, Rovers were to remain homeless for more than 20 years as development of a new stadium in Tallaght, south-west Dublin, stalled.
Regularly boycotted by Rovers fans, Tolka Park has been home to many clubs, including St James's Gate, originally from the Guinness brewery and winners of the inaugural League of Ireland in 1922, and Home Farm, who merged with Drumcondra in 1972.
Both Home Farm and St James's Gate now play in the Leinster Senior League, the third flight split into four levels and a myriad ones below. Formed in the 1890s, the league has always been mainly Dublin-based, major clubs fielding their reserve teams in the early days. Champions in recent seasons, Cherry Orchard and Crumlin United, have nurtured several Irish international players at many age levels.
Some LSL clubs have nursery affiliations with top-flight ones, such as the recent one set up between Crumlin United and St Patrick's Athletic, another of Dublin's Big Four. Irish champions in 2013, FAI Cup winners in 2014, never-relegated St Pat's share southside loyalties with Shamrock Rovers.
Based at Richmond Park, Inchicore, in south-west Dublin, populist St Pat's bring tifo colour and choreography to Dublin derby games. These same fans were the first to protest when a potential groundshare with Shamrock Rovers at Tallaght was mooted in 1996.
It prefaced more than ten years of financial and legal procrastination while Rovers fans were sent from pillar to post. At last, construction started on Tallaght Stadium in 2008. Opened with a league game against community club Sligo in 2009, set near the terminus of the light rail line from town (and direct from St Pat's, prompting the term 'LUAS derby'), the new arena witnessed Cristiano Ronaldo's debut for Real Madrid in a friendly that July.
A year later, Manchester United, who had played in the first football match at Lansdowne Road against Waterford in 1968, strode out against a League of Ireland XI before a newly opened and packed Aviva.
The main home games in Ireland's successful qualification campaign for Euro 2016 also saw 50,000 crowds, against a background of an improving domestic league. Summer football, Friday night games, the supporter-focused FanPoweredFootball campaign and promotion by league sponsors Airtricity ('Real Football, Real Fans') have all helped to raise gates. There was also the laudable decision of 100-cap Damien Duff to see out his career with Shamrock Rovers – and donate his wages to charity.
Another successful schoolboy product of the Leinster Senior League, Duff was fully aware how much Ireland's dedicated, grass-roots football community had given to him.
Mention must also be made of Dublin's lesser lights currently doing battle with Shelbourne in the second-flight First Division: UCD from University College Dublin, who took on Slovan Bratislava in the Europa League of 2015-16; and little Cabinteely, who survived a debut season in the First Division in 2015. Based at Blackrock, near Salthill & Monkstown four stops on the DART line south of Lansdowne Road, 'Cabo' comprise 55 (!) teams, boys, girls and ladies, as well as the first XI rubbing shoulders with former Irish champions Drogheda, Athlone Town and Waterford United.
Seven stops further down the DART line, Bray is strictly in County Wicklow but borders on Dublin an easy hop away. Close to both station and sea, the Carlisle Grounds, home of former FAI Cup winners Bray Wanderers, has been a sports venue since 1862.
Bearings
Dublin Airport is 10km (six miles) north of the city. Dublin Bus Airlink 747 leaves every 10-15min for Heuston rail station (off-peak journey time 50min) via the main bus station, BusÁras (off-peak journey time 30min) near Connolly rail station. Allow more journey time in rush hour, especially when coming from town.
Tickets are €6 single/€10 return. The multi-transport Leap Card (€5 plus €5 credit) is valid but offers no savings on the airport bus. It does offer reductions on all other Dublin buses, the LUAS light-rail line and the DART & Commuter rail lines. On the bus, tell the driver your destination for him to deduct fare once you touch into his ticket machine. Journeys over 13 stages are a flat €2.60. On the LUAS and Dublin short-hop DART & Commuter rail zone (including Blackrock and Bray), touch in and touch off as you board and alight.
Other buses into the city from the airport are the Nos.16 and 41 via Drumcondra, and the 24hr aircoach to the centre (€7 single, €12 return, €6/€11 online, every 15min, 30min journey time).
Airport Taxi (+353 1 290 9090) quotes €24 for the city centre. For a taxi in town, call NRC on +353 1 677 2222.
Bed
Visit Dublin has a database of hotels.
Note that rooms are booked early around the Aviva Stadium and the city centre for rugby weekends in February and March.
For the rest of the year, there is plenty of choice among the various hotels, guesthouses and apartments within walking distance of the national arena and its DART station an easy hop to and from the city centre. Although the Clyde Court has closed for development, the adjoining 400-room, mid-range Ballsbridge Hotel is staying open until 2018. Lansdowne Road lodgings such as Ariel House and Butlers Town House offer old-school hospitality in lovely historic properties.
In the new Docklands development, still walking distance from the Aviva, The Marker is the suitably upscale, contemporary hotel, with spa and cool bar, where FC Barcelona stayed before the pre-season game with Celtic in July 2016. Round the corner, the Clayton is far from shabby, with its own pool and gym.
Also convenient for international games, between the RDS Arena and the Aviva, are the five-star InterContinental, with full spa facilities and, opposite, the Clayton Hotel Ballsbridge, the former Bewley set in pleasant grounds. Nearby is the high-end, high-tech Premier Suites Dublin Ballsbridge, comprised of various suites from studio to family. A little further along, and nearer the Aviva, the Herbert Park Hotel is a business-friendly four-star.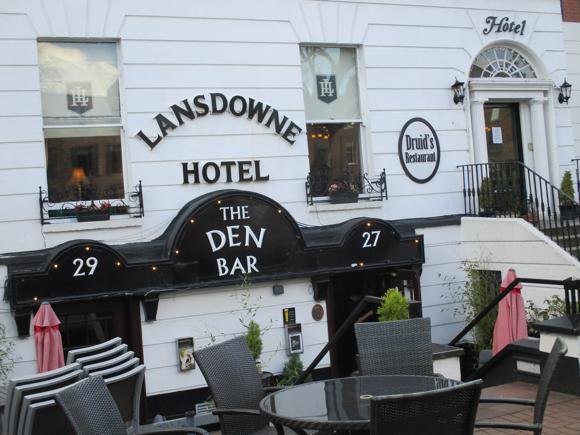 Just over the river Dodder from the stadium, the family-run Sandymount is another reliable and convenient choice.
Nearer to town but still only a stroll from the Aviva, the Lansdowne Hotel garners loyal repeat custom thanks to the Quinn family welcome. Its Den Bar tends towards the oval ball – note the largest collection of rugby ties in the world.
Beside the aircoach bus stop south of town, a 15-minute walk from Lansdowne Road, the landmark, 502-room Clayton Hotel Burlington Road was completely refurbished in 2014.
In the same family as the Ballsbridge Hotel, the maldron group runs a number of mid- and upper-range hotels at key locations in downtown Dublin, as well as five minutes' walk from Tallaght Stadium, where you'll also find the Glashaus, all sleek and contemporary but affordable.
Conveniently set near the bus and Connolly stations, the North Star is also handy for the airport bus and a stroll from the pubs of Temple Bar. For an authentic Dublin pub experience combined with an affordable, comfortable room, O'Donoghue's is perfect. The greatest names in Irish music have all played in the illustrious bar below.
On the other side of the street is the most famous hotel in town, The Shelbourne, where the Free State constitution was drafted in 1922. Here you can book a genealogist, a therapeutic spa or table at The Saddle Room restaurant. Its Horseshoe Bar is equally renowned. You'll have to do the whole thing on expenses, though – breakfast alone is €29.
Also in the upper bracket, the Gresham right on O'Connell Street exudes historic luxury while the five-star Fitzwilliam is handy for the LUAS line to Shamrock Rovers.
If you'd rather stay an easy stagger from the many pubs of Temple Bar, then the Blooms Hotel is a handy mid-range choice while the Temple Bar Hotel itself combines contemporary comfort with live music in its bar every night of the week. Nearby, the refurbished Fleet Street Hotel is also handy for a bar-hop.
Dublin is also full of hostels – the Globetrotters near the bus station is better than most, with 24hr reception and a private garden.
Beer
Pubs are why people come to Dublin – which is why the Temple Bar area on the south bank of the Liffey is mobbed every night. For TV football, the party-centric Trinity Bar & Venue has a huge screen while O'Neill's in nearby Suffolk Street is a more traditional bet. Nearby Doyles is also sport-focused and lively with it while nearer the Liffey, Mulligan's can number legendary sports writer Con Houlihan among its many former regulars – he used to have his monthly pay cheques lodged behind the bar.
In the heart of Temple Bar, the Auld Dubliner always gets mobbed on big-match weekends while the Bad Ass Temple Bar is now more pub-like than when Sinéad O'Connor worked here back in the day.
Just over the Liffey, with its own 'bad ass' TV for sport, Frank Ryans is an age-old institution of a pub, with regular live music. Off O'Connell Street, the Oval Bar, established in 1820, contains wide-screen TVs for sporting action amid the historic surroundings.
Back on the south side, further down towards St Stephen's Green, Sinnotts is mobbed on big-match nights, with 14 large screens. Between Pearse station and Merrion Square, The Square Ball on Hogan Place is a relative newbie, a trendy spot that goes big on rarer beers while showing TV sports and providing shelfloads of board games.
On the LUAS line, on Harcourt Street, Dtwo is known as a nightclub but its sports bar contains 20 screens, one of them half the size of Canada. The nearby Bleeding Horse posts an encyclopaedic schedule of TV sports events for a landmark pub that dates back four centuries.
North of the river, you'll find a more international style of sports bar, such as the antipodean Woolshed Baa & Grill, with three vast screens and 15 smaller plasma ones, and The Living Room, which shows almost every league known to man and whose outdoor screen is claimed to be Europe's largest. With its equally busy side bar, this is soccer-watching on an industrial scale. Alongside, Murray's attracts sports fans with its three HD screens.
The 3 Spirits, Dublin's first Brazilian bar, is lined with screens for soccer watching – the food can be hit and miss, but that's not why you're there.
A fairly recent addition to the sport pub scene, up in Phibsborough, The Back Page comprises a chatty front bar, a larger back one featuring a wall-length mural dedicated to Italia '90, an alcove casually scattered with stacks of cult soccer publications (Austrian Ballesterer, anyone?) and an astroturf-decked garden and picnic area. Screens abound. The affordable, quality food is also themed – the Andrea Pirlo salad comes with tuna – while Beck's on draught is another plus.
Associated more with Gaelic football than soccer, on the other side of The Mater Hospital, the long-established Big Tree packs out for major Ireland matches.
Finally, for a few sessions of table football and craft beers, the Black Sheep is a popular post-work spot run by the independent Galway Bay Brewery.