A fan's guide – the club from early doors to today
It took six years and a heart-stopping finish to a decisive league game at Drogheda, but in September 2019, Shelbourne FC returned to the Premier Division. The second-most titled club in League of Ireland history had dominated the domestic game in the early 2000s only to collapse in financial disarray in 2006.
Since then, there has been no European football, Shelbourne having laid the groundwork for the likes of Dundalk by overcoming Hajduk Split and holding Lille, Deportivo La Coruña and Steaua Bucharest to draws.
Promotion in 2019 was followed by further good news in January 2020. Ireland's Department for Sport announced the allocation of nearly €1 million to the redevelopment of Dalymount Park, current home of Shelbourne's local rivals, Bohemians. The plan is for Shels to groundshare the former de facto national soccer ground with the Bohs, scheduled for 2023.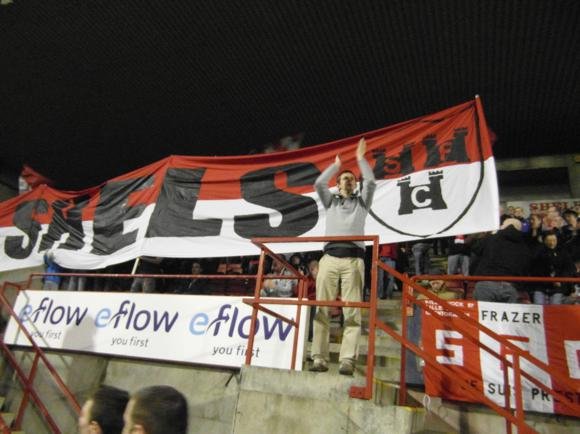 In the meantime, Shelbourne remain at Tolka Park, initially home to Drumcondra FC, the five-time title winners who once represented the northern suburb of the same name. Moving here in 1989, Shelbourne extended the life of this old-school ground, whose days are now numbered. Just over the Tolka river rises the third largest sports stadium Europe, temple of Gaelic football Croke Park. Shelbourne have their roots on the other side of town, in the dock area of Ringsend, close to the current national arena, the Aviva Stadium. Running alongside it, Shelbourne Road lent its name to the soccer club formed in 1895.
Shortly afterwards, Shamrock Rovers were founded in the same area, but it was eternal rivals Bohemians who would share a duopoly of the Leinster Senior Cup with Shels in these early years up to World War I.
At the same time, Shelbourne became the first Dublin club to win the then all-Ireland Irish Cup in 1906 and the last, by default in 1920. A year later, the Reds helped to pioneer an independent association in Dublin, breaking away from the previously dominant Belfast, by refusing to play a replayed semi-final in Ulster.
Later in 1921, Shels were one of eight founding members of the League of Ireland, all clubs from Dublin. Based in Ringsend, the Reds finished champions or runners-up eight times in ten years before greyhound racing became the focus at Shelbourne Park. The legendary Mick the Miller made its debut there in 1928.
Shelbourne dipped out of the league following a fixture dispute in 1934 but revived to win a first FAI Cup before huge crowds in the replayed final of 1939. After winning two further titles in 1944 and 1947, Shels left Ringsend for a nomadic existence, later mainly based at Tolka Park in Drumcondra.
With stellar manager Gerry Doyle in charge and Irish international Christy Doyle scoring the goals, a young Shelbourne side won more domestic silverware on the eve of the European era. This included the FAI Youth Cup of 1959, key team members being swiftly elevated to first team, most notably Tony Dunne. A stalwart left-back of the star-studded Manchester United side of the 1960s, Shelbourne graduate Dunne would lift two English league titles, an FA Cup and the European Cup of 1968.
Still under Gerry Doyle, Dunne's former employers made their in Europe's premier competition in 1962, holding Sporting Lisbon to 0-2 before 20,000 spectators at the Dalymount before freezing in Lisbon. Going down to the same score at home to Barcelona a year later, Shels actually went ahead at the Nou Camp before Hungarian World Cup star Sándor Kocsis equalised, though the Catalans were still pegged to 1-1 until late in the game.
A first European victory for Shelbourne, and any League of Ireland club, came a year later in a replay against Belenenses, before the Reds limited Atlético Madrid to two 1-0 wins. It would be another 40 years before Shels took another big European name to the wire.
A long-awaited league win in 1992 and a string of FAI Cup victories that same decade led to short European campaigns but that changed after the arrival of Pat Fenlon in 1997. Returning to prime form from long-term injury two years later, this influential midfielder steered Shels to a memorable double in 1999-2000, scoring the only goal in the FAI Cup final replay. Sharing the limelight during this most successful period in the club's history was Stephen Geoghegan, top league scorer three seasons running.
Under manager Dermot Kealy, in the subsequent Champions League campaign, Shelbourne achieved victory at Sloga Jugomagnat of Macedonia, a first away win for an Irish club in Europe for nearly two decades. While the experienced Rosenborg Trondheim then proved too strong, better was to follow four years later.
With Fenlon now manager, Shels had won three straight titles, ex-Bray striker Jason Byrne taking over scoring duties from Geoghegan. Overcoming KR Reykjavík in the first qualifying round of the 2004-05 Champions League, Shelbourne were responsible for the greatest shock in Irish European club football when two late goals by international forward Alan Moore helped the Dublin side come away from Hajduk Split with a promising 2-3 defeat, before defeating the Dalmatians 2-0 at Tolka Park.
Shifting the next showcase fixture with then high-flying Deportivo La Coruña to the national stadium of Lansdowne Road, Shels sent the bulk of the 23,000 crowd home happy by holding the Galicians to a very creditable 0-0 draw. They then held off Depor for an hour at La Riazor before succumbing to two quick goals by Spanish international Víctor Sánchez.
The eventual 3-0 loss still represented the longest run by any Irish club in European competition until then.
The glory era proved short-lived. After draws with Lille and Steaua Bucharest, Shelbourne won a last title in 2006 but were immediately relegated due to financial irregularities – the lack of cash flow leading to the end of Pat Fenlon's decade-long relationship with the club and departure of all key players. The fact that Fenlon joined rivals Derry, whom Shels had just pipped to the league crown on goal difference, only added to the sense of humiliation.
The Reds needed five years to scrap their way back to the Premier, then another six when Shels failed to stay up in 2013.
Essential to the successful campaign of 2019, young manager Ian Morris had had long spells as a player from Scunthorpe to Torquay, while forward Ciarán Kilduff had experienced European football with Shamrock Rovers and Dundalk. At the other end, a defence featuring young Irish keeper Colin McCabe would only concede 19 goals all season.
Morris, Kilduff and McCabe remain in place for 2020, one of the last seasons that Shels will play at Tolka Park.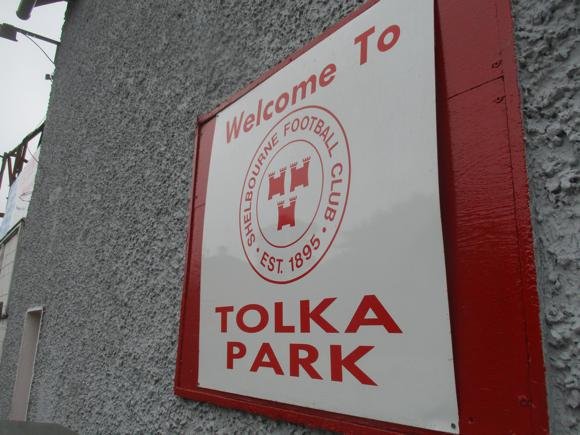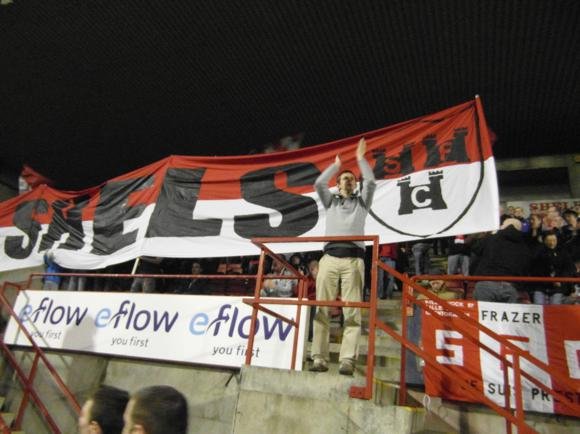 The field of dreams – and the stands around it
Regular home of Shels since 1953, Tolka Park has also played host to Drumcondra, Home Farm and Shamrock Rovers, who shared this old-school ground with Shelbourne for several seasons until 2008.
Despite this long football heritage – Tolka Park also staged a couple of internationals and FAI Cup finals – the stadium's days may be numbered. The 2020 announcement of state funding for the redevelopment of Dalymount Park, which Shels will share with Bohemians, means that Dublin Council, who also own Dalymount, will probably take back ownership of the land here. A campaign to save Tolka Park is also being considered.
Tolka Park witnessed Premier-Division action in 2020 after seven years. One of the smallest grounds in the division, Tolka Park now uses all four stands, the Ballybough End reopened for away fans in 2022 to bring capacity to 4,400.
Home fans gather opposite in the Drumcondra Stand and in the Main Stand along Richmond Road, where the stadium bar is located. The Riverside Stand is closest to the narrow, winding Tolka.
Going to the ground – tips and timings
Tolka Park is just off the main N1 road up to Dublin Airport – if you're flying in, you'll pass by it soon after setting off for town.
From the city, the most frequent bus services are the 41, 41b, 41c and 41d from Abbey Street, Irish Life Mall (stop 288), near Dublin's main bus station of Busáras. Alternatively, bus 1 and 11 go from O'Connell Street (stop 278) north to Drumcondra. Allow about 15mins to reach Kennedy's pub (Botanic Avenue, stop 19 on Drumcondra Road Lower). From there, cross the road, walk over the bridge and turn right down Richmond Road.
To bypass the Dublin traffic, take the train from Connolly main station to Drumcondra (every 15-20mins, journey time 5min) – from there, it's a 7-8min walk up Drumcondra Road Lower to Kennedy's, or jump on a bus for two stops.
Buying tickets – when, where, how and how much
Apart from season tickets, there are no online sales. The ticket window on Richmond Road opens 45min before kick-off, general admission €15, students €10, seniors €8, under-12s €5.
Shirts, kits, merchandise and gifts
On match days, a modest club shop operates by the home Drumcondra Road stand, proffering standard merchandise in Shelbourne red.
Pre-match beers for fans and casual visitors
The two most popular pre-match pubs, by the bus stop on Drumcondra Road, are Fagan's and Kennedy's. In place for a century or more, in the family since 1961, homely Kennedy's is a long-established pit stop for Shels and GAA fans. There's a quality kitchen – slow-braised lamb shank, beer-battered fish – and rooms if you need. 
Nearer the bridge, Fagan's is similarly storied – note the photo of former Taoiseach Bertie Ahern having drinks with the Clintons. Food here is also top-notch, steaks, burgers and curries.
Over the bridge, about 300 metres up from Richmond Road (alight at St Patrick's College of Education, two stops from Kennedy's), the Cat and Cage at the corner of Church Avenue is another landmark pub gone gastro. In business since 1690, it hosts live music each night of the weekend.
The closest hostelry to the ground, on the stadium side of the bridge, Millmount House is quiet enough earlier on for a game of pool, lively after dark.
Behind the Main Stand on Richmond Road, the convivial Tolka Bar fills up pre- and post-match, providing reason alone to make your way up to Drumcondra.