The field of dreams – and the stands around it
The Aviva is Ireland's national stadium, the home of its soccer and rugby teams whose associations share 50-50 ownership of the gleaming arena.
Unveiled in 2010, venue of the Europa League final a year later and, on paper at least, for four fixtures for Euro 2020, the Aviva is now in line to co-host Euro 2028 with the rest of the British Isles after Covid restrictions prevented games being played here for the 2020 event.
The Aviva stands on the site of the old Lansdowne Road ground that performed the same function until its closure in 2006.
Unlike the Aviva, Lansdowne Road was created for, principally, rugby. Its creator, Henry Wallace Doveton Dunlop founded Lansdowne (rugby) Football Club the same year as he opened the ground in 1872.
An engineering graduate of Trinity College, this sport-focused son of a Bombay Harbour policeman had founded an athletics club the year before but had been refused permission to stage meets on campus. Driven and resourceful, Dunlop used his engineering expertise and social connections to establish a multi-sports centre between the railway line and the River Dodder in Ballsbridge, Dublin 4.
A mile or so south-east of Trinity College, close to today's Dublin's Docklands development, thanks to the indomitable Dunlop, this unlikely site hosted its first rugby international in 1878 after the sport's Irish authorities had initially refuted its suitability.
In 1906, the IRFU not only took control of Lansdowne Road but realigned its orientation and built a stand on its west side, parallel to the rail line. An east stand went up in 1927. Dunlop died shortly afterwards.
By then, Ireland had its own national football team, separate from its Belfast-based counterpart. When the Irish Free State made their World Cup debut in the qualifying tournament for 1934, it was at Dalymount Park, home of Bohemians in grey, residential Phibsborough north of the Liffey.
Its terraces more suited to the modest demands of football fans than the relative comfort offered to crowds gathering for rugby internationals, Dalymount had Ireland's home ground until a prestigious qualifying match with Italy was moved to Lansdowne Road in May 1971.
By 1980, and a potentially volatile qualifying draw pairing Ireland with England and Northern Ireland, Lansdowne Road was the only choice of venue. In 1981, Platini's France were memorably put to the sword 3-2 in Ballsbridge. 
Served by the electrified DART suburban line that replaced the Dún Laoghaire-Dublin rail link, Lansdowne Road came into its own with Jack Charlton as Ireland manager. Striding out onto thick turf in swirling wind and rain of an afternoon, foreign opposition succumbed to Charlton's up-and-at-'em approach.

Ireland qualified for and made history at Euro 88 and Italia '90. Money poured into the Irish FA. Floodlights were installed at Lansdowne Road – sadly, an evening fixture then included the visit of England and disgraceful scenes of hooliganism by its followers that forced the abandonment of a 1995 friendly.
By laudable contrast, exemplary behaviour by hordes of Ireland supporters at three subsequent finals buoyed each biennial challenge for a qualifying place. Football was a fun place to be around – and big business.
Meeting at Slattery's Bar near Lansdowne Road, You Boys In Green were part of the communal celebrations that went with every Ireland game. Attendance for the last international at Lansdowne Road in November 2006, for the visit of San Marino, was 34,000.
The limitations of century-old Lansdowne Road – half-seated at 48,000 capacity, all-seated at 36,000 – had long led to debate over a replacement.
In the end, the decision was made to build a 50,000-seater for both football and rugby, the national teams playing at the sacred GAA ground of Croke Park while construction was taking place.
Sponsored by insurance company Aviva for a reported €40 million-plus sum, the €400 million-plus new arena opened in 2010 with the visit of Manchester United – who had also been the first team to play football at Lansdowne Road against Waterford in 1968.
Without the terraces or intimacy of Lansdowne, the Aviva's suffered initial criticism in terms of its noise and atmosphere. In the end, You Boys In Green had to allocate a specific section, 114 in the South Stand, to singing, such was din coming from the one-tier away end opposite.
Impressive in appearance, its undulating, translucent roof designed to allow maximum light to the pitch without obstructing surrounding residencies, the Aviva comprises five tiers, the fourth dedicated to corporate spectators.
Tickets and entrances are colour-coded: purple on the corner of Herbert and Lansdowne Road, blue, orange and green via Shelbourne Road. It may be an idea to familiarise yourself with the geography beforehand because being stuck on the narrow waterside pathway is no fun.
For away fans, there's no pedestrian access down the narrow streets and cul-de-sacs behind the North Stand furthest from the DART line. Head for the red-ticket entrance from Bath Avenue.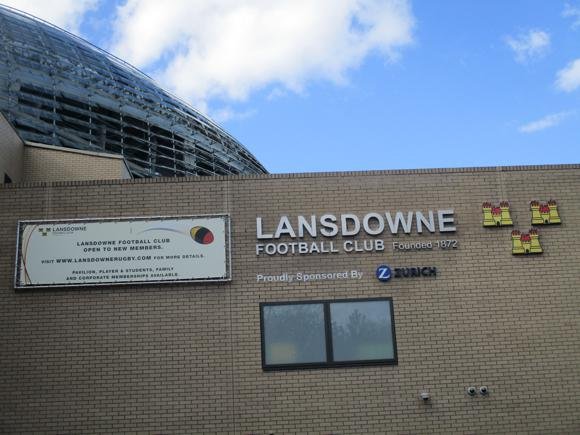 Going to the stadium – tips and timings
The stadium is right by Lansdowne Road station on the DART line (every 15mins Mon-Sat, every 40mins Sun) with a direct link from Connolly (10mins), Tara Street (6mins) and Pearse (5mins) stations.
Alternatively, buses 4 (Mon-Fri every 15mins, Sat every 30mins, Sun every 1hr; destination Monkstown Ave) and 7 (daily every 15-20mins; destination Loughlinstown/Cherrywood) run from O'Connell Bridge near Temple Bar in town to Northumberland Road/Lansdowne Park eight stops/12mins away. 
Alight at the stop before, Haddington Road, for nearby Ryan's Beggars Bush pub and Slattery's.
Buying tickets – when, where, how and how much
Tickets are distributed online through the FAI website from one month before match day. The site links through to Ticketmaster, which charges a €5 admin fee.
Seat prices start at €30 for the East or West Upper, rising to €40 in the North/South Lower behind the goals and East/West Lower nearer to the sideline. Premium seats are €80 right round the ground.
Away fans, allocated the North Upper, should consult with their individual FAs for ticket sales.
Shirts, kits, merchandise and gifts
Close to Lansdowne Road DART station, Elverys (Mon-Sat 10am-5pm, Sun 10.30am-4pm, match nights) is the main if modest stadium store, with the standard range of replica shirts. There are also a few stadium souvenirs on sale in the Tours Office next door.
Explore the ground inside and out
Daily tours (50mins) take place hourly, 10am-3/4pm, throughout the year, not on match days or around certain events. 
Tickets (€10, €7 reduced, €5 4-12s) are available from the office beside Elverys Sports near Lansdowne Road DART station or online.
Pre-match beers for fans and casual visitors
By the banks of the Dodder, there's a row of three pubs on Merrion Road – just cross over the water and head up Shelbourne Road for the stadium a 7min walk away. Paddy Cullen's goes big on pub food and TV football. Attached, Mary Mac's is lined with screens for sports action. Century-old Crowe's at No.10 has been linked with rugby for generations.
On Pembroke Road, that forks off from Shelbourne Road, the Den Bar downstairs from the Lansdowne Hotel is again more rugby-focused but offers a relaxing spot for a pre-match Guinness, with a TV screen. More spacious but not as authentic, The Dubliner pub nearby at the Ballsbridge Hotel is closer to the stadium.
More contemporary in vein, The Gasworks in the Galway Bay Brewery family is an excellent pre-match choice, with 26 (!) choices of beer on tap in an urban-style bar, TV football regularly scheduled, decent food and a pool table. It's on Grand Canal Street Upper next door to the Grand Canal Hotel, closer to Grand Canal Dock DART stop, and about 100 metres from the main pre-match bar hub that orbits around Slattery's.
Set at the junction of Bath Avenue, Shelbourne Road and Haddington Road and Grand Canal Street Upper, Slattery's is the busiest of the many establishments that surround the Aviva, its glassed-in terrace packed before the game. It's also the meeting place for You Boys In Green. A few buildings down on Bath Avenue, the former classic stadium pub The Lansdowne has gone gastro ('quaff and scoff') – but The Old Spot is still used on match days as a serious drinking haunt.
Further along, The Bath is another newbie, opened in 2012, a modern bar offering craft beers and wood-fired pizzas.
More established and traditional, along Haddington Road, Ryan's Beggars Bush sets up for mobbed match days with a large outdoor area, three indoor bars, a barbecue and TV screens everywhere. The pub takes its name from the surrounding neighbourhood – the first hostelry here dated from 1803 and served the former British Army barracks.