A fan's guide – the club from early doors to today
The pride of Inchicore, west Dublin, St Patrick's Athletic won the league at their first attempt in 1952 and have never been relegated since.
Often capable of stellar performances in Europe – a 0-0 draw at Celtic in 1998 stands out, plus more recent wins over teams from Sweden, Russia and Bosnia & Herzegovina – St Pat's are currently the last side from Dublin to lift the Irish title.
Behind the 2013 win and other notable achievements at Richmond Park, both as a player and manager, Liam Buckley serves as an exemplary figurehead at this well run, community club with a solid fan base.
Moving to Emmet Road shortly after their foundation in 1929, St Pat's took the momentum of winning the Leinster Senior League and Cup into their accession into the League of Ireland in 1951. With Irish-capped striker Shay Gibbons top scorer, the Inchicore club won the league in its debut season, following up with two more titles fielding internationals Dinny Lowry in goal and Tommy Dunne at half-back. Ronnie Whelan, father of the Liverpool star of the same name, also won FAI Cup medals at inside-forward for St Pat's in 1959 and 1961, and was later capped twice for Ireland.
Kicking off an initially patchy European record with an 8-1 aggregate defeat to Dunfermline, the club lay in the doldrums for two decades before things started moving again in the 1980s. After witnessing a notable debut season from a 21-year-old Paul McGrath before he left for Old Trafford, Richmond Park welcome the arrival of Brian Kerr, a former assistant coach at Drogheda and a man with no senior playing experience.
Kerr worked near miracles to create a title-winning side with little budget. He discovered midfielder Pat Fenlon and later St Pat's stalwart Paul Osam, both then teenagers but soon to lift the club's first league title for 34 years. Anchoring the defence was converted centre-forward Damien Byrne, who had shared in Kerr's disappointment when St Pat's lost the title on the last day of the 1987-88 campaign. Two years later, they were champions.
Two years after that, the club was all but dead. A series of strange moves behind the scenes – at a time when St Pat's were playing at Harold's Cross during the rebuilding of Richmond Park – had all but bankrupted the club. Kerr himself was of several backers who saved St Patrick's Athletic, sealing his revered status.
Kerr then went one better. Having sold key players during the financial crisis, he brought in Eddie Gormley to pilot his midfield and, with a rebuilt side at a rebuilt Richmond Park, won the title again in 1996. Behind the success was also Pat Dolan, a former St Pat's player who had headed up the club's commercial team during the lean years and helped turn things around.
When later that year Kerr shocked St Pat's by accepting the national youth coach job, a 28-year-old Dolan took his place. Liam Buckley, Kerr's overlooked assistant, left but would later return with significant effect.
Dolan, meanwhile, got to work, bringing in the likes of Trevor Molloy and Thomas Morgan, both bronze medal winners with Kerr's national team at the 1997 World Youth Championship. St Pat's won the league in 1998 and again, with a returning Buckley as manager and Dolan managing director, in 1999. In between, St Pat's put in a phenomenal performance to hold Henrik Larsson's Celtic to 0-0 in Glasgow, the second leg played at Tolka Park, a 2-0 defeat.
A 10-0 whitewash by Zimbru Chisinâu of Moldova a year later pushed Buckley out the door.
Considering themselves league champions in 2002 – the Irish FA officially gave the title to Shelbourne after a points deduction – St Pat's were taken over by real estate mogul Garrett Kelleher five years later.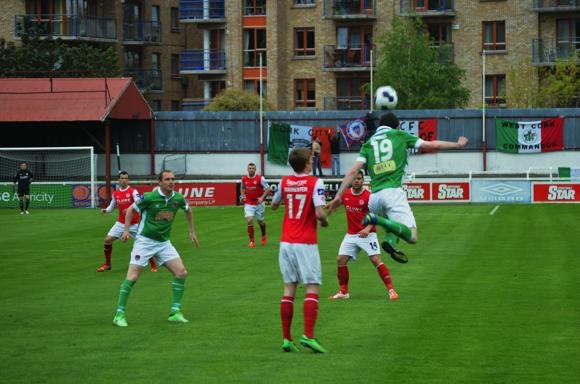 Back in the title hunt and now winning the odd game in Europe. St Pat's now had a new rivalry to contend with, Shamrock Rovers, based at their new stadium on the same LUAS light-rail line as Inchicore. A 5-1 win over Rovers early in the second reign of Liam Buckley as manager pointed to better times ahead. 
Later that same 2012 season, Buckley's revived St Pat's made it through two qualifying rounds of the Europa League, both extra-time wins, to take on a stronger Hannover 96 at Rovers' Tallaght Stadium. St Pat's also made it to the FAI Cup final, this time an extra-time defeat, to Derry.
With key players poached by Rovers, Buckley persuaded their former Irish under-19 international midfielder Killian Brennan over to Richmond Park. It was a master stroke – a Brennan-inspired St Pat's won the league in 2013 then gained revenge over Derry City a year later by winning the FAI Cup thanks to two goals from Keith Fahey.
Two League of Ireland Cups duly followed.
Liam Buckley remains in place, while agreements with the youth teams of NUI Maynooth and Crumlin United – alma mater of Brian Kerr and Robbie Keane – should see a regular flow of talent arriving at Richmond Park.
The field of dreams – and the stands around it
A former recreation ground for the British Army when stationed nearby, Richmond Park has been home to St Patrick's Athletic since the earliest days of the club's existence. Vacated at various stages, most notably when St Pat's ran out of money during an early 1990s rebuild, Richmond Park is one of Ireland's most traditional and revered grounds.
Suitable for staging European fixtures since supporters clubbed together in 2013 to fund the installation of the Patrons' Stand behind the Inchicore End goal, it has a capacity of 5,340. More than half of that is seating, 1,800 in the Main Stand nearest Emmet Road.
One half is allocated to visiting supporters, nearest the Shed End, in block A. If more space is required, say for the LUAS derby with Shamrock Rovers on the same light-rail line, away fans are placed behind the east goal, too.
The most vocal home support is in the St Pat's half of the Main Stand and on the narrow open Carmac Terrace opposite.
Going to the ground – tips and timings
The quickest way to Richmond Park is to take the LUAS red line to Goldenbridge (25mins from Busáras by Dublin bus station, 10mins from Heuston station). Walk over the canal, taking Connolly Avenue to the end. It veers left to meet Emmet Road, with the ground opposite, tucked in behind terraced housing.
Buses also run along Emmet Road. From O'Connell Street/Cathedral Street, the frequent 13 (direction Grange Castle) and 40 (every 10-20mins, direction Liffey Valley Shopping Centre) go to St Michael's Church opposite the ground, 30min journey time.
Buying tickets – when, where, how and how much
Tickets are sold during the week of the game from the office at 125 Emmet Road near the Richmond House pub, and on match night itself. There are no online sales.
Admission €15 for adults, €10 for over-65s and students, €5 for accompanied under-12s. No children are allowed in otherwise.
Shirts, kits, merchandise and gifts
An outlet for St Pat's merchandise opens by the main stand on match nights, selling home and away tops, scarves, hats and tracksuits, plus DVDs of recent triumphs.
Pre-match beers for fans and casual visitors
Three key pubs line Emmet Road. Nearest the ground, venerable Richmond House/McDowell's was taken over by the club in 2006 and flies the flags of St Pat's outside. Inside, it's pretty standard though, with surprisingly few red-and-white souvenirs or paraphernalia.
On the same side of the street at No.97, Coffey's has the space to contain a pool table, DJ decks at the back, old 45s on one wall and Celtic, United and Villa shirts on another – Paul McGrath is still a hero around Inchicore.
Opposite, arguably the best choice pre- and post-match is Tom Tavey's at No.118. More bar than traditional pub, it features a large mural signalling St Pat's affection and, somewhat bizarrely, a framed programme and match ticket from the 1963 FA Cup Final.
Three Irish internationals – Dunne, Cantwell and Giles – played for Manchester United that day although there's no story behind the display, discovered when clearing out some old junk.