A fan's guide – the club from early doors to today
Enjoying their best league season since the 1970s and apparently back in Europe after 30 years, Waterford FC also reenergised their loyal fan base and reignited the Munster Derby with Cork City.
Behind this long-needed revival was owner/chairman Lee Power, who played in the same promising Ireland U-21 side as the man he quickly appointed as his Director of Football, Pat Fenlon. Power, then owner/chairman of Swindon Town, ditched the name 'Waterford United', adopted in 1982, gave the club back its historic name of Waterford FC, the one engraved six times on the League of Ireland trophy between 1966 and 1973.
Crucially, on the same day as Fenton's arrival in January 2017, Alan Reynolds was hired as manager. A teenage debutee for Waterford in 1991, a Blues man through and through, Reynolds would steer WFC to a memorable 2017 First Division title that September, sealed with a 3-0 win over Munster rivals Wexford.
Despite the departure of the two key players in the title-winning campaign, David McDaid and Mark O'Sullivan, Waterford's return to top-flight football after ten years was a successful one, qualifying for Europe through the back door.
Things are shaping up nicely for the club's 90th anniversary in 2020 when UEFA dropped a bombshell, declaring WFC too new a club to enter the Europa League. What followed was relegation and Lee Power's departure in 2021.
The exact details of the club's formation in 1930 are lost in history. Its roots lie in junior sides Waterford Celtic and Young Favourites, active in the late 1920s, the latter based at Ballynaneasagh, south-west from the city, where the newly formed Waterford AFC played their first home games in their debut season in the League of Ireland, 1930-31. 
Soon, by the November, the club's new ground of Kilcohan Park was ready. Though Waterford would blip in and out of existence, dropping off the radar in the 1932, winning a first FAI Cup in 1937, missing out on a title play-off in 1941 through a payment dispute, resigning from the league soon afterwards, Kilcohan Park remained a constant.
As did, from 1937 onwards, the Coad footballing dynasty. Joining his home-town club at 17, sublime inside-forward Paddy Coad was part of that 1941 side, before moving to Shamrock Rovers when Waterford collapsed. A player-manager by the age of 30, Coad led Rovers to three league titles, returning to see out his career at Kilcohan Park.
Of all Coad's achievements, winning Waterford their first league title in 1966 was, he later claimed, the greatest. Helping the Blues edge over the line in a record 13-game winning streak was Johnny Matthews, then a 19-year-old loanee from his home-town club of Coventry. Also comprising Paddy Coad's nephew, Shamie, and Waterford-born Alfie Hale in his third and longest stint of seven as player or coach here, a high-scoring side lit up Kilcohan Park for the best of a decade.
Six titles not only brought the likes of Manchester United, Celtic, Galatasaray and Újpest Dózsa to Waterford, it stamped the city as a soccer town. Who wouldn't want to see George Best, Denis Law or Lou Macari? By the 1970s, United legends such as Bobby Charlton, Shay Brennan and David Herd were running out in the blue of Waterford, Sir Robert for three games in 1975-76.
After heavy losses in Europe – a trepidatious first trip, to East Berlin in 1966, ended in 12-1 aggregate defeat to FC Vorwärts – Waterford got the hang of the two-leg game. Playing home ties in Dublin, the Blues held Best's United to a 3-1 winning scoreline in front of nearly 49,000 at Lansdowne Road, before 2-3 domestic defeats to Galatasaray and Újpest.
The five league titles in six seasons were won with an average of 63 goals scored in each campaign of 22 or 26 games. Brennan retired as player-manager in 1974, the same year that Hale moved to rivals Cork Celtic. Goals by Shamrock Rovers legend Mick Leech and the indefatigable Johnny Matthews kept the Blues in the top six through the 1970s, but a single-goal cup victory over St Patrick's Athletic in 1980 marked the end of an era. After Brian Gardner's header led to raucous scenes at the Waterford end of the Dalymount, the club changed names and lost its top-flight status.
Relegated in 1989, Waterford United moved to the newly built municipal Regional Sports Centre in 1993, leaving Kilcohan Park to the greyhounds. Yo-yoing between divisions for a decade, Waterford United attracted promising young Irish goalkeeper Dan Connor from Peterborough, gained another promotion in January 2003 and kept afloat for the first League of Ireland summer season later that year. Sensing a revival, the club drafted in Irish legend Paul McGrath as Director of Football, to work alongside old boy Alan Reynolds as manager.
Their reign would be marked by a sensational reversal in the FAI Cup final of 2004. Having beaten Derry thanks to a Connor penalty in the semi-final, Waterford were looking at a first major trophy for 24 years until two late, late Longford goals wrested it from their grasp.
Another decade of play-off near misses followed, compounded by the credit crunch of 2008. By the time Lee Power arrived in 2016, the club was at a particularly low ebb. First came the change of name and badge, the new crest echoing the one first worn in 1930, then came Fenlon and Reynolds, and then came promotion.
Next would have come Europe…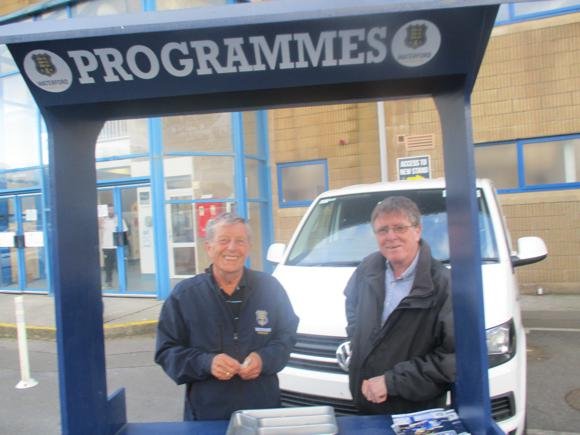 The field of dreams – and the stands around it
Stuck out way south-west of town on the old main road to Cork, the WaterfordRegional Sports Centre (RSC) is one of Ireland's best grounds despite its obvious use as an athletics stadium. Separating its two facing sideline stands from the football action, a running track is complemented by all the accoutrements of jumping and throwing events – there are no ends as such, just empty spaces.
For all that, Blues fans generate a noisy atmosphere, particularly in Block E at one end of the main stand on Cork Road. From its unveiling in 1993 until 2008, this old-school grandstand with its distinctive glass windshields held the stadium's entire seating capacity of 1,300. With the opening of the lower but longer Tramore Road Stand, this figure rose to over 3,000, allowing for the accommodation of 5,500 spectators, including standing ones.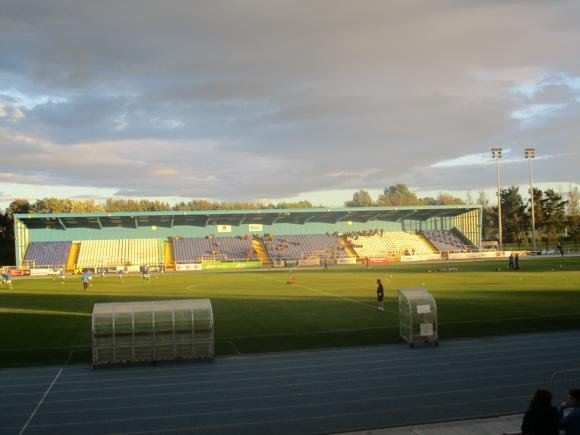 Up to 800 away fans can be allocated half the Tramore Road Stand, lively for the visits of Cork City and the bigger clubs from Dublin. An average gate of 2,300 in 2018 stood above the overall mean for the Premier Division but plans to increase the main stand, which currently only extends halfway to each goal line, are being considered with future international matches in mind.
Having hosted Ireland's under-21 side on several occasions, in May 2019 the RSC will be one of four host stadiums of the European U-17 Championships. Later in the summer, it should witness Waterford's return to European football – back in the day, the likes of Celtic and Manchester United were accommodated at Lansdowne Road in Dublin.
Facilities behind the main stand are scant, a couple of snack outlets, a modest souvenir hut and a ticket office. Given the lack of pubs anywhere near here, and transformative WFC ownership currently in place, a clubhouse bar would be an apt addition to any expansion along Cork Road.
Going to the ground – tips and timings
The stadium is way south-west of town and too far to walk. The main service there is the 360 which leaves Waterford bus station every 30mins (from bay 7/8 by the bus shelter) and takes 10mins. The nearest stop is the Kilbarry Centre behind the ground. If you're on main Parnell Street in town, on the same side of the road as the House of Waterford Crystal, jump on any Cork-bound bus and touch in with your Leap card – ask the driver to let you off by the RSC.
Be careful when crossing at the roundabout by the ground, traffic is swift. After the match, pick up any bus on the opposite side of the main road to the stadium.
Buying tickets – when, where, how and how much
The club now has online purchase for all upcoming home games.
Admission is otherwise a simple cash-only affair, the ticket office by the main entrance opening just over an hour before kick-off.
There's an all-in-one price of €15, €10 for students and seniors, €5 for under-14s.
Shirts, kits, merchandise and gifts
To the left of the main stand as you approach from the main entrance, the main match-day shop is a hut just large enough for a rail of replica shirts in blue, away tops of yellow-and-blue stripes.
In town, at 38 Patrick Street near the Omniplex cinema, Alfie Hale Sports also sells WFC tops along with Ireland and international ones.
Pre-match beers for fans and casual visitors
There are no pubs near the ground. Waterford fans gather at Norris's Bar near Paddy Coad's old house on Doyle Street. Of its two bars inside, one has a pool table and a wall of memorabilia relating to local sports history, hurling and soccer. It'll be showing sport on TV, too.
The pub is just off the main road of Barrack Street, round the corner on Slievekeale Road, by the junction with Morrison's Road. From here, it's a 15-minute walk to the ground if you continue down Barrack/Cannon Street, turning left down Ashe Road just before Cork Road – or a quick, cheap taxi journey.
The only outlet near the stadium is Rockin' Joes, a burger-and-shakes joint done up like an American diner, on the main road by the Travelodge hotel. Though not licensed, it's a handy carrot for Dads to dangle in front of children reluctant to spend their Friday evening in a football stadium. In 2019, it was rebranded to Shake Dog and the opening hours reduced to 5pm-9.45pm.
There's no bar at the ground, only hot and soft drinks, and filled rolls.