A fan's guide – the club from early doors to today
The only French club to win the Champions League, backed by a huge, passionate fan base, Olympique Marseille are re-established as contenders, three decades after the dominant early 1990s. A title win in 2010 has been followed by a decade or so of strong finishes in Ligue 1 and a Europa League final in 2018.
Formed in 1899, Olympique Marseille, universally known as l'OM, were pioneers of the French game. Competing in the inaugural French amateur and professional leagues, Marseille became cup specialists, winning six trophies between the wars.
This amateur side of the 1920s played at the tiny Huveaune Stadium, where diminutive forward Jules Dewaquez notched up goals by the hatful.
In 1937 l'OM moved to the Stade Vélodrome, whose first hero was Larbi Ben Barek. The original 'Black Pearl', Barek grew up an orphan in poverty in Morocco. Playing for US Marocaine, he was discovered by Marseille. After a stunning debut, he was soon picked for France. As war approached, he moved to play under fellow Casablancan Helenio Herrera at Stade Français, before returning to don the Marseille shirt until 1956.
After Barek, the club hit the doldrums until Marcel Leclerc became president in 1965. Revamping the Vélodrome as a real football arena, Leclerc brought in top stars from the 1970 World Cup, including Brazilian Jairzinho and Swede Magnusson, and the club did the double in 1972.
A new president, entrepreneur Bernard Tapie, followed Leclerc's lead. From his arrival in 1985, the club scaled unprecedented heights – and plunged to depths – never known in the French game.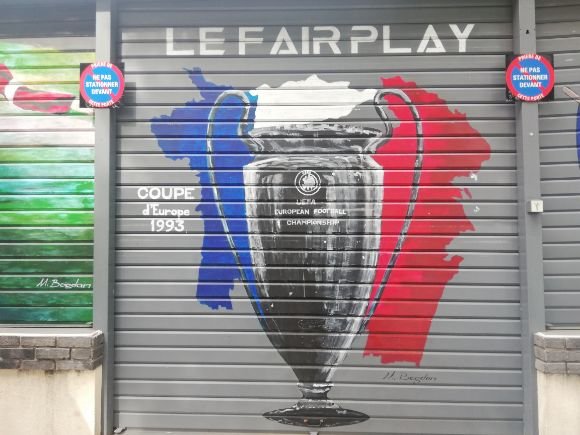 Under this flamboyant president, the club bought top-quality players, both French (Jean-Pierre Papin, Marcel Desailly, Didier Deschamps) and foreign (Chris Waddle, Rudi Völler, Alen Bokšić).
L'OM won four titles in a row. Although they lost the 1991 European Cup Final on penalties to Red Star Belgrade, Marseille beat AC Milan 1-0 with a Basile Boli header to win the inaugural Champions League in 1993.
France had at last won the trophy it had given the world – until a domestic match-fixing scandal broke. For a league game with Valenciennes on the eve of the Milan final, the opposition had been encouraged to take it easy.
L'OM were stripped of their 1993 league title and top-flight status. Tapie was jailed.
Thanks to a prolific Tony Cascarino and Marseille's loyal following, the club clawed their way back. With a new owner, adidas boss Robert Louis-Dreyfus, big names returned.
By 1996, top-flight status was achieved. With Laurent Blanc in sublime form, l'OM claimed runners-up spots in the league and UEFA Cup in 1999, when the team froze in Moscow and allowed Parma an easy 3-0 win.
Five years later, they made another UEFA Cup final, a defeat to Valencia in 2004.
After losing on penalties to Sochaux in the French Cup final, Marseille qualified for the Champions League in 2007, beating Liverpool at Anfield.
Things were moving again at the Vélodrome, too. With the highest average league gates in France, l'OM managed third place in 2008. A new team, with goalkeeper Steve Mandanda, winger Hatem Ben Arfa and Senegalese striker Mamadou Niang, was in place when Tapie-era captain Didier Deschamps arrived as manager.
A League Cup win in 2010, Marseille's first silverware in nearly two decades, was followed by much-deserved league title. A 15-match unbeaten run in the spring pushed OM ahead of Lyon, with Argentine midfielder Lucho González in outstanding form.
Key players were then sold off, including Ben Arfa and Loïc Rémy. Manager Élie Baup made a great start to the 2012-13 season, eventually taking Marseille to second place, but struggled in 2013-14. 
Much was expected of incoming coach Marcelo Bielsa for 2014-15 but despite setting the league alight for half the season, a Europa League spot was the end result. In creating a playmaker out of Dimitri Payet, however, he had lifted the Réunion-born attacker into a class of his own.
With Payet sold to West Ham, Bielsa resigned as the 2015-16 campaign was underway. OM remained in contention, losing the cup final to PSG, before Margarita Louis-Dreyfus, widow of Louis, sold the club to Boston billionaire Frank McCourt, who had run the LA Dodgers baseball team. In came coach Rudi Garcia from Roma and, by January 2017, €45 million worth of players including a returning Dimitri Payet.
The Euro 2016 star proved decisive in Marseille's run to the Europa League final in 2018, scoring and setting up goals in high-scoring ties against Athletic Bilbao and RB Leipzig before a heart-stopping semi-final decider at Red Bull Salzburg. Outstanding saves from veteran keeper Yohann Pelé kept the Austrians at bay as penalties beckoned. Payet then pinged in an inch-perfect corner for Portuguese sub Rolando to steer in a late winner. In scenes not witnessed since 1993, Marseille erupted, crowds gathered around public screens.
Facing twice recent Champions League finalists Atlético Madrid in Lyon with Payet carrying an injury, OM gave away a cheap first goal before their captain limped off the pitch in tears, his World Cup dreams also over. A 3-0 defeat seemed harsh on Garcia's side, but striker Florian Thauvin had impressed enough that season to join the winning French squad in Russia.
Top scorer at OM in 2018-19, Thauvin was joined by Mario Balotelli halfway through the campaign but Rudi Garcia had taken OM as far as he could. New coach André Villas-Boas began 2019-20 by making legendary keeper Steve Mandanda captain over Payet, who put in a sublime performance when OM beat Rudi Garcia's Lyon. Marseille stood in runners-up spot when the season came to a halt in March 2020.
Under incoming Jorge Sampaoli, hired despite his controversial stint for Argentina at the 2018 World Cup, Marseille picked up another runners-up spot in 2021. A relatively straightforward passage to the Conference League semi-final culminated in another crucial injury to the outstanding Payet on the half-hour of the second leg against Feyenoord.
Gaining Alexis Sánchez on a free from Internazionale, OM relied on the former Arsenal star for goals in an initial unbeaten run in the league and an inconsistent Champions League campaign, group-stage qualification resting on a home tie with Tottenham.
The field of dreams – and the stands around it
The Stade Vélodrome is the finest club ground in France. Built for the 1938 World Cup, successfully staging another 60 years later, this former cycling and football arena was expanded for Euro 2016.
After staging six matches, including France's semi-final win over Germany, the stadium was given the sponsor's name of Orange Vélodrome in a ten-year agreement to run until 2026. Capacity is now just over 67,000, easily the biggest in the French league.
The open bowls behind each goal are the Virage Sud, home of the South Winners, CCS and Ultras fan groups, and the Virage Nord de Peretti, named after Patrice de Peretti, aka Depé. Fan leader Peretti supported his beloved l'OM with his torso bare, home or away, whatever the temperature. He died suddenly in 2000, aged only 28. His MTP ('Marseille Tout Puissant') group are in the Virage Nord, along with the Yankees and the Dodgers.
Rising up along each sideline are the huge, 22,000-capacity Ganay Stand and, entirely rebuilt for Euro 2016, 16,000-capacity Jean-Bouin. Away fans are generally allocated a far corner of the Ganay at the Virage Nord end, lower tiers P, Q, sometimes also middle tiers N, O, depending on demand and type of match.
Going to the stadium – tips and timings
The Vélodrome is by the football-themed Rond Pont du Prado métro station on line 2. This is best for the Tribune Jean Bouin and Virage Nord. The next stop, Sainte-Marguerite/Dromel, behind the stadium, allows easier access to the Ganay Stand and Virage Sud.
If you're getting a taxi, traffic can be heavy along the main road from the town centre, boulevard Michelet. Several city buses also run along the boulevard: The 83 goes down to the seafront, offering a winning combination of beach and top-notch football.
Buying tickets – when, where, how and how much
With capacity at 67,000, there should be availability for all games. The club distributes online (Visa cards accepted) and through its ticket offices at the stadium. The windows behind the Tribune Jean-Bouin on boulevard Michelet operate from 10am the day before the game and on match day itself, the ones behind the Tribune Ganay, from 5.30pm for a regular Saturday-evening fixture.
Invariably, you'll be paying around €40-€60 for a seat in the sideline Ganay or Jean-Bouin Stands, the Virages Nord and Sud sold out. To really push the boat out, the club also offers the OM Expérience, all-in packages of ticket (Ganay/Jean-Bouin), hotel and flight/train from 15 different cities. Prices vary considerably according to your choice of travel and type of hotel. The match ticket, though, is guaranteed.
Shirts, kits, merchandise and gifts
The club have three stores, the downtown one right on main drag La Canebière (No.44, Mon-Sat 10am-7pm, non-match day Sun 10am-6pm). 
There's also one at the stadium (Mon-Sat, Sun if match day 10am-6pm) near the hotels on boulevard Michelet, and way out east of town at the mall, La Sablière (Mon-Sat 9am-8pm).
Explore the ground inside and out
Tours – a casual stroll around a long mural of OM history, the trophy cabinet, the dressing rooms and pitch – take place 10am-5pm in winter (Oct-Mar), 10am-6pm in summer (Apr-Sept). In school holidays, they run daily, in term-time, Wed, Sat & Sun – but there's also complicated arrangement through Nov-Dec, so check with the club through its contact form. 
Admission is €18, 6-12s €12, under-6s free. If you have a valid match ticket, then you get a €5 discount the Friday before, up to the Friday afterwards. Guides are only possible for group visits.
On match day itself, it's reservation-only with a tour guide, and a special price of €35/€28.
Tours start at Gate 18 on the Jean-Bouin side. Book tickets here.
Pre-match beers for fans and casual visitors
There's plenty of lively drinking to be done around Stade Vélodrome, on and off busy boulevard Michelet. Opposite Rond Pont du Prado métro station, the Brasserie du Stade puts focus on food for most of the week but turns into a busy pre-match bar, with a handy, sun-catching terrace. Next door, Le Negresko is a more scaled-down version of its neighbour, with a front terrace and TV inside.
On the stadium side of the boulevard, in the gleaming retail centre alongside the Vélodrome, Factory & Co is the local branch of this France-wide, NYC-inspired chain, all bagels, burgers and cheesecake, plus Bud and Corona by the bottle. 
Just past the ground, Le Fair Play gets mobbed by OM fans on match days, particularly its terrace. Inside, a bar counter features an ever-flowing tap of Bières des Cigales from nearby Avignon. 
Round the corner on boulevard Ganay, Le Black Stone ticks all the right boxes, offering big-screen football action, quality pub grub, house beer and a strong live-music element. Open from 5pm, happy hour generously set until 8pm.