A fan's guide – the club from early doors to today
The name of Stade de Reims still resonates in the French game.
Under coach Albert Batteux, Reims won six titles in 13 years and made two European Cup finals. Batteux also led a Reims-dominated French team to third place at the 1958 World Cup, playing the same swift, passing football. In heroic defender Robert Jonquet, mercurial forward Raymond Kopa and lethal finisher Just Fontaine, Reims caught the imagination of the French public.
But it is only recently that Reims have recovered from bankruptcy in 1992. Promotion in 2012 saw Reims in the top flight after 33 years.
Stade de Reims were formed in 1931, when the Sporting Club of the Pommery champagne company amalgamated with rivals, Sporting Club rémois.
Soon moving into the municipal velodrome, site of today's Stade Auguste-Delaune, Reims used champagne money to attract the best talent. Winners of the Occupied Zone championship in 1942, Reims were invited into the expanded Ligue 1 of 1945.
Goals from Pierre Sinibaldi kept Reims in title contention before the red-and-whites won their first championship in 1949. When form dipped in 1950, influential sports director Henri Germain wisely appointed Reims-born inside-forward Albert Batteux, then only 31, as chief coach. With the poaching of the incomparable Franco-Pole forward Raymond Kopa from Angers in 1951, Reims lit up the French game as no other club had done or, arguably, has done since.
With Jonquet an elegant but brave centre-half, Roger Marche ('The Wild Boar of the Ardennes') fiery on his left, Kopa and Dutch striker Bram Appel could wreak havoc up front. In 1953, Reims won the league, and destroyed Milan 3-0 in the final of the Latin Cup, forerunner of the European Cup they would enter as champions in 1955.
Real Madrid's early monopoly of Europe's premier trophy began by trailing 2-0 to Reims after ten minutes in the final of 1956. Real rallied to win 4-3, but only after future French coach Michel Hidalgo had again put Reims ahead 3-2. Real promptly signed Kopa, Monaco picked up Hidalgo.
Kopa returned in 1959, after helping Real to beat Reims in another European Cup Final that May. By then Reims had signed Jean Vincent, Just Fontaine and Roger Piantoni, stars of the World Cup of 1958 when Reims did the double. Batteux was manager for both club and country.
Reims' last title came in 1962 but soon all but Kopa would leave or retire. Batteux bowed out. Part of the problem was money – from 1962, French clubs no longer had to share their gate receipts with visiting ones. Reims, loved across France but with a modest stadium of their own, felt the pinch.
Despite relegation, Kopa battled on until the top-flight return of 1967. With Carlos Bianchi scoring nearly a goal a game, Reims stayed in contention until relegation again in 1979.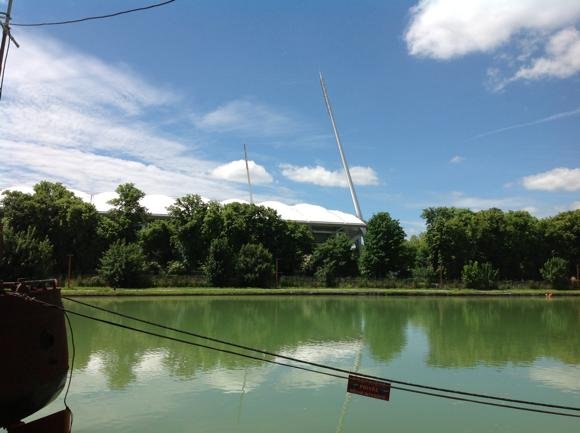 The club he returned to as coach in 1985 was debt-ridden. Not even the sale of all their trophies saved Reims from bankruptcy.
After liquidation, a new club, Stade de Reims Champagne, were formed in 1992, later renamed Stade de Reims. Rising through the divisions, Reims regained top-flight status under Hubert Fournier in 2012. A record attendance was set at the Stade Auguste-Delaune the nightpromotion was achieved, Monaco the visitors – then broken two weeks later for the visit of local rivals Lens, the kind of celebration only football can script.
After steering Reims to respectable 14th then 11th places in Ligue 1, Fournier left for Lyon in May 2014. His replacements, struggled to match this consistency and Reims were duly relegated two years later. It took them two seasons to rebound, winning Ligue 2 in 2018, US-born Reims academy graduate Jordan Siebatcheu helping push their goal difference to +50.
Selling their main asset to Rennes for €12 million, Reims made a number of astute buys and loans to finish a very respectable eighth in 2019, a highest-ever league finish since 1976. Les rouges et blancs were doing even better in 2019-20 when the season came to a halt in March.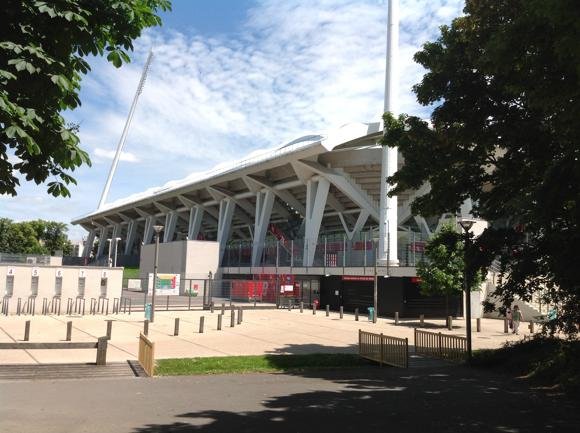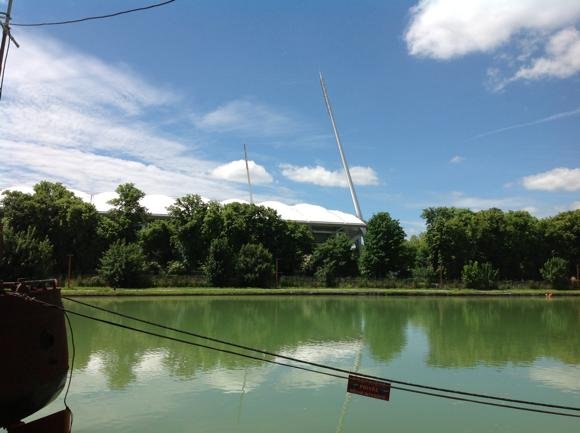 The field of dreams – and the stands around it
Entering the Stade Auguste-Delaune, completely rebuilt for 2008-09, it's hard to imagine the great Reims side of the 1950s playing here.
Named after a French Resistance hero, the Auguste-Delaune was where Kopa, Jonquet and Fontaine created the Reims legend – though big European nights took place at the Parc des Princes.
Reims had not long been founded when the stadium opened in 1934 as the Stade Municipal, a multi-sports facility featuring a cycle track. Their predecessors, the Pommery Park Sporting Club, were based at that namesake recreation ground.
The Stade Municipal staged one match for the 1938 World Cup, Hungary's thrashing of Dutch East Indies, before witnessing Stade de Reims' post-war domination of the French game.
The initial capacity of 18,000 rose to 25,000-plus when another tier was added to a sideline stand in the 1950s.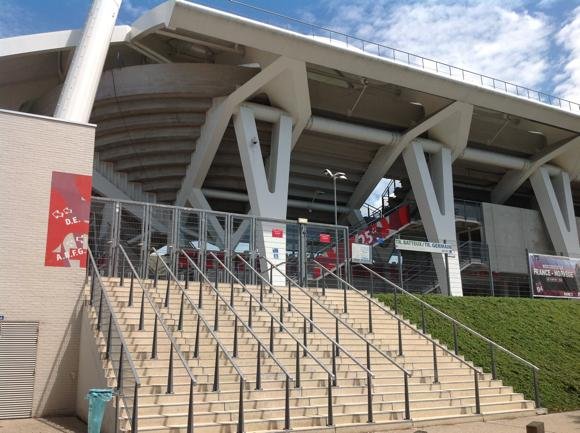 In 1997, five years after the club had all but disappeared, city mayor Jean Falala boldly announced his intention to rebuild their stadium. Architect Michel Rémon conceived a 22,000-capacity ground, à l'anglaise as the French refer to it. Four sturdy stands hug the pitch, topped in contrast by a light roof and signature toothbrush floodlights.
Construction took several seasons before the 21st-century Auguste-Delaune was unveiled. Fittingly, its record attendance of 20,300 was set for the visit of Monaco in 2012 that sealed promotion – then broken a fortnight later for the celebratory final match that season, 20,600 for Reims-Lens.
Each two-tiered stand carries the name of a Reims hero from the golden era. The Robert Jonquet and Albert Batteux stands behind each goal accommodate Reims' own ultras, with visiting supporters (gate D) allocated sections 10, 29 and 30 between Batteux and the Francis Méano Stand that runs along one sideline. Opposite, the main Henri Germain Stand along chaussée Bocquaine houses VIPs and press.
Going to the stadium – tips and timings
The stadium is in town, the other side of the canal, 10-15min walk from the cathedral, 20mins from the station. Bus 2 sets off from the station via town – it's seven stops to Bocquaine by the stadium. Buses (every 8-12mins, every 30mins Sun) take just over 10mins. 
Alternatively, trams A and B take shorter from the station but the walk from the nearest stop Comédie to the stadium is slightly longer. Away supporters are better served by tram.
Buying tickets – when, where, how and how much
Tickets are sold at club shops in town (1 rue Chanzy, Tue-Fri 2pm-7pm) and at the stadium (Wed-Sat 10am-noon, 2pm-6pm), as well as outlets of Ticketmaster (Auchan, Leclerc) and France Billet (Fnac, Carrefour) networks.
The club also distributes online.
On match days, the ticket windows open at 2pm, or 10am for games at 3pm.
The four match categories are classic, gala, prestige and PSG. 'Classic' prices average €15 in the lower and upper levels in the Batteux and Jonquet Stands behind the goals, €25-€30 for the sideline Germain and Méano Stands.
Under-25s (with ID) are entitled to discounts of 25% in the Jonquet and Méano Stands, under-15s 50% in the Batteux and Méano Stands.
Prices for away fans are set at €15 unless otherwise stipulated.
Shirts, kits, merchandise and gifts
At the club shop by the cathedral at 1 rue Chanzy (Tue-Fri 2pm-7pm) and behind the Henri Germain Stand on chaussée Bocquaine (Wed-Sat 10am-noon, 2pm-6pm, match days), first kits of Arsenal-style red and white, and second tops in blue, should be in ready supply.
Pre-match beers for fans and casual visitors
Venues dot the city side of the canal, the most football-friendly being party-centric, late-opening Le Kilberry (182 rue de Vesle), with live music and ten types of draught beers. Nearby brasserie Le Stalingrad across the square is another option.
To mix with football types, albeit older men hunched over betting slips, green-fronted corner bar Le National (1 rue du Colonel Fabien) is just over the canal, closer to the ground.