A fan's guide – the club from early doors to today
It took ten years, liquidation and three lower divisional titles but Racing Club de Strasbourg Alsace returned to Ligue 1 in 2017. In a history dating back to 1906, the club may only have won one league crown, the landmark triumph of 1979, but a sparse trophy cabinet doesn't begin to reflect a past as colourful as Strasbourg's.
The club doesn't not only represent a pretty city on the Rhine, but the region of Alsace, part of the newly unified Germany from 1871 to 1918, France up to 1940, Nazi Germany until late 1944, then France once more. 
Of these distinct eras defined by shifting borders, the first coincided with football's earliest beginnings in Germany, the second with the game's popularity and change to professionalism, and the third with forced Germanisation and worse. The fourth marks the commercialisation of the modern game.
Through all this, from FC Neudorf, the local school team set up on rue d'Erstein in 1906, to the 2019 French League Cup Final, won in front of 30,000 Racing supporters in Lille, Strasbourg have embodied an Alsatian identity, attracting a fan base across this region where France meets Germany.
While the infrastructure around the club changed, the league systems, the cup tournaments, there has been one permanent since the seminal year of 1914: the Stade de la Meinau. 
While Neudorf were playing in the lower tiers of the Southern German League, nearby rivals FC Frankonia, originally comprising members settled in Strasbourg from across Germany, had set up a proper pitch with goalposts in the popular recreational zone of Hämmerle-Garten.
When Frankonia's players were mobilised in 1914, Neudorf nipped into the Jardin Haemmerlé. Frankonia sued, then, with other pressing matters to deal with, left, taking their goalposts with them.
After the war, Neudorf's players regrouped and decided on a new name: Racing, in honour of the legendary club in Paris. Racing Club de Strasbourg duly competed in the regional Championnat d'Alsace, winning it three times in the 1920s.
Having built wooden stands around their pitch at the Jardin Haemmerlé, renamed la Meinau after the surrounding area, Racing Strasbourg turned professional in 1933. Beating regional rivals FC Mulhouse in the play-offs, Racing made the top-tier Division 1 in their first campaign in the new nationwide league structure.
It was then that Ossie Rohr came into the picture. His goals for title-winning Bayern Munich earning him a call-up to the German national team at 19, in 1933 Oskar Rohr had the football world at his feet. What he didn't have was money, which is what took him to Grasshoppers Zürich then, a year later, Racing Strasbourg.
Perceived as unpatriotic and left out of Germany's bronze-winning World Cup squad of 1934, the young prolific Rohr was an instant hit in a proud French city like Strasbourg. His 117 league goals, still a club record, took Racing to unprecedented heights, just missing out on the 1934 title after a 1-0 defeat at a packed la Meinau to eventual champions Sochaux. 
In the cup, Racing made the final in 1937, the same year that Rohr was top league scorer in France. A Rohr hat-trick in the semi-final, then opening goal at the Colombes in Paris, put Racing in line for their first major silverware but Sochaux's star international line-up again proved too strong, and a late winner sealed Strasbourg's fate.
Many of Oskar Rohr's goals were set up by Oscar Heisserer. Coming into the Strasbourg side at 20 for that first top-flight season of 1934-35, this locally born inside-forward had been a key member of Racing's 1937 cup final side. At the same Colombes stadium a year later, Heisserer scored an early opening goal for France in the crucial World Cup quarter-final against eventual winners Italy. 
Escaping conscription into the Wehrmacht, the Jewish Heisserer fled to Switzerland then fought in the liberation of Alsace. A returning hero, he was in the Strasbourg side that made the French Cup final in 1947, a decade after the first.
In those intervening years, Oskar Rohr had escaped detection in various locations around Vichy France. Captured in 1942, he was imprisoned in Strasbourg then sent to the Eastern Front, where his earlier fame allowed him to play for the army team. Flown back to Germany by a football fan, Rohr played for his home-town team in Mannheim and retired there. 
Decades later, his great-nephew, Gernot, played for Bayern Munich and Bordeaux, gaining French nationality before coaching the Girondins against Bayern in the 1996 UEFA Cup Final.
Back in Strasbourg, part of Nazi Germany from 1940, the FC Frankonia, moribund after being turfed out of la Meinau in 1914, had become SG Straßburg. Soon rebranded SG SS Straßburg, and bearing the logo of their Nazi paramilitary namesakes, the former Franconia won the regional title in 1942.
Local rivals in the Gauliga Elsaß were, of course, Racing Strasbourg, renamed Rasensportclub Straßburg, played a derby game in the blue, white and red of France. News of their matches will have reached Oskar Rohr while in jail across town. 
With Heisserer still only 31, Racing Strasbourg regrouped in 1945, only to lose another French Cup final two years later. A crowd of up to 100,000 are said to have lined the streets when Racing eventually won the cup in 1951.
Briefly coached by Heisserer, Strasbourg nurtured a crop of young, locally born talent come through in the 1960s, most notably forwards Gérard Hausser and Gilbert Gress. Both scored in Racing's first European run, the Fairs' Cup of 1964-65, which saw floodlit victories over Milan and Barcelona before a George Best's Manchester United wowed la Meinau with a 5-0 win. A year later, Racing won the French Cup but spent most of the subsequent decade struggling.
Gress, 'the Angel of la Meinau' then returned to his alma mater as coach in 1977. That same year, with striker Albert Gemmrich top scorer in the division, Racing won the Second Division title then pushed Monaco and Nantes close for the league crown. With a defence featuring French internationals Léonard Specht, Raymond Domenech and goalkeeper Dominique Dropsy, Strasbourg conceded only 28 goals in 38 games to win their first and only league title in 1979.
Later long-term Arsenal manager Arsène Wenger also played two games that season, in a primarily French squad with no international stars. An ageing Oscar Heisserer was among the many thousands celebrating as the team bus returned triumphantly from Lyon.
When a big name was added, the prolific Carlos Bianchi from PSG, the imbalance led to Strasbourg's demise, and Gress' departure.
Floundering for most of the 1980s and 1990s, Racing were buoyed by the financial impetus of incoming American owners IMG. Surprise wins over Rangers and Liverpool in the UEFA Cup of 1997-98, with goals from Gérald Baticle and David Zitelli, promised more than the eventual mid-table league placing. 
Both had departed by the time Paraguayan World Cup goalkeeper José Luis Chilavert converted the vital spot-kick to win Strasbourg another French Cup in 2001.
The financial fall-out from the IMG exit in 2003 would have disastrous long-term consequences. After the fiery and ultimately disruptive returns of Specht and Gress behind the scenes, Racing were a third-tier outfit when the club folded in 2011.
Reinstated in the fifth tier, rebranded Racing Club de Strasbourg Alsace, the club gained three promotions as champions in four seasons, two in row taking them from third tier to top in 2017. 
Under Thierry Laurey, and with goals from Moroccan international Khalib Boutaïb, Racing kept just ahead of a tight chasing pack to gain Ligue 1 status after ten years.
Highlights since then have few but memorable, a rare victory over runaway leaders PSG in December 2017 and the League Cup win of 2019. Presented by Arsène Wenger, the trophy won on penalties led Strasbourg to a first European campaign in 14 years.
The field of dreams – and the stands around it
When the Stade de la Meinau gained its major rebuild in 1984, the fitting curtain-raiser was a friendly between France and West Germany that April. Two months later, at near 50,000 capacity, la Meinau hosted two matches for Euro 84, 70 years after the ground had been vacated by local German club FC Frankonia for Neudorf, forerunners of Racing Strasbourg, to take over.
First installing wooden stands in the early 1920s – some 20,000 are said to have crowded around the pitch to watch Brazil beat Poland 6-5 here in the 1938 World Cup – Strasbourg increased capacity to 30,000 in 1951 with new concrete stands. George Best, Denis Law, Sándor Kocsis and Giovanni Trapattoni all played here under floodlights during Strasbourg's Fairs' Cup run of 1964-65.
Ten years after Mechelen's surprise win over Ajax here in the European Cup-Winner's Cup final, la Meinau was overlooked for the 1998 World Cup. Strasbourg's recent revival and rise up the league pyramid have forced the club to bring la Meinau into the 21st century, negotiating with the stadium's municipal owners for a €100 million rebuild.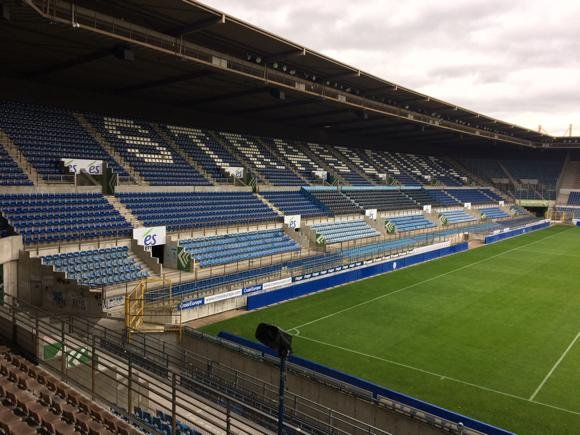 With the aim of increasing capacity from 26,000 to 32,000, the current plans due for completion in 2023 involve a standing kop with convertible seating for 6,000 Racing fans in the Tribune Ouest. A fan zone and VIP boxes for 3,660 have also been earmarked.
For the time being, while Strasbourg's Ultra Boys 90 and Kop Ciel et Blanc stand on convertible seats in the Tribune Ouest, visiting supporters are allocated the Quart Virage Nord-Est corner of the Tribune Est, between the family sector and the sideline Tribune Nord. 
Behind flows the narrow Rhin Tortu, the narrow tributary of the Rhine that forms the border between France and Germany around 2.5km east of here. Press and VIPs view the match from the main Tribune Sud. Club shop and fan zone sit behind the Tribune Ouest.
Going to the stadium – tips and timings
The nearest tram stop to the stadium, located on avenue de Colmar a 5min walk away, is Krimmeri Stade de la Meinau on lines A and E. Line A runs past Gare Centrale and the central hub of Homme de Fer, around 10mins from the stadium. Both lines run every 8-10mins at weekends until midnight.
Krimmeri-Meinau is also a train station, slightly closer to town on avenue de Colmar. If you're coming from Paris, the time you'll have to wait for a connection at Gare Strasbourg hardly justifies not switching to the tram.
Buying tickets – when, where, how and how much
Of the stadium's 26,000 capacity, 19,000 places are taken up season-ticket holders – and of the 19 home games in 2018-19, 18 were complete sell-outs, and even the visit of Amiens attracted a near full house.
Advance purchase is essential, either online through the club or agency channels such as Fnac and Ticketmaster, or in person at the club shops, at 2 rue du Marché/quai de Paris in town (Mon 2pm-7pm, Tue-Sat 10am-1.30pm, 2pm-7pm) and behind the Tribune Ouest at the stadium (Mon, Wed-Fri 10am-noon, 2pm-5.30pm).
Tickets in the Tribunes Ouest and Est (€15) behind the goals are taken by either hard-core fans or families. You'll probably be forking out around €35 for a seat in the sideline Tribune Nord – sectors A/B and E-F/K-L are closest to the corner flags.
For details, email billetterie@rcstrasbourg.eu or phone +33 3 88 44 55 00.
Shirts, kits, merchandise and gifts
Strasbourg have two shops, the Boutique Centre Ville at 2 rue du Marché/quai de Paris (Mon 2pm-7pm, Tue-Sat 10am-1.30pm, 2pm-7pm) near Homme de Fer tram stop in town, and the Boutique Stade (Mon, Wed-Fri 10am-noon, 2pm-5.30pm, match days for ticket holders only) behind the home Tribune Ouest.
Along with the replica tops in blue with white trim or the away in white with blue trim, there's a whole range of stylish T-shirts. Racing fans from just across the border in Germany can wear a Jetzt Geht's Los! design when next hopping to Strasbourg.
Pre-match beers for fans and casual visitors
There are very few options for drinking around the stadium. The bar/restaurant in the training centre behind it is not open to the public, so the Café Grognon (2 avenue Léon Dacheux), a 7-8min walk to la Meinau, is popular with Racing fans for pre- and post-game drinks. Big TVs and a happy hour until 8.30pm complement a beer garden and plenty of choices on tap.
Closer still, just past the railway bridge, Studio 80 (133 avenue de Colmar) is an '80s-themed karaoke bar. Slight inappropriate, possibly, and only open after 6pm but Racing-friendly.
Where Colmar meets rue de l'Extenwoerth, 2min from the home Tribune Ouest, La Pizza de Nico attracts Racing fans with its late-opening hours on match nights, Alsatian flammekueche and bottled beers. It's part of an Alsace-wide chain, hence the regional touch.