A fan's guide – the club from early doors to today
Approaching their 15th anniversary as a Scottish League club, Annan Athletic haven't set the world alight as the club they replaced, neighbours Gretna, tried to – but nor are they likely to implode.
Twice in eight seasons, the Black & Golds have made the play-offs, without leaving Scotland's fourth flight. With play-offs also introduced for league survival, the status the club had sought for so long is certainly not a given.
Created out of the war-time Dumfries & District Youth Welfare League in 1942, Annan Athletic joined the short-time Junior (ie non-league) version in peacetime. With the league disbanded and already one season in without competitive football, Annan went south, to the Carlisle & District League.
Long disbanded, based in England, the league made sense for clubs such as Annan (and Gretna) as the standard was decent and distances doable. Once established, Annan also moved grounds, from Mafeking Park to their current home of Galabank, in 1953.
For 25 years, this somewhat incongruous situation remained in place until it was time for Annan to turn back towards their land of loch and heather.
In 1975, they had ditched a management committee for Sam Wallace, manager until 1993 and today club president.
First gaining membership of the South of Scotland League, which required an upgrading of Galabank, Athletic also entered the Scottish Cup, the 1979 visit of Stranraer bringing a record 1,250 to the banks of the Annan.
Switching to the East of Scotland League in 1987, the Galabankies won the title in 1990 and now aimed at full league status. Having achieved high-scoring draws at Berwick and Brechin in the Scottish Cup, only to narrowly lose home replays, Annan were one of eight clubs to apply for two Scottish League places – and one of six to be rejected.
Under player-manager Davie Irons, Annan won two consecutive East of Scotland titles, then another in 2007. Following the demise of Gretna, Annan now made a stronger case for Scottish League admission, accepted in 2008.
Quickly showing that they were not out of their depth with a 4-1 win over Cowdenbeath, Annan achieved a play-off place two seasons later. Overcoming Alloa in the semi-final, the Galabankies pushed Albion Rovers close in the final, both legs played before four-figure crowds. At Galabank, Bryan Gilfillan turned from hero to villain, scoring two goals to shorten the aggregate score, only to headbutt an opponent and receive a straight red card.
Despite beating fallen giants Rangers 2-1 at Ibrox in 2012-13, a memorable first win for manager Jim Chapman, Annan had to wait until 2014 for another play-off chance. Equally dramatic, the end-of-season showdown ended in an 8-4 aggregate victory for Stirling Albion, 5-3 winners at Galabank.
With Chapman still in charge, there were memorable cup ties to savour at Galabank in 2015-16. First, a derby with Queen of the South in the League Cup entertained the 1,360 crowd with seven goals and two red cards, Athletic on the wrong side of both. In October, there were two more red cards, including an early one for Berwick, 4-1 losers to the Galabankies.
Two rounds later, the same score brought down Premiership side Hamilton Academical. Annan went out in the last 16.
The last of 15 goals from Peter Weatherson in the league campaign weren't quite enough for Annan to better Queen's Park for a play-off place, the Glasgow side holding the Black & Golds to a 1-0 win at Galabank and nudging through on goal difference.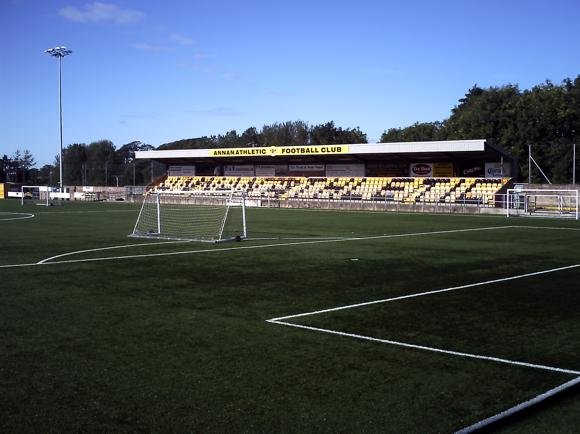 The field of dreams – and the stands around it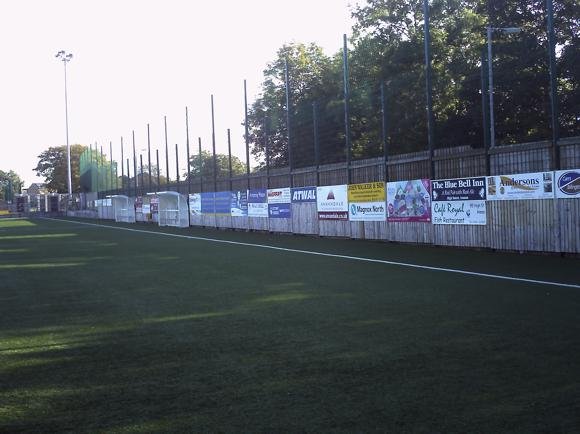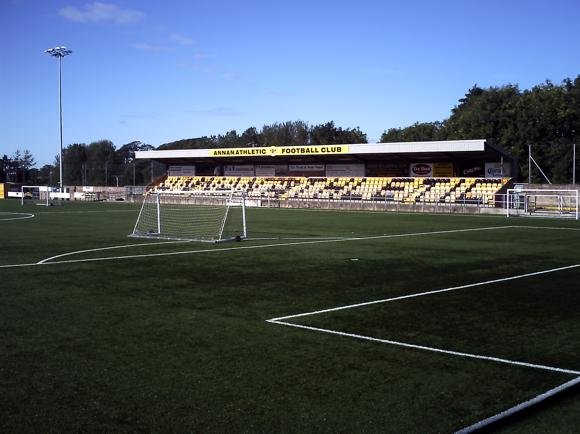 Overlooks a picturesque riverside park, Galabank is one of Scotland's most convivial football grounds, with a friendly club bar and easy access from town.
Current capacity is 2,500, with comfortable seating in the main stand, usually where home and away fans comfortably mingle. If it's needed, visiting supporters can also be allocated the North End – opposite is also known as the Club House End for obvious reasons. The East Terrace isn't used.
A 3G pitch was laid in 2012, shortly before the visit of demoted Rangers, which attracted a record crowd of 2,517.
Going to the stadium – tips and timings
Those coming by train face an easy 15min walk, straight up from Annan station to the High Street and over, continuing in the same direction, passing The Shed pub.
By bus, you arrive at Butts Street, close to High Street, the first main right being Lady Street that leads into North Street and the ground. Allow 10mins.
Buying tickets – when, where, how and how much
There's a simple admission policy of £10 cash on the day for anywhere in the ground, accompanied children under 12 free. Over-65s and under-16s are charged £5.
Shirts, kits, merchandise and gifts
A limited range of merchandise – home and away tops, hooded tracksuits, woolly hats – is on offer in the yellow-coloured match-day only container-cum-shop near the main stand.
Pre-match beers for fans and casual visitors
Pubs dotted along the High Street are all reasonably convenient as pre-match pit-stops but the nearest and most suitable is The Shed. Set alongside the Corner House Hotel at the junction of Lady Street that leads up to the ground, this welcoming hostelry goes big on live sport and is happy to welcome visiting supporters.
At the river end of the High Street, the Blue Bell Inn is as homely as it gets, the courtyard thrown open to special events in summer, decent ales on tap all year round. Again, visiting supporters welcome.
At the ground, the match-day Annan Athletic FC Bar, accessed by the main entrance, serves home and away fans from a massive Tennent's tap, with Guinness, Magners cider and John Smith's also available. Non-regulars may have to sign in, no fee involved.