A fan's guide – the club from early doors to today
Sole representatives of Perth in the upper levels of Scottish football, St Johnstone trail behind the likes of Falkirk, Third Lanark and Morton on all-time league performance.
Three third-place finishes and two losing appearances in the League Cup final were all the Saints had to show for 130 years of football – until a gutsy performance against Dundee United brought the Scottish Cup to Perth for the first time in 2014.
In fact, St Johnstone are enjoying their best period since Willie Ormond was manager in the early 1970s. Former Newcastle goalkeeper Tommy Wright, coming in right after back-to-back European qualifications, has kept the Saints at the top end of the Premiership and even won that precious silverware.
Pre-Ormond, St Johnstone's form was patchy at best. Founded in 1884, a member of the former Second Division from 1911, the Saints did little of note for more than half a century except move from the Recreation Grounds to Muirton Park in 1924.
All changed for the good with the arrival of Willie Ormond, an ex-Famous Five forward at Hibs, in 1967. Within two years, the Saints had reached in a major final, a 1-0 League Cup defeat to Celtic, the team with later Everton forwards Jim Pearson and John Connolly finishing third in the league two years later.
Pearson scored in both legs of the Saints' debut in Europe, a 4-2 aggregate win over Hamburg, Uwe Seeler and all, in 1971. After beating Vasas, St Johnstone fell to Željezničar in the third round of the UEFA Cup.
After Ormond's departure for the Scotland job and the 1974 World Cup, St Johnstone sank to their lowest level yet, the third flight. It required the funds of Perth-born construction mogul Geoff Brown to step in, invest in the team and build a new all-seater stadium, McDiarmid Park, for the Saints to return to the top flight.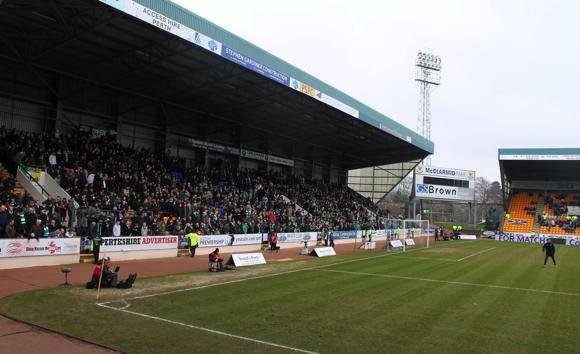 In his 25 years as chairman, Brown hired and fired managers such as Alex Totten, Paul Sturrock and Owen Coyle. But his last hire, Steve Lomas, with previous managerial experience at non-league St Neots from Cambridgeshire, achieved the best results. Bringing in his former Northern Ireland teammate Tommy Wright as assistant, Lomas led the Saints to their highest league finish in over two decades in 2011-12.
After a brief European campaign, St Johnstone then finished fourth in the Premiership in 2013 but Lomas had already alerted many clubs south of the border to his capabilities. Poached by Millwall, Lomas struggled in south-east London while Wright stepped up to the plate at McDiarmid Park.
Beating an always tricky Rosenborg Trondheim in the Europa League, Wright's Saints lucked out to FC Minsk on penalties but progressed at home in the Scottish Cup. Making the final for the first time thanks to two goals from home-grown striker Stevie May over Aberdeen in the semi, St Johnstone faced Dundee United at Celtic Park.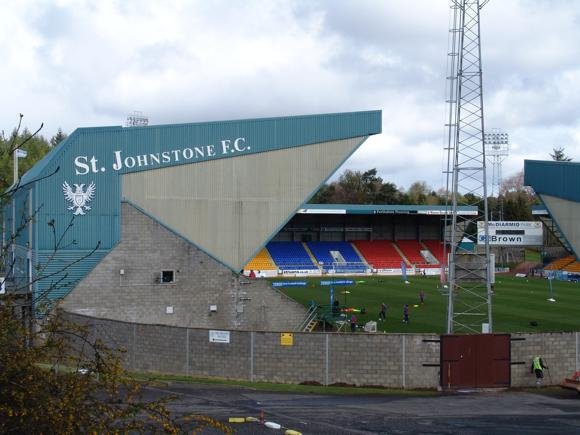 Though outnumbered by Arabs in the crowd, St Johnstone stunned their Tayside rivals with a headed goal from former Dundee United youth player, centre-back Steven Anderson, right on half-time. A sterling performance from forward Steve MacLean – who had failed to convert the vital last penalty against Minsk months before – was capped by vital late second goal to push the tie, and the cup, beyond United's reach. St Johnstone had won the Scottish Cup for the first time.
That July, MacLean made no mistake at McDiarmid Park, converting the first penalty in the shoot-out against Luzern in the Europa League. Stevie May's goal in Slovakia was not enough to save the subsequent tie against Spartak Trnava. Not only were the Saints out but May, a key part of the Saints' recent success, was off to Sheffield Wednesday.
Without May's goals, St Johnstone suffered a miserable autumn in 2014-15 but rallied to a fourth-place finish. With MacLean now the main goalscorer, the Saints are looking for another European place in 2015-16.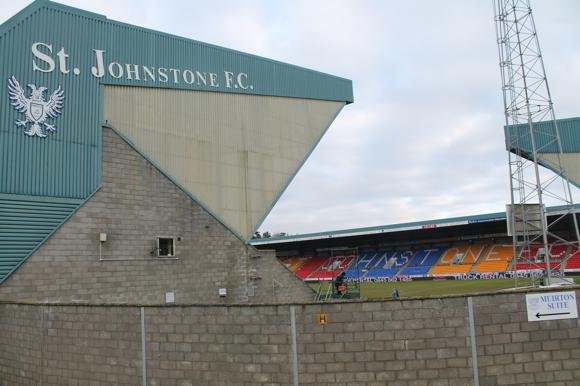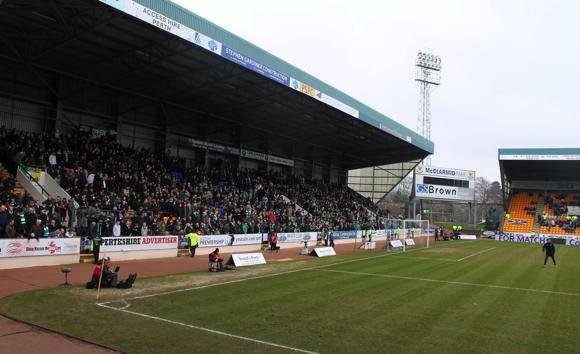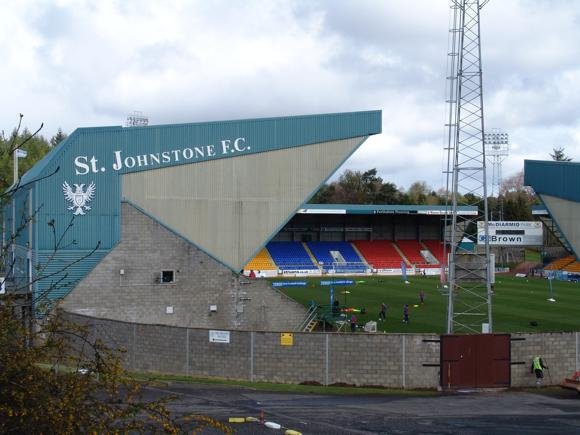 The field of dreams – and the stands around it
The first of Britain's new breed of all-seater football stadiums, McDiarmid Park was built on farmland north-west of Perth by the A9. Circumstances had combined to initiate the move from Muirton Park, which had been the club's home since 1924: a crumbling old ground, a new chairman and an offer from supermarket giant Asda to fund construction in exchange for the land at Muirton.
The project was also of its time, post-Heysel and -Bradford, safety and comfort the watchwords for a new era. McDiarmid Park also has aesthetic value. Four one-tier stands contain neat rows of seating in bright, primary colours.
The south, Ormond Stand, named after the revered manager of the early 1970s, is usually allocated for families. Away fans are placed in the North Stand or main West one depending on demand. Capacity is 10,696.
Going to the ground – tips and timings
McDiarmid Park is on Perth's north-western outskirts and too far to walk from the city centre. Every 10-30mins, bus 1 and 2 set off from Mill Street near Perth Theatre, from stops A and B respectively. Journey time to Hillyland, McDiarmid Park is 16mins.
Alternatively, Stagecoach Perth bus 14 (destination Pitcairngreen) and 15 (destination Dalginross) run every 1-3hrs from Perth bus station and via central Scott Street stop U and Mill Street stop G respectively to Hillyland, McDiarmid Park, journey time 10min.
A taxi from town should cost around £12.
Buying tickets – when, where, how and how much
Unless Celtic are the visitors, games rarely sell out. Match-day cash admission is £22-£23 in the East and West Stands, £12-£14 for over-65s and £8-£13 for 13-16s. Up to two under-13s enter free if accompanied by an adult.
Except in the case of Celtic, away fans are charged almost the same.
Depending on the opposition, there are also considerable reductions for families in the Ormond Stand.
Celtic games are all-ticket, and priced at £26, £13 reductions and free under-13s. Tickets are sold at the stadium from 9.30am on the Monday before the match.
Shirts, kits, merchandise and gifts
The modest Saints Shop near the main car park at the east corner of the Ormond Stand opens on match days only, from 90min before kick-off and then after the final whistle. It's small, without enough room to stock replica kits, sold at Campus Sports, 33 High Street.
Pre-match beers for fans and casual visitors
A members-only St Johnstone Supporters' Club at 11 Barossa Street opens all day Fri/Sat and from 4.30pm Mon-Thur, closed on Sun. It's near the Mill Street stop for buses to the stadium.
Near the ground on Crieff Road, the 208 Public House is a friendly, family-run spot with food and TV football. It's also the only option around here.
McDiarmid Park also has its own restaurant, open weekday lunchtimes.