A fan's guide – the club from early doors to today
Formerly of Annfield and now at the Forthbank Stadium, the Binos of Stirling Albion were at their best while club founder Tom Fergusson was still alive.
The local coal mogul had set up Albion from the ashes of King's Park FC two days after World War II. Fergusson also created a new ground for the new club, clearing trees and building a main stand that became Annfield Stadium, on the estate of the same name. Fergusson remained involved with Stirling Albion until his death in 1967.
The original Yo-Yo club, Albion won promotion from Division C in their first full season, then again to the top tier two years later. The Binos would bounce from First to Second Division until the mid-1960s.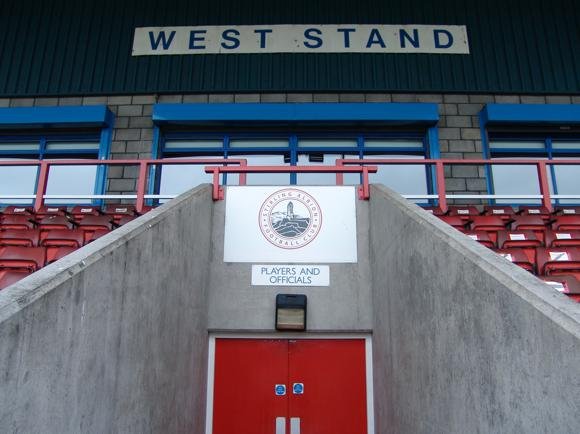 In 1968, the club finished bottom of Division One with 100-plus goals conceded, nine of those in one match against Dundee United. They have never joined the elite since.
The highlight of the modern-day era came in 2010, when Albion became the first club in Scotland to be fully owned by its supporters' trust. Outgoing chairman Peter McKenzie had long been looking for a buyer, Stirling Albion in and out of court for unpaid debts and owing rent on the council-built Forthbank Stadium. Agreeing to waive the £1 million-plus also owed to him, McKenzie bowed out, the trust soon introducing a highly criticised move of charging £200 per trialist seeking to play for the club.
The Binos had moved to Forthbank Stadium in 1993, having already sold Annfield to Stirling Council to clear debts in 1981. Crowds had dwindled, and the success and stability achieved under former Binos forward Alex Smith had vanished.
Winning the then third-tier Second Division in 1977, Smith had led Albion to a top-five position one flight above, but relegation in 1981 hit hard.
Trying to squeeze as much revenue as possible out of Annfield, fed up with winter postponements, Stirling Council laid down an Astroturf pitch, Scotland's first, in 1987. Albion were duly refused the right to stage Scottish Cups games on their artificial surface.
Smith left to win silverware at St Mirren and Aberdeen. At Albion, ex-St Johnstone striker John Brogan came on board, enjoying his vintage years as a high-scoring player-manager. Winning the Division Two title in 1991, the Yo-Yos then yo-yo'd again, partly due to the league restructure of 1994.
Now playing at Forthbank Stadium near the river, Albion went on a 27-game unbeaten run under Kevin Drinkell to win the Second Division title in 1996 but within two seasons had fallen back. Within three, the club found itself in the fourth tier.
Perhaps the low point in the club's history came in 2001-02, two points above the very bottom of the Scottish League and losing to Gala Fairdean in the Scottish Cup.
Rescue arrived in the shape of manager Allan Moore. Finishing his playing career on Stirling Albion's wing, he stepped up to the managerial post to gain the club promotion in 2004.
On short-term loan from Livingston while recovering from injury, later Scottish international Robert Snodgrass proved the vital factor when Moore led his men to the play-offs for First Division status in 2007. Crowds of 2,000-plus gathered at Fortbank Stadium for the semi-final with Raith then decider against Airdrie. Trailing 2-0 at home, the Binos levelled the score with two late goals. Snodgrass struck two early ones at Airdrie for Albion to run out 5-4 aggregate winners.
Moore had taken the club from the very bottom to the second tier but, part-timers in a full-time division, their stay there was short and sweet.
The Second Division title win of 2010, achieved with a last-ditch draw when down to ten men, proved to be Moore's swansong. His team had snuck up to top spot with a late charge, and the trophy had to be helicoptered in to Brechin's Glebe Park.
Long looking for a move to a full-time club, Moore left for Greenock Morton. Albion failed to match the positive changes of ownership with results on the pitch, the supporters' trust having to witness 25 winless games after being handed the keys to the club from chairman Peter McKenzie.
After a shock 1-0 win over downgraded Rangers in front of a bumper 3,750 crowd at Forthbank, and record 9-1 victory over East Stirlingshire, Albion eventually gained promotion to League One via topsy-turvy play-off final with East Fife. A goal from Player of the Year Jordan White levelled the aggregate in the away leg before a late strike from Sandy Cunningham sent the Binos up.
A relegation play-off wasn't required for 2014-15, Albion finishing 14 points from safety. Former Binos centre-back Stuart McLaren was kept on as manager until early into the 2016-17 campaign, when Dave Mackay took over. At his side while still in a playing capacity, Ross Forsyth is long remembered for his goal against Rangers in the 2012-13 season.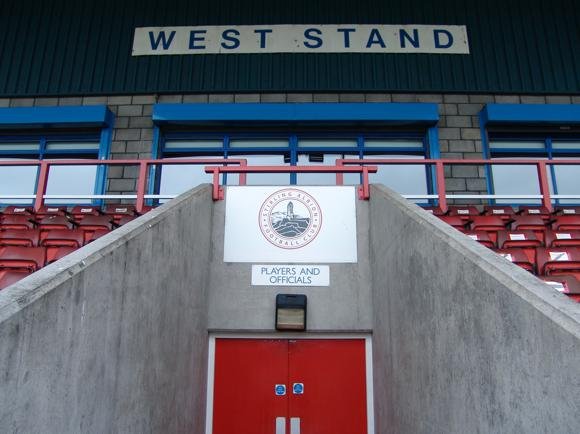 The field of dreams – and the stands around it
Backdropped by snow-capped slopes, the Forthbank Stadium is (reasonably) modern and comfortable without feeling artificial. Built in 1993 by Stirling Council to replace the decaying Annfield, it is small and simple enough for Albion's needs.
Two stands, the home West and away East face each other, providing the 2,500 seats in an overall potential capacity of 3,800. The terraces behind each goal, though, are only used for visits of big-name clubs in cup ties and perhaps the occasional play-off.
Going to the ground – tips and timings
Located one-and-a-half miles round the Forth from Stirling station, Forthbank Stadium is a little too far to walk but the bus service there is reasonable. The council-run P1 Springkerse minibus serves the nearby business park, running from Stirling bus station by the train station to Forthbank Stadium/The Peak (journey time 8mins) every 15mins until 6.30pm. It has no evening or Sunday service. Tickets are a bargain 60p single/£1.20 return.
Alternatively, hourly Firstbus F16 also runs from Stirling bus station, via Goosecroft Road nearer the train station, to the stadium until later in the evening, every 2hrs on Sundays.
Taxis will be plentiful by the train station, £4-£5 should cover the fare between station and stadium.
Buying tickets – when, where, how and how much
Admission is a simple pay-on-the-day cash-only of £13, £9 charged for over-65s and students, £5 for under-16s and accompanied under-12s are allowed in free.
Shirts, kits, merchandise and gifts
A modest offering of merchandise is set up in the West Stand on match days, through turnstiles 1 & 2. If available, the whisky glasses and tartan scarves make nice souvenirs, all bearing the impressive Albion badge of the Wallace Monument backdropped by the Ochil Hills.
Pre-match beers for fans and casual visitors
Stuck out beside a business park, Forthbank Stadium has few amenities around it.
Between the Springkerse roundabout and the Holiday Inn Express hotel, about 150 metres ahead of you as you alight from the bus, Springkerse View is part of the family-friendly EatingInn chain. Stella, Peroni and Guinness sit amid the beer taps but most are here to tuck into a steak or burger.
In the main stand at the ground, the Binos Bar serves home and away fans pre- and post-match unless it's a rare occasion when supporters are segregated.