A fan's guide – the club from early doors to today
Scotland's oldest football club, the only one to play in England's cup final, Queen's Park are still proudly amateur – and still based at Hampden Park, once the biggest football stadium in the world. 
Instead of a few hundred faithful huddled in the huge national arena, however, this venerable club, which turned pro in 2019, is building a new Lesser Hampden with the proceeds of selling the main stadium to the Scottish FA. In the meantime, Queen's Park have moved home games to Firhill, home of Partick Thistle.
Stuck at the bottom of the four-tier Scottish league pyramid, in 2014-15 the Spiders came within a play-off of promotion, beating Arbroath late into extra-time in the semi-final. Defeat to Stenhousemuir sees the Spiders resigned to fourth-flight League Two again in 2015-16.
There was a time, in football's very beginnings, that Queen's Park were not only top of the Scottish game but the British one. Founded in 1867, this club of gentlemen helped draw up the rules in Scotland, provided one entire team for the first international ever played, the 0-0 draw with England in Partick in 1872, and helped form the Scottish Football Association a year later.
Winners of the Scottish Cup for its first three years – no team even scored a goal against them until 1875 – Queen's Park had already been invited to take part in the inaugural FA Cup south of the border in 1871-72. Drawing with Wanderers in the semi-final, the club couldn't afford to return to London for the replay, nor for the semi against Oxford University a year later. Eventually they made (and lost) two consecutive FA Cup Finals, in 1884 and 1885.
More than anything, though, Queen's Park, more than any other club, invented football. Whereas players in England would dribble until they lost the ball – usually backed up by beefy team-mates behind them – the game Queen's Park and Scotland played was a passing one.
Prime exponents were full-back Andrew Watson, the son of a plantation owner from Scotland and Guyanese mother, probably Britain's first black footballer, and centre-forward 'Toffee Bob' McColl. Both played south of the border, McColl for Newcastle, Watson for the greatest sides of the day, Swifts and Corinthians.
For all their pioneering achievements, and ten Scottish Cup wins until 1893, Queen's Park avoided joining the Scottish League until 1899. By then its clubs, professional in many cases, had surpassed them in technique, tactics and training. Queen's Park soon slipped down the ranks – and pretty much stayed there for well over a century.
Several big names in the Scottish game started their careers in the black-and-white hoops of Queen's Park, including Sir Alex Ferguson, 1967 European Cup-winning goalkeeper Ronnie Simpson and 1928 Wembley Wizard Alan Morton – but all opted for salaried status at bigger clubs.
A relaxation in 1998 of the club's strict rules protecting its amateur status, allowing the hiring of former professionals, helped Queen's Park to runs in the league and occasional cup shocks. The League Cup win over Aberdeen in 2006 was complemented by promotion to the third flight the same season.
Since then, the highlights were a rare derby with Rangers in 2012-13, a 2-1 win over Dundee in the League Cup that same season – and the late play-off goal against Arbroath in 2015.
For details of how to get to Firhill for Queen's Park home games until Lesser Hampden is opened, see Partick Thistle. For ticket details, see here.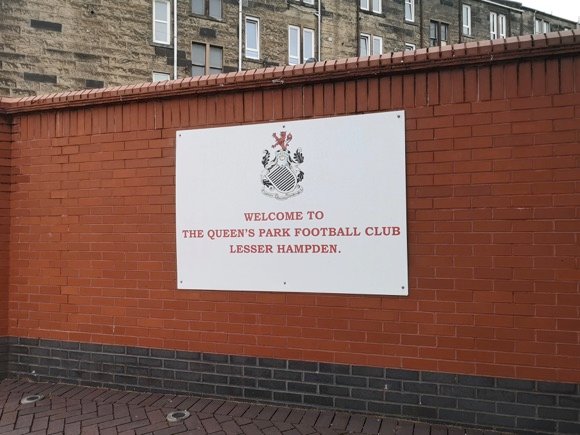 Shirts, kits, merchandise and gifts
The Queen's Park Supporters' Association run an outlet on match days, as well as an online shop. Look out for retro kits from the 1960s – of the type once worn by Sir Alex Ferguson when he started out in his playing career – while the current second strip must be the grooviest in Scotland, a multi-coloured number with a blue edging and bright orange collar. Home tops stick to the club's thin black-and-white hoops, of course. 
Pre-match beers for fans and casual visitors
The Queen's Park Cafe (530 Victoria Road) is almost as old as the club itself, 'Established 1898' as its sign says. It's very much a pub, in fact, it couldn't be more pub-like, these days more into racing than football. You'll find it close to Queen's Park station, a 15min walk from Hampden or an easy hop back to Glasgow Queen Street/Central. 
For bars convenient for Firhill, see Partick Thistle.