A fan's guide – the club from early doors to today
The Warriors of Stenhousemuir FC, formed in 1884 and clad in maroon since 1900, are the kind of club that does credit to Scottish football. Despite never reaching the league elite in nearly 140 years of activity, Stenny have stuck to their guns, running out week after week, usually in the third tier or formerly the elongated Second Division.
And while this kind of dedication and loyalty on pitch and terrace often attracts a Sylvester McMonkey McBean character who swoops in, promises success, sweeps up and sails away again, in Stenhousemuir's case, this can't happen. The club has been a Community Interest Company since 2009. Any profits are used for the good of Stenhousemuir FC – nobody can come in and raid the piggy bank.
The Warriors last came within sight of major silverware in 1903, a 4-1 defeat to eventual winners Rangers in the Scottish Cup semi-final.
In the league, Stenhousemuir set up camp in the old, 20-team Division Two, finishing fourth three times in succession in the 1930s, and twice third in 1959 and 1961, four agonising points from local rivals Falkirk.
Never relegated, a logistical impossibility at the time, Stenhousemuir fell back after the 1975 Scottish League restructure that created smaller divisions. No longer able to hide among 20 teams, the Warriors kept a low profile in the third tier until the arrival of a certain Terry Christie as manager in 1992.
In his trademark duffle coat and still a school headmaster, Christie had worked wonders at little Meadowbank during the 1980s. There his mainstay in defence was Graeme Armstong. Christie signed him up straight away. Having steered Stenhousemuir to third place in the third tier in his first full season, thus avoiding the fourth tier being created in 1994-95, Christie had his players perform miracles to beat St Johnstone 4-0 and Aberdeen 2-0 in the Scottish Cup.
Reaching the quarter-finals for the first time since 1950, Stenhousemuir duly fell to Hibernian – but a fire had been lit. The following season, joined by former Chelsea star Eamonn Bannon who pulled strings at the back, the Warriors won through to the final of the Scottish Challenge Cup.
That year the tournament, for clubs outside the top flight, featured both teams from Dundee. Beating the Dark Blues 3-0 at Dens Park in the quarter-final, Stenhousemuir faced Dundee United in the final in Perth. Protected by Armstrong and Bannon for 120 minutes, on-loan keeper Roddy McKenzie then saved the first penalty in the shoot-out, by top United goalgetter Craig Brewster. With all other spot-kicks converted, the Warriors were the winners, and could lift a trophy for the first time since the Scottish Qualifying Cup in 1902.
Armstrong went on make 910 league appearances, a Scottish record. His 1,000th first-class game came against Rangers at Ibrox, a creditable 2-0 defeat – also Christie's last match as manager.
Armstrong took over to lead Stenhousemuir to promotion from the fourth tier in 1999. A subsequent string of defeats, including a 7-0 hammering at Clyde, proved a sorry farewell. Armstrong followed Christie to Alloa as his assistant, and even came on as sub at 44.
Back at Stenhousemuir, Armstrong's successor, Brian Fairley, brought in Isaac English to partner Martin Mooney up front, keeping Ochilview Park memorably entertained – highlights would otherwise be few and far between in the 2000s.
A right-back under Terry Christie at Meadowbank, manager John Coughlin arrived as manager in 2007. Two years later, his side won a penalty shoot-out in front of 1,500 at Ochilview to beat Cowdenbeath in the Third Division play-offs.
Since 2009, 'Muir haven't moved from their third-tier lair. Former Warriors midfielder Brown Ferguson took over as manager in 2015, Jamie McCormack saving his bacon by striking two key goals in the subsequent relegation play-offs, one in extra-time against East Fife, another at Hampden against Queen's Park.
A leaky defence almost put the Warriors in the same situation in 2015-16, Stenhousemuir finishing a point above doomed Cowdenbeath.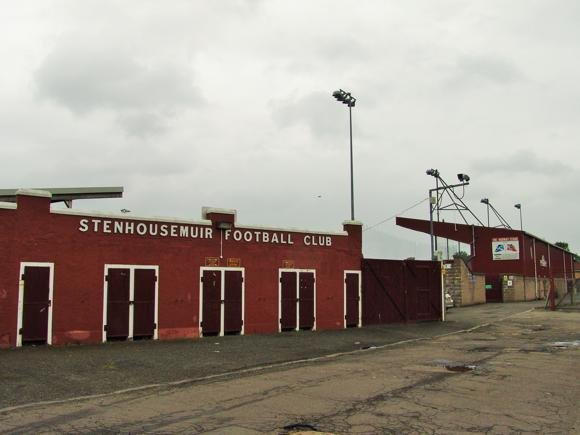 The field of dreams – and the stands around it
Ochilview Park is home to two teams: Stenhousemuir and East Stirlingshire. Each has Norway to thank for the main stand that dominates the ground, providing its only seating – and, for most league games, the only spectator area, unsegregated. Sponsored by 'Muir's Norwegian supporters' club, it was opened in 1996.
Since then, the North Stand opposite had to be knocked down for safety reasons – only the Tryst Road End is occasionally brought into commission, a roofed terrace behind the west goal.
Capacity is 4,000. In theory, this can be increased by using the space where the North Stand used to be. In practice, crowds rarely break four figures. The pitch, like so many in Scotland, is artificial.
Going to the ground – tips and timings
The nearest train station is Larbert – it's a 10min walk along Main Street, turning left at the third set of traffic lights, Tryst Road.
Three buses cover the same journey – the Tryst Road stop is four along from the station. The 6 runs half-hourly daytime, hourly eve, the 7 hourly, both only Tue-Sat. The F11 is hourly daily up until early eve.
Buying tickets – when, where, how and how much
Stenhousemuir have a simple pay-on-the-day, cash-only system. Admission is priced in two match categories, £13-£15, senior citizens, under-16s and students charged £8-£10. For the lowest C category, it's £1 cheaper for a place on the Tryst Road End terrace, but it's not always open.
On odd occasions, a game is declared all-ticket, classed category A and charged at £18 accordingly, £10 reductions.
Shirts, kits, merchandise and gifts
A modest, match-day stall offers maroon souvenirs by the main stand. Scarves, woolly hats and polo shirts are among the more desirable goods but you can also pick up a badge or key-ring.
Current away strip is Argentina-style light-blue and white stripes.
Pre-match beers for fans and casual visitors
Pubs on Main Street are only a short walk to the ground – but there are two bars within Ochilview itself. Within the main entrance to the Norway Stand, the Wee Bar is just that, a cosy spot decorated with pennants from visiting teams, with flat-screen TVs to follow the pre-match build-ups and football results before and after the game. Match-day only opening times are also accommodating, Saturdays 12.30pm-9pm, midweek 6.30pm-11pm, allowing for plenty of post-game banter and bevvies.
Accessed from a pathway off Tryst Road, giving out onto the pitch where the former North Stand meets the roofed terrace end, the Ochilview Bar also runs during the week, with plenty of sport on TV, hot and cold snacks and a selection of Innis & Gunn beers, matured in whisky barrels.
Both stadium outlets welcome away supporters.