A fan's guide – the club from early doors to today
Under Liverpool legend Steven Gerrard, Rangers not only ended ten years of title drought in 2021 but won it with 100+ points, without losing a single game and at the earliest point in the season on record. 
Better yet, the Gers prevented bitter rivals Celtic from gaining a record tenth title themselves, having put together a run of nine, four of them with Rangers absent from the top flight altogether.
Rangers then performed miracles in Europe to overpower Borussia Dortmund, Braga and RB Leipzig, only to lose on penalties to Eintracht Frankfurt in an entertaining Europa League showdown in Seville, the club's first European final since 2008.
It's all a far cry from 2012, when Rangers went into liquidation. A new company was formed and the most titled club in world football (54 league titles, 60 cups) had to commence the following season in the fourth flight, playing the likes of Annan Athletic and Stirling Albion.
What would the club's founding fathers have thought? Formed in 1872 by four local teenagers, Glasgow Rangers first played at Glasgow Green, in the city's East End – today home of rivals Celtic. After moving to industrial Govan, and their long-term home of Ibrox, Rangers claimed early cup wins and a share of the first Scottish league title.
The star man was Bill Struth, who later coached for three decades after World War I, building an unstoppable side with mercurial inside-forward Alan Morton. Post war, more silverware came with imposing centre-half George Young.
In the European era, Rangers were the first Scottish club to make a major final, losing the Cup Winners' Cup to Fiorentina in 1961. Six years later, Bayern Munich repeated the feat, though they needed extra-time and de facto home advantage in Bavaria to do so. Significantly the first international trophy won by Franz Beckenbauer, Gerd Müller and the later dominant Bayern, the Cup Winners' Cup would have been a unprecedented 1-2 for Glasgow as Celtic had won the European Cup a few days earlier.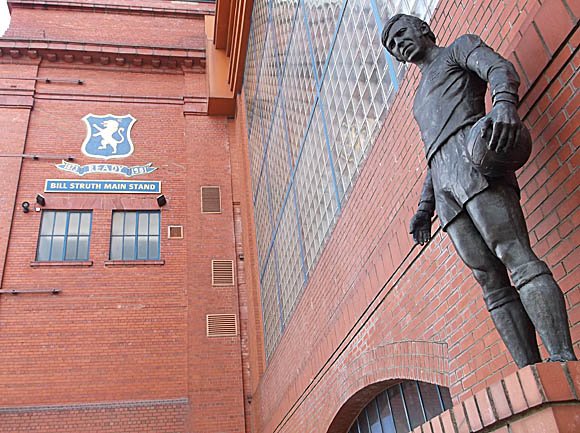 With Celtic dominant at home, Rangers still featured some of the greatest players to grace the field in Scotland – notably, cheeky midfield player 'Slim' Jim Baxter. After his retirement, captain and full-back John Greig, forward Willie Johnstone and midfielder Willy Henderson overcame the Ibrox stadium disaster of 1971 – in which 66 fans died at an Old Firm game – to win the Cup Winners' Cup at last. The 3-2 win over Dynamo Moscow was also marred by a crowd invasion, but Rangers had their European trophy.
Rangers also claimed three titles in four years, including two domestic trebles, the best run since the early 1960s, as Jock Stein's Celtic waned. Assistant coach to Willie Waddell for Rangers' European triumph in 1972, old-school Jock Wallace took over the hot seat when his former boss was moved upstairs. A goalkeeper in his playing days, keeping out wave after wave of desperate attacks in Berwick's legendary 1-0 cup win over Rangers in 1967, Wallace was a strict disciplinarian. He was also a more astute tactician than many gave him credit for.
As his players responded on the pitch, behind the scenes, Waddell was masterminding the long-needed modernisation of Ibrox, money that could have been spent on building a squad capable of doing far better in Europe. Waddell and Wallace fell out, the coach quitting within days of winning the second treble, though exact reasons were never given.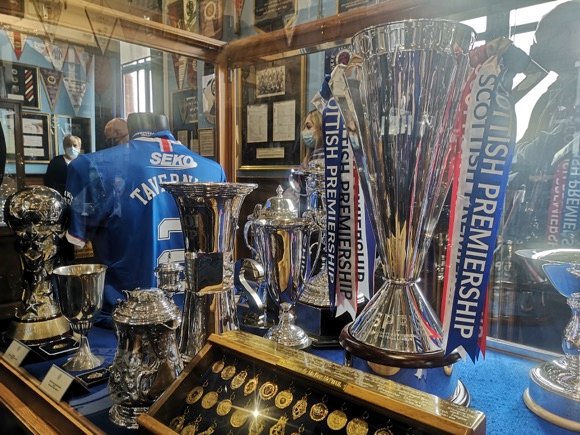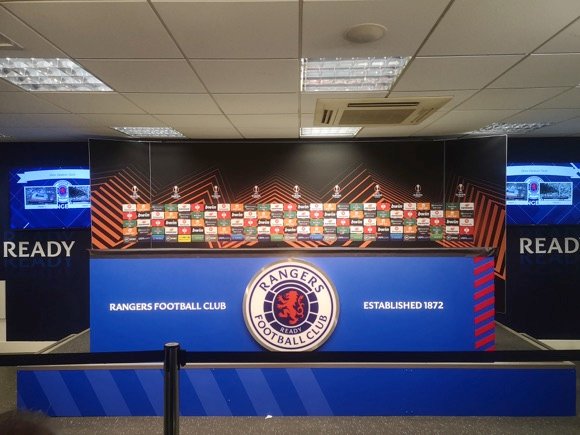 The highlights of the leaner 1980s were Davie Cooper and  Ally McCoist, one a once-in-a-lifetime talent who could lose any defender with a feint of his left foot,  the other a prolific striker who saved his best form for Old Firm games. Later Ibrox hero McCoist was originally shunned by fans but backed by a returning Jock Wallace, who had replaced legendary captain John Greig after his disappointing spell as manager. 
The club's real transformation began under player-coach Graeme Souness, who took advantage of UEFA's ban on English clubs in Europe by signing top English internationals Trevor Francis, Trevor Steven and goalkeeper Chris Woods. 
With entrepreneur David Murray as chairman, old business practices were abandoned, Catholic Mo Johnston signed, and Rangers began a run of nine straight titles. After Souness left for Liverpool, his former assistant Walter Smith stepped in. In 1992-93, laden with star names, on top of only domestic treble of their dominance, Rangers came within a whisker of reaching the Champions League final in its inaugural season. Brushing aside English champions Leeds, McCoist scoring in both legs, Rangers remained unbeaten in the final group stage. Eventual winners Olympique Marseille had the edge, though would be later disgraced in a bribery scandal. McCoist ended his injury-hit season with 49 goals from 52 games in all competitions.
Rangers could now pay top whack for major international talent. First came centre-back Basile Boli, whose solitary goal had settled that 1993 final for Marseille, then the supremely gifted Dane Brian Laudrup, whose goals and assists were gilt-edged class. Finally, the ultimate coup: Paul Gascoigne. Scoring goals of remarkable brilliance, Gazza was also capable of crass, provocative gestures at Old Firm games, which hardly needed a spark to ignite. A shining light for most of his first two seasons, by 1997-98 Gazza had lost his fizz as the booze took hold. 
Passing Gazza and his addictions on to Middlesbrough, chasing a record tenth consecutive title, Rangers failed to claim any trophy at all despite the prolific form of Italian striker Marco Negri. The mass exodus in 1998 included Walter Smith, Brian Laudrup and an ageing Ally McCoist.
Enter Dutch coach Dick Advocaat. The side acquired defensive steel and midfield grit, thanks to Barry Ferguson and Neil McCann. Two league titles were easily won but Rangers didn't have enough to beat Bayern Munich and Borussia Dortmund in Europe.
Advocaat made way for Alex McLeish, who overcame a shock defeat to Viktoria Žižkov in the UEFA Cup to win the domestic treble in 2002-03. With successive European failures, however, and the high-spend boom years of the 1990s long gone, tighter finances saw a further drain of talent from Ibrox. Totemic captain Barry Ferguson went to Blackburn but would return two years later.
His homecoming coincided with Helicopter Sunday, when the title swung so dramatically in the final minutes of the title race that the pilot delivering the trophy had to change course right in stoppage time. Having lost 2-1 at home to Celtic with four games to go, Rangers went into the final match at Hibs knowing that their rivals only needed a draw against Motherwell. Leading 1-0 until the 88th minute, Celtic allowed Scott McDonald, a lifelong Hoops fan, to snatch two late goals, reverse the scoreline in Motherwell's favour. The helicopter duly changed direction as blue ribbons were being tied onto the trophy.
The return of Walter Smith as manager halfway through trophy-less 2006-07, teaming up with his assistant, Ally McCoist, reaped rewards the following campaign. With young striker Kris Boyd hitting top form, the Gers took Celtic to the wire in the league, claimed both cups, and started brilliantly in the Champions League, winning 3-0 at Lyon.
Ibrox was packed for the visit of Messi's Barcelona, a creditable 0-0 draw, but three straight defeats led to entry into the Europa League. Narrow wins took them through to a semi-final with Fiorentina, where a penalty shoot-out in Florence followed two goalless games. Barry Ferguson missed his spot kick, but so did the veteran Christian Vieri, and Rangers were in their first European final since 1972.
An estimated 150,000-200,000 Rangers fans descended on Manchester, many behaving disgracefully before and after the game with Zenit St Petersburg, controlled by Andrey Arshavin in a career-changing performance. Former Gers manager Dick Advocaat duly took the trophy to Russia and the attacking midfielder headed to Arsenal for a club record fee.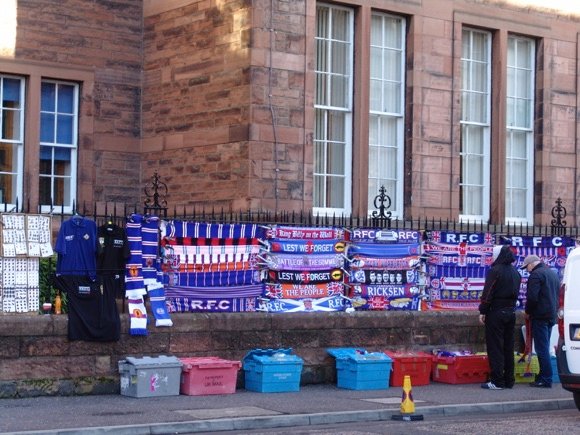 Dominant at home, winning three straight titles, Rangers disappointed in Europe, with ultimately disastrous financial consequences. In 2011, long-term owner David Murray stepped out, the club owing fortunes to the bank and the taxman. The steel and mining mogul had overseen three decades of unprecedented success, 16 league titles and 26 cups, but it had come at a huge price.
Picking up the poisoned chalice, lifelong Rangers fan and venture capitalist David Whyte would be the one to take the club into administration, then liquidation, in 2012. The subject of a controversial BBC TV documentary, Whyte would eventually be arrested and declared bankrupt.
Docked ten points in the league, barred from Europe, Rangers had club icon Ally McCoist to thank for providing stability as manager during the crisis. Officially a new entity, Rangers started 2012-13 in the third tier. To his credit, McCoist stuck to his task of hauling the club through the lower echelons of the Scottish game – though motivation could not have been easy on a cold afternoon in Peterhead.
After a slow start, bringing laughter to Celtic Park but boosting attendances everywhere, Rangers walked the league and repeated the feat with near maximum points in the third flight in 2013-14. The run then ended in May 2015, a play-off defeat to Motherwell barring the way to a straight three-division climb back to the Scottish Premiership. In 2014-15 alone, Rangers went through three managers – and three chairmen.
Under Mark Warburton, Rangers picked themselves up in 2015-16, goals from Martyn Waghorn helping the Gers win the Championship by an 11-point margin. It was his former Wigan team-mate, defender James Tavernier, who scored the solitary goal that beat Dumbarton to bring top-flight football back to Ibrox. Tavernier then missed in the penalty shoot-out against Celtic in the Scottish Cup semi-final, a thrilling tussle eventually won by Rangers after a 2-2 draw and spot kicks. The final finished with a late reversal by Hibs to snatch the trophy, fans battling on the pitch afterwards.
Shock defeat to Progrès Niederkorn of Luxembourg in Europe saw rapid managerial changes – and the subsequent arrival of Steven Gerrard in May 2018. A reasonable effort in the group stage of the Europa League at least restored credibility, consolidated by reaching the knock-out phase in 2019-20.
All came together in 2020-21. Gerrard balanced a team of veterans, such as evergreen goalkeeper Allan McGregor, ex-England striker Jermain Defoe and youth, most notably sparky Romanian attacking midfielder Ianis Hagi, while bulking out the squad with academy talent. Rangers went on a 15-win streak from September to January and had the title wrapped up by early March, a record. Celtic had also been denied a record tenth title on the bounce.
With Malmö dumping Rangers out of the Champions League, Gerrard was tempted back to England by Aston Villa, old boy Giovanni van Bronckhorst taking over as Rangers set about defending their domestic crown from a Celtic desperate to wrest it back. Ianis Hagi's father Gheorghe, meanwhile, was one of several famous old players in the World XI who lined up against Rangers Legends at Ibrox in March 2022 for the 150th anniversary of the club's foundation.
The event coincided with a heroic run in Europe, former Wigan full-back and inspirational Rangers captain James Tavernier becoming top scorer in the tournament with goals against Borussia Dortmund, Red Star Belgrade and Braga, then RB Leipzig in the semi-final. He also converted the first penalty in the shoot-out that followed a tight 1-1 draw with Eintracht Frankfurt in sweltering Seville. Tellingly, German keeper Kevin Trapp won Man of the Match, his save from Ryan Kent in the dying minutes of extra-time preventing the trophy making its way to Glasgow.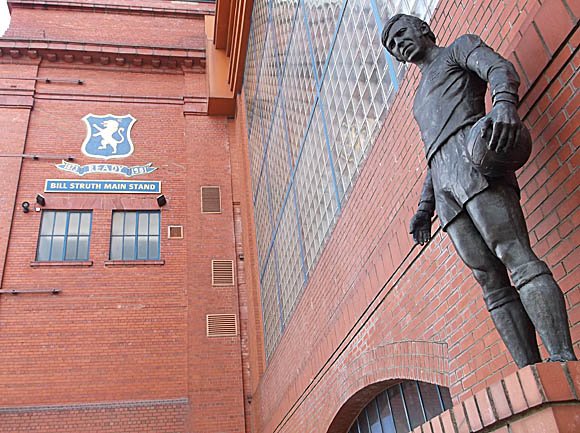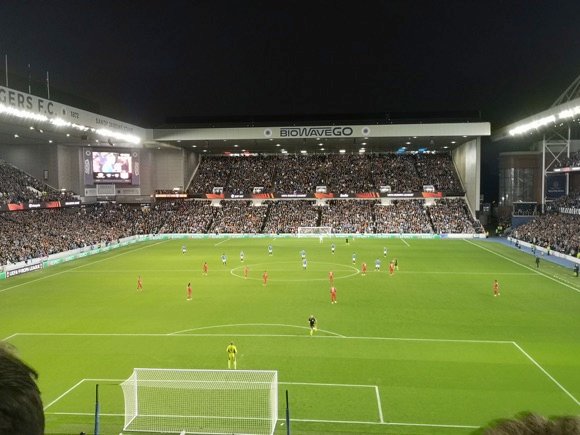 The field of dreams – and the stands around it
Conceived by Glaswegian engineer Archibald Leitch, Ibrox is today a modern, all-seated arena. Leitch's magnificent main stand remains – as do the surroundings of dour, industrial Govan.
Rangers moved to Edmiston Road, Govan in the 1880s. A grandstand was erected and a stadium inaugurated in 1887. With growing crowds, a new one, Ibrox, was built alongside in 1899, and a grandstand in 1900. In 1902 it became the scene of world's first football disaster, when 26 spectators perished on a collapsed wooden terrace at a Scotland-England international.
Officials brought in Leitch to construct a new arena around it. In 1910 he did, a large bowl to house 63,000 spectators in relative comfort for the day. The capacity increased to 80,000-plus after World War I. In 1928, Leitch conceived the magnificent main, South Stand, today a listed building and still integral to the stadium. Its vast granite façade hid a fine interior, a marble staircase leading to the club offices. Opposite stood the Govan Stand, then known as the Bovril Stand because of the advertising. On January 2, 1939, 118,567 saw an Old Firm game here, an all-time British record.
Despite a later crowd limit of 80,000, Ibrox suffered another tragedy on January 2, 1971, when 66 fans died in the last minutes of an Old Firm game. Then Rangers manager Willie Waddell helped plan a safer ground, visiting Borussia Dortmund for advice. In 1981, the Bovril Stand became the Govan Stand, with seating for 10,000. Ibrox lost its oval shape, and became a ground of four rectangular stands: Govan, behind the goals Broomloan and Copland Road, and Leitch's, now named after Bill Struth.
With £50 million from chairman David Murray, more development included an upper tier in the main stand, Ibrox now an enclosed, modern all-seated two-tiered arena of 51,000 capacity. In the northern corners were jumbotron TV screens for immediate action replays. Boxes and executive suites complemented the plush Argyle House restaurant.
Copland Road is the Rangers end. Away fans are usually allocated a corner of the Broomloan end by the Govan/Sandy Jardine Stand. As the 2021-22 season began during pandemic restrictions, no visiting supporters were allocated tickets for the first Old Firm game of the campaign here. Celtic duly responded in kind for Rangers' visit to Parkhead, and even if the two clubs agree a modest allocation in future, the days of Hoops fans filling the whole Broomloan Stand are almost certainly long gone – in any case, 45,000 of the stadium's 51,000 capacity are Rangers season-ticket holders.
Going to the ground – tips and timings
Ibrox has its own stop on the Clockwork Orange circular Subway, a 15-minute journey from central St Enoch's Square. On match days, if mobbed, walk five minutes to less crowded Cessnock around the corner, with more pub options. 
Buses from town include First 9/9A (every 8mins) and 10 (every 30mins) services from Hope Street by Glasgow Central station, as well as McGill's 38 route from Renfield Street (every 8mins). All run down Paisley Road West, 15-20mins away. Alight at Merrick Gardens, past Ibrox Library. Cross the main road towards the church, head up Merrick Gardens and left down Edmiston Drive.
The sat nav code for Ibrox is G51 2XD. The club recommends using the Albion car park (G51 2YU), where Edmiston Drive meets Broomloan Road, with spaces (£10) available on a first-come, first-served basis. In theory, you can also book through the club's ticket office or call (UK only) 0871 702 1972. Getting out post-match can be a very long wait, however. Parking just off the M8, on Urrdale Road (G41 5BY) or around Dumbreck station (G41 5BQ) may be a longer trek of 10-15mins to Ibrox but ensures a much quicker getaway after the game.
Buying tickets – when, where, how and how much
With 45,000 season-ticket holders and an Ibrox capacity just shy of 51,000, availability for league and major cup fixtures is extremely tricky. The club operates a Seatsub system, allowing season-ticket holders to sell on their seat for certain games they can't attend. Details and booking are available online, as well as buying tickets for friendlies, less attractive fixtures in the domestic cups and earlier rounds of the European tournaments. Rangers B games with Celtic B in the fifth-tier Lowland League are played at Ibrox, admission £10/discounted £5, also booked online.
For all enquiries, email ticketcentre@rangers.co.uk. There's also a Rangers Ticket Centre between the Sandy Jardine and Broomloan Stands.
Agencies also resell, charging around £500-£600 for Old Firm games. Regular prices for most Scottish Premiership fixtures are £22 behind the goal in the Broomloan rear tier, £27 in the Sandy Jardine rear tier, and £24 for seats nearer the goals in the Bill Struth Main Stand, rising to £34 for better ones.
Shirts, kits, merchandise and gifts
The Rangers Store (Mon-Wed, Fri-Sat 10am-7pm, Thur 10am-9pm, Sun 10am-6pm) is located between the Copland Road and Sandy Jardine Stands. There's also a city-centre outlet at 12 Buchanan Galleries on Sauchiehall Street, open Mon-Wed 9am-6pm, Thur-Sat 9am-7pm, Sun 10am-6pm. 
For 2021-22, first-team tops of storied blue feature white piping, and the club badge and sponsors in yellow. Away is black with red collars, third choice lilac with black collars. Shirts commemorating the club's 150th anniversary are also available, white with blue badges. Retro shirts date back to the 1980s.
Explore the ground inside and out
Stadium tours take place Thur-Sun (not match days) at 10.30am, 12.30pm and 2.30pm, admission £15/£5 for under-18s and over-65s. Time-specific places can be booked through the club's main ticket office.
Pre-match beers for fans and casual visitors
Nearby pubs are fiercely partisan. Rangers faves along main Paisley Road West include The Bellrock, offering TV sport and pool on the corner of Cornwall Street and opposite, The Grapes bar, a Rangers institution. 
On the corner of Harvie Street, the District Bar is another Rangers stronghold, with a Davie Cooper Memorial behind the bar counter. Alongside stands the Louden Tavern, referred to as the Louden Tavern KP ('Kinning Park'). to differentiate it from others of the Rangers persuasion. An impressive wall of fame fills the bar, a good 15mins walk from Ibrox. 
As you walk down from Cessnock Subway station, you also pass the Kensington Bar geared to TV football, the Park Bar with its weekend karaoke.
Another Louden Tavern ('The Quintessential Rangers Supporters' Pub'), its walls equally covered in memorabilia, images of Jim Baxter and other Rangers icons displayed like windows in a church, sits facing Ibrox Subway station on Copland Road. A line of TV screens over the bar show match action while Rangers supporters congregate in a barn-like space pre- and post-match. All is geared towards quick service on match days, with an outdoor drinking area, too.
On the other side of Ibrox on Edmiston Drive, the Wee Rangers Club close to the stadium behind the Broomloan Road end opens its doors to non-members for £3 on match days, sensible away fans not wearing colours welcome.
Few outside Glasgow may realise that there are Rangers bars in the city's East End, the heartland of Celtic support. These include the original Louden Tavern by Duke Street station and, close by, the heavily-themed Bristol Bar, sporting the largest Rangers mural in the world.