A fan's guide – the club from early doors to today
Champions only twice, Fiorentina have an importance in the Italian game beyond the extent of their silverware. Flagship club of Florence, home of the medieval Italian game of calcio, Fiorentina have a huge fan base and historic, bitter rivalries with clubs from Italy's bigger cities, most notably Juventus.
Fiorentina were formed from a merger of Libertas and Club Sportivo in 1926. Bearing the fleur de lis of Florence, Fiorentina wore halved shirts of Libertas red and Club Sportivo white. A laundry error caused the dyes to run – and Fiorentina became the Viola.
Their ascension to Serie A in 1931 coincided with the building of their new stadium, an architectural gem. The club attracted stars such as Uruguayan Pedro 'Artillero' Petrone, top league scorer that first season.
In the mid 1950s, coach Fulvio Bernadini built a formidable Viola side, its attack featuring Brazilian Julinho and Italo-Argentine Miguel Montuori. After winning the Italian title in 1956, Fiorentina lost to Real Madrid in the subsequent European Cup Final at the Bernabéu, the game turning on a dubious penalty.
The Viola continued to challenge for honours, winning two, the Italian Cup and inaugural Cup-Winners' Cup over Rangers, both in 1961.
Eight years later, in a three-way dogfight, Fiorentina edged the title over Milan and Cagliari. Midfielder Giancarlo 'Picchio' De Sisti later played in the 1970 World Cup Final.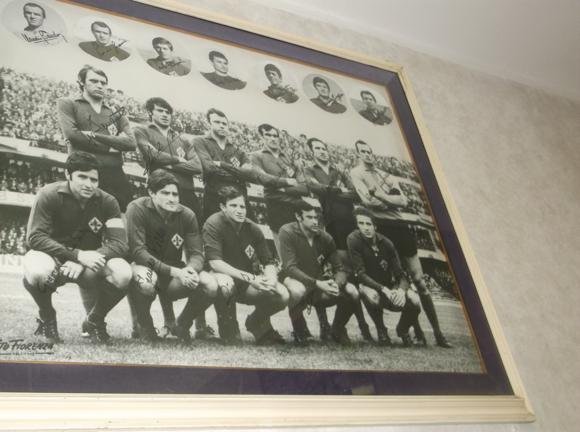 The next great Fiorentina idol, and World Cup winner, was Giancarlo Antognoni, an elegant attacking midfielder with movie-star looks. In 1982, with De Sisti as coach and Francesco Graziani as bullish goalscorer, the Viola were tied with Juventus before the last day of the season. Fiorentina were at Cagliari, Juve at Catanzaro. After scoreless first halfs, Fiorentina were denied a goal just as Juve were awarded a dubious penalty. The title went to Juve, instigating bitter rivalry. 
Fiorentina not only lost to Juventus in the UEFA Cup Final of 1990, they sold Juve their star talent, Roberto Baggio. The next season, Baggio strode out at a hostile Stadio Franchi in a Juve shirt – and refused to take a penalty.
Film producer Mario Cecchi Gori had stepped in as president, replaced by son Vittorio after his untimely death in 1993. Headline names arrived, particularly prolific Gabriel Batistuta, 'Batigol', the fans' idol.
Under Giovanni Trapattoni, the Viola beat Arsenal and Manchester United in the Champions League but didn't have enough to win the Italian title.
By 2002, huge wage bills led to Fiorentina's bankruptcy. President Diego Della Valle formed a new club forced to play its way out of the fourth flight. They became ACF Fiorentina, and achieved a return to Serie A in 2004, the recovery led by loyal midfielder Angelo di Livio.
The success of incoming coach Cesare Prandelli and striker Luca Toni was deflected by the Calciopoli scandal – the Viola still made the UEFA Cup semi-final of 2008.
Prandelli took the national job, eventually replaced by promising current incumbent Vincenzo Montella – though many regret the departure of playmaker Riccardo Montolivo and Montenegrin striker Stevan Jovetić. While new signing Mario Gómez failed to ignite in 2013-14, a revived Giuseppe Rossi helped Fiorentina to a place in Europe and the Italian Cup Final.
With on-loan Mohamed Salah in sparkling form, Montella took the Viola past Spurs, Roma and Kyiv in the Europa League but Fiorentina again fell at the semi-final stage.
Under Paulo Sousa, Fiorentina stayed in Europe – but not the Champions League. One-time Viola defender Stefano Pioli arrived for 2017-18 but Fiorentina never looked like achieving a top-four finish. Versatile attacking midfielder Federico Chiesa, son of former Viola star Enrico, remained a bright hope for the future.
In March 2018, before at game at Udinese, Fiorentina captain and Italian international centre-back Davide Astori was found dead in the team hotel, having suffered a heart attack. All games in Serie A and B were cancelled as Florence went into mourning. Astori's number 13 shirt was retired and Croatian stalwart Milan Badelj took over as captain.
With the club treading water, New York Cosmos owner Rocco B Commisso picked up Fiorentina for a relative song in 2019, becoming yet another Italo-American with a vested interest in Serie A. Prolific young Serbian striker Dušan Vlahović kept hitting a goal a game to push the club into European contention before his €70 million sale during the winter 2022 transfer window saw yet another Fiorentina star move to Juventus.
The field of dreams – and the stands around it
A superb example of pre-war stadium architecture, the Stadio Artemio Franchi looks as it did when completed in 1932.
Commissioned by Fiorentina's first president, Fascist politician Luigi Ridolfi, and devised by star architect Pier Luigi Nervi, the stadium was originally named after a Fascist martyr. Giovanni Berta had been pushed off a bridge into the Arno by Communist sympathisers ten years before the curtain-raising friendly between Fiorentina and Admira Vienna in 1931.
The stadium had been designed with the 1934 World Cup in mind, Italy favourites to get the vote. With an original capacity of 32,000, the streamlined Berta was a triumph of stadium architecture, centrepieced by the Marathon Tower and graceful main stand.
Floodlights – and the less politicised name of Comunale – ushered in the European era. Ten years later, capacity increased to 66,000 when terracing replaced part of the parterre. This was reduced to under 50,000 following violence, a sad local trend, in 1980. The death of UEFA president Artemio Franchi in 1983 near Siena caused both local stadia to take his name.
Refurbishments for the 1990 World Cup included a new lower tier and a sprucing up of Nervi's concrete. The Comunale never looked better, although fate decreed a tedious two-hour shut-out between Yugoslavia and Argentina.
The atmosphere is fierier for Fiorentina games, when home fans occupy both ends, the north Curva Fiesole considered the home one. Opposite is the Railway End, the Curva Ferrovia, with away fans in the three settore ospiti (OS1-3, accessed through gates 13 and 14) at the Ferrovia end of the Marathona, the stand dominated by the tower of the same name. The lower tiers of each sideline, Parterre di Maratona and Parterre Tribuna, are affordable for neutrals.
Going to the stadium – tips and timings
A train leaves main Santa Maria Novella for Campo di Marte every 15mins (€1.50), 5mins/1 stop away. It usually leaves from outer platform 18, a good 10min walk from the main concourse. At Campo di Marte, take the upper walkway away from the station building, towards the floodlights. This is the Ridolfi athletics stadium – the Stadio Artemio Franchi is behind it.
Bus 17 runs to San Gervasio 01 by the stadium from Stazione Valfonda (Santa Maria Novella) 13 stops away.
Buying tickets – when, where, how and how much
The Fiorentina ticket office (Mon-Fri 9.30am-1pm, 2.30pm-6.30pm, from 9.30am match days, Sat 9.30am-1pm on Sun match days when it's open 9.30am-kick off) near the stadium at via Settesanti 28r/corner of via Duprè, offers both advance and match-day sales. 
Other outlets include the pre-match Bar Marisa (viale Fanti/corner via Carnesecchi) and, in the city centre, the age-old kiosk, il chiosco degli sportivi (Tue-Sat 10am-2pm, 3.30pm-7.30pm, cash only) – and with a great little snack bar/beer terrace alongside keeping the same hours. It's where via degli Anselmi meets via Pellicceria, behind a blue Tourist Point kiosk under the arches. In all cases, ID is required.
Online sales are distributed through Ticket One.
For the biggest games, you'll pay €35-€40 for a seat in the Curva Fiesole. €75 in the Maratona and €100 in the Tribuna Laterale. These prices come down considerably for less attractive fixtures: €20 in the Curva Fiesole/Ferrovia, €40 in the Maratona, and €50-€55 in the Maratona Centrale, Tribuna Parterre and Tribuna Laterale.
Shirts, kits, merchandise and gifts
At Fiorentina Point (viale Manfredo Fanti 85A; Mon-Fri 9.30am-1pm, 2.30pm-6.30pm, from 9.30am match days, Sat 9.30am-1pm on Sun match days when it opens 9.30am-kick off) by the stadium, you can find original red-and-white Fiorentina shirts, laptop bags and Fiorentina earrings.
The Fiorentina Store Duomo (daily 10am-8pm) in town (borgo San Lorenzo 9R) has a smaller selection.
Pre-match beers for fans and casual visitors
Bar Chiara (corner via Galvani/viale Volta) is a little walk from the stadium but it's Viola through and through. Even Giancarlo Antognoni calls in now and then. It's probably the quality local Manaresi coffee, served by an expert hand at the equally local and renowned La Marzocco machine.
On viale Fanti by the stadium, the Bar Marisa (No.41/corner via Carnesecchi) wears its fleur de lis on its sleeve. Note the vintage team line-ups and Batigol-era photos over the bar. On that corner, the Trattoria Piccadilly is a standard, sit-down restaurant.
The splash from Stadio after the '56 title win stands out amid the four walls of Fiorentina history that comprise the timeless interior of the Pizzeria Da Graziano Stadio (Fanti No.3er). The seen-it-all boss is snapped with sundry Viola heroes while a wood-fire pizza oven burns behind. Next door's contemporary Pizzeria Undici Leoni is somewhat wet behind the ears nad has opened an equally brash but bland Bar Stadio alongside.
By the rugby ground, near the away gates of Nos.13 and 14 on viale Paoli by the entrance to the swimming pool, the bar has gone strangely German. Now called Rugbier, it's a Bierstube, with Currywurst (€12!), Riegele lager from Augsburg and Bavarian specials on the menu. It's actually a pleasant spot, with a beer garden too, and open on match days if you sneak round the side rather than try and walk straight in.