A fan's guide – the club from early doors to today
Juventus, 'La Vecchia Signora', attract seven million supporters the length and breadth of Italy. For other 50 million Italians, 'the Old Lady' is a shameless hussy, buying her way to success – as demonstrated by the match-fixing scandal exposed in 2006, which saw Juve relegated for the first time.
Juve then went on to dominate the Italian game, just as they had done during long periods of the 1970s, 1980s and 1990s. The most recent monopoly reaped nine straight titles between 2012 and 2020.
But Italy's most decorated club has still only won Europe's premier trophy twice, the first the tainted final of 1985. Those nine Scudettos were interspersed with appearances at two Champions League finals, and defeats to superior Spanish sides in 2015 and 2017.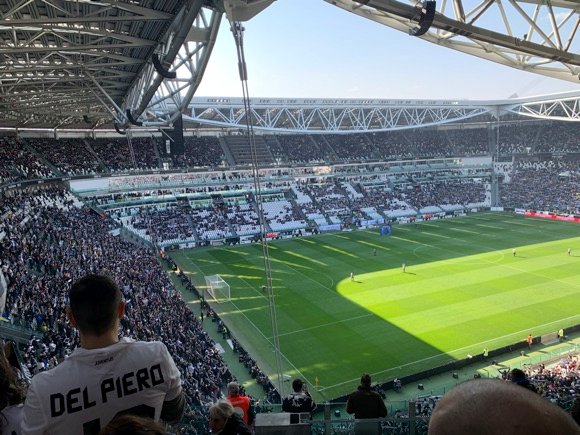 At least Juventus can point to the ongoing success of their self-owned arena, an example-setting rarity in Italy where ageing state-run stadia are the norm. It's not only the 41,500-capacity Allianz Stadium, though. Being built around it is the J-Village of a training centre, head office, hotel, concept store and power station. Italian football is at last joining the 21st century. 
Juventus were founded in 1897 by pupils of Massimo d'Azeglio grammar school. The bench they met on stands at the club HQ on piazza Crimea. In 1906, some members formed a breakaway club, Torino, thus setting up one of Italy's most enduring city rivalries, il Derby della Mole.
The Agnellis of Fiat fame took over Juve in 1923, and bought top talent to win five consecutive titles a decade later. World Cup winners Raimundo Orsi, Luisito Monti and Giampiero Combi wore Juve's black-and-white stripes – shirts originating from Notts County.
Welshman John Charles and Brazilian Omar Sivori starred in the post-war period but the classic Juve era came in the late 1970s and 1980s. Under Giovanni Trapattoni ('Il Trap'), forward Roberto Bettega and goalkeeper Dino Zoff made Juve near unbeatable at home, before foreign stars Liam Brady, Zbigniew Boniek and, most importantly, Michel Platini, pushed Juve to another level. 
Despite Platini's imperial presence – top league scorer from midfield three seasons running – Juventus were never fully acknowledged masters of Europe, winning an irrelevant final against Liverpool in the chaos of Heysel 1985.
The 1990s began with the opening of the soulless Stadio delle Alpi – created with security in mind, given the 39 deaths of Juve fans at Heysel – and continued with the arrival of coach Marcello Lippi. Juve made three Champions League finals, winning one, and took three titles. Helping to Juve to success were Zinedine Zidane and Alessandro Del Piero, a prodigious talent from Padova.
Guided by Pavel Nedvěd in midfield and backed by Gianluigi Buffon in goal, the Zebras won back-to-back titles but lost the Champions League final of 2003 to Milan. Two further titles, under Fabio Capello, were struck from the records after the match-fixing scandal of 2006. 
At the same time, the club was planning an entirely new stadium on the site of the dreaded Stadio delle Alpi. Demoted to Serie B and bereft of departing foreign stars, Juve must have questioned the wisdom of laying out €155 million, €60 million of it in loans. Opened in 2011, the Juventus (or Allianz) Stadium has since proved to be a superb investment, and a shining example to the club's peers.
Based at Torino's Stadio Olimpico in the interim, juve only needed one season to end their enforced sojourn in Serie B, talismanic Del Piero, Nedvěd and Buffon sticking by the Old Lady to play their way out of ignominy.
With Antonio Conte at the helm, Del Piero captain and Andrea Pirlo pulling the strings, Juve went the entire 2011-12 season unbeaten and picked up a first league title in nearly a decade. It was also an emotional farewell for Del Piero, who bowed out after a record 705 appearances. Clean sheets by Buffon then helped Conte's Juve to retain the title in 2013.
With Carlos Tevez taking Del Piero's No.10 shirt, and Pirlo as peerless as ever, Juve walked to a third consecutive title in 2014. Sadly, they missed out on winning European silverware at home, losing to Benfica in the semi-final of the Europa League, the final being played in Turin.
Conte having taken the national job, Massimiliano Allegri proved to be a savvy coaching appointment despite initial scepticism. A domestic double was outshone by an impressive win over Real Madrid in the semi-final of the Champions League in 2015. Juve recovered from an early goal by Barcelona in the final in Berlin to draw level, but didn't quite have enough in the final third.
Off the pitch, Allegri tempered the losses of Paul Pogba and Spanish striker Álvaro Morata with the wise buys of Gonzalo Higuaín for €90 from Napoli and Miralem Pjanić for €32 from Roma, top of the Serie A goalscoring and assist charts respectively in 2015-16. 
In 2017, after a record third domestic double, Juve initially gave a good account of themselves in another Champions League final. Having stomped Barcelona 3-0 in the quarters, the Zebras looked set to break the Spanish stranglehold on Europe's premier trophy. A wonder goal from Mario Mandžukić levelled the scoring against Real Madrid in the Cardiff showdown but poor discipline saw the Turin side collapse on the hour. The 4-1 defeat is one Gianluigi Buffon will not forget in a hurry. 
Argentine international Paulo Dybala started the 2017-18 campaign with hat-trick after brace after hat-trick, although for much of the campaign, a seventh straight Scudetto was far from assured. In the end, Juve edged the league above Napoli.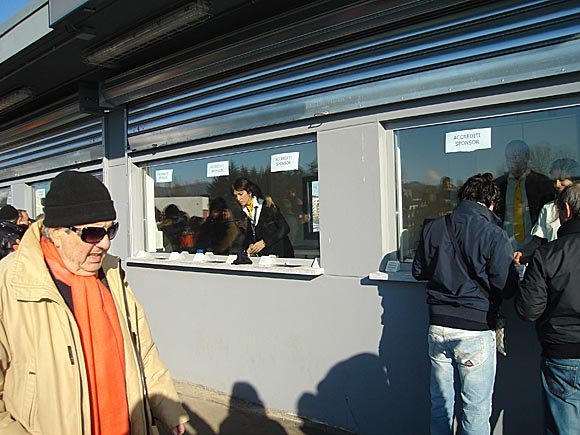 Clearly superior to everyone else in Italy, and equally clearly inferior to the Spanish giants at the very highest level, Juve went for broke in 2018. The club paid Real Madrid €100 million for Portuguese maestro Cristiano Ronaldo. It was a record fee for a player in his thirties, the five-time winner of the Champions League then aged 33.
The transfer proved to be a mixed blessing. Still dominant at home, an ageing Juve were no match for the youngsters of Ajax in 2019 and lively Lyon in 2020, Champions League dreams ended each time in the earlier knock-out rounds.
Ceding their title to Inter in 2021, Juve ended 2021-22 without a trophy of any kind, the first drought for over ten years. Not even the return of Max Allegri, the coach behind five of those nine Scudettos, could lift Juventus above fourth place. Champions League football is still pretty much a given – though nothing better demonstrated the gulf in class on the European stage than the 4-0 defeat by Chelsea in the group stage in November 2021.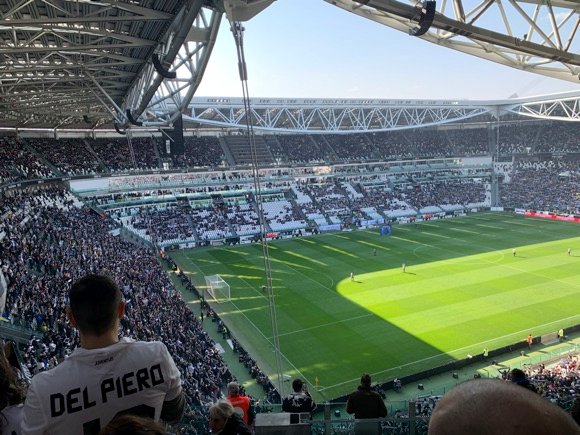 The field of dreams – and the stands around it
Fashioned out of the unloved Stadio delle Alpi, the Allianz Stadium (formerly Juventus Stadium) was unveiled in 2011 with a friendly against Notts County, the inspiration behind the black-and-white shirts a century ago.
Strikingly modern with flashes of red and green, its contemporary exterior juxtaposes with the stark beauty of the Alps in the immediate background. Holding 41,500 spectators, this intimate venue is the perfect solution to the club's long-term stadium woes.
In 2003, Juventus took the unprecedented step of buying the stadium for €25 million from the council and developed Italy's first club-owned, football-focused arena. Giving priority to environmentally friendly methods – the stadium generates heat through solar panels and irrigates its pitch by reusing rainwater – the club were able to build a new arena from scratch for a relatively modest €155 million. It later staged the Europa League Final in 2014.
The adjoining J Village has been built up since, and now contains a four-star hotel, the club's HQ, training centre and media offices, as well as an international business school. Within the stadium complex and long in place are the Area12 mall containing a Juventus megastore, and the Juventus Museum.
The compact stadium comprises the home Tribuna Sud on corso Grosseto and Tribuna Nord on via Druento, behind each goal, Tribuna Ovest and Est Centrale on strada Comunale di Altessano by the Area12 mall contain the best seats along the sidelines. Visitors are allocated four sectors in the north-east corner between the Nord and Est stands accessed by via Druento.
Going to the stadium – tips and timings
The Juventus Stadium is way north-west of town. The quickest way to the ground is to take tram 9 from Porta Nuova station via Bernini to the terminus at Stampalia Cap. From there, you're a 10min walk away along via Druento. It's 20 stops between the station and the stadium area, allow 30mins. Trams run every 15mins.
Alternatively, if you're at Rossini, near the Mole Antonelliana, tram 3 goes to Sansovino about 10min walk from the stadium, journey time 20-25mins. Trams run every 12mins.
The closest bus stops to the stadium are Stadio and Druento, on line 72, setting off from Bertola Cap near Castello in town. It's less frequent, every 25-30mins, and takes 30mins from town.
Buying tickets – when, where, how and how much
Tickets are only distributed online through the Juventus Official Ticket Shop, for which you need to register, unless you have club membership or a Juventus Card. If you're making a weekend of it, you can always opt for a match package at the J Hotel in the J Village alongside.
For all enquiries, use the contact form on the club website or call +39 011 45 30 486 (Mon-Fri 10am-8pm, Sat 10am-2pm).
For an average Serie A fixture, you pay €35 (€20 under-16s) for a seat in home Tribuna Sud, or Tribuna Nord, €65 (€35) for a better seat in the Tribuna Nord, while prices in the sideline Tribuna Est or Ovest range from €75-€120 (€40-€60).
Shirts, kits, merchandise and gifts
The main Juventus Store (Mon-Sat 10.30am-7pm, match days) is by the club museum and Area12 shopping centre, behind the Tribune Est where via Druento meets strada Altessano. It's the largest of its kind in Italy, with shirt-printing, a table-football table and retro shirts galore, from the 1950s, 1970s and 1980s. Scarves and hats carry the all-pervasive J-letter logo. Juventus Subbuteo is a must-have, though Connect 4 sets may be stretching the brand somewhat.
The home shirt for 2022-23 features stripes suspiciously closer to grey than black, proving that a zebra can change its stripes. Away is black with orangey-pink shoulder stripes, third-choice yellow and blue with chevron patterns, fourth kit various shades of blue with similarly confusing shapes.
In town, there are furry zebras a-plenty at the Juve store (daily 10.30am-7pm) on the corner of Garibaldi and XX Settembre by the Garibaldi stop on the 4 tram line.
On match days, there are also nine points of sale around the ground, open from 2hrs before kick-off.
Explore the club inside and out
Behind the Tribuna Est, the Juventus Museum (Mon, Wed-Fri 10.30am-6pm, 7pm n summer, Thur-Sun & hols 10.30am-7.30pm) costs €15, €12 or under-16s/over-65s, free for under-6s. Trophies galore sit backlit on wall after wall while the club history is told in film, photo and football shirt form.
Stadium tours (Mon, Wed-Fri 11am, 12.30pm, 2.45pm, 4.15pm, summer-only 5pm, Sat, Sun & hols every 30mins) can only be purchased as part of a combined museum ticket (€25/€20 reduced). There are also special match-day tours (every 30mins-1hr from mid-morning depending on kick-off time; €30/€27 reduced).
Pre-match beers for fans and casual visitors
On strada Comunale di Altessano, at the crossroads with via Sansovino, L'Elite features photos of the stadium being built, Bar Sport has a terrace, while New York opposite is filled with TV screens. 
Further up nearer the stadium at strada Altessano 146, Alby and neighbouring Millegusti are standard choices, the former with Forst beer and cheapish meal deals in the basement restaurant.
Once the best option, round the corner on via Druento, the lively pre-match Stadium pizzeria is now average Il Pasticcio (No.135).
If you're after a quality pre-match meal, the Ristorante delle Alpi is on via Segantini, just off Comunale di Altessano, a 15-minute walk from the ground.
Those staying enjoying a match-package stay at the J Hotel can take advantage of the Tàola lounge bar for a pre- or post-match apéritif, open to non-guests, too.
By the Allianz Stadium, in the Area12 mall, you'll find character-free eateries such as the Old Wild West and Wiener Haus.