A fan's guide – the club from early doors to today
Still dressed in their characteristic pink, Palermo FC are slowly climbing back up from Serie D after the demise of their predecessors, US Città di Palermo. Cast out from professional football in 2019, the club reformed as Palermo SSD, then made the third tier to become Palermo FC.
The constants in all this chaos – at one point in 2018, the club was sold to a London consortium for €10 – have been the stadium, the Renzo Barbara, and the fans, who set Serie D records of 17,000 gates during the 2019-20 campaign in the highest amateur division.
Before then, under owner Maurizio Zamparini, between 2002 and 2017 Palermo enjoyed the best spell in their long and multi-named history. Some of the finest forwards to have graced the Italian league – Edinson Cavani, Luca Toni, Paulo Dybala – once scored regularly for the Rosanero. West Ham, Newcastle and CSKA Moscow were among the teams to visit during the club's five European campaigns.
Palermo have historic ties to the original Anglo-Palermitan club, founded by Joseph Whitaker at the turn of the last century. It underwent several name changes before the war, but the real story starts in 1947-48, when ex-Slavia Prague winger Čestmír Vycpálek helped gain Palermo a first promotion to Serie A. 
Nurtured during the pre-war golden age of Czech football, Vycpálek won league titles with Slavia, survived Dachau and made his way to Italy. He came to Palermo by way of Juventus – there have since been many links between the two clubs – and later managed both. 
Vycpálek also helped his nephew, Zdeněk Zeman, flee Prague to become youth coach at Palermo, and make his name at Lazio and Roma.
Perhaps the most revered player of the pre-Zamparini era, former River Plate forward Santiago Vernazza, enjoyed four prolific seasons at Palermo in the late 1950s. The club, however, was already spending much of its time in Serie B.
This was true even under long-term chairman Renzo Barbara, after whom the stadium was renamed, through the 1970s. The Rosanero narrowly lost two cup finals, on penalties and to an extra-time goal, but neither defeat provided passage to Europe through the back door.
The club that Zamparini bought in 2002 had spent several seasons in the second, even third flights. Bringing in players from his former club Venezia, and changing managers at will, Zamparini nearly achieved Serie A status for Palermo in his first season.
It required the goals of later Fiorentina star Luca Toni to get them there – then claim a European spot in their first season, 2004-05. Another regular, left-back Fabio Grosso, also broke into the national side and would star in Italy's World Cup win of 2006. By then, promotion-winning coach Francesco Guidolin had gone – only to return on three separate occasions.
Revenue from Toni's transfer to Fiorentina helped bring fresh young talent to Palermo, who generally performed well at home and in Europe. The high point came under Delio Rossi in 2009-10, when only two points separated Palermo from Champions League qualification. Fabrizio Miccoli, Edinson Cavani and Abel Hernández bagged nearly 40 goals between them. 
With Cavani's departure, Palermo faltered in the subsequent Europa League campaign, impressive performances by Maribor's Josip Iličić and Armin Bačinović prompting Zamparini to snap them up.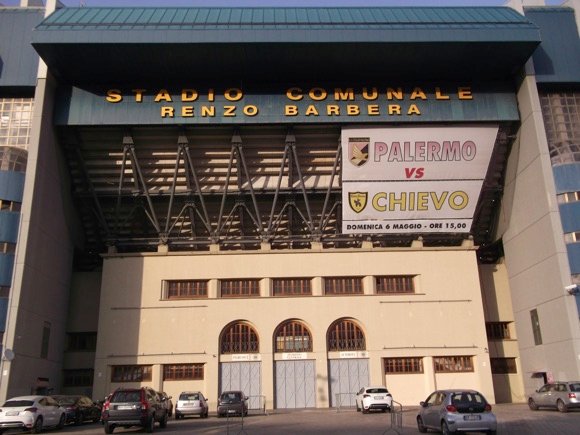 Palermo beat Milan in the 2011 cup semi-final but defeat to Inter, then poor league form, signalled a decline – and relegation in 2013. 
Giuseppe Iachini led Palermo to immediate promotion even without Fabrizio Miccoli, released to his home town of Lecce after notching nearly a goal every other game in his six-year stint at Palermo. Hernández duly became top scorer as Palermo claimed a record number of points in Serie B.
Former Palermo midfielder Iachini stayed as coach for the 2014-15 and 2015-16 campaigns – though prolific Argentine striker Paulo Dybala left for Juventus. Ex-Milan midfielder Walter Novellino then led Palermo's futile fight to stay in Serie A.
With Zamparini looking to offload the club, the writing was on the wall. Three mediocre seasons led to relegation in 2017. Disappointment was compounded by the arrival of Italo-American shock jock DJ Paul Baccaglini, who took over the club from its long-term chairman – then lacked the wherewithal to actually take over. 
Zamparini duly oversaw Palermo's progress to the promotional play-offs but failure to beat Frosinone in a fiery decider proved fatal. The ageing entrepreneur passed on ownership to a London-based group for the nominal sum of €10 in 2018. Seemingly unaware that Palermo's finances were so dire, Sport Capital swiftly moved the club on.
Mishandled finances and lack of insurance meant that not only Palermo were denied another shot at the play-offs for a return to Serie A, they were demoted to Serie D. The farce ended with the dissolution of US Città di Palermo in the summer of 2019 and Dario Mirri, nephew of Renzo Barbera, assuming co-ownership of a new entity.
Palermo SSD romped to automatic promotion in 2020, changed their name to Palermo FC and set about repeating the feat in Serie C. The revived derby with Catania proved the highlight of a middling, Covid-hit campaign. The same combustible fixture in December 2021 may be the last of its kind for a while, Catania declared bankrupt shortly afterwards.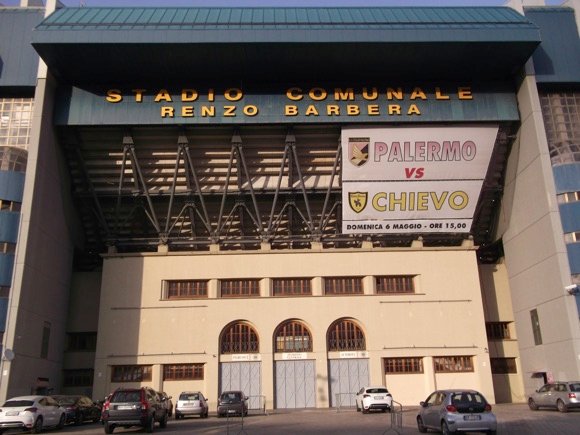 The field of dreams – and the stands around it
The area of La Favorita, north of Palemo city centre towards Mondello, is where you'll find today's Stadio Renzo Barbera. Lending the venue its former name, La Favorita has been an area of recreation for centuries – though its busy, arrow-straight roads and endless residential housing equate little today with the royal hunting grounds of yesteryear. The surrounding hillsides, however, still rise steep and stark behind.
It was here that Palermo settled in January 1932, shortly before gaining promotion to Serie A. Until then, the club had moved from pitch to pitch around Palermo.
Initially named Stadio Littorio, according to the Fascist mores of the time, the ground consisted of two stands, its appearance similar to the many communal stadia being built across Mussolini's Italy. Until World War II, it even took the name of Italian military martyr, Michele Marrone.
The stadium assumed its current oval shape and post-war name, La Favorita, after 1945, with stands all around to accommodate 30,000-plus crowds. An upper tier was added 40 years later.
Further improvements were made for Italia '90 – though La Favorita remained the smallest World Cup stadium with a capacity of just over 36,000. It was not completely covered all round.
This is how it remains today, the only difference being the 2002 name change to honour the Palermo's long-term president Renzo Barbera.
The Curva Nord is the home end, the Curva Sud partly allocated to away supporters, sectors 21-23. The uncovered Tribuna Montepellegrino backdropped by the mountain of the same name faces the roofed stand, Tribuna Coperta, nearest to busy viale del Fante.
Going to the stadium – tips and timings
A handful of buses run the 4.5km from the city centre, most notably the regular 101 from Palermo Stazione Centrale, where it sets off from columned via Oreto alongside. Turn left as you exit the station building. Stadio is the northern terminus, right by the stadium. The weekday-only 107 runs a similar route, to viale del Fante-Cassarà by Stadio.
Bus 106 runs from Teatro Dante to the stadium, to the nearby roundabout, stop name V.le Croce Rossa. In all cases, allow a good 15mins from town.
Buying tickets – when, where, how and how much
Tickets go on sale earlier during the week of the game. Palermo's loyal fans may set records for lower-tier football in Italy but availability won't be an issue until the Rosanero return to Serie A.
The all-purpose SiamoAquile Bar&Store (Mon-Sat 8am-8pm) distributes but for advance sales, that would be mean a trek out to the stadium. 
VivaTicket outlets in town include the Bar Rosanero (Tue-Sun 9am-7pm) on piazzetta Porta Reale between the station and the sea – don't get your hopes up that this is some seething madhouse of Palermo support, it's a sleek purveyor of sticky cakes and fine coffee. In the city centre, the Box Office Palermo/Mondadori Point (Mon-Fri 10am-1pm, 4.30pm-7.30pm, Sat 5pm-7pm plus match days) sits by piazza Francesco Napoli at via Mariano Stabile 233, while the Conca d'Oro travel agency (Mon-Fri 10am-1pm, 4pm-7pm, Sat 9am-1pm) is located by the Palazzo Reale. In all cases, you must produce ID when purchasing.
VivaTicket also distribute online.
You'll pay €5 for a seat in the Curva Nord or Sud – note that visiting supporters cannot purchase for the away sector on match days, only until the previous evening. It's around €10-€15 along the sidelines in the Tribuna Monte Pellegrino or Laterale, and €20-€30 for the best spots in the Tribuna Centrale.
Shirts, kits, merchandise and gifts
The shop section of the SiamoAquile Bar&Store by the main entrance to the stadium keeps different hours to the café and ticket outlet, Mon-Sat 9.30am-1.30pm, 3.30pm-7.30pm.
Before this multi-purpose facility opened, the main outlet was the sports shop, Calcio & Calcetto, offering a range of Palermo gear and other clubs' merchandise. It's still in business, round the corner from the stadium at via Imperatore Federico.
The current iteration of pink and black is in a Feyenoord-like half-and-half arrangement, with reverse colours for the collar. Away is all white with a band of pink and black below the collar, and fringing the cuffs. 
Explore the club inside and out
Opened on the 120th anniversary of the club in November 2020, the Palermo FC Museum comes with a 45-minute guided tour in Italian, so you have to book your place (€7, €5 under-14s/over-65s) online or turn up 15mins before each visiting time slot (Fri-Sat 5pm-6pm, 6pm-7pm). 
Rosanero heritage is illustrated through a chronological collection of shirts, newspaper articles and audiovisual presentations, as well as photographs, mementos, even works of art.
Pre-match beers for fans and casual visitors
The stadium is surrounded by bars and restaurants of varying types and qualities. By piazza Giovanni Paolo II roundabout on the main road, viale della Croce Rossa, from town, the Golden Bar is a decent choice, providing typical Sicilian arancini stuffed rice balls, superb roast beef panini and a terrace to sip small bottles of Moretti or Ceres. 
On viale del Fante alongside the stadium, Matranga Ettore (No.54) is a standard Sicilian pastry spot with a bar/ice-cream outlet, while the Antica Birreria Forst alongside at No.48 is much more like it, a pizzeria-cum-beer hall.
For a few proper beers, with a burger to accompany, the Mastro Birraio, the former rock bar Ricovero on piazza Leoni, offers respite from sleek eateries.
The café area of the SiamoAquile Bar&Store at the main entrance to the stadium is pretty basic but handy nonetheless, its terrace adjoining the pitch. Alcohol is served, mainly quality spirits and finer wines.