A fan's guide – the club from early doors to today
Prestigious AC Milan won a 19th title in 2021-22, a first Scudetto in over a decade and a triumph for coach Stefano Pioli. Under fire after significant defeats in his first few weeks two seasons before, the former Juventus defender turned the team around, finished strongly, took the same momentum into 2020-21 then oversaw long unbeaten runs to see off all-comers for a long-awaited league title.
Leading challengers were none other than Internazionale, who had won their own 19th title in 2020-21, Milan finishing second. In February 2022, a snatch-and-grab by Pioli's men, Milan's first win in the Derby della Madonnina by reversing the scoreline since 2004, loosened Inter's grip on a title defence. 
Not that everything is relative to Inter, rather a contrast to Milan's exalted status during the long reign of owner and ex-Italian Prime Minister Silvio Berlusconi. Milan dominated the Italian game from the late 1980s onwards, lifting six titles in just over a decade, as well as five of their overall haul of seven European Cups and Champions Leagues. 
Until the Spanish giants upped the ante, no-one was bigger than Milan. The stadium the club built in 1925, the San Siro, is and remains one of the finest arenas in the world, intimate yet capable of holding nearly 80,000. The club they have shared it with since 1947, Internazionale, form half of a city rivalry like no other.
Milan's subsequent demise coincided with Berlusconi's, convicted of tax fraud in 2013. The club he sold, eventually in 2017, to Rossoneri Sport Investment Luxembourg, headed by Li Yonghong, was seriously in the red. The final sale of €740 million covered most of these debts but with the need for a substantial loan. The Chinese entrepreneur duly defaulted, allowing US investors Elliott Management to step in a year later and take over the reins at AC Milan.
Significant cash flow allowed Milan to shake loose their temporary standing as Serie A also-rans and return to Europe. In 2020-21, this meant the Champions League. In 2021-22, it was the Italian title. The subsequent Champions League campaign brought Milan and Inter together at the semi-final stage, resulting in a straightforward defeat for the rossoneri of Milan.
And, although these days the Scudetto is undervalued, its top clubs at a disadvantage when competing against the huge squads of world stars in England and Spain, Milan still belong to the elite. It's a status that was earned with title wins in the immediate post-war era, European Cup triumphs in the 1960s, then national and international domination under Berlusconi.
Foreigners formed the original Milan Cricket & Football Club in 1899 – in particular, a certain Alfred Edwards. When tyre magnate Piero Pirelli took charge from 1909 and built a new stadium, the San Siro, 15 years later, Milan were able to break Genoa's early stranglehold on the Italian game. Their foreign roots did them few favours in Mussolini's Italy, when they were renamed AC Milano.
After the war, the renamed Milan snapped up star Swedish Olympic champions Gunnar Gren, Gunnar Nordahl and Nils Liedholm, the so-called Gre-No-Li trio – and didn't look back. Between 1948 and 1966, Milan finished top three every season but one. But it was the title of 1951, the first since 1907, which broke the ice. Hungarian coach Lajos Czeizler had spent the war years at Norrköping and understood the Swedish game.
Later came another 1950 World Cup star, Uruguayan Juan Schiaffino, and 1958 World Cup winner, Brazilian José Altafini. After losing the 1958 European Cup Final to Real Madrid, Milan became Italy's first winners of the trophy in 1963. A young Gianni Rivera starred in the win over Benfica at Wembley. Milan won five Serie A titles in 11 years, the return of coach Nereo Rocco leading to another 1968 and a second European Cup in 1969.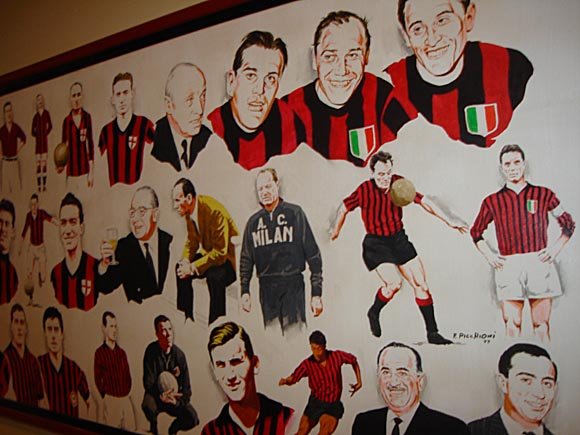 Milan were treading water for Rocco's third stint in 1977, though the arrival of a young Franco Baresi helped towards the landmark tenth title of 1979, under Liedholm. Rivera retired as title-winning captain.
Scandals and relegation beset the early 1980s, before media tycoon Silvio Berlusconi bought the club in 1986. Berlusconi revived Milan. Under adventurous coach Arrigo Sacchi, Dutch stars Ruud Gullit, Marco van Basten and Frank Rijkaard shone, backed by an imperious Baresi and Paolo Maldini at the back. Playing a high-tempo pressing game, the Rossoneri chalked up high-scoring wins in the league, picking up consecutive titles and two European Cups.
The high point came with a 4-0 win over Cruyff's Barcelona in the Champions League final of 1994.
Milan kept winning titles through the 1990s, with return stints by Sacchi and Fabio Cappello as coach before Carlo Ancelotti stepped in. Milan won a sixth Champions League in 2003 thanks to a shoot-out penalty by prime goalgetter Andriy Shevchenko, top scorer when the Rossoneri dominated the league a year later.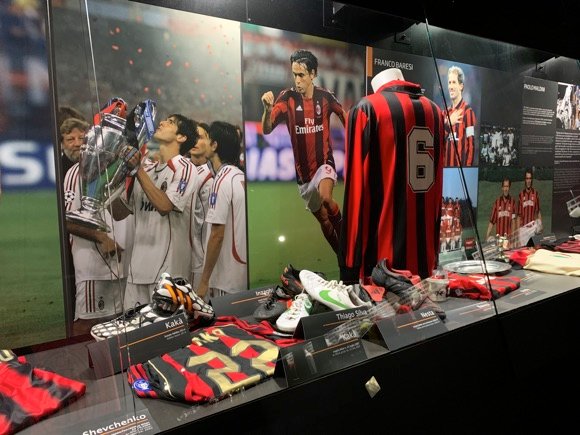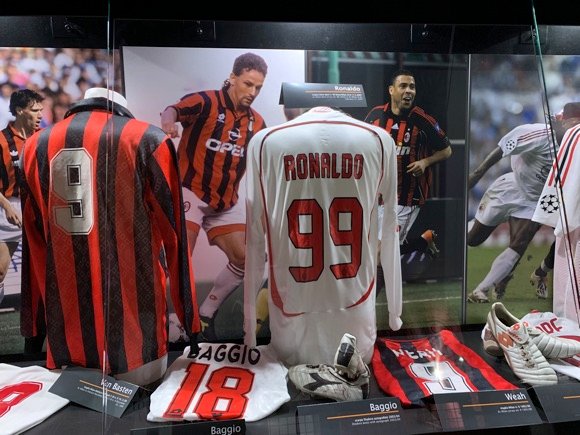 Despite a brush with the Calcipoli scandal, Milan bounced back from a shock defeat to Liverpool in the 2005 Champions League Final to beat the same opposition in 2007, Kaká the star, Maldini the stalwart captain.
With goals from Zlatan Ibrahimović and Robinho, Milan took an 18th title in 2011. The next would be a long time coming. It was also the last year that disgraced Berlusconi was in charge of the country.
Selling key players – Ibrahimović, Thiago Silva – to balance the books, Milan started to slip. Heavy defeats to Barcelona and Atlético Madrid in the winter of 2013-14 proved to be the last campaign for several seasons in the Champions League.
Backed by new Chinese investment, coach Vincenzo Montella pushed Milan into a European place in 2017, a satisfying one point over Inter. Managing to keep hold of star teenage goalkeeper Gianluigi Donnarumma and entice Juventus mainstay centre-back Leonardo Bonucci to the San Siro, Montello's Milan promised better things for 2017-18. It wasn't to be. Montella was replaced by ex-Milan stalwart Gennaro Gattuso, promoted from youth coach in November 2017.
Though qualifying for the Europa League for 2018-19, it was only after the club had to demean itself by jumping through hoops to overcome a UEFA ban for Li's indebted fire sale. On the pitch, Gattuso galvanised the team but it wasn't enough for a Champions League slot. 
Soon after Stefano Pioli arrived as coach in October 2019, dire results may have called for his early departure but the experienced businessman the US owners had installed as club chairman, Paolo Scaloni, showed patience. Improvements later in the Covid-hit campaign, most notably a 4-2 win over Juventus, pointed to better times ahead.
Along with outstanding performances by now established keeper Donnarumma, key to the transformation was returning veteran Zlatan Ibrahimović. Pioli had persuaded the club that the controversial Swede could still cut it in Serie A despite being just shy of his 39th birthday. Milan's top scorer the following season, Ibrahimović belied his age to reward Pioli's faith.
Unbeaten between September and early January, Milan led the table for half the 2020-21 campaign, only to fall back behind Inter. The stable presence of Danish captain Simon Kjaer in defence, stellar forward play of Croatian international Ante Rebić and penalties of Ivorian Franck Kessié helped grant the Rossoneri a first Champions League qualification since 2013. 
Each proved vital to Milan's successful title run the following season, but perhaps key was the signing of Mike Maignan, a French title winner with Lille in 2021, to fill the gloves of Paris-bound Donnarumma. His saves kept Milan in the game when Inter threatened to build on a 1-0 lead at the Derby della Madonnina in February 2022. 
An Inter win would have seen black-and-blue ribbons tied to the league trophy. Two quick goals by savvy veteran Olivier Giroud reversed the scoreline and ensured Pioli's position in the pantheon of Milan managers, alongside Sacchi, Capello and Ancelotti.
Overcoming a resurgent Napoli in a tense quarter-final in the subsequent Champions League campaign, Pioli's Milan then folded meekly to city rivals Inter in the semi. Despite the early promise of US superstar Christian Pulisic and evergreen presence of Giroud, Pioli came under serious fire following a 5-1 defeat by Inter four league games into the 2023-24 campaign.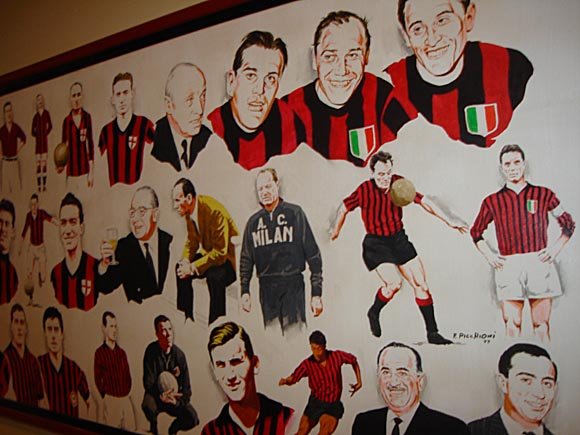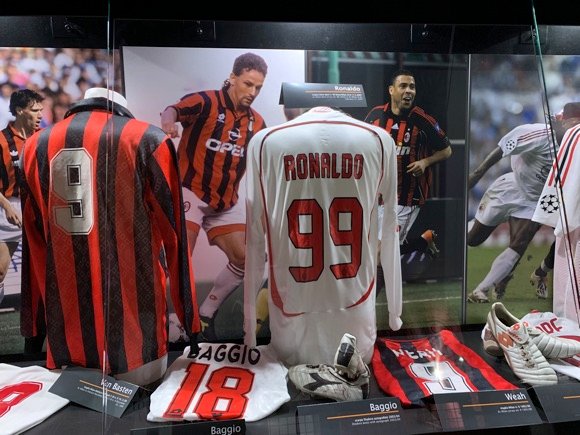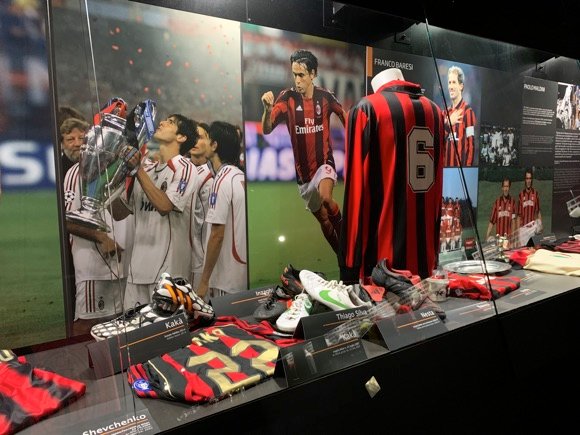 The field of dreams – and the story behind it
In 2026, a century after Milan's pioneering long-term owner Piero Pirelli built it with his own money, the San Siro will be knocked down to make way for La Cattedrale. The new stadium, too, will be groundshared between Milan and Inter, an arrangement in place at the San Siro since 1947.
Before then, Milan had sole running of Italy's most football-focused stadium. Built in rectangular fashion, as opposed to the Comunale bowls in Turin, Bologna and elsewhere, its stands hugged the sidelines. Pirelli, who had become club president shortly after the split with Inter in 1908, had seen Milan move from a trotting track on the site of the current Stazione Centrale, to a velodrome on via Arona, to viale Lombardia east of Centrale, before he bought a plot of land with his own money on the leafy western of San Siro.
Here, Pirelli also owned the racecourse but the San Siro would be laid out with football in mind. A crowd of 35,000, a huge number for the day, gathered for the curtain-raising fixture in September 1926. The visitors, of course, were Inter.
Once the groundshare was in place and the San Siro rebuilt for the new European era in the early 1950s – plans originally called for a capacity of 150,000 (!) – the arena became one of football's great temples. It still is, although Milan, in particular, have long been keen on creating a new home for themselves. This will now be the shared Cattedrale, to be built after the San Siro hosts the opening ceremony of the Winter Olympics in 2026.
For the time being, Milan fans still occupy the Curva Sud. Depending on demand, visiting supporters are allocated various sectors of the highest Terzo Verde behind the Curva Nord – for derby games, Inter fans occupy the whole row.
For details of transport and bars, see San Siro.
Buying tickets – when, where, how and how much
Tickets are first offered to a month before match day to Cuore Rossonero members. Three weeks before, they go on general sale. Through the club, this is either online or in person at the Casa Milan (via Aldo Rossi 8, daily 10am-7pm). You'll find it near Portello metro station, two from San Siro, or a 20min walk from the stadium.
VivaTicket sells advance tickets at outlets across Italy. In central Milan, these include Schooner Viaggi at piazza Velasca 6 (Mon-Fri 9am-2pm, 3pm-6pm), near Missori metro station, and near the canals/Porta Romana, Libreria Egea at viale Biagny 22 (Mon-Sat 10am-1.30pm, 2.30pm-7pm).
On match days, leftover tickets go on sale at the San Siro biglietterie 3hrs before kick-off. With 75,000+ capacity and average gates of 50,000, availability shouldn't be a problem, except for derby games with Inter.
For prime seats, the Poltrocine Rosse, you pay €54-€84, decent ones in the Primo Rossi, €44, also sold at a slight discount for over-60s. There's also a good view of the action from the Poltocina/Primo Arancio, €44/€34, although such is the layout of the San Siro, you'll still feel involved seated in the Primo Blu or Verde, €19. Above, the second ring, Secondo Blu/Verde, seats go for €14. Under-16s are charged €5-€10 depending on which area of the stadium, over-60s €9-€39.
In all cases, ID is required. For further information, email eticketing@acmilan.com.
Shirts, kits, merchandise and gifts
The club has four main merchandise outlets. There's one at Casa Milan (via Aldo Rossi 8, daily 10am-7pm) near Portello metro station, the Milan Store (daily 10am-8pm) at the Galleria San Carlo near San Babila metro in the city centre and one by Gate 14 of the San Siro (daily 10am-7pm). There's also a branch at platform level of Milan Centrale station. On match days, stalls are set up along the pathways between the hippodrome and the San Siro.
The current iteration of the historic red-and-black stripes features one thick vertical black band, the second kit all white with red sleeve piping, while third-choice black is unusual in that it doesn't display the club badge, rather its name between two horizontal red bands.
The selection of branded toiletries is dazzling, sprays, colognes and grooming products, but the lack of retro gear disappointing. 
Explore the club inside and out
Accessed through the lobby of the Casa Milan (see above What to buy), the Mondo Milan Museum (€20, €12 under-14s & over-65s, free under-7s, daily 10am-7pm, match days from 9am) has undergone a digital transformation and now comprises 14 interactive touchscreens and 20 video screens displaying great moments in club history, and interviews with key figures. All seven European Cups/Champions League trophies are also on view. Alongside the museum, the Casa Milan Bistrot offers coffee and snacks.
Given its proximity to the stadium, it's also worth visiting the museum at the San Siro, where the club histories of both city rivals are illustrated by football shirts, archive photos and a timeline. A visit can be combined with a stadium tour.