A fan's guide – the club from early doors to today
In 2015, Palma Calcio 1913 were created out of bankrupt Parma FC – themselves survivors of a financial crisis that almost finished off the tenth most successful club in the history of calcio.
Allowed to finish the 2014-15 season despite huge debts and unpaid salaries, Parma FC collapsed and a new club founded in their place. With the venerable Nevio Scala, coach in the golden era of the 1990s, as chairman, Parma bounced back, attracting a phenomenal 9,000 sales in season tickets for 2015-16 – to be played out in Serie D, Gruppo D. Still based at the Stadio Ennio Tardini, the reborn Parma then went through the entire campaign unbeaten.
The upward trend continued for two more seasons until Parma, whose many trophies from the glory years of the 1990s had been put up for sale in 2014-15, soared into Serie A in 2018. The momentum slowly dissipated, as did the significant fan ownership, as the club fell into the hands of an American convenience-store chain in 2020.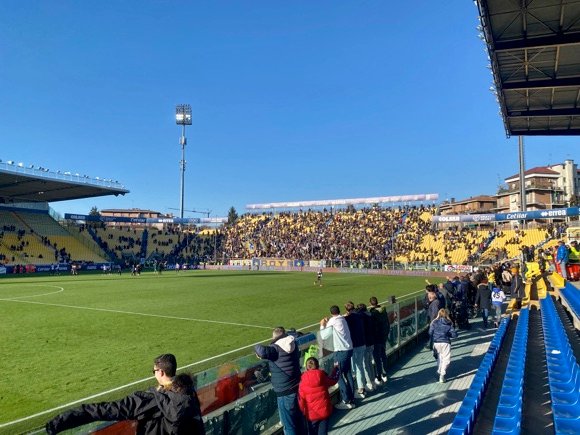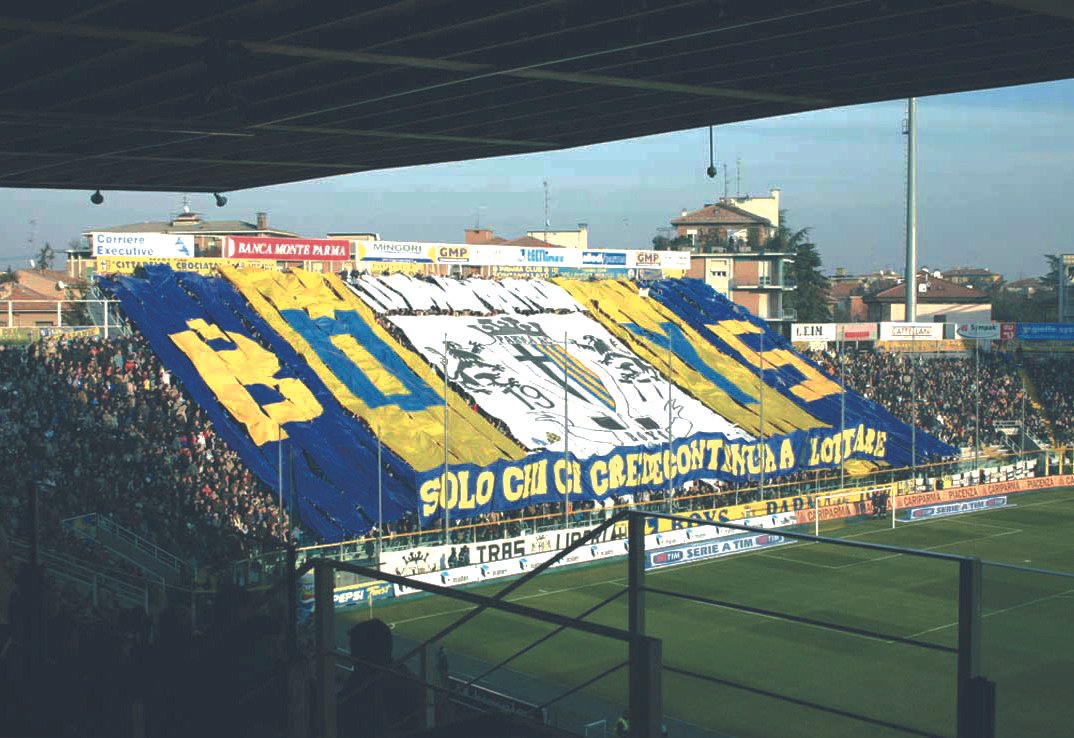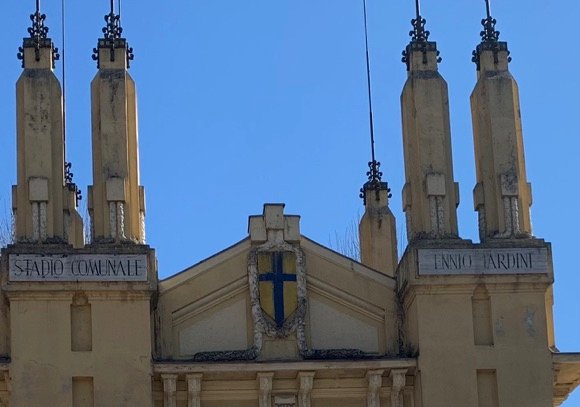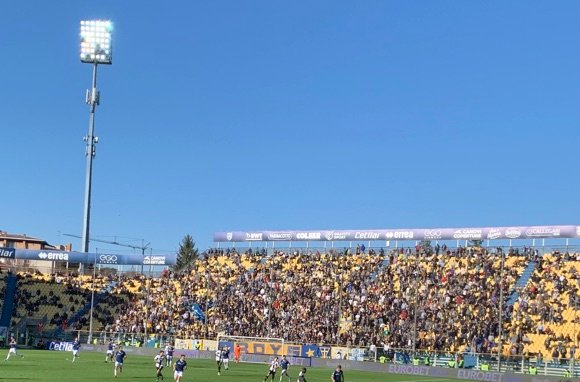 The original club formed in 1913, to coincide with the centenary of the birth of composer Giuseppe Verdi, was also Parma FC. Playing at the Stadio Ennio Tardini, conceived by the club president of the same name in the early 1920s, Parma kept a low profile until disappearing entirely in 1968.
Another local club, Associazione Calcio Parmense, took Parma FC's licence, badge and colours of yellow and blue.
Cesare Maldini, the first in a line of quality coaches, took the newly formed Parma AC to Serie B in 1984, a feat repeated by Arrigo Sacchi in 1986. While Sacchi's impressive stint at Parma earned him a lucrative move to Milan, the appointment in 1989 of Nevio Scala at the Ennio Tardini changed Parma for good.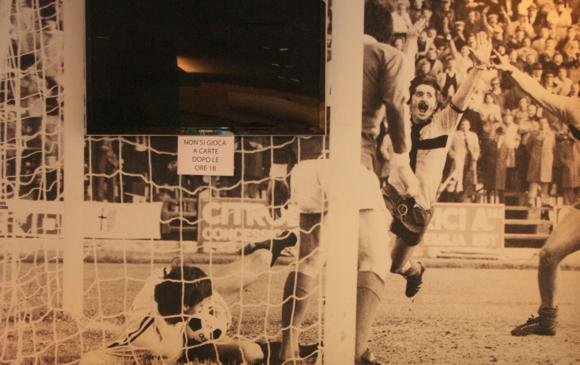 Backed by local dairy firm Parmalat and playing crowd-pleasing football, Scala's Parma gained promotion in 1990 and within a year had won the first of three Italian Cups. With Thomas Brolin then joined by Gianfranco Zola and Faustino Asprilla, Parma began to turn heads in Europe, making consecutive Cup-Winners' Cup finals. Winning the first over Antwerp and losing the second to Arsenal, with Asprilla's goals, Parma bounced back to beat Juventus in the 1995 UEFA Cup Final.
By now Parma had the money and the potential to attract serious talent, both Italian (Gianluigi Buffon, Dino Baggio, Fabio Cannavaro), and foreign (Lilian Thuram, Hernán Crespo), and were pushing hard for the Italian title.
After Scala's departure and playboy Asprilla's transfer to Newcastle, Parma maintained a serious challenge under Carlo Ancelotti. A record second-place finish in Serie A was followed by an easy 3-0 win over Marseille in the UEFA Cup final of 1999.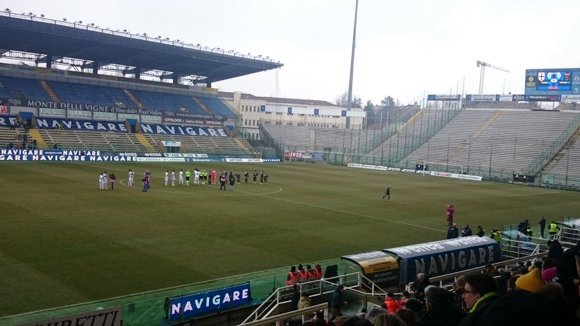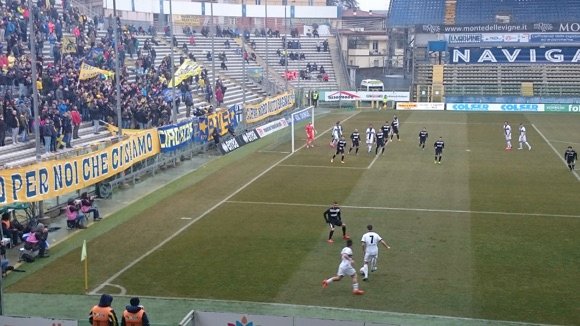 Despite this success, and a world-record transfer fee for Crespo in 2000, Parma slipped back as their backers, Parmalat, plunged into financial meltdown.
Re-emerging as Parma FC in 2004, the club maintained a presence in Serie A thanks to goals by Alberto Gilardino and brinkmanship coaching by Claudio Ranieri. To no avail. Incoming owner Tommaso Ghirardi had had to trawl the bargain basement for players, not all transfers wise buys. Relegation ended a stay of nearly two decades in the top flight. 
Parma's return was swift under much-travelled coach Francesco Guidolin, a savvy move by Ghirardi, as was his decision to welcome back an ageing Hernán Crespo. The  figurehead from Parma's glory years took a while to find his shooting boots but ended the 2010-11 campaign as top scorer at the age of 34.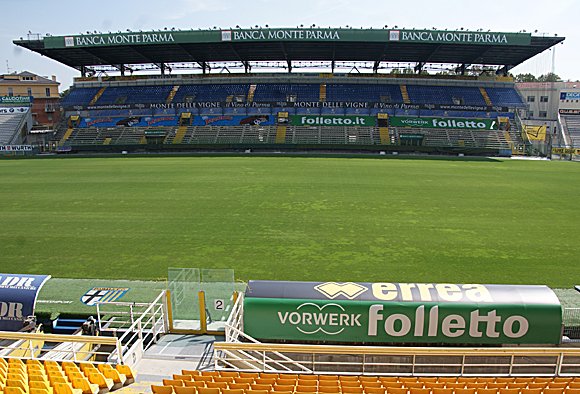 Having replaced the much-decorated Parma AC in 2004, Ghirardi's Parma FC had spent a decade re-establishing their status as a top-flight club to be feared – and could even look back in the club's centenary year of 2013 with a reasonable degree of satisfaction.
Guided by Roberto Donadoni, Parma achieved a European berth in 2014 before everything fell apart. Tax and salaries had not been paid, causing UEFA to prevent Parma's participation, and the Lega Serie A to dock seven points from the tainted club in the upcoming league campaign.
Ghirardi offloaded the doomed club and would, eventually, be condemned to four years in jail. You can escape your responsibilities towards a century-old football club, escape your responsibilities to paying players, but you can't escape the VAT man. By the time his case came to sentencing in 2020 (!), the man who had kept Parma afloat by any means possible was looking at a few months behind bars.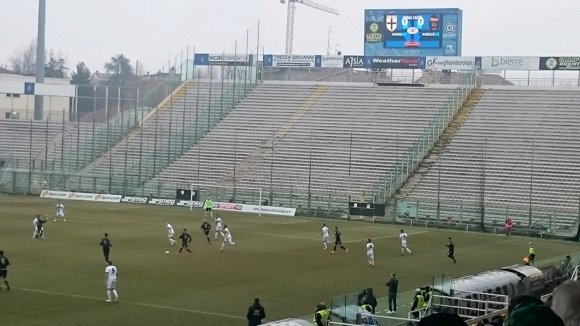 By then, a new Parma had not only been set up, they had risen from Serie D to A in three straight seasons, a fairy-tale transformation initially spurred on by goodwill and supporter involvement. A new ownership of former Parmalat businessmen and other local entrepreneurs named New Beginning had allocated around 25% of shares to a supporters group.
The arrival of revered coach Nevio Scala as chairman sealed the deal – SSD Parma Calcio 1913, renamed simply Parma Calcio 2013 after a record-breaking run to the Serie D title, would help convert Italian football from a plaything of tax-avoiding fly-by-nights to a properly run business and community resource.
By 2017, and promotion to Serie B, New Beginning had fallen back on the old trope of selling the majority of shares to a Chinese owner. Fans retained 10%. Within a year or so, alarmed at the business practices of the boardroom, the same local group took back their majority shareholding. In 2020, the whole club, minus a 1% supporters' share, passed to the Krause Group, whose core business is the Kum & Go chain of convenience stores across the American Midwest.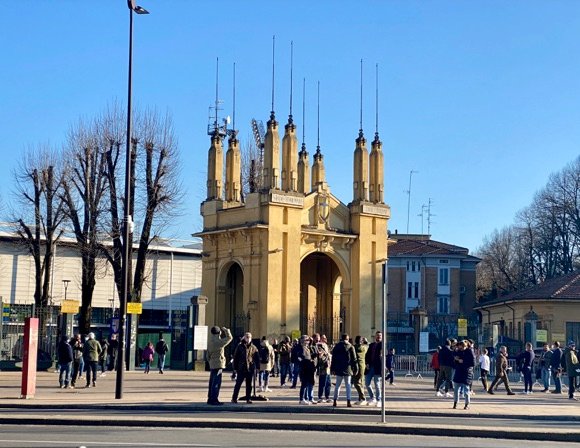 On the pitch, excellent performances by Swedish international midfielder Dejan Kulusevski, on loan from Juventus, led to his eventual transfer to Tottenham – but not before Parma flirted with European contention in 2019-20. The incoming US ownership then oversaw a dreadful campaign in which Parma shipped goals by the bucketload.
When your goal needs protecting, who better to call than Gianluigi Buffon? In the summer of 2021, aiming for swift promotion from Serie B, the legendary veteran goalkeeper returned to the club where he first made his name to set all kinds of records for longevity and clean sheets. 
Sadly, Goals For was another matter and Parma stayed in the second tier. Club captain Buffon, meanwhile, signed a contract to keep him on board until 2024, maintaining a link with Parma's glory years nearly three decades after his debut.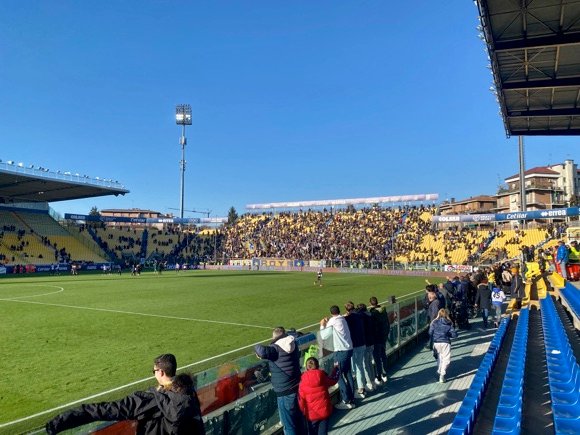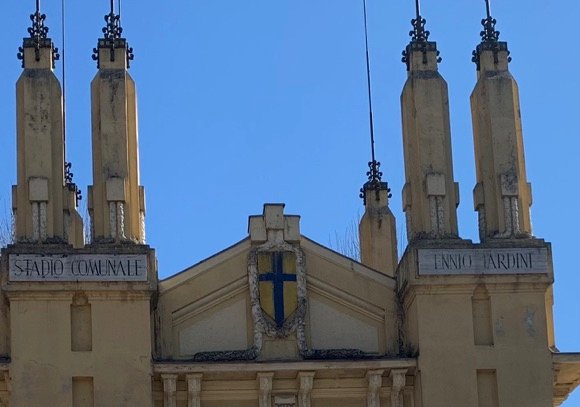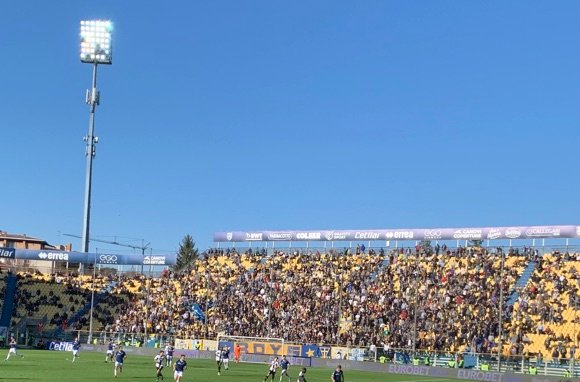 The field of dreams – and the stands around it
Holding 22,300, the Stadio Ennio Tardini is one of Italy's oldest, having served Parma for a century of football. Conceived by and named after the club president who never lived to see his stadium built, the arena was designed by Ettore Leoni.
Its original twin function of a velodrome then, after 1935, an athletics stadium, hardly conflicted with Parma's modest needs, until success came in the early 1990s. Cleared for football use only, all areas of the ground were then modernised and expanded, most notably the main Tribuna Centrale or Petitot.
Facing it, the Tribuna Est was covered, but not the home Curva Nord nor the Curva Sud, partly given over to visiting supporters.
Capacity was then reduced during Parma's stint in Serie B, the stadium improved after promotion. Part of the Curva Sud remains closed following the death of a Vicenza supporter in 2009. The home Curva Nord has been renamed in honour of Matteo Bagnaresi, a Parma fan killed while travelling to a match in Turin.
The stadium still lacks complete cover, prompting a continuing debate whether to move or modernise. Meanwhile average gates have dipped under 10,000, well below the 20,000 plus during the glory years.
Going to the stadium – tips and timings
Three buses serve the stadium. The 8 and 11 run from the train station to Stadio while bus 9 sets off from near the station (v.le Toschi) to Stadio p.le Risorgimento. Each takes 10-15mins, and runs every 30min at weekends, every 15-20min weekdays.
Walking from the centre of town would take around 15mins, from the station a good 30mins.
Buying tickets – when, where, how and how much
The biglietteria (from 11.30am on match days) at the Stadio Tardini is to the side of main entrance sells tickets in the run-up to the game. In town, the Tabaccheria Lottici (Mon & Thur 7am-7pm, Tue-Wed, Fri-Sat 6am-7pm) at piazza Ghiaia 33D also distributes. Online sales are handled by ticketone. 
Remember that you have to provide ID in order to purchase. 
Prices have dropped since relegation from Serie A. A seat in the Tribuna Centrale Petitot costs €20, while a place in the home Curva Nord and away end, Settore Ospiti is €5. Neutrals can get a comfortable view in the Tribuna Laterale Ovest for €10.
Shirts, kits, merchandise and gifts
The club has two stores, one in the main stand (Mon-Wed & Fri 3pm-7pm, Sat 9.30am-12.30pm, 3pm-7pm, match days) by the stadium entrance, and one right in town (Tue 4pm-7pm, Wed, Fri, Sat 9.30am-12.30pm, 4pm-7pm, Thur 9.30am-12.30pm) at via Mazzini 7.
The current first kit features the Christian cross that lends the club its nickname of the Crociati, the Crusaders. Set on white, its black outline has been embellished with yellow-and-blue flecks. Second-choice shirts are yellow-and-blue hoops, third kit black. Buffon has been granted his own range of pricy merchandise, while the club badge is used on brand-stretching items such as placemats, USB sticks and memory card games for kids.
Pre-match beers for fans and casual visitors
Of the handful of pre-match spots around the stadium, the Bar Gianni (viale Duca Alessandro 44) is not the closest, but displays classy black-and-white murals of scenes from Parma's golden era. At the back is the regular meeting place for the Parma Club Nevio Scala.
At viale Sette Fratelli Cervi 14, The Red (No.14) wine bar and Parma fans' rendezvous is slowly coming out of the pandemic. As and when it reopens, hopefully the European final pennants and scarf tribute to Matteo Bagnaresi will still be on display. At strada Zarotto 77, the Bar Primavera is a bafflingly popular spot, one full of fruit machines.