A fan's guide – the club from early doors to today
Forever linked to the great side of the early 1990s that won the league and made three European finals, Sampdoria are the result of a post-war merger between Andrea Doria and Sampierdarenese.
Both clubs dated back to the 1890s, often playing in rival championships, until a forced merger by the Fascist authorities in 1927 formed the united, and quickly disastrous, La Dominante Genova. 
Soon after, each reverted back to being a separate entity before another merger in 1946 created Unione Calcio Sampdoria. With it came a new shirt (and, subsequently, a new nickname, I Blucerchiati, 'The Blue-Ringed'), the blue of Andrea Doria combined with the white, red and black rings of Sampierdarenese. Sampdoria also agreed a groundshare with Genoa at the Luigi Ferraris Stadium, one that remains in place today.
Sampdoria were transformed by oil magnate Paolo Mantovani, who made a handful of wise investments in the 1980s. As well a taste for British players – Trevor Francis, Graeme Souness and David Platt all came to Samp – Mantovani appreciated football know-how. 
Under wily coach Vujadin Boškov, Samp won a brace of Italian cups before winning the European Cup-Winners' Cup in 1990. With stars Gianluca Vialli and Roberto Mancini up front, Srečko Katanec and Attilio Lombardo in midfield, Pietro Vierchowod in defence and Gianluca Pagliuca in goal, Samp went on to win their only scudetto in 1991 – in a league also featuring Maradona's Napoli and Baresi's Milan. A year later, Samp made it to the final of the European Cup at Wembley, only to lose to Barcelona thanks to a memorable Ronald Koeman strike in extra-time.
Samp continued to impress, bringing in Ruud Gullit and Siniša Mihaljović, but losing Vialli and Lombardo to Juventus. Cup wins and European runs kept coming, along with managerial changes. Sven-Göran Eriksson and Luis Cesar Menotti were two big names, along with a returning Boskov, but the era would be best remembered for the sudden death of chairman Mantovani and the high-scoring tactics of Luciano Spalletti's side – tactics that ultimately led to relegation.
Clawing their way back in 2003, the Blucerchiati enjoyed the occasional good run and UEFA Cup qualification, thanks to goals from Antonio Cassano, only to go down again in 2011.
Coming back up the following season, Samp qualified for Europe in 2015 thanks to Genoa submitting the relevant paperwork too late. Vojvodina's subsequent 4-0 thrashing of Samp in the home leg, played in Turin, would have been enjoyed in one half of Genoa.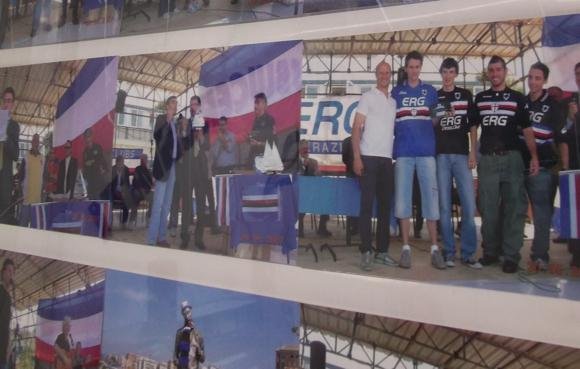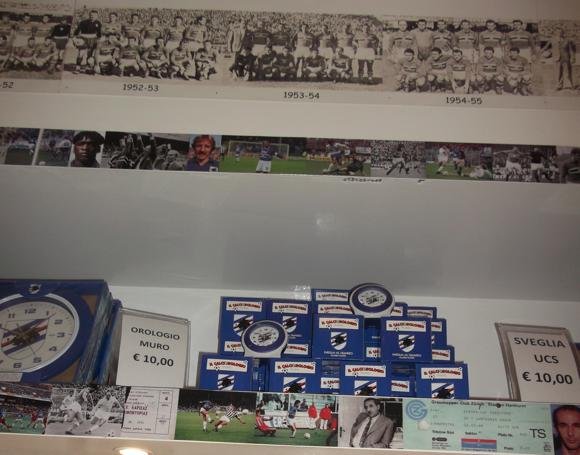 Derby wins under Marco Giampaolo endeared the former Empoli coach to supporters but further European appearances seemed a long way away.
Off the pitch, a planned move out of the Luigi Ferraris to a new stadium by the airport fell through. The club has also passed from the Garrone dynasty to Testaccio-born film producer Massimo Ferrero, whose Roma credentials and involvement in collapsed airline Livingston Energy Flight did little to convince Samp fans of his suitability for the role as owner and president.
His arrest in December 2021 saw chairmanship pass to Marco Lanna, a stalwart Samp defender from the golden days of the early 1990s. Seen more as a stopgap, the only Genoese-born of that famous team should have the club's interests at heart as negotiations continue between Ferrero's office, interested party and all-time Samp hero Gianluca Vialli, and potential, usually American, buyers.
On the pitch, relative stability under Claudio Ranieri has given way to a relegation battle in 2021-22, Marco Giampaolo recalled to steady the Samp ship.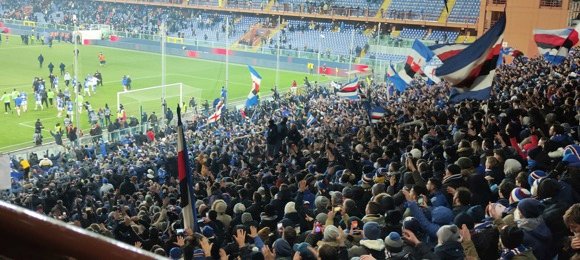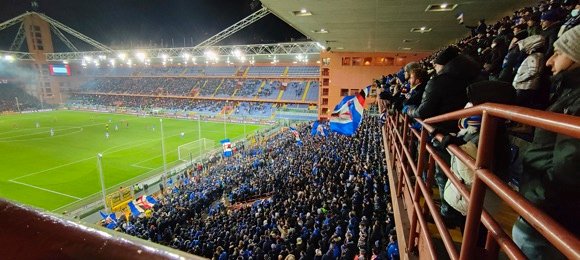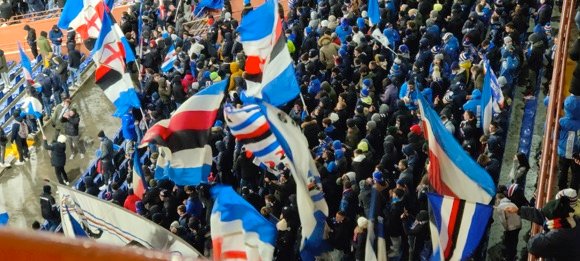 The field of dreams – and the stands around it
The first main ground used by Sampdoria's predecessors, Sampierdarena, the Stadio Villa Scassi, was housed in the grounds around the mansion bought by the municipality of Sampierdarena in the 1880s. It comprised wooden stand and held 5,000 spectators. Fittingly, its first match was a friendly involving both clubs who would later merge to form Sampdoria in 1946, Andrea Doria losing to the hosts 4-1 in 1920.
Though well-liked, nicknamed the Biscuit Box, the Stadio Villa Scassi only staged eight Sampierdarena campaigns before it was knocked down to make way for today's via Antonio Cantore, a major road connecting the once separate district of Sampierdarena with Genoa. The comune had been absorbed into Greater Genoa in 1926.
Another, more sinister, amalgamation had also occurred, that of Sampierdarena and Andrea Doria to form the Fascist-backed La Dominante in 1927. The team in all black had an even shorter lifespan than the revered Stadio Villa Scassi, only lasting three years, but the authorities made sure to build a new stadium for their use. Even further west, the Stadio del Littorio on via San Giovanni d'Acri was purpose-built in the English style, with up to 15,000 spectators close to the pitch.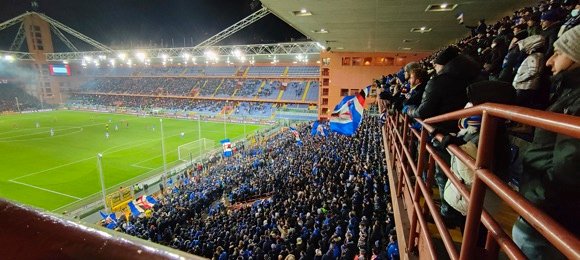 After La Dominante, renamed Foot Ball Club Liguria, folded in 1931, they became AC Sampierdarenese, who continued playing at the Stadio del Littorio until the post-war merger with Andrea Doria when the newly formed Sampdoria moved into the Stadio Luigi Ferraris with Genoa in 1946. The Littorio was then used as Samp's training ground until it was knocked down in 1958. An AMT bus depot now stands there.
With the Gradinata Nord of the Luigi Ferraris historically tied to Genoa, Sampdoria fans took the Gradinata Sud. This arrangement stays in place today, though Sampdoria did have plans to move out to a new stadium by the airport.
The capacity of the Luigi Ferraris is 36,600. Average Sampdoria attendance for the last pre-pandemic season of 2018-19 was 20,000. For details of how to get to the stadium, see Stadio Luigi Ferraris.
Buying tickets – when, where, how and how much
General sale starts a week before the game. Sampdoria distribute tickets through the Service Centre (Tue-Sun 10am-7pm) at the club's new retail hub, SampCity at via XX Settembre 252 near De Ferrari metro station in town, and online through sportticketone.
Ticketone also has three outlets around Genoa: near the Genoa training ground at via S Pacoret de Saint Bon 5r (Mon-Sat 7am-7.20pm, Sun 9am-noon) past the airport in the city's far west; the Tabbacheria Barbarisi Debora at largo Ernesto Jurse 5r near Genova Sampierdarena station, and the Tabbacheria Tredici Bis di Galli Fabrizio at piazzale Parenzo 23r, about 1km north of the stadium.
In all cases, you need to provide ID in order to buy a ticket. For all enquiries, contact biglietteria@sampdoria.it.
With the Gradinata Sud occupied by season-ticket holders, prices for a modest Serie A game are around €20 in the Gradinata Nord, €25 in Distinti and €30-€60 in the main Tribuna. For derbies and top opposition, prices will rise by about €5-€10. Prices drop by the same amount for under-18s and under-14s. 
For the derby with Genoa, the Gradinata Nord is taken by Grifone supporters. Settore 5 is allocated to away supporters for all other games.
Shirts, kits, merchandise and gifts
Sampdoria Point (Tue-Sun 10am-7pm) is now at the club's main retail hub, SampCity, at via XX Settembre 252 near De Ferrari metro station in town. Opened in December 2021, it's a Sampdoria store, ticket office, events centre, bar and restaurant in one, over three storeys. 
There's another outlet at via Cesarea 107r (Mon 3pm-7pm, Tue-Fri 9.30am-7pm, Sat 9am-1pm, 3pm-7pm), also decorated with classic, historic photos from the club's history. Both stock items as stylish as pashmina scarves, branded belts and tablecloths.
Sampdoria's distinctive colours, the blue shirts with the white-red-black-white band, hark back to the amalgamation of the red and black of Sampierdarenese and the white and blue of Andrea Doria in 1946. Sampdoria's current away kit is these classic Sampdoria colours in diagonal band form on white. Third choice is red with Samp colours in a single thin stripe on the right-hand side.
Pre-match beers for fans and casual visitors

In May 2021, thousands of Sampdoria fans gathered at the Bar Roma at piazza Vittorio Veneto to celebrate the 30th anniversary of their club's historic title win. The location, in Sampierdarena, was no coincidence, for it was here in August 1946 that Sampierdarenese and Andrea Doria agreed to merger. Outside is a plaque, inside a billiard table, TV and bar counter for classic Italian mixed drinks. Above the doorway, the she-wolf of Roma legend.
There's now another Samp bar (Mon-Fri 8.30am-8pm, Sat-Sun 10am-8pm)  in town, at the new retail hub of SampCity, at via XX Settembre 252 near De Ferrari metro station, where coffees, superior snacks and Italian mixed drinks are served in sleek surroundings, the back bar done out in blue and white.
For details of the many bars and restaurants around the stadium, see Stadio Luigi Ferraris.