A fan's guide – the club from early doors to today
Italian champions in 1985, Hellas Verona have swung between Serie A and the second tier several times since 2013. In fact, despite a long history and significant fan base, Hellas Verona have spent more than half a century of seasons in Serie B and their European campaigns date back to the hallowed days of the 1980s.
The yellow and blues, i Gialloblù, can claim highbrow origins. Local Classical scholars founded the club as AC Hellas in October 1903, commemorated by a plaque outside the Scipione Maffei Grammar School. Below the text is a ladder, a nod to the medieval della Scala family iconic to Verona.
Playing other teams around the Veneto region, particularly historic rivals Vicenza, AC Hellas became FC Hellas Verona after World War I and in 1928, after incorporating local counterparts Bentegodi and Scaligera, AC Verona.
For 40 years, AC Verona played in Serie B apart from a solitary season in the top flight under Angelo Piccioli in 1957-58.
Ten years later, the renamed AC Hellas Verona under Nils Liedholm made Serie A for a longer stay. After a solitary cup final appearance in 1976, a golden decade began with the arrival of coach Osvaldo Bagnoli. Hellas hit the heights, leading Serie A for a few rounds in 1982-83 – and staying there in 1984-85. With striker Giuseppe Galderisi, goalkeeper Claudio Garella and 1986 World Cup stars Hans-Peter Briegel and Preben Elkjaer, Hellas steamed ahead, beating Napoli and Milan, and kept going. A draw in Bergamo sealed the title. 
This was the first season that league referees were chosen at random, a factor cited by many as the reason for a topsy-turvy table free of dubious influence.
Hellas subsequently flopped in Europe, financial woes resulting in relegation and two changes of name. Neither Adrian Mutu nor Alberto Gilardino could save them from the drop from Serie A in 2001-02.
Worse was to follow in 2007 – not only with relegation to Serie C1 but a subsequent season at the bottom of the lower flight. A series of drastic managerial changes just saved the day but Hellas only achieved promotion to Serie B in 2011.
Thanks to Daniele Caccia and ex-Barnsley Icelandic winger Emil Hallfredsson, Hellas pipped Livorno for second place in 2013, gaining Serie A status for the first time in over a decade. In 2014-15, it was old soldier Luca Toni scoring the goals, becoming the oldest Serie A capocannoniere in history and keeping Hellas in a mid-table position.
After relegation in 2016, Hellas bounced back under former Napoli midfielder Fabio Pecchia – who couldn't prevent an immediate return to Serie B in 2018. Bouncing back thanks to goals from former Italian international Giampaolo Pazzini, Hellas have proved to be tricky opponents in Serie A without pulling up any trees – although the club will be keen to hang onto Argentine cap Giovanni Simeone, son of Diego, a regular name on the scoresheet in 2021-22.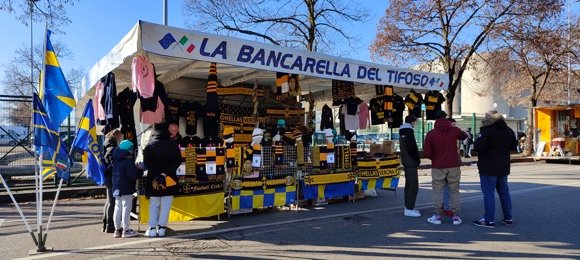 The field of dreams – and the stands around it
Hellas have played at the Stadio Bentegodi since its opening in 1963. All-seated with a running track, the Bentegodi back then was considered modern and progressive, a step ahead of the typical Comunale stadia built 30 years previously during the Mussolini era. Its curtain-raiser was a Serie B game between Hellas and Veneto rivals Venezia shortly before Christmas 1963.
Attracting record crowds during Hellas Verona's title-winning season of 1984-85, and used by Chievo a year later, the Bentegodi saw a number of renovations before the 1990 World Cup, namely a new pitch and extensions to the roof and third tier.
Refurbishment plans, including a bar, restaurant and club stores, were put on hold after Italy failed to win the hosting for Euro 2016, but a new energy system has been installed thanks to the installation of solar panels on the roof.
The stadium comprises four tiers: tribuna/curva superiore; poltrone; poltronissime, and parterre. Hellas rarely more than half the capacity – average gates for their last Serie A unaffected by the pandemic, 2017-18, were 17,000. 
The Curva Sud on via Fra Giocondo is the home end, accessed via gates/cancello 18-19. The Curva Nord (gates/cancello 5-6) on via Leonardo da Vinci was for Chievo's and accommodates visiting supporters. Press and VIPs are allocated the Tribuna Ovest alongside piazzale Olimpia. Tribuna Est offers cheaper sideline seats.
Going to the stadium – tips and timings
The nearest bus stops are piazzale Olimpia/via Palladio, served by routes 11, 12 and 13 that run every 15-20mins from Porta Nuova main train station, leaving from platform C near the stream to the right of the forecourt. 
Walking from the station takes 15-20mins – follow the left-hand side of the stream up as far as via Fra Giocondo, then turn left.
Buying tickets – when, where, how and how much
During the week before the game, tickets go on general sale through Vivaticket, both online and through central outlets such as the Boxoffice Verona (Mon-Fri 9.30am-12.30pm, 3.30pm-7.30pm, Sat 9.30am-12.30pm), near the Arena at via Pallone 16, and the Vertours travel agency (Mon-Fri 9.30am-12.30pm, 3pm-7pm, Sat 10am-12.30pm) at Galleria Pelliciai 13
From 11am on match days, tickets are distributed from the Hellas Verona Ticket Point at Parcheggio A at the Bentegodi.
In all cases, ID is required. For all enquiries, email biglietteria@hellasverona.it.
Bought in advance, a ticket for a standard Serie A game is €40-€65 in the Poltronissime seats, €25-€32 in the Poltrone and €18 behind the goals in the home Curva Sud. Away fans pay €25 in the Curva Nord. For a poor view in the Parterre Est, it's €10. Under-14s are charged €2 almost everywhere in the ground.
For match-day sales, not available to away fans, prices rise by about €2-€5.
Admission should be reduced by 10-15% for Serie B games.
Shirts, kits, merchandise and gifts
The Hellas Store is right in the city centre at via Cattaneo 2 (daily 10am-7.30pm), on the corner with via Oberdan. There's also a match-day outlet at the stadium behind the Tribuna Est.
Kits come in various combinations of blue and yellow, with retro tops from the 1984-85 and 1976-77 campaigns. variations of T-shirt including images of the Stadio Bentegodi and Hellas of Elkjaer vintage.
Pre-match beers for fans and casual visitors
Not surprisingly, the main bars by the Bentegodi, the Stadio and The Den pub, are both Hellas strongholds, literally five strides from the stadium. Stadio is covered in Hellas scarves and images of the Bentegodi in its 1990 pomp, as well as cult striker from the '70s, Gianfranco Zigoni. The Den operates evening-only, showing matches, serving select beers and providing a handy terrace to watch the pre-match build-up.
At the other end of piazzale Olimpia, the modest Bentegodi is another popular pre-match spot. 
Near the via Palladio bus stop en route to the stadium from the station, the Corner Bar gets its name from its location rather than any sporting affiliation, but offers quality coffee and Italian football glossies to peruse in any case.