A fan's guide – the club from early doors to today
Competing in the Champions League for the first time in 2019-20, Atalanta Bergamasca Calcio have also seen their new ground unveiled. The Gewiss Stadium staged its first domestic fixture in October 2019. Group games in the Champions League took place at the San Siro in Milan – Manchester City, Shakhtar Donetsk and Dinamo Zagreb the visitors.
Three straight defeats, however, meant that a Europa League follow-up looks unlikely. But, given Atalanta's many years mired in mid-table Serie A, the progress since 2016 under former Genoa coach Gian Piero Gasperini has not only made him an honorary citizen of Bergamo, but lifted the club above more illustrious domestic rivals. 
In May 2019, a better head-to-head record allowed La Dea ('The Goddess') to finish above Inter, and thus claim that vital third league place.
Back in Gasperini's first season, 2016-17, Atalanta came fourth and qualified for Europe for the first time in nearly three decades.
For the subsequent Europa League campaign, visiting fans of Everton weren't able to take easy advantage of nipping to the Stadio Atleti Azzurri d'Italia from Bergamo's budget-focused airport, but had to trek halfway to Florence, to Reggio Emilia. Atalanta moved their home ties to the ground that has hosted the extraordinary rise of little Sassuolo – the MAPEI Stadium-Città del Tricolore.
Atalanta started out in 1907, merging with Bergamasca in 1920 and adopting the colours of black and blue as a symbol of the new union. In 1925, the club hired their first professional coach, Cesare Lovati, and the first of several Hungarian players, Gedeon Lukács, who would notch almost as many goals as the games he played in.
After moving into a new stadium in 1928, where they still play today, Atalanta gradually became a regular presence in Serie A, gaining a fifth-place finish in 1948 partly thanks to later Juve star, midfielder Giacomo Mari.
Creditable campaigns continued through the 1950s, Atalanta winning their only silverware, the Italian Cup, in 1963. A hat-trick from later 1970 World Cup finalist Angelo Domenghini saw off Torino.
Atalanta continued to produce good young players, most notably Gaetano Scirea, but had to wait until the 1980s for another side capable of challenging for trophies. A handful of stars, including Christian Vieri and Filippo Inzaghi, also made their names in Bergamo before moving on to bigger clubs in Turin and Milan.
With Swedish international Glenn Strömberg, a more dynamic Atalanta made the Italian Cup final in 1987 and the semi-final of the Cup-Winners' Cup a year later. Hiring fellow Swede Robert Prytz and Argentine World Cup star Claudio Caniggia, Atalanta made consecutive appearances in the UEFA Cup before a series of swift shuttles between Serie A and B.
The last promotion came in 2011, just before a betting scandal involving star veteran Cristiano Doni. With the retirement of stalwart captain Gianpaolo Bellini, little was expected of Atalanta in 2016-17. Showing the kind of form that earned him his first Italian caps, young left midfieler Leonardo Spinazzola led an unlikely charge up the Serie A table to put the Nerazzurri above Lazio, Milan and Inter.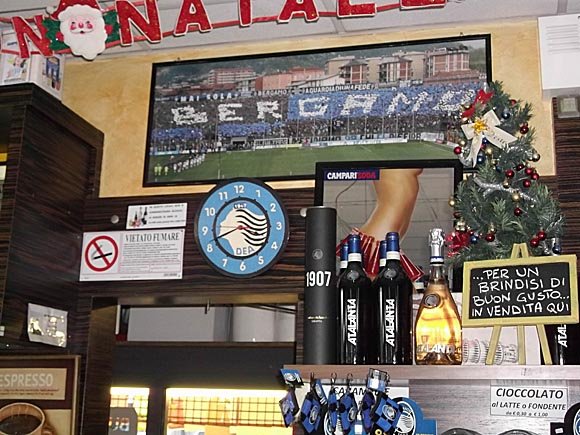 Fourth place then represented a highest-ever finish in Atalanta's league history – even more impressive given that the club had only three points on the board after five league rounds.
Topping a tricky Europa League group with an emphatic 3-0 win over Everton and the 1-0 defeat of Lyon, Atalanta took Borussia Dortmund to the wire in the first knock-out round, Slovenian international midfielder Josip Iličić scoring a brace in five minutes at the Signal Iduna Park.
Qualifying again for the Europa League in 2018, Atalanta missed out on the group stage when club captain Alejandro Gómez hit the bar in a penalty shoot-out in Copenhagen. Vital goals from new loanee, Colombian international Duván Zapata, including a brace at home to Juventus, and one of the two that beat Napoli in Naples, kept Atalanta ahead of the pack chasing European spots in 2018-19.
The field of dreams – and the stands around it
Replacing the ageing Atleti Azzurri d'Italia, the Gewiss Stadium was unveiled for the 2019-20 season, staging its first game that October against Lecce. Although crowds have hovered close to its current near-22,000 capacity, there is still work to be done. Meanwhile, Champions League games take place at the San Siro in Milan.
The Atleti Azzurri was opened in 1928 as the Stadio Mario Brumana. Then one of the finest arenas in Italy, it was built under Mussolini and given a Fascist name, in this case a fallen militant.
The Brumana replaced La Clementina, the name given to a disused hippodrome the club moved into after World War I, south-east of town in Daste. This in turn superseded the modest pitch beside Bergamo train station where Atalanta ran out in the early 1900s.
For the new era, Atalanta play at a modern ground, partly finished in 2019, with retail outlets to be added in due time. Capacity will be 24,000.
Atalanta fans occupy the Curva Nord (Federico Pisani) on via Fossoli/piazzale delle Olimpiadi, and one half of the Curva Sud, while away fans given their own gate at the corner of piazzale Goisis and via del Lazzaretto.
The main stand, Tribuna Centrale, is accessed through piazzale Goisis, while the cheaper Distinti Nord seats are between the Curva Pisani and main stand.
Going to the stadium – tips and timings
No bus runs directly from the train station to the stadium, a walk of at least 30mins.
Buses set off from Porta Nuova, at the far end of the main road, viale Papa Giovanni XXIII, that leads up from the station. Turn right at the end for Fermata 101, by via Camozzi 28, beside the UGF Banca.
Once there, the best option is pink line 6 that not only stops at Stadio but goes around the ground. The 9A and 9B both stop at Stadio, on piazzale Goisis.  
Bus 3 runs to Stadio from the funicular stop in the Upper Town. 
Buying tickets – when, where, how and how much
Tickets are distributed at several local lotto outlets in town, including viale Papa Giovanni XXIII No.58 and via Giuseppe Garibaldi, both central. Online sales are taken care of by VivaTicket.
At the stadium, the ticket offices on pizza Goisis are currently closed – on match days, use the ones on viale Cesare. Remember that you need to show ID in order to purchase.
You'll pay €50 or more for the best seats in the Tribuna Centrale, less than €25 for a seat opposite and less than €20 for a place in the Curva Sud or Pisani.
Shirts, kits, merchandise and gifts
Atalanta have a main store in town, at via Tiraboschi 89 (daily 9.30am-7.30pm), with black-and-blue replica shirts aplenty, white away ones with black-and-blue trim, baseball caps and scarves.
Pre-match beers for fans and casual visitors
The best two bars are on viale Cesare. In the wonderful Bar Stadio itself (No.16E), old locals leaf through that day's sports paper beneath black-and-white images of Atalanta in the post-war era. 
On the opposite side of the road, nearer to the Curva Sud and built into a newspaper kiosk purveying L'Eco di Bergamo, a small, cabin-like café (No.15) is filled with Atalanta souvenirs. Münchshof Bockbier and Wells Bombardier are the beers on tap.
Further up, behind the Curva Pisani on piazzale delle Olimpiadi, in the lovely old Villa Sport, the pizzeria/restaurant Garden offers a full menu, including a €25 Bergamasco special or a simple spaghetti all'aglio at €10. It contains an upscale delicatessen and betting bar alongside, where you can sample a quality grappa while studying the form.
Towards town, at the pleasant junction of Cesare and transport hub of Oberdan by a stream, the terrace of Da Rasi restaurant is a handy place for a quiet, pre-match beer with the floodlights ahead in the distance.