A fan's guide – the club from early doors to today
Stepping out of the shadow of Arsène Wenger, London's most successful football club enjoyed a season to remember under Mikel Arteta to reclaim their place in the Premier elite.
Arsenal had earned satisfying cup wins over the rivals who had usurped them as top club in the capital, Chelsea, but hadn't finished high enough to qualify for the Champions League since 2017. All that changed in 2022-23, with even a sniff of a title challenge. A runners-up spot also puts the Gunners back into the Champions League.
Under Arsène Wenger, Arsenal had competed in Europe's premier club competition almost every season over the course of two decades while paying for the £390 million Emirates Stadium opened halfway through. Wenger achieved remarkable long-term success but was under serious pressure to deliver a real challenge for the title. 
The in/out debate on Wenger fractured Arsenal support to the point of fisticuffs – and even the lack of Champions League pressure didn't allow the Gunners to claim any major silverware in 2017-18.
True, the season started with a shoot-out win over Chelsea in the Community Shield at Wembley, only two months after a surprisingly gritty victory against the same opponents at the same venue for a 13th FA Cup. But even a record 14th trophy against the same opponents in 2020 failed to then generate consistent league form, or even lead to European silverware.
Arsenal gained their fame in the pre-war era under Herbert Chapman. Founded in Woolwich, the club first comprised workers from the local munitions factory, hence nickname 'The Gunners' and cannon badge. Moving to Highbury, north London, before World War I, Arsenal were transformed under Chapman. 
Bringing his title-winning experience from Huddersfield and taking advantage of the new offside law in 1925, Chapman created a revolutionary WM formation and bagged trophies galore. Top players also helped – Alex James, Cliff Bastin – and even after Chapman's sudden death in 1934, the Gunners continued to win titles. High fitness levels, floodlights, Chapman thought of everything, even renaming the nearest Tube station 'Highbury'.
The next great Arsenal side was under former club physiotherapist Bertie Mee in the early 1970s, the high point being the double of 1971. The Gunners made several finals, winning the FA Cup in dramatic circumstances in 1979. Drama couldn't begin to describe the last-minute title win at Anfield ten years later, the first of two under dour coach George Graham.
Inheriting Graham's solid defensive unit, with captain Tony Adams a mainstay, and classy striker Dennis Bergkamp, incoming coach Arsène Wenger opted for the French flair of Patrick Vieira and  Nicolas Anelka and was rewarded with a double in 1998. Another came in 2002, this time with the incomparable Thierry Henry. Nicknamed 'The Invincibles', Henry-led Arsenal won the 2004 league unbeaten and were somewhat unfortunate to lose the Champions League Final in 2006.
Weeks later, the club unveiled the impressive new Emirates Stadium and, with Wenger still in place, a budget-conscious Arsenal continued to please without picking up any silverware. Vieira, Henry and Ashley Cole were all offloaded to balance the books. Champions League qualification invariably spelled defeat, once too often in high-profile clashes with Barcelona. When Robin van Persie, prolific replacement for Bergkamp, then Henry, left for Manchester United in 2012, it was perceived that he was going to a bigger club.
Just as talk turned to Wenger's continuing position, his side won two FA Cups in a row, 2014 and 2015, each time inspired by imperious Spanish playmaker Santi Cazorla. First joined by German World Cup winner Mesut Özil from Real Madrid then Alexis Sánchez from Barcelona, Cazorla was the lynchpin in what again seemed like a major team of international standing once more. With swift Brits Alex Oxlade-Chamberlain, Aaron Ramsey, Theo Walcott and Jack Wilshere, Arsenal showed flair and purpose. Missing, though, was enough steel and consistency to put in a credible title challenge.
A long-term injury to Cazorla, the capricious form of Özil and sale of Sánchez all took their toll. Wenger's eventual departure in 2018 paved the way for Unai Emery and his side, spearheaded by Alexandre Lacazette, to put together impressive runs of form – but it was never quite enough. 
In search of a first European trophy since 1994 – pre-Wenger, it was that long ago – the Gunners notched memorable wins over Napoli and Valencia to line up a Europa League final clash with Chelsea in Baku. Losing manager Emery was soon paving the way for Mikel Arteta, and further European disappointment.
Promising but inconsistent with a young side in 2021-22, Arsenal hit the ground running in 2022-23, notching up five straight league wins and going on a long unbeaten run either side of the Qatar World Cup. In home-grown Bukayo Saka, they had a versatile player of genuine pedigree, matched by Norwegian prodigy Martin Ødegaard.
Arteta lacked strength in depth and a more flexible calendar. A vital fixture with title favourites Manchester City was shoehorned into a midweek time slot with the inevitable consequences. But with top signings Declan Rice and Kai Havertz moving over from London rivals, few were betting against Arsenal for a top-four place again as 2023-24 kicked off.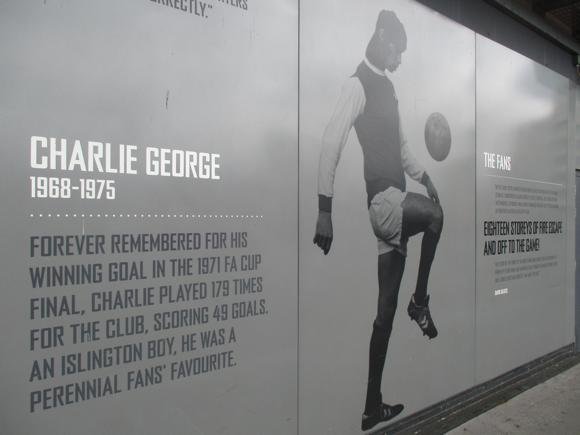 The field of dreams – and the story behind it
The 60,000-capacity Emirates is a superb modern football ground, albeit one nicknamed 'The Library' for its hush in comparison to Highbury, vacated in 2006. The move was sensitively handled: the grand art-deco stands, designed by Archibald Leitch and opened in 1913, are still visible away to the east. The Spirit of Highbury (1913-2006) memorial features photos of the original Gunners team and every Arsenal player up to the time of the move, accompanied by a statue of Thierry Henry and a monument to 'The Invincibles' of 2003-04. A likeness of Herbert Chapman surveys the new stands, while Tony Adams strides victorious by the Ken Friar Bridge.
Pictures of stars are complemented by quotes, one fan recalling boozing with Alex James in Piccadilly before 'he played a blinder' the next day. Another says: 'Much to dad's delight, and now mine, I said my very first word: 'Bergkamp''. Inside, the four stands (East and West along the sidelines, North Bank and Clock End) have four tiers of seating, Executive and Club Level between two banks of ticketed seats at the top and bottom.
Seats are comfortably padded but those in the away sector – a lower-tier corner between the South Stand (Clock End) and East Stand – are torn between standing for a better view and sitting down for comfort.
For all that, the Emirates is an impressive football arena, suitable stage for Brazil on several occasions and still with an imperious feel after more than a decade of use.
Going to the ground – tips and timings
The closest station, Drayton Park rail at the end of the Danny Fiszman Bridge, is closed at weekends. The nearest Tube stops, both a short walk from the Emirates, are Holloway Road (Piccadilly line) and the next stop of Arsenal. Often these are closed around match times due to overcrowding – or too unbearably packed for comfort. Holloway Road is usually exit-only after the final whistle.
One solution is to head for Finsbury Park, less than 10min from Arsenal station via Gillespie Road and St Thomas's Road, for the Victoria and Piccadilly lines, and overland rail services. In the opposite direction, via Drayton Park then Holloway Road, Highbury & Islington Tube is a 10-15min walk.
The sat nav code for the Emirates is N5 1BU. The streets around the Emirates are subject to match-day controlled parking zones, with residents having to display permits in order to park. Short-stay parking is possible at the nearby Sobell Leisure Centre (N7 7NY, booked by phone on 020 7125 0039, ref number 62399) on Hornsey Road.
The alternative is to park at the end of the Piccadilly line, at Cockfosters, and ride in.
Buying tickets – when, where, how and how much
Membership (full £39/season, lite £34/season, direct debit £34/£29, discounts for under-16s) is usually the only way to buy match tickets – general sale is rare.
The main ticket office (Mon-Fri 9.30am-5pm, Sat 10am-2pm) is on Drayton Park. There's also a match-day box office by The Armoury store on Hornsey Road. Purchasing online or over the phone (Mon-Fri 9.30am-5pm; UK 0344 277 3625, international +44 207 649 9003) incurs a levy of £1.65/£1.85.
Matches are divided into three categories, A-C. For members, prices in the Upper Tier for category A games are £74.50-£95.50, £43-£55.50 for Category B and £30.50-£38.50 for Category C. In the Lower Tier, it's £64-£70.50, £36.50-£40 and £26-£28.50. If any become available, prices are roughly the same for non-members, Category C prices somewhat lower at £18.50-£24 and £16-£17.50.
For league fixtures, away fans now pay a flat £30, over-65s and under-19s £16, under-17s £10.
Members can also make use of the ticket exchange and ticket transfer systems. The club offers match-day hospitality packages from £450/head, with a three-course buffet. For all ticket enquiries, email boxoffice@arsenal.co.uk.
Shirts, kits, merchandise and gifts
The Armoury, one tier down from the Dennis Bergkamp statue on Hornsey Road, is the flagship outlet for Arsenal merchandise. On the other side of the ground on Drayton Park, there's another store at Highbury House, and there's one right beside Finsbury Park Tube station.
All have the same opening hours of Mon-Sat 9am-6pm, Sun 10am-4pm, varying on match days.
Gooners don't lack for Arsenal-branded curtains, Rubik's Cubes or jigsaw puzzles. There's also a neat little section of genuine collectables (signed prints, players' shirts) – at prices to match. Several books cover different aspects of club history, including self-penned volumes by Herbert Chapman and Cliff Bastin.
Perhaps tempting fate, Arsenal's home kit for 2023-24 resembles the classic top of the Invincibles campaign, with gold touches. For the change strip, yellow, of 1971 and 1989 legend, is back but somebody has decided to take a felt tip to it and draw over it while holding it in their mouth. This is meant to represent the winding routes through Islington fans have to take to reach the ground… Third choice is dark green with navy sleeves.
Explore the ground inside and out
By the Ken Friar Bridge, the Arsenal Museum (Mon-Sat 10.30am-6.15pm, Sun 10.30am-4.15pm; matchdays until 1hr before kick-off, £10, seniors £8, under-16s £7, under-5s free) is full of memorabilia that's both evocative (the Arsenal tariff board offering Bovril Per Cup for 4d, the centre spot from the last game at Highbury) and informative (a chalkboard showing Chapman's WM formation). Stats, film clips, interviews and anecdotes abound.
The 60-90min self-guided audio tour (9.30am-5pm Mon-Sat, 10am-3pm Sun; £22, seniors £17, under-16s £14, under-5s free) in nine languages (including Chinese, Japanese but not Russian) also includes museum admission. Picking up your headset from The Armoury store, roam a numbered trail in your own time, following the route a player might take, through the hospitality areas (where the flowers are always the visiting team's colours), changing rooms, down the tunnel onto the pitch, with the roar of the crowd in your earphones, to finish in the press area.
Pre-match beers for fans and casual visitors
The nearest pub is the Drayton Park, opposite the 'ARSENAL' sign on Danny Fiszman Bridge – and always packed with lively home and away fans on match days. On the same side of the stadium, a 10-15min walk down Aubert Road then left down Avenell Road brings you to Highbury, and the age-old haunts of Arsenal fans a little further away on Blackstock Road. On the corner with Elwood Street, the memorabilia-stuffed Gunners still does a roaring trade, with large projection screens, a pool table and beer garden.
Other pre- and post-match choices sit on and off the Holloway Road, near the Tube station. Towards the Seven Sisters Road, The Coronet is a Wetherspoons set in a 1940s cinema. Five minutes away down Tollington Road, The Tollington Arms packs with Arsenal fans on match days thanks to eight plasma screens, a front terrace and decent pub food.
Behind The Coronet and even closer to the Emirates, El Comandante (10 Annette Road) is a bizarre yet welcome find, a traditional Gooners pub crossed with Latin and left-wing leanings, red being the common theme. It's lively and bags of fun, with live music often thrown in.
In the other direction on Holloway Road, towards Highbury & Islington, The Horatia offers big-screen sport, scores of American craft and Belgian beers, and a menu of hot dogs and burgers, selection more limited on match days.
If you're coming via Finsbury Park, then the spacious Twelve Pins is Irish and sport-focused, a 2min walk from the Tube station.