A fan's guide – the club from early doors to today
When the cash tills rang up to the tune of £305 million at Newcastle United one crazy day in October 2021, fans descended on St James' Park to celebrate. Some wearing the makeshift ghutra headgear of the Gulf, they were reacting en masse to the news that the Premier League had allowed the Saudi-backed Public Investment Fund – in reality, the state itself – to buy the club. 
Like state-backed Manchester City and Paris Saint-Germain, Newcastle were awash with cash. But while City and PSG were ratcheting up league titles, NUFC sat at the bottom of the table, a third of the way through a season even more dismal than so many mediocre campaigns under despised previous owner Mike Ashley. 
It's one thing to have petrodollars to burn – it's another to spend them wisely.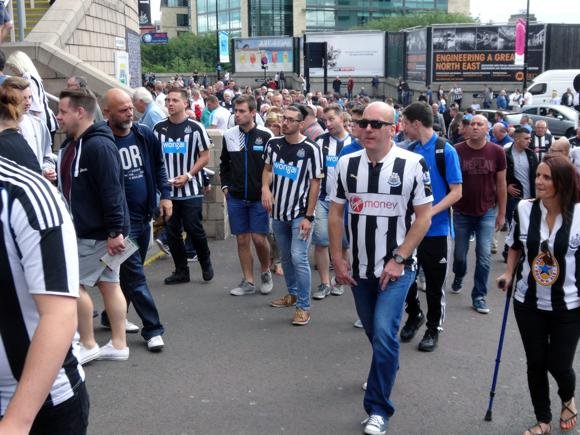 Granting the much-maligned Steve Bruce the dignity of notching his 1,000th game as a manager overseeing, for last time, the club he loved as a boy, the new owners then brought in Eddie Howe. Successful on thin resources at Bournemouth, steady Eddie had been seen as a solid choice to keep Newcastle in the Premier League. Within weeks, Newcastle had been embarrassed at home by Cambridge United in the cup and could only point to one league win in 20 starts.
One of the cornerstones of English football, Newcastle have gone almost half a century without any major domestic silverware, a modern-day record that fails to match the size and passion of their fan base. After a string of top-five finishes in the Premier League and European campaigns either side of the new century, the Magpies struggled for far too long under the short-sighted, frugal ownership of Mike Ashley. 
This is traditionally a club of iconic figureheads, starting with Colin Veitch, captain of the great side that won three early league titles, and nearly the double in 1905. Also co-founder of the People's Theatre and a friend of George Bernard Shaw, Veitch played under manager/secretary Frank Watt. Watt also signed Newcastle's next figurehead, his compatriot Hughie Gallacher, the pair both involved when Newcastle won the league for the last time, in 1927.
In his five years at Newcastle, captain Gallacher notched almost as many goals as games, also playing in the Scotland team of Wembley Wizards. Sold to Chelsea, Gallacher lost to his former club in the FA Cup semi-final of 1932. Depressed in later life, pining for his departed wife and the Tyneside of his glory years, he threw himself under a train in 1957.
Newcastle went on to lift the cup in the famous 'over-the-line' final of 1932, and claimed three more in the 1950s. Leading the line then was  'Wor' Jackie Milburn, whom Gallacher mentored during the 1940s. Ashington-born Milburn, a cousin of Bobby and Jackie Charlton, would make some 500 appearances for Newcastle. His statue now stands outside St James' Park.
The mediocre post-Milburn era was dotted with brief highlights: the much-vaunted Fairs' Cup win of 1969, in which captain and defender Bobby Moncur scored three against Újpest Dózsa; and goals by prolific centre-forward Malcolm Macdonald, who led Newcastle to the FA Cup final of 1974.
In 1984, a team starring the fervently popular Kevin Keegan, Peter Beardsley and Chris Waddle won promotion back to the top flight. Later relegated, Newcastle under new owner Sir John Hall welcomed Keegan back as manager in 1992.
Keegan assumed Messiah status as Newcastle rescaled the heights, mall-mogul Hall transforming the club's finances. With Andy Cole, and later David Ginola, Les Ferdinand and Faustino Asprilla, Newcastle became a force in the new Premier League.
In 1996, they all but won the title, Keegan memorably losing his cool in the closing weeks. The failure of local rivals Middlesbrough to beat Manchester United on the last day helped send the trophy to Old Trafford.
Top scorer that season was Blackburn's Alan Shearer. In a then world-record £15-million deal, Keegan signed the locally born striker, who turned down Old Trafford to return to Tyneside. He went on to notch a club record 206 goals – six more than Milburn.
Despite missing out on the league in 1996 and the cup in consecutive finals, Newcastle enjoyed unforgettable nights of European football, even beating Barcelona. The early 2000s were a very good time to be a Newcastle supporter. Boyhood fan Sir Bobby Robson worked near miracles to take the Magpies into the Champions League for two seasons running, the reliably prolific Shearer also top scorer in the UEFA Cup for two consecutive runs to the later rounds. It was Didier Drogba, however, who proved the supreme striker when Marseille overturned Newcastle 2-0 in the semi-final of 2004. 
Shearer retired in 2006 after one injury too many. Hall was bought out by sportswear billionaire Mike Ashley in 2007. Two years later, last-ditch manager Shearer was unable to prevent Newcastle from relegation, though exile was short thanks to Chris Hughton, promoted from caretaker to permanent coach.
His sacking increased fans' frustrations with Ashley, who then sold star striker Andy Carroll, another local boy, to Liverpool. Nevertheless, Ashley's appointment of Alan Pardew proved astute. Newcastle finished a surprising fifth in 2012, returning to European competition.
Ashley continued to court controversy, trying to re-name the stadium, but spectacular goals from Demba Ba (later sold to Chelsea), Hatem Ben Arfa and Papiss Cissé appeased trophy-hungry fans – for a while. 2013-14 ended in farce, Pardew headbutting Hull's David Meyler and earning himself a seven-match ban, while his team collapsed during a disastrous run of form. Vociferous abuse of Pardew and Ashley continued unabated.
United survived after a tense win on the very last day of the 2014-15 campaign. Steve  McClaren then lasted until spring 2016 before Rafael Benítez was dragged in to save the ailing club from ignominious relegation. 
With good performances from Andros Townsend in particular, Benítez gave it his best, the momentum continuing into the successful Championship-winning campaign of 2016-17. Former Crystal Palace striker Dwight Gayle had hit 20 goals by the January, his scoring role in the last-day win over Barnsley sealing the Championship trophy. 
As Ashley's sale of the club dragged on, Benítez managed to squeeze vital wins against fellow relegation candidates without setting the Premier League alight in 2017-18.
Newcastle under Steve Bruce duly failed to inspire, top scorers barely breaking into double figures for the season. The Magpies remained in the Premier League, however, no mean feat considering the chaos surrounding the club and its on-off-off sale to a Saudi consortium.
Incoming chairman, Saudi Public Investment Fund governor Yasir Al-Rumayyan, business executive Amanda Staveley – who also advised on the Manchester City deal, and who now owns 10% of NUFC – and team manager Eddie Howe now have the huge task of steadying the ship while expectation and frustration mount on Tyneside. Fans had had 14 years of Mike Ashley. To promise them the Earth then deliver them the Championship would be beyond cruel.
The field of dreams – and the stands around it
Football has been played on St James' Park since the 1880s, when it was home to Newcastle West End. It became a more permanent fixture when West End and East End merged to found United in 1892. Capacity then was 30,000, huge for the time.
The failure to host World Cup games in 1966, the honour going to Sunderland, signalled the decline of a venue also subject to stringent redevelopment restrictions due to the proximity of local accommodation.
Sir John Hall changed all that. From 1992, the stadium was transformed, all four stands rebuilt and extended. The capacity is now 52,400-plus, with average home gates close to full for 2018-19, way above Chelsea and Everton.
Away fans are high in the heavens – at level 7 of the Leazes Stand, 140 stairs and 14 landings up (there's a lift), nearly half a kilometre from the far goal – so it's not for vertigo sufferers. Opposite is the famous Gallowgate End, where you'll find the metro station and the Nine Bar. The main three-tier Milburn Stand rises way above the East Stand opposite, always impressing first-time visitors, but this overall assymetrical look probably won't be addressed by stand extensions any time soon.
Going to the ground – tips and timings
St James' Park has its own metro station behind the Gallowgate End, linked to Newcastle Airport with a change at Monument one stop away. Walking from Newcastle Central station should only take 15mins, turning left into Neville Street, then right up St James' Boulevard.
The sat nav code for St James' Park is NE1 4ST. Being so close to the city centre, parking options are many but places fill quickly. The stress-free option is the free parking at the vast Metrocentre mall (NE11 9YG) in Gateshead, from where P&R shuttle bus X50 (£1.50 single/£2 return, under-18s £1 single) makes regular runs to Barrack road behind the Milburn Stand from 2hrs before kick-off and up to 1hr after the final whistle.
The nearest pay-for car parks to St James' at Eldon Garden (NE1 7RQI and adjoining Eldon Square (NE1 7RZ) now run on the Check In Check Out system, so that a larger amount is taken from your card in case you're late back, and the difference released days later. The charge should be £5.70/3hrs at Eldon Garden, £8 daily charge (£3 Sun), and £2.10/hr at Eldon Square, £3 daily Sun. On the plus side, currently there's no charge after 5pm Mon-Sat and 6pm Sun. Each is about a 5-10min walk from the stadium, along Morden Street.
Buying tickets – when, where, how and how much
With an average home gate in 2018-19 close to the 52,400 capacity – well above Chelsea's and Everton's – availability is rarely guaranteed, except for cup games. Tickets go on sale online about 3wks before match day, in person and by phone (UK only 0344 372 1892) about 2wks before.
The ticket office (usual opening hours Mon-Fri 10am-5pm, Sat 9am-4pm) is under the Milburn Stand. A match-day one (9am-half time) also operates there, mainly just for information and assistance. You can also book a hospitality package at the Park Grill Restaurant or The Barracks in the Milburn Stand. For all enquiries, email boxoffice@nufc.co.uk. 
Prices start at £27, £22 for over-65s, £15 for 18-21s and £14 for under-18s. For cup games, this reduces to £10 and £3 for juniors. Non-members are charged £1 extra. Away fans pay £30, over-65s £22, under-18s £16.
Shirts, kits, merchandise and gifts
The club shop (usual opening hours Mon-Fri 9am-5.30pm, Sat 9am-6pm, Sun 11am-5pm, match nights) is just below the Gallowgate Stand at St James' Park.
For 2021-22, the home shirt is less stripy than in days of yore, with one thick black band running straight down against a white background. The goalkeeper is dressed in diagonal bands of alternating purples… Many of the accessories revolve around drinking, beer mats, coasters, shot glasses and bottle openers, with plenty of coffee mug options for the morning after.
Explore the ground inside and out
Stadium tours (£15, seniors £12, juniors £8, £3 match-day supplement) are carried out with great humour and affection for the club. Audio effects and visual displays help them bring the club's heritage to life. Tours usually take place twice a day Mon-Fri (12.30pm & 2.30pm), three or four times on Saturdays and Sundays (11.30am-2.30pm). Visitors should go to the stadium tour reception office under the Milburn Stand 15min before the set time, and by 10.15am on match days.
Pre-match beers for fans and casual visitors
The ground's proximity to the city centre means that pubs are plentiful. The Newcastle Arms (57 St Andrew's Street), Three Bulls Heads (57 Percy Street), the Percy Arms (Percy Street) and Rosies Bar (2 Stowell Street) are traditional gathering points. 
Also popular, nearer the ground and attracting a younger clientele, is jukebox-blessed Trent House (1-2 Leazes Lane), the first place to sell local cult comic Viz.
The Shark Club Bar at the nearby Sandman Signature Hotel also takes much pre- and post-match custom, particularly for away fans.
For all that, the place to be before and after any game is the The Strawberry, directly opposite the stadium. With a pictorial montage to NUFC through the ages, this pulsing boozer lives, eats and drinks black and white. It's even better sampled in quiet reflection on non-matchdays when you can take in the history without the hordes.
At St James', after negative comments in the press by club legend Alan Shearer, former Shearer's Bar at the Gallowgate End was renamed the NINE Bar is now the main outlet for home and away fan alike. As well as live sport on 35 large TV screens and two pool tables, you'll find doorstep toasties, NINE burgers and black & white chicken burgers. Open every day including match days.

The old ticket office behind the Sir Bobby Robson statue has been converted into The Terrace, a 700-capacity match-day bar with scores of TV screens showing the game live.