A fan's guide – the club from early doors to today
FA Cup winners in 1987, a top-flight mainstay for 34 straight seasons between 1967 and 2001, Coventry City achieved something equally important in 2021, returning to Coventry after being sent to Northampton and Birmingham following a dispute over the stadium they shared. Now the Coventry Building Society Arena will be home for at least seven years, perhaps ten – with a completely new ground in the planning stage.
For all that, the club moulded into a modern outfit by later TV celebrity Jimmy Hill can't be said to be the forward-looking overachievers that emerged from the post-1966 boom in football. Unpopular ownership, stadium upheavals and absurd match-day transport arrangements blighted the best part of a decade.
The club hardly burst out of the blocks during the first football boom of the late Victorian era. Formed as the works team of local cycle (later car) manufacturers Singer in 1883, the soon-to-be-named Coventry City turned professional in 1892.
But it wasn't until after World War I that City entered the Football League. Flitting between second, third and, in 1958-59, fourth flights, Coventry were based at Highfield Road, east of the city centre, from 1899 onwards.
It took 'Black Saturday', a 2-1 defeat at home to King's Lynn in the FA Cup in November 1961, for the club to hire 33-year-old Jimmy Hill as manager. Thus began the so-called Sky Blue Revolution. That year, as chairman of the Professional Footballers' Association, then Fulham inside-right Hill had been behind the scrapping of the maximum wage, allowing team-mate Johnny Haynes to be the first to earn £100 a week.
In a few short years, the pioneering Hill transformed Coventry City, giving the club identity and purpose. Everything would be sky blue, the shirts, the supporters' trains, the new stands at Highfield Road, later to be England's first all-seater stadium.
On the pitch, Hill's Sky Blues won the Third then Second Division titles within four seasons. Shortly before the club's First Division debut in 1967-68, Hill moved into television, having paved the way for Coventry to become an established fixture in the top flight – albeit after a shaky start.
Twice finishing a point above relegation, in 1969-70 Coventry gained a European place with goals from Ernie Hunt and chances provided by Willie Carr and Dennis Mortimer, later to captain Aston Villa to a European Cup in 1982. In October 1970, Hunt and Carr made headlines with a unique free-kick, copied in school playgrounds across the land, Carr flicking the ball up between both heels for Hunt to blast into the net. 
That same month, despite's Hunt's early strike in Germany, Franz Beckenbauer's Bayern Munich beat the Sky Blues 6-1 in the Fairs' Cup. A subsequent 2-1 home win at Highfield Road marked the end of Coventry's solitary European campaign to date.
Usually lower-mid table finishers in the First Division, Coventry occasionally shone in the cup tournaments, reaching the League Cup semi-final in 1980-81 and 1989-90. 
In between came the memorable FA Cup final of 1987. In a tenacious performance illustrated by Brian Kincline's slow climb up the Wembley steps to collect the trophy, the unfashionable Coventry captain having put himself in harm's way shortly before extra-time, City surprised many with a 3-2 win. 
In a thrilling battle, equally unfashionable Keith Houchen dashed in from deep midfield for a diving header to equalise against an all-star Spurs side featuring a World Cup winner and several internationals. For Coventry, never-capped gentle giant keeper Steve Ogrizović was the other hero, along with tricky striker Cyrille Regis who earned himself an England recall.
The game was decided on a deflection off Gary Mabbutt's knee, later to inspire the name of a Coventry City fanzine – but the cup win opened no doors to Europe, given the post-Heysel ban on English clubs.
Coventry then went through a number of high-profile managers – Ron Atkinson, Gordon Strachan – and journeymen strikers – David Speedie, Dion Dublin, portly cult figure Micky Quinn – but became best known for last-gasp fights against relegation and sickly coloured second kits.
Having been read the last rites so many times, Coventry fell out of the top flight in 2001 after a 3-2 reverse at Villa Park.
Since then, events at the club – a second-flight outfit until 2012, third thereafter – have mainly surrounded problems of finance, ownership and stadium. The relegation of 2001 hit the club hard, backers and sponsors shying away from the long-awaited new ground north of town by the motorway.
Coventry City Council and a local charity combined forces to run the 32,600-capacity new Ricoh Arena. As rent-paying tenants, the Sky Blues, rescued from insolvency by Sisu Capital in 2007, became bogged down in increasingly bitter discussion with their landlords as debts increased.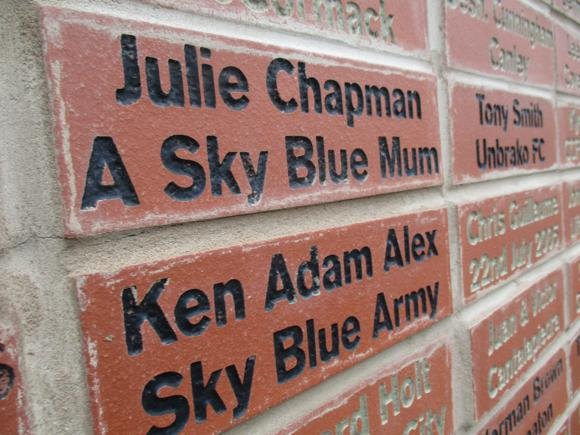 Eventually, to fans' even greater dismay, the club spent the 2013-14 season based at Northampton's Sixfields Stadium.
Returning to the Ricoh in 2014, now owned by co-host rugby club Wasps, Coventry  found a modicum of stability – though success on the pitch proved elusive. With a stint in the third tier turning into a long-term stay, and little open consultation with the ownership, anti-Sisu protests became significantly demonstrative around 2016. In 2017, City went down to the fourth tier.
Returning for a second time as manager, former Manchester United striker Mark Robins took Coventry back up in his first full season back, goals from later Scottish international Marc McNulty the key factor. No sooner were fans settled in League One that another Sisu-Wasps spat saw the club move home again, to Birmingham. 
But Robins, to his credit, motivated his side, despite crowds of 5,000 and under. Putting together a string of 14 games without defeat, from the run-up to Christmas to the eve of lockdown, journeyman striker Matt Godden a frequent name on the scoresheet, Coventry were granted the League One title when the season came to a halt.
In the cup, tenants Coventry twice led landlords Birmingham City in a Fourth Round replay, only for the home side to equalise in stoppage time, then in the last minute of extra-time. In the subsequent penalty shoot-out, Godden was the only Sky Blue who netted. Putting a poor start behind them, Coventry notched vital narrow away wins towards the end of the campaign stay up. 
Behind the scenes that spring, there were moves afoot to move back to Coventry. Wasps and Sisu entered yet another groundshare agreement, this time for a stadium renamed the Coventry Building Society Arena. At the same time, City announced that they were negotiating with the University of Warwick to build an entirely new venue, and would ideally move out of the former Ricoh Arena within seven years. 
In the meantime, the team still under Robins can count on home support to avoid further disastrous descents down the league pyramid.
The field of dreams – and the stands around it
Shared home of Coventry City Wasps rugby club, the Coventry Building Society Arena is part of a leisure and retail complex also featuring a hotel, casino, multi-sports and concert arena and shopping centre.
As modern-day new-build football stadium, the arena is relatively intimate, comprising four single-tiered stands and a single, narrow upper tier below the hospitality boxes of the West Stand.
Visiting supporters are allocated sectors 6-9 of the South Stand nearest the West Stand – the North Stand is the home end and invariably filled with season-ticket holders.
Capacity is nearly 33,000, depending on segregation arrangements with away fans in serious numbers.
Going to the ground – tips and timings
Transport arrangements to and from the Coventry Building Society Arena are laughably poor. Although there's a rail station, Coventry Arena, right alongside the stadium, one stop and 8mins from Coventry's main station, the trains are two-carriage only, and overcrowding problems prevent their use either side of match times. Even on match days, for reasons unknown, they run to the same schedule as otherwise, ie one an hour.
Therefore, supporters have to rely on buses. From Pool Meadow bus station, the 5 runs every 30mins and from Trinity Street in town, the 3 runs every 12mins, both heading for Arena Shopping Park, the terminus, journey time 30mins.
The sat nav code for the Coventry Building Society Arena is CV6 6GE. The venue operates three car parks, A/B alongside and C just over the road, with 2,000 spaces altogether. The charge is £6/up to 3hrs, £10 up to 8hrs but be aware that the car parks close at 8pm if it's a 3pm kick-off, 11pm if it's 7.45pm. Parking can be booked online. On non-match days, parking is free for up to an hour.
On match days, a 2km parameter is enforced around the stadium, with no street parking allowed. The only alternative is the Leisure Ireland riding school (CV7 9GA), McDonnell Drive, a 15min walk north of the stadium by the Novotel. Parking here should cost £3/car but check with the venue first.
Buying tickets – when, where, how and how much
The new ticket office (Mon-Fri 9.30am-5.30pm, match-day Sat 9.30am-kick off) is in the south-east corner of the Coventry Building Society Arena. Distribution is also by phone (UK only 0333 321 3134) and online.
Prices are the same across the board but set in three categories, A-C, with a large differential between them, £20-£25-£30, depending on the opposition. Over-65s pay £15-£20-£25, under-18s £10-£15-£20, under-16s £5-£10-£15, under-13s admitted free.
Shirts, kits, merchandise and gifts
The new club store (Mon-Sat 9.30am-5.30pm, match-day Sun) is in south-east corner of the Coventry Building Society Arena, by the ticket office. 
Sky blue is obviously the colour, with the dubious choice of pink-and-navy halves for change strip, and a really bizarre one for third kit, white, light and dark-blue squares with a fully petalled flower chucked in somewhere. T-shirts carry the simple message of 'Home Sweet Home' 
Pre-match beers for fans and casual visitors
Upscale sports bar The Anecdote has replaced The Mill within the stadium hotel DoubleTree by Hilton. Bright, colourful, with imaginative murals, it features a huge table-football table and sundry pub games. 
This Indoor League approach is offset by long cocktails, craft beer and reinvented street food, but hey, you could be gawping at the earlier kick-off over fizzy lager in a featureless room. You'll find the bar just through the lobby – sensible away fans should be welcome.
One alternative, alongside the hotel entrance, is the Grosvenor Casino, which relaxes its usually strict entry rules and caters to home and away fans on match days, provided they're over 18, after a brief signing-in process. You'll find the bar (Staropramen, Coors Light) downstairs, past a glittering water feature perhaps incongruous with a rainy match day in Coventry. There's also a full menu with burgers, sharing platters and stone-baked pizzas.
There should be more of a match-day atmosphere at Dhillons Bar, pub outlet for the craft brewery of the same name, in Unit 14A of the Hales industrial estate just the other side of car park A. Open on Friday night and match days, Dhillions creates its own Coventry City FC beer collection, cans done out in the various club strips, plus there's Ghost Town Lager with a checkerboard logo.