A fan's guide – the club from early doors to today
Revived thanks to the club's brightest prospect in decades, new ownership and a return to the Premier League, Aston Villa are working their way back the elite. The mid-table finish of 2020-21 was the best league performance in a decade, one that saw appearances in finals of both cups. Club captain Jack Grealish is Villa through and through, his great-great-grandfather an FA Cup winner with the Villans in 1905. 
The seven-time English champions won six of their titles before World War I. European champions following the last title win of 1981, Villa remain one of the great names in English football.
Formed by members of the Villa Cross Wesleyan Chapel in 1874, the team played at Aston Park, close to where draper William McGregor had his business. Encouraged by the presence of two fellow Scots in the team, goalscorer Archie Hunter and captain George Ramsay, McGregor became a club director, then president, then chairman, during which time he instigated the Football League in 1888. The game became professional, crowds flocked in numbers and revenues increased significantly.
FA Cup winners over local rivals West Bromwich in 1887, playing a passing game instilled by Ramsay, Villa dominated the Football League in the 1890s, winning the double in one day in 1897. Howard Spencer and Jimmy Crabtree shared the captaincy of this great Villa side. As manager, Ramsay's record of league and cup wins stood for a century.
The golden era ended with the title of 1910 and FA Cup of 1913. Ramsay remained manager for 42 years (!). Shortly after his death in 1935, Villa were relegated.
Apart from a solitary FA Cup win over ten-man Manchester United in 1957, Villa trod water until the arrival of manager Ron Saunders in 1974. With one-club forward Brian Little, Villa won two League Cups and climbed back to the top flight. With Little forced to retire through injury, and brave Scots forward Andy Gray leaving for Wolves, Saunders brought in striker Peter Withe, top scorer when Villa won the title in 1981.
With midfielder Gordon Cowans, who would have three spells at Villa Park, and winger Tony Morley, Villa made it through to the final of the European Cup in 1982. An angry Saunders had left halfway through the campaign. His replacement Tony Barton led Villa to an unexpected European Cup win over Bayern Munich, with Withe scoring the only goal. Inexperienced reserve keeper Nigel Spink gave a heroic display.
Under returning chairman Doug Ellis, manager Ron Atkinson took Villa to second place in the inaugural Premier League in 1993, goals coming from Dean Saunders and Dalian Atkinson.
Three years later, with Little as manager, Paul McGrath as centre-back and Dwight Yorke up front, Villa won the League Cup and finished fourth in the Premier.
A string of star managers fell out with Ellis, who relinquished the club to American Randy Lerner in 2006. Under Martin O'Neill, a promising Villa side put in a decent challenge for Champions League football. With captain Stiliyan Petrov and strikers Emile Heskey and Gabriel Agbonhalor, Villa made the League Cup Final in 2010.
After the 2-1 defeat to Manchester United, O'Neill's departure and Petrov's enforced retirement through cancer, Villa failed to fulfill their potential under Paul Lambert and Tim Sherwood. Sherwood, at least took Villa to Wembley for a first FA Cup final since 2000. League form, however, remained dire, and Sherwood didn't last the 2015-16 campaign. With no way forward for Randy Lerner, Chinese entrepreneur Tony Xia bought the club he used to watch as a student at Oxford. In with the new régime came manager Roberto Di Matteo, who failed to drag the club out of the Championship, the reins then passed to Steve Bruce.
With incoming captain John Terry bringing experience to Villa's defence and a young Jack Grealish guile to the attack, Bruce's side made the Championship play-off final in 2018. Losing a tense battle 1-0 to Fulham, Villa returned a year later on the back of a winning run in spring, captained by the once-in-a-generation Grealish, under solid manager Dean Smith and with the new ownership team of Egyptian Nassef Sawiris and American Wes Edens. Scots international midfielder John McGinn put in a match-winning performance in the play-off final while centre-back Tyrone Mings was soon called to the England squad.
While fighting a rearguard action in the league, Villa made the final of the League Cup, nearly taking Pep Guardiola's Manchester City to extra-time. Bringing in prolific striker Ollie Watkins for £28 million, Villa started 2020-21 brightly, thumping champions Liverpool 7-2 but soon fell away. A mid-table finish proved to be the club's best league performance in a decade. 
It was also Grealish's last season at Villa Park. With the club since the age of six, a player whose mercurial skills had lit up Euro 2020, the life-long Villa fan couldn't say no to £100 million of Manchester City's money. Back in Aston, a poor start to 2021-22 saw the popular Dean Smith sacked and Liverpool legend Steven Gerrard come in, with immediate results.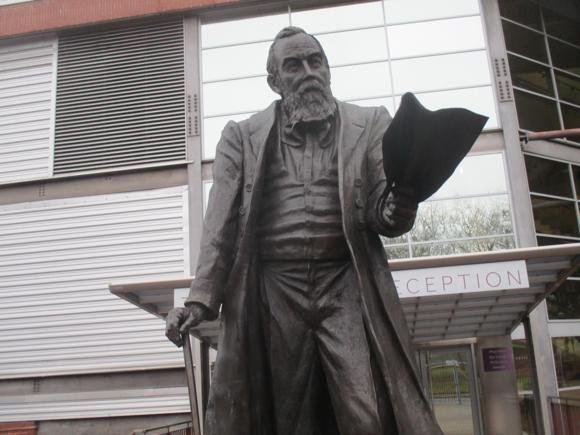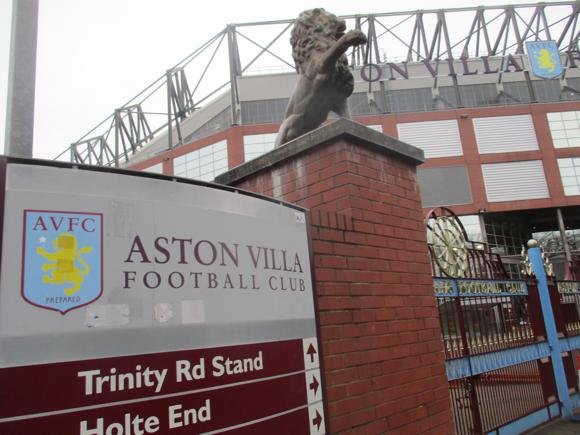 The field of dreams – and the stands around it
One of the most stately grounds in England, Villa Park is the most frequent neutral host of FA Cup semi-finals and where Lazio won the last Cup-Winners' Cup Final in 1999.
Like Anfield, Old Trafford and Highbury, it was created by great stadium architect Archibald Leitch in the 1920s.
Before then, the club played at Aston Park, then in the former grounds of Aston Hall, owned by Sir Thomas Holte. Today's stadium stands in these one-time recreation grounds, within which a sports field and cycling track were laid down.
With Aston Villa's success in the early 1900s, a terrace and banked standing areas were put in place. Interrupted by World War I, Leitch created arguably the grandest football ground in Britain, its cost astronomical. The famous Holte End was later built by Leitch's son, interrupted by World War II.
Gradual improvements, particularly for the World Cup 1966, preceded modernisation under Doug Ellis. Coupled with the obligatory seating restrictions of 1990, this became cripplingly expensive. The Witton Lane Stand was later renamed after Ellis. With the revamping of the Holte End, capacity shrank to 40,000, though the new Trinity Road Stand increased this to today's 42,700.
Looking as grand as when created by Leitch Junior, the Holte End is the home end. Press and VIPs are accommodated in the Trinity Road Stand. Away fans, once housed in the lower tier of the North Stand, are now allocated the north end of the Doug Ellis/Witton Lane Stand, sectors P8-11, Q1-3. Planning permission has been granted for the North Stand to be expanded, increasing capacity to 50,000.
Going to the ground – tips and timings
Villa Park is located between Witton and Aston train stations. Aston is a longer walk but only two stops and 5min from Birmingham New Street, served by far more trains. Witton is three stops and 10mins away, with trains every 30mins, extra on match days.
Home fans are closer to the Holte End from Aston, away fans better served from Witton. Exiting Witton station onto Witton Road, head left to the roundabout, then left again down Witton Lane.
The sat nav code for Villa Park is B6 6HE. There is no parking around the ground on match days. The most popular option for those driving here is to make use of the free parking around the Star City leisure complex (32 Watson Road, B7 5SA), about 25-30mins' walk away. Head over the roundabout along Cuckoo Road, then left into Nechells Park Road, right into Holborn Hill – this brings you to Aston station. Crossing main Lichfield Road there, head up Grosvenor Road/Queens Road for Villa Park. 
There is also limited street parking around Aston station (B6 7PR) itself and at the Aston Inn (B6 7JU), the former New Aston Social Club, on Aston Hall Road, a 7-8min walk to the ground past Aston Parish Church.
Buying tickets – when, where, how and how much
Given Villa's Premier-League status from 2019, attendances were close to capacity before the spring 2020 shutdown. Season tickets were capped at 30,000 and 8,000 match tickets were put on sale for every home game. Tickets go on sale to members about a month before match day, general sale is three weeks before, online a few days ahead of purchase over the phone (UK only 0333 323 1874, enquiries ticketsales@avfc.cu.uk) or in person.
The ticket office (Mon-Sat 9am-5pm, Sat 9am-4pm) beside the Villa Store in the Villa Village behind the North Stand is mainly for advance sales, the kiosk on Trinity Road for match-day tickets collections. The club also offers hospitality packages.
Prices start at £27 behind the goal in the North Stand, rising to around £45-£50 for a decent seat on the sidelines in the Trinity Road Stand. Over-65s, students and members of the Armed Forces pay around £2-£5 less, under-21s £10-£15 less, under-18s around half price. Away fans are charged £30, students/Armed Forces £29, over-65s/students £26, 18-20s £20, under-18s £14.
Shirts, kits, merchandise and gifts
The Villa Store (Mon-Fri 10am-5pm, Sat 9am-5pm, Sun 10am-4pm, match days) is behind the North Stand. Amid the replica tops, scarves and hats, look out for retro shirts commemorating specific triumphs such as the 1982 European Cup Final, 1957 FA Cup Final. Aston Villa 150 Year Book is a lovely edition, with a volume two also due.
Explore the ground inside and out
Stadium tours (£12.95, under-16s £7.95) run most non-match weekdays, check with tickets@avfc.co.uk. Visitors can access the players' lounge, dressing rooms and trophy room, where they can have their photo taken with the European Cup.
Pre-match beers for fans and casual visitors
From Witton station, the Witton Arms (458 Witton Road) halfway to the ground is a large, sport-focused pub that usually accommodates away fans – usually for £1 on match days. Home and visiting supporters are served at different ends of the pub, sometimes a marquee set up on busier occasions. 
If too busy, the only other option is 10mins walk in the opposite direction from Witton station, along Witton/Brookvale Road, where the Yew Tree offers TV sport and a pool table. In between, you pass a fair few ethnic eateries along Witton Road.
Villa fans can also drop into the rebranded, renamed Aston Inn, the former Aston Social Club on Aston Hall Road by the flyover, halfway between Aston station and the ground. 
The bars and restaurants around the ground, most notably the Cornerflag by the Villa Village, overlooking the pitch and the impressively renovated Victorian Holte Pub, are reservation- and season-ticket only.