A fan's guide – the club from early doors to today
A save in the left-hand corner, a shot straight into the right and Huddersfield Town ended a 45-year absence from top-tier football in May 2017. A save from Danny Ward and a shot from Christopher Schindler settled the penalty shoot-out in the Championship play-off against Reading.
For chairman and lifelong fan Dean Hoyle, five years old when his beloved Huddersfield dropped out of the old First Division, and for American coach David Wagner in his first managerial job in England, the victory was a personal triumph for entirely different reasons.
For Hoyle and Huddersfield, the fairytale lasted two seasons before relegation. Ill health forced Hoyle to sell the club on to another lifelong fan, Phil Hodgkinson, but not before the last home game of 2018-19, against Manchester United in May. This was Huddersfield's first league point since February.
The new era has since proved equally barren, the Terriers struggling near the bottom of the Championship.
Before Hoyle and Wagner, Huddersfield were built on the unprecedented success they enjoyed under Herbert Chapman, arguably the most influential manager in the history of English football. Arriving shortly after World War I, almost overnight Chapman transformed a club that had barely been able to survive in a rugby-playing town such as Huddersfield.
Only three years after reaching the First Division, Huddersfield won three straight league titles, a feat Chapman then repeated with Arsenal. The Gunners remain a major force in the English game to this day, despite Chapman's early death – Huddersfield maintained a continuous top-flight presence for 30 years after his departure.
Even after relegation, the club was a big enough fish to lure the likes of Bill Shankly as manager and Denis Law as striker.
It all started from humble beginnings. Formed in 1908, some 40 years after most major mill-town clubs in nearby Lancashire, Huddersfield were sunk almost before they started. A soggy pitch by the riverside Leeds Road site management had found saw crowds dwindle – as if attracting rugby-watching locals wasn't hard enough.
Liquidated in 1912, tentatively revived in 1919, Huddersfield Town somehow made it to the final of the FA Cup in 1920, the same year as they achieved promotion to the First Division.
With players already motivated, Herbert Chapman, a former journeyman inside-forward and previous manager of nearby Leeds City, arrived in 1921. One of his first signings was Clem Stephenson, who had played under Chapman during World War I, a deft passer and disciplined leader. Stephenson had steered Aston Villa's win over Huddersfield in the cup final the year before.
Chapman's other ace-in-the-hole was George 'Bomber' Brown, still a teenager, whom he plucked out of a colliery XI from Northumberland.
Most of all, though, Chapman controlled the club and the team, emphasising teamwork and physical fitness, and basing tactics on a solid defence and slick counter attacks.
In Chapman's first full season, Huddersfield won the FA Cup. Two years later, the club took its first league title, by a whisker – goal average dictated that Town's one less goal conceded counted more than Cardiff's one more goal scored. The following year, with an even meaner defence, they pipped WBA by two points.
With Chapman poached by Arsenal, Huddersfield still had just enough about them to beat his new charges to a third consecutive title.
Remarkably, with Leeds Road now attracting record crowds, Huddersfield still kept in the hunt, Brown staying on to become the club's all-time record scorer. The club reached three more FA Cup finals, the last, in 1938, decided on a penalty in the 119th minute. Major silverware, though, has not been forthcoming since that last league title of 1926.
Since the mid-1950s, in fact, Huddersfield have only spent two seasons in the top flight, despite the efforts of Bill Shankly and his young charge Denis Law between 1956 and 1959. A UK record fee took Law to Manchester City, Shankly unable to persuade his new club Liverpool to part with that much cash.
A new era began in 1968 with Ian Greaves as manager. The ex-Manchester United full-back, who had played with the Busby babes in the 1950s, put faith in young local talent, such as striker Frank Worthington and defender Trevor Cherry. With a new nickname, The Terriers, the return of blue-and-white stripes, Huddersfield joined the First Division in 1970.
They lasted two seasons – within four, the Terriers were in the Fourth.
In 1994, lowly Town sold their crumbling old ground, groundshared by Huddersfield's recently revived rugby league team since 1992. Sharing ownership with each other and Kirklees Council, the two clubs began a new era together at an impressive new arena nearby.
The rugby side became Huddersfield Giants, part of the crowd-pleasing, summer-only Super League, and chaired by Yorkshire-born entrepreneur Ken Davy since 1996. Town still floundered.
In 2003, with the football club in financial disarray, a Davy-led consortium took it over. The Terriers came out of administration and won promotion from the fourth flight. A further takeover, by gift-store mogul and club follower Dean Hoyle, in 2009, saw Town then make the play-offs three seasons running.
Goals from another 2009 arrival, 19-year-old Anglo-Scot Jordan Rhodes, had helped Huddersfield get there – but it took all 11 players to take a penalty in the crazy 22-kick shoot-out that saw off Sheffield United at the Wembley play-off final in 2012.
Soon afterwards, Davy and Hoyle resolved ownership and financial differences between the two Huddersfield clubs, providing stability for the future. After swift changes of managers, little-known David Wagner arrived, a former US national team player with four years' experience in the Borussia Dortmund coaching set-up.
It proved a stroke of genius. Wagner brought in motivational Australian international Aaron Mooy, Liverpool loanee goalkeeper Danny Ward and German defenders Chris Löwe and Christopher Schindler. All would prove invaluable in the push for a Premier League place. Huddersfield, close to relegation in 2016, had bonded as a team and rarely left the top four during 2016-17. Few would argue that the Terriers didn't deserve their play-off win at Wembley that May – although the save from shoot-out expert Ward and shot from former German under-21 international Schindler added high drama.
Another milestone was reached in October 2017 when Huddersfield achieved their first win over Manchester United in 65 years, gaining a 2-1 win that proved the highlight of the 2017-18 campaign.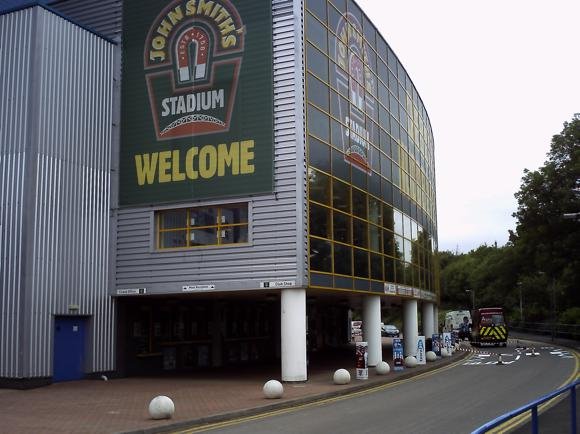 Surviving with four points to spare, Huddersfield had a shaky start to the new campaign, then sank completely through December. Wagner gave way to another coach from the Dortmund set-up, Jan Siewert, but relegation was inevitable. Three wins from 38 games sits among the all-time negative records for the Premier League.
An even worse start to 2019-20 saw Siewert sacked by August, and Danny Cowley, whose Lincoln side had shocked Huddersfield in the League Cup, brought in. Keeping the Terriers clear of relegation with a win over WBA in the last game, Cowley was sacked the same week. Carlos Corberán, previously right-hand man to Marcelo Bielsa at Leeds, then fought a similar rearguard action to keep Town up again in 2020-21. 
The Spaniard started 2021-22 without stalwart German defender Christopher Schindler, since returned to Bavaria.
The field of dreams – and the stands around it
The John Smith's Stadium, the stage shared by Huddersfield Town and Giants soccer and rugby league clubs, was an early development for US architects HOK, later to create the new Wembley and Arsenal's Emirates.
Built at an approximate cost of £40 million, the ambitious and design award-winning arena is all dramatic white steel tubing, following the graceful curves of the sweeping roofs covering the four half-moon stands. This is by no means an identikit, out-of-town new-build – and, approaching its 30th anniversary, the stadium has stood the test of time.
For Town's first game in August 1994, three stands were operative. A fourth, the home Fantastic Media north end, was added in 1997. Opposite, away fans are allocated one half of the Magic Rock Stand, named after local craft brewers and one of the beers available around the concourse. Access is via gates T17-20  Along the sidelines are the twin-tier CORE Stand, nearest the river, with the club shop and ticket office behind. Facing it, the Chadwick Lawrence Stand comprises one level of seating.
Capacity is an all-seated 24,000.
Going to the ground – tips and timings
From Huddersfield train station, the stadium is a 15min walk, bearing left on St George's Square then following the signposts along Northumberland Street, then Leeds Road.
The bus station on Upperhead Row is slightly further away – if you're feeling lazy, Arriva MAX bus 202 and 203 to Leeds runs every 15min (every 30mins Sun) to Leeds Road Old Leeds Road, two stops away, journey time 5min. From there, walk 200 metres along Gasworks Street/Stadium Way and you'll see the stadium ahead to the left.
The sat nav code for the John Smith's Stadium is HD1 6PX. The ground has plentiful parking (£6) around the Fantastic Media North end, signposted as you approach on the M62. This includes parking at the Odeon Cinema.
Alternatively, behind the away end, there's more space in the St Andrew's car park and look out for small businesses offering match-day parking for generally £5 on St Andrews Road. There's also permit parking (in advance from the club ticket office, £5) for Town fans on Gasworks Street, just the other side of the Colne from the stadium.
Buying tickets – when, where, how and how much
Distribution is through the ticket office (Mon-Fri 9am-5pm, match-day Sat/Sun 9am-kick-off, non-match day Sat 9am-noon; credit-card charge £1.25) behind the CORE Stand nearest the river, over the phone on 01484 960 606 (Mon-Fri 8am-8pm, Sat-Sun 8am-6pm, £1.50 levy) or online (£1.25 levy). There's no extra charge if you print at home. For all enquiries, email ticketsenquiries@htafc.com.
Prices are set at £25, £20 for over-65s, £15 for under-18s, £10 for under-11s.
Shirts, kits, merchandise and gifts
There are not one but two club shops at the ground, with the same opening hours. By the ticket office behind the CORE Stand, the Stadium Superstore and Terrier Store behind it nearer the river (Mon- non-match Sat 9am-5pm, match-day Sat or Sun 9am-kick-off, then for 30mins after final whistle) stock Town's three kits, second choice currently dark blue with a single sky blue/white stripe down one side, third top sea green. 
T-shirts include a Panini-like image of ex-captain and all-time hero, Christopher Schindler.  There's another outlet at the Packhorse Centre (Mon-Sat 9am-5pm) on King Street in town.
Pre-match beers for fans and casual visitors
A number of handy hostelries are lined along Leeds Road. The Peacock is a well maintained traditional local with a range of quality ales, popular with home fans, while The Yorkshire Rose is a spacious pub/restaurant happy to accommodate sensible away fans with cask ales and a range of budget meals. There's plenty of outdoor seating in summer, too. The ground is directly opposite, a five-minute walk across the car parks.
Slightly further away but more specialised for real-ale fans, the award-winning Slubbers Arms is worth the extra trek, a friendly spot with a cosy interior. Close by, Magic Rock Brewing has a huge, comfortable tap room serving the same local beer currently also available at the ground.
In the leisure complex by the stadium, outside the home end turnstiles, The Rope Walk offers steaks, burgers and sport on TV. Always busy of a match day with Town fans. On match days, a family-friendly fan zone operates behind the Magic Rock Stand for home and away fans, serving the beer of the same name. The day's earlier kick-off is broadcast on a large screen.