A fan's guide – the club from early doors to today
Transformed under Jürgen Klopp, 2019 European champions Liverpool FC went on to win the league title for the first time in 30 years. The manner and the margin were staggering. Eighteen points clear of champions Manchester City, the Reds once led by 25, losing only three games all campaign. 
This was a team so supreme, so deserving of that long-awaited league crown, that a repeat in 2020-21 seemed inevitable – until the lynchpin, centre-back Virgil van Dijk, was ruled out with injury from October. Liverpool suffered an unprecedented six consecutive defeats at Anfield but eventually claimed a Champions League berth.
This would lead to another epic Klopp campaign, the Reds chasing a unique quadruple, only to be pipped to the league title by City in the final minutes of the last game. A week later, Klopp's men were then denied the Champions League by the outstretched arms of Real Madrid goalkeeper Thibaut Courtois.
The Champions League triumph of 2019, a 2-0 win over Tottenham, had come after a controversial defeat to Real Madrid at the same stage the year before. At the end of 2019 came Liverpool's first-ever lifting of the World Club Cup. The Reds are back in the domestic and global elite for the first time in 30 years.
The biggest club in the English game until Ferguson's Manchester United came along, Liverpool are all about mass popular support. If the club's story starts in 1892, and the formation of the club after a local dispute with Everton, who headed across Stanley Park to Goodison, their real story started in the 1960s with motivational manager Bill Shankly.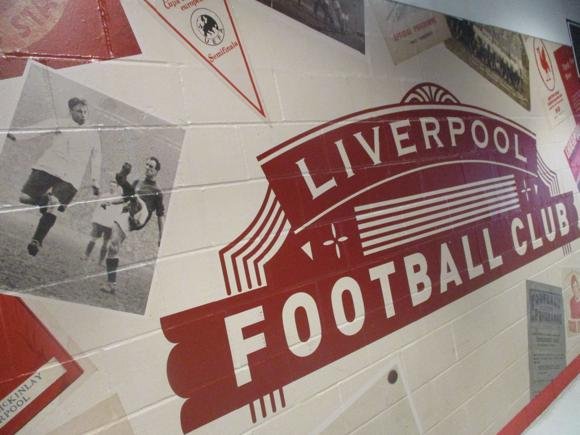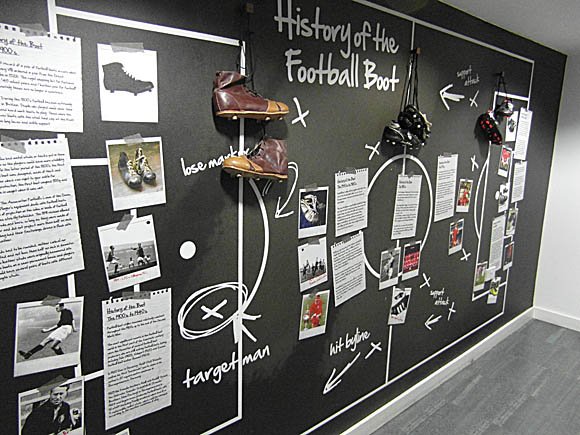 Liverpool had long gained a loyal fan base and a first hero in striker Billy Liddell, who spearheaded the attack in the club's fifth title win of 1947. His 500-game career was slowly winding down when something unwittingly historic happened.
On December 14, 1959, a Monday, ex-Preston half-back Shankly walked in to manage a club festering in the lower flight and recently dumped out of the FA Cup by Worcester City. Mercurial Scot Shankly provided inspiration, coaching associates Bob Paisley and Joe Fagan tactics, communally devised in the soon legendary Boot Room.
Proper training facilities, the all-red kit, the Anfield sign, Shankly's messianic methodology worked wonders. A strong defence backed by Scots centre-half Ron Yeats, and a prolific attack of Roger Hunt and Ian St John saw the Reds win two league titles in the mid-1960s, and come close to European honours. Behind them roared The Kop, and the start of mass modern fan culture.
Shankly retired, savvy protegés Paisley and then Fagan buying wisely (Kevin Keegan, John Toshack and Kenny Dalglish) to go one better and win the European Cup – four times. After a memorable 3-1 over Borussia Mönchengladbach in Rome, the Reds simply dominated Europe, though later finals were poor affairs.
The 1980s also saw tragedy. With Ian Rush scoring the goals, Liverpool were unstoppable in the league but lost their European privileges after the Heysel Stadium disaster at the European Cup final of 1985. In 1989, 97 supporters lost their lives at Hillsborough, before an FA Cup semi-final. The last league title for 30 years was won in 1990.
As Manchester United dominated, a team starring Robbie Fowler, Jamie Carragher, Michael Owen and Steve McManaman – the so-called Spice Boys – came to the fore. Although McManaman left for Real Madrid in 1999, dynamic young midfielder Steven Gerrard was a first-choice player by 2000-01. 
This was the treble season, when manager Gérard Houllier, a former Liverpool teacher, led the Reds to League, FA and UEFA Cups. That European trophy was not only the first for seven years, but won after a simply incredible 5-4 extra-time win over Alavés.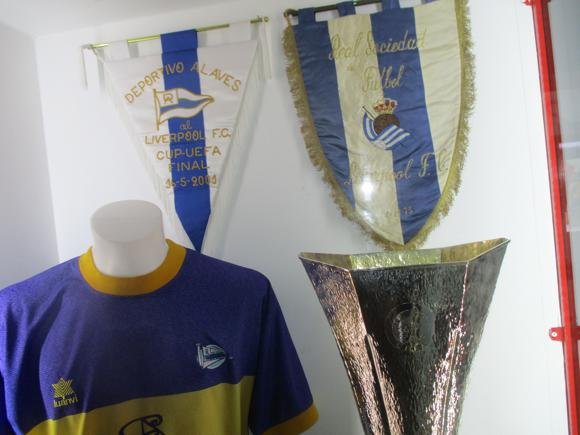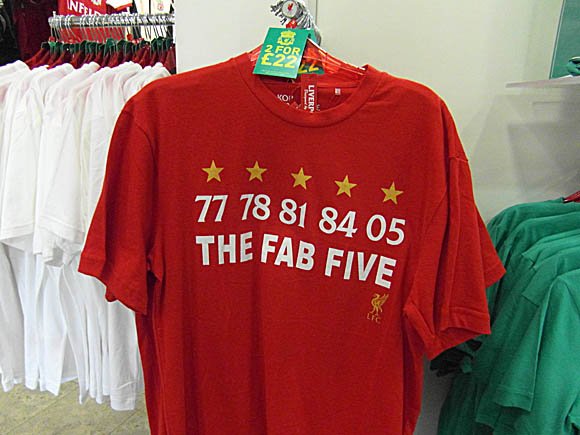 With Houllier bowing out for health reasons, Spaniard Rafa Benítez then arrived for a six-year spell, signing key compatriots Xabi Alonso and Luis García. By now Gerrard was captain and his drive – after a crucial late goal against Olympiakos earlier in the tournament – allowed Liverpool to come back into the 2005 Champions League Final. Trailing AC Milan 3-0 at half-time, and hearing the opposition celebrating in the adjoining dressing room, Liverpool stormed back to bring the game to 3-3, then win the trophy on penalties. 
Milan got their revenge in the final two years later. In between, two-goal Gerrard produced a heroic trophy-winning performance in a memorable FA Cup final against West Ham, his second last-minute strike as dramatic and definitive as almost any seen on such an occasion.
Behind the scenes, financial ruin beckoned. Boston Red Sox owner John W Henry stepped in to take control here in 2010. After the League Cup win of 2012, talk turned to the future of Anfield – and a real Premier League challenge.
With prolific if controversial Uruguayan striker Luis Suárez, incoming Brazilian midfielder Philippe Coutinho and impressive prodigy Raheem Sterling, manager Brendan Rodgers had the talent to win the title in 2013-14. Swift and prolific up front, Suárez and Daniel Sturridge the Premier League's top two scorers, Liverpool were the popular favourites to win the title – not least as 2014 was the 25th anniversary of the Hillsborough disaster.
It wasn't to be. With three games to go, Gerrard's slip against Chelsea was followed by a 3-0 lead surrendered at Crystal Palace. The Reds strolled out at a booming Anfield in the last game of the season against Newcastle knowing that a win would probably not be enough. It wasn't.
After talismanic one-club captain Steven Gerrard trooped off for California, there was a near messianic welcome for Jürgen Klopp. His teams perfect the art of Gegenpressing, a high-speed, high-energy bustle to win the ball back forthwith, then use it, swiftly and effectively. Dull it was not. His motivational touchline charisma echoed Shankly.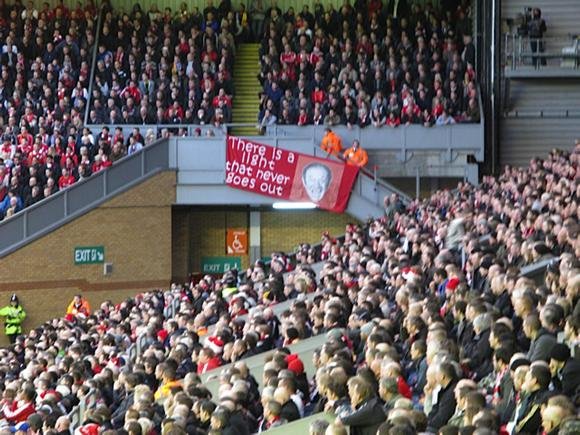 He first led the Reds to two major finals, reaching a Europa League showdown with Sevilla after a heart-stopping win over his old club, Dortmund, 4-3 at an effervescent Anfield. Between the two finals, a verdict of unlawful killing of the 97 Liverpool fans at Hillsborough in 1989, vindicated the 27-year struggle of victims' families for truth and justice.
On the pitch, all clicked in 2017-18, 44 goals in all competitions coming from the irrepressible Mohamed Salah, ably supported by Sadio Mané and Roberto Firmino. Anchored by James Milner and Jordan Henderson, Liverpool could flatten opponents in ten-minute bursts, demonstrated by three memorable victories over previously unbeaten Manchester City.
Scotland left-back Andrew Robertson and England right-back Trent Alexander-Arnold became firmly established at club and international level, while the world's most expensive defender, Virgil van Dijk, arrived halfway through the campaign and a 14-game unbeaten run in the league. It proved a wise buy. 
Goalkeeper Loris Karius then undid a season's solid defensive work with two catastrophic blunders in the Champions League final against Real Madrid, a disgraceful foul by Sergio Ramos on Salah ending the Egyptian's involvement in the game on the half-hour and jeopardising his once-in-a-lifetime participation in the upcoming World Cup.
With Henry investing £115 million in the development of Anfield, now holding 54,000, and £150 million-plus on the select transfers of goalkeeper Alisson and his Brazilian compatriot, midfielder Fabinho, Liverpool kicked into an even higher gear in 2018-19. Unbeaten in the first 20 league games, 17 of them won, the Reds held firm in a crucial Champions League game with Napoli.
The Champions League semi-final with Barcelona, when the Reds reversed a 0-3 scoreline in Spain to beat Messi and co 4-0 at Anfield, was arguably the most impressive performance by any English club in Europe. The all-English final with Spurs proved a dour affair, the game pretty much decided by a Mohamed Salah penalty on two minutes.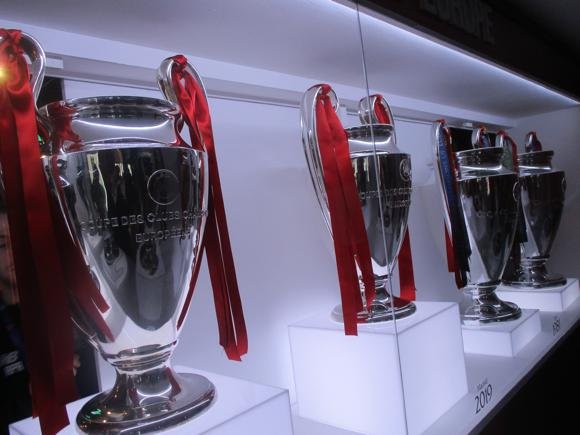 Though Liverpool surrendered their trophy to Atlético Madrid in extra-time at the quarter-final stage, a game controversially played despite the threat of Covid – and a first European defeat at Anfield since 2014 – the Reds powered their way to a memorable league title. Fans gathered outside Anfield to celebrate despite pandemic restrictions.
Winning no trophies in 2020-21, not even the Charity Shield, Klopp's men overcame the absence of key strikers Salah and Mané at the African Cup of Nations to put together a blistering run in 2022. Ten straight league wins, a showcase showdown 2-2 draw at Manchester City and a 22-shot penalty shoot-out win over Chelsea in the League Cup final brought Liverpool within sight of the quadruple.
Another penalty shoot-out win, over Chelsea to win the FA Cup, kept the dream alive. On the dramatic final day of the league season, with City trailing 2-0 to Aston Villa, Liverpool just needed to find a winner against Wolves. By the time it came, Manchester City had struck three times in five minutes.
There was further disappointment in Paris, when an ageing Real Madrid still found a way to beat a dominant Liverpool in the Champions League final. Man of the match Thibaut Courtois kept out goal-bound efforts from Mané and Salah while a rare Real strike on goal settled the tie.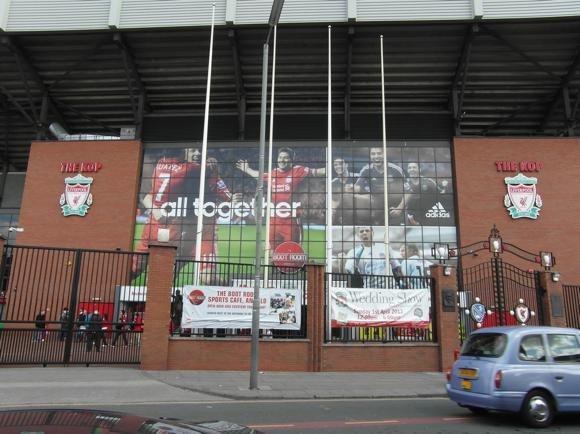 The field of dreams – and the stands around it
It was all change at Anfield in 2016. A £100 million expansion extended capacity to 54,000, 8,000-plus added to the main stand. Further redevelopment to be completed in 2023 should see 7,000 seats added to the Anfield Road end, upping capacity to around 61,000.
Home to Liverpool since Day One, 120 years ago, Anfield originally belonged to Everton. LFC took it over and made it theirs, building new stands either side of the new century. The one along Walton Breck Road was dubbed 'The Spion Kop' by 'Liverpool Echo' journalist Ernest Edwards, referring to a hilly battle in the recent Boer War involving a local regiment. Shorted to 'Kop', this is now not only synonymous with Liverpool, but steep-sided home terraces everywhere.
The Kop earned its reputation during the Shankly era, when the crowd could almost will the ball in, collectively. The man who inspired such belief was later honoured with a set of gates bearing the motto 'You'll Never Walk Alone'. Bob Paisley has been remembered in similar fashion. Shankly also appears in statue form outside.
The Kop houses the Museum & Tour Centre and Anfield Superstore. At the opposite Anfield Road goal is where you'll find the Shankly Gates and Hillsborough Memorial. The Main and Sir Kenny Dalglish Stands hug the sidelines. Away fans are allocated the nearest section of the Anfield Road end to the Main Stand.
Going to the ground – tips and timings
Anfield is served by a frequent Soccerbus service that operates from Sandhills station, two stops on the Merseyrail Northern Line from Liverpool Central. From Liverpool Lime Street, it's one stop on the Wirral Line to Liverpool Central, then change. When buying any rail ticket into Liverpool, a Soccerbus pass can be added for £1.90/single, £3.30/return (kids £1/£1.80). Otherwise, the Soccerbus is £2 single, £3.50 return (kids £1/£1.50). The service is also included in the various day pass tickets on sale in the main Queen Square bus terminus. 
The Soccerbus runs to Walton Breck Road, near the Kop end of the stadium but close to the Main Stand. After the match, there will buses lined up along Walton Lane – head down Anfield Road (at the other end of the Main Stand) towards the King Harry pub.
Stagecoach match-day bus 917 (single from driver £2.10) sets off from St John's Lane near Queen Square and Liverpool Lime Street from 3hrs before kick-off, then at frequent intervals. Other services include bus 17 from stand 6 at Queen Square terminus close to Lime Street that drops off directly behind the Kop on Walton Breck Road. Allow 15mins though traffic will be heavier coming back. From stand 3 at the Liverpool ONE bus hub, the 26 also goes to Anfield, journey time 20min.
A taxi from Lime Street should cost around £8. Post-match, there's a taxi rank right behind The Kop.
The sat nav code for Anfield is L4 0TH. There is no parking available at the stadium on match days and street parking is inadvisable. There's parking along the Anfield Road side of Stanley Park, towards Walton Lane. The closest alternatives include St Domingo car park (L5 0RT) on St Domingo Road, by Walton Breck Road, and on Bullens Road by Goodison Park (L4 5RX).
Buying tickets – when, where, how and how much
Tickets first go on sale to those with Local Membership. Additional Membership is divided into two main categories, Full (UK £36, Europe £41, World £45) and Light (£27 for all), strangely with the same benefits in terms of ticket allocation. In July and November, a minimum of 10,000 tickets are offered for sale for each home league game to Additional Members, preference given to those with a previous purchase history. Tickets also become available around two weeks before each game.
Local, then general, sale then take place about a week before each match, according to availability. All sales are online. For general sales, you must register.
For all ticket enquiries, email the club or call 0151 264 2500 (Mon-Fri 10am-4pm). On match days, the ticket office windows are open from between 8.15am and 10.15am, until half-time.
Ticket prices start at £37 in a corner of the Kop, rising to £59 for the best seats in the Main Stand. A decent spot in the sideline Sir Kenny Dalglish Stand is £57. Over-65s are charged around £10-£15 less in each area of the ground, under-22s ('young adults') around half-price, under-17s ('juniors') £9 across the board.
Away fans in the Anfield Road Stand are charged a flat £30 (£22.50/£15/£9). Note that restricted view seats offered at a very modest discount can mean just that.
The club has its own hospitality packages, including a ticket in the Anfield Road Stand and catering at specific bars, pubs and hotels either within the stadium or around the city. These include the nearby Sandon pub, Aintree racecourse and the Hilton Hotel. Minimum price is around £200.
For LFC fans outside the UK, particularly those in Ireland, Donegal-based Champions Travel (074 912 3882, outside Ireland add +353 and delete the 0) also offers packages (€400-€600) including a hotel stay and a match ticket.
Shirts, kits, merchandise and gifts
The Anfield Superstore (Mon-Fri 9.30am-5.30pm, Sat 9am-5.30pm, Sun 11am-4pm, extended hours on match days) behind The Kop contains a vast video wall, seats from the original Main Stand and a VIP area with signed and rare merchandise. No fewer than 20 shirt-printing stations allow you to have your name stamped on the famous red shirt, for 2021-22 with Romaesque orange trim.
Retro shirts show the strange range of club sponsors down the ages, Crown Paints, Hitachi and Candy, Italian domestic appliances of all things.
There are also two city-centre outlets, at 11 Williamson Square (Mon-Sat 9am-5.30pm, Sun 11am-4pm, hours extended on match days and day before) near Queen Square bus station and huge store at Liverpool ONE shopping centre (Mon-Fri 10am-8pm, Sat 10am-7pm, Sun 11am-5pm).
Explore the club inside and out
The Liverpool FC Story museum can be visited on its own (£10, seniors/students £8, under-16s accompanied by a paying adult, £6) or as part of various stadium tours. Enter through a tight, dark, heavy Spion Kop turnstile to emerge in a red sea of LFC history. Featured exhibits present the stories of 'King' Billy Liddell, Shankly, Paisley, Anfield and The Kop, not forgetting that night in Istanbul. 
Also on display are the six European Cups and memorabilia donated by Steven Gerrard. A 40-minute multimedia presentation by Phil Thompson guides you through.
A visit can be combined with the LFC Stadium Tour (£23, seniors/students £18, under-16s accompanied by a paying adult, £14), guided by a local – if you get Lenny, expect a few laughs – or by an 11-language multimedia handset (including Arabic, Mandarin, Thai and Indonesian). Tours take in both dressing rooms, the press area, the players' tunnel and dug-out, and finish in The Kop. Tours (45min) can also be taken on a match day or accompanied with a 1hr Q&A session by a former club legend (£50, seniors/students £40, under-16s accompanied by a paying adult, £40).
The entrance is by the Superstore behind the Kop. The tour and/or museum visit finishes at the Boot Room Café, where you can muse on the history of the football boot display while tucking into a steak or salad. It's VIP-only on match days.
Pre-match beers for fans and casual visitors
The Sandon Hotel 200 yards from the The Kop on Walton Breck Road, is where LFC were founded by John Goulding in 1892. Previously, the hotel was the home of Everton, whose team would change here before playing at Anfield. Today the pub is home to the Spirit of Shankly fan group, who successfully helped remove American owners George Gillett and Tom Hicks. It's an official LFC match-day pub, so very much home fans only.
Right behind The Kop, The Albert and The Park are other options for a pre-match sing-song amid LFC (and opposition) memorabilia left by visitors. Note the Shankly mural in the back yard of The Park.
For away fans, the prime choice is Arkles, on the corner of Anfield Road and Arkles Road. It's bright and lively pub, with plenty of screens and memorabilia dotted about – and often queues on match days. Further down Anfield Road, away from the stadium at the junction with Walton Breck Road, the The Flat Iron is an excellent alternative. A building the shape of a cheese-spread triangle like its namesake in New York, this one is filled with paraphernalia from Liverpool and Ireland, related to LFC, music and the Titanic. The back room, backdropped by another Shankly mural, offers a little privacy.
At the ground, the Boot Room Café and the Carlsberg Dugout are VIP/hospitality-only on match days. The Kop Bar opens to screen Liverpool away games.