A fan's guide – the club from early doors to today
In Manchester's trendy Northern Quarter,  a huge firewall mural captured the moment, at 93:20 minutes dead, that changed everything. May 13, 2012,  Manchester City v QPR, Etihad Stadium. Sergio Agüero has just kept his head so that 47,435 people in the stadium could lose theirs. A second goal in stoppage time and the revered Argentine strips off his sky-blue shirt in celebration. 
Forty-four years after their last title, four years after their takeover by the Abu Dhabi Group, City had not only won the league, they had prevented silverware-laden rivals Manchester United from adding yet another trophy. 
Between that iconic 3-2 reversal and this urban artwork being unveiled, City would raise six league trophies in just over a decade, the triumph of 2021 Agüero's last. A week after he posed for the press before his own vast image, the cameras caught this deft goal machine crying on the pitch, an era over. 
Pep Guardiola's side had failed to break down a resilient Chelsea team and claim Europe's elusive top prize. For all the billions of petrodollars poured into this ambitious, transformative, global project centred around the Etihad in east Manchester, 2021 was City's first Champions League final. 
There wouldn't be another in 2022 either, City folding to a preposterously dramatic late turnaround by Real Madrid in the semi-final. The league was a different story, although City themselves left it awfully late to hit three late goals in five minutes and reverse a 2-0 lead taken by Aston Villa on the last day of the season. It wasn't quite Agüeroesque but it certainly had Pep in tears.
Then in 2022-23 came the treble, as a star-laden City added a goal machine by the name of Erling Haaland to the supergroup. For a while Arsenal challenged for the league title, Manchester United showed glimpses in the FA Cup final and inter came awfully close to an equaliser in the Champions League final – but the ultimate prize was always going to go City's way sooner or later.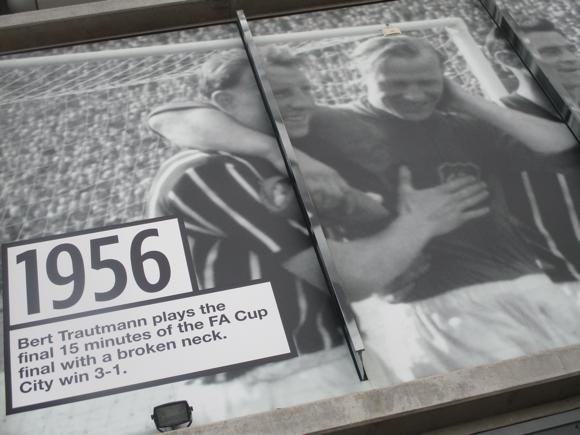 Pre-2008, City were a club of eternal promise – and reckless spending. The Sky Blues first enjoyed success in the mid 1930s, scoring over 100 goals to win their first title in 1937; and the mid 1950s, using tactics devised by deep-lying centre-forward Don Revie.
The savvy managerial duo of Joe Mercer and Malcolm Allison arrived at a low point in 1965. Buying Colin Bell and Mike Summerbee, they steered City to a Second Division title in their first season and, shortly, significant silverware.
City beat Matt Busby's Manchester United and Don Revie's Leeds to take the league title in 1968, winning the cup a year later and the Cup-Winners' Cup, and League Cup, the following year.
Allison would return ten years later but became one of several big-name, high-spending managers – Alan Ball, Kevin Keegan, Sven-Göran Eriksson – who promised much but couldn't deliver consistency.
Equally, Mark Hughes, the manager in place when the Abu Dhabi United Group arrived, wasn't able to conjure the best from £32.5 million Brazilian star Robinho. Another big spend brought in Carlos Tévez and Gareth Barry but City still trailed the big boys and Hughes was replaced by Mancini.
In his first full season, 2010-11, Mancini gained an FA Cup and Champions League spot, David Silva showing game-changing skills as he was moved from the wing into attacking creator. This was never better illustrated than the following season, and City's devastating 6-1 demolition of Manchester United. A much tighter win, 1-0, over their local rivals set up City for an unlikely shot at the title, claimed in that decisive last game against QPR thanks to those two stoppage-time goals by Edin Džeko and Sergio Agüero.
Chilean coach Manuel Pellegrini, outstanding at Villarreal and Málaga, then created a new-look, Latin-flavoured flair team to deliver results at home and abroad – with mixed results. City claimed the 2014 title after leaders Liverpool fell away but European form remained disappointing.
Old hands Yaya Touré and Vincent Kompany each had a decisive role in the League Cup win of 2016, the Ivorian converting the crucial spot-kick in the shoot-out with Liverpool, the Belgian as captain. Months later, yet another Kompany injury cost City dear as he limped out early during a Champions League semi-final at Real Madrid.
Surprisingly, Pep Guardiola fared no better in his first season, 2016-17, City run ragged by Monaco in the Champions League. Several signings later – most notably goalkeeper Ederson and full-back Kyle Walker – and the defence was shored up  Up front, the already established Kevin De Bruyne, Raheem Sterling and Leroy Sané shone with confidence. Yet key to the 2017-18 league triumph were still Silva and Agüero. For 2018-19, Silva and City hit top gear, Leroy Sané too. An astonishing goal difference of +79 said it all.
Silva bowed out after yet another disappointing European performance, defeat to Lyon in 2020, and it's easy to forget how badly City stumbled early in the 2020-21 domestic campaign. An awesome 15-game winning streak then saw them canter ahead of the pack. Significantly, the players' player of the season turned out not to be stellar youngster Phil Foden but motivational centre-back Rúben Dias, a £60 million-plus signing that September. City were the league's top scorers – yet their own top scorer, İlkay Gündoğan, barely notched double figures. 
This was a finely honed machine of a team. It certainly proved too slick for Paris Saint-Germain in the semi-final of the Champions League, earning City a first European final for 51 years. In truth, they blew it, the lack of defensive cover leaving the pitch wide open for Chelsea's winning goal in Porto. But with Foden barely 22, De Bruyne at his peak and Dias arguably the world's most outstanding defender, they would always be back soon. After all, there was always £100 million Jack Grealish to bring off the bench…
City had brushed aside RB Leipzig, Bayern and Real in the run to the Istanbul final, and few outside Milan or south-west Manchester fancied Inter's chances against a treble-seeking City. Though the Italians came close to a late equaliser, City always had the upper hand. Now Guardiola's task is to motivate his side once more.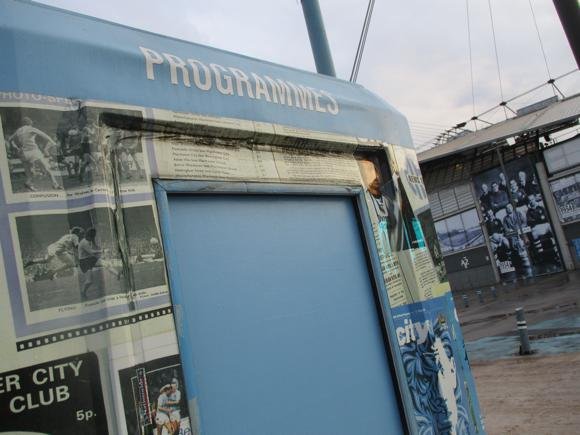 The field of dreams – and the story behind it
The Etihad Stadium, once also known as the City of Manchester Stadium or Eastlands, was built to host the Commonwealth Games of 2002.
It was transformed into a football stadium a year later, Manchester City moving from their much-loved Maine Road in Moss Side. City's home for 80 years from 1923, in its day Maine Road could hold 80,000-plus but its later development proved expensive and divergent.
Part of a SportCity complex of velodrome, squash hall and smaller stadium in the east of town, the arena cost owners Manchester City Council £20 million plus to convert for their long-term tenants. The Sky Blues matched that sum to install catering and corporate facilities. Around the outside, the Etihad features signature masts and cables, surrounding award-winning, elevated turf within.
Imaginative touches include personal quotes from fans ('My first City game was…') displayed around City Square, the fan zone of food and drink outlets, live entertainment, TV replays and post-match interviews.
The four stands comprise East (gates R-X) and Colin Bell West (C-J) along the sidelines. The east side of the South Stand (K-P) hosts visiting supporters behind that goal, squeezed close to home fans. Accessed from Joe Mercer Way, the North Stand (A-B, Y-Z) is where you'll find City Square and the CityStore.
An additional tier in the South Stand has pushed capacity to 55,000, with a potential 6,000 more should the North Stand be similarly extended.
Going to the ground – tips and timings
Manchester's efficient Metrolink tram runs to the Etihad Campus, the stop nearest the stadium, on lines B and E. Trains leave leave every 6-12min, tickets £3 off-peak return. From Piccadilly station, it's three stops and 6min to Etihad Campus.
The sat nav code for the Etihad Stadium is M11 3FF. There are various parking options, including Metrolink Park & Ride stations at Ashton West and Ashton Moss, on the same line as Etihad Campus seven/eight stops away. There's also parking (£8/£10) from three hours before kick-off at Blue Car Park G & H at the stadium, via Gate 2 on Alan Turing Way. Residents also offer random match-day parking in surrounding streets for a fiver. On non-match days, parking is free in the Blue Car Park.
Getting away after the game is frequently congested, for buses as well as cars. The stadium is also a 25min walk from Manchester Piccadilly, well lit and signposted.
Buying tickets – when, where, how and how much
With average attendances for 2018-19 close to capacity, availability is an issue for most league games. Priority for tickets on general sale is given to Cityzens Matchday members (£35/year), who also receive a £5 discount per match and various other reductions.
For the earlier rounds of the cups, tickets are also available in person from the office (Mon-Fri 9am-5.30pm, match days until 15mins after kick-off) above the City Store behind the North Stand in City Square.
Prices range from £35 to £65, with average admission for a lesser opposition around £36-£38. A sideline seat close to the action in the East or West Stands is £46. For an adult £36 seat, prices are discounted for over-65s and 18-21s at £26 and for under-18s, £16. Under-5s are admitted free. The top whack seat at £65 is only discounted for under-18s, £35. Away fans are charged £30, over-65s/18-21s £20, under-18s £15.
Rates drop for the early rounds of the cups.
Shirts, kits, merchandise and gifts
In City Square, the two-level CityStore (Mon-Sat 9am-6pm, Sun 10am-4pm) behind the North stand stocks everything sky blue, with a few retro shirts from past triumphs thrown in, such as the red-and-black stripes from 1969 and maroon with thin white stripes from 1956. 
Unusual souvenirs include a City-branded Rubik's Cube and a jigsaw showing that Agüero celebration from 2012. 
For the post-treble season of 2023-24, City have reverted to a refreshingly simple sky blue, an illustration of the stadium within the V-neck collar at the back, a hidden nod to the 20th anniversary of the Etihad. Second kit feels very Roma '84, with a maroon winged collar and copper tinge to the badge. Third choice isn't great: black with sky-blue lightning bolts.
Explore the ground inside and out
The club offers two types of tour, one of the stadium (£25, 18-21s/over-65s £17, under-18s £15, under-5s free), and one of the stadium and the academy (£35, £26, £23.50). New features include a press conference with a virtual Pep and the City story screened in a 360-degree cinema. Check availability on 0161 444 1894 (option 1, option 1, option 3) or by emailing tours@mancity.com. Tours start from the first floor of the City Store behind the North Stand.
Pre-match beers for fans and casual visitors
Outside the ground, the main spot for City fans is Mary D's Beamish Bar (13 Grey Mare Lane), the other side of Ashton New Road from the stadium, a former Labour Party social club with two large halls, a stage and a lifesize Marilyn Monroe in City colours. On busy match days, machines pour multiple pints in seconds. During the week, enjoy a game of snooker surrounded by memorabilia – note the pic of the Gallaghers in their 1990s' Oasis pomp in brother-sponsored City shirts.
Away fans without colours might be best drinking at The Townley (31 Albert Street), further away from the stadium in the same direction, equally lined with City iconography, walls and ceiling.
At the stadium, outlets line the City Square fan zone behind the North Stand, including the Star Bar, Summerbee Bar, Blue Moon Café, and so on. If you haven't eaten already – perhaps at the
Maine Road Chippy across from the ground on Ashton New Road – then there's the celebrated corned-beef hash on offer at City Square too.