A fan's guide – the club from early doors to today
Emerging from the ashes of Stevenage Athletic in 1976, Stevenage FC have done it the hard way. First shut out from the town's main football ground, then refused entry to the Football League because this same stadium wasn't suitable, 'Boro' managed to join League Two in 2010. Two years later Stevenage were a play-off away from a place in the Championship after holding Tottenham to a draw in the FA Cup.
Since becalmed back in League Two, Stevenage are currently looking to recover after their disastrous campaign of 2019-20, reprieved from relegation out of the League altogether.
The first Stevenage FC, formed in the 1890s, begat Stevenage Town, who begat Stevenage Athletic in 1968. These clubs, representing a modest village then a post-war New Town, remained non-league. Town reached the Southern League Premier in 1967 but soon imploded with the financial demands of the semi-professional game.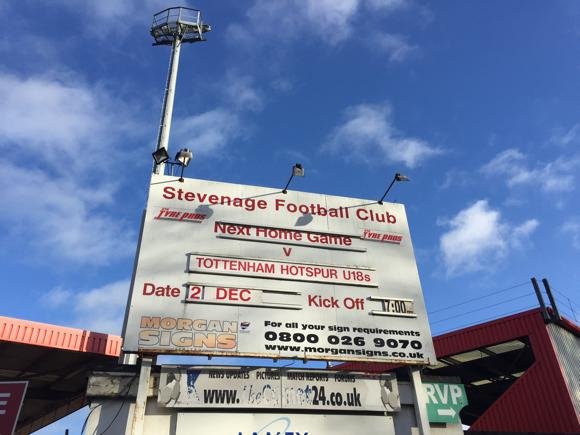 The one constant in this turnover of clubs was Broadhall Way, opened in 1961, first the ground for Stevenage Town then Stevenage Athletic. When Athletic folded and Stevenage FC were formed, those in charge of the new club had counted on Broadhall Way to provide home turf.
Sadly there was little left of it. The stadium leaseholder had deliberately ruined the surface so that the newcomers couldn't use it. In desperation, the club turned to the local council, who set up a park pitch where local football had been played in the early days, on King George V Field.
Grateful for this humble beginning, Stevenage FC became Stevenage Borough in recognition of the lifeline provided by the local authority. On the red-and-white shirts also worn by their predecessors, the new club bore the municipal coat of arms. Borough then went in to do battle in the Wallspan Southern Combination against the reserve teams of Isthmian League clubs.
The club gained senior status when the council regained the lease to Broadhall Way in 1980. Climbing up the United Counties League, then Isthmian divisions, Stevenage proved nearly invincible at fortress Broadhall.
Behind this rise was Paul Fairclough, former manager of Hertford Town, who had taken over at Stevenage in 1990. In 1994, he found a rare talent in Barry Hayles, a young striker then playing at Willesden Hawkeye.
For three years, the later Fulham star and Jamaican international scored in every other game for Stevenage, taking the club into the Conference Premier. Responsible for nearly a third of Borough's 100-plus goals, in 1995-96 Hayles shot the club to the Conference title, and automatic promotion to the Football League.
It had been 20-year journey from park pitch to Division Three – but one blocked by the League authorities, unconvinced that Broadhall Way was suitable to accommodate the likes of Fulham, Wigan and Swansea.
Soon losing Hayles, Stevenage went back to the drawing board, planning out ground improvements as they took their frustrations out on the FA Cup. First beating Leyton Orient then losing to Birmingham, Boro progressed again the following year, coming up against Alan Shearer's Newcastle. Rebuffing arrogant demands to stage the tie at St James' Park, Fairclough's Borough overcame an early Shearer goal to strike back with a header by Giuliano Grazioli. The replay had further drama when an acrobatic Stevenage clearance was deemed to have crossed the line. Part-time Stevenage bowed out 2-1.
Fast forward 13 years and Boro gained revenge, a 3-1 victory over Newcastle the club's first against top-tier opposition.
In between, of course, Stevenage had become a Football League side, led there by manager Graham Westley in his second spell at the club. First taking Borough to the Conference play-off final in 2005, the former Wycombe striker returned in 2008, bringing in his own players as he had done five years before.
It was Westley who made teenage winger George Boyd an impact substitute in 2003-04, though his switch to striker would reap more rewards and ultimately two Scottish caps. Boyd paired up with the prolific Steve Morison in 2006-07, a deadly combination that helped Borough win the FA Trophy in front of 53,000 at Wembley.
Morison was still there, and still scoring, when Westley returned, the striker's Stevenage farewell a goal and man-of-the-match performance in the FA Trophy win of 2009.
With Morison sold to Millwall, Borough consolidated around a solid defence in the seminal campaign of 2009-10. An unbeaten run of 17 games continued into December – by season's end, Stevenage had conceded just 24 goals and lost five times. It won Westley's side the Conference title and hallowed accession to the Football League.
Dropping 'Borough' from the club name, Stevenage FC first struggled in League Two but recovered to put together another winning run in 2011 – coinciding with that satisfying FA Cup win over Newcastle. The turnaround in league form took Boro to a play-off final with Torquay, where a powerful strike from John Mousinho gained Stevenage promotion at first attempt.
Play-off form continued into League One, Boro brushing aside Bournemouth and Sheffield Wednesday with ease. In mid-season, Westley was poached by Preston, and it was Gary Smith who took Stevenage into a glamour FA Cup tie with Spurs. Drawing 0-0 at Broadhall Way, Boro took an early lead at White Hart Lane, then fell to a Jermain Defoe brace.
Smith steered Stevenage into a play-off slot, Boro aiming for a third straight promotion. It wasn't to be. Shut out by Sheffield United at the now renamed Lamex Stadium, Stevenage succumbed to a late winner at Bramall Lane.
Having come within five minutes and one match of a place in the Championship, Stevenage still sparked early in 2012-13, but then slumped. Westley was brought back but to no avail. Relegation in 2014 coincided with the departure of promising youngster Luke Freeman.
Bowing out after a dramatic play-off defeat to Southend, a late penalty miss leading to extra-time defeat, Westley gave way to a disastrous eight months under Teddy Sheringham. His replacement Darren Sarll showed promise, as did ex-Stevenage striker, Dino Maamria, who came after him, but to no avail. First Matt Godden, then Kurtis Guthrie, scored enough goals to take Boro into a play-off place but it wasn't to be.
Only the demise of Bury and financial transgressions of Macclesfield saved Stevenage from dropping out of the League entirely in 2020. Mediocre campaigns in 2020-21 and 2021-22 were an improvement by comparison.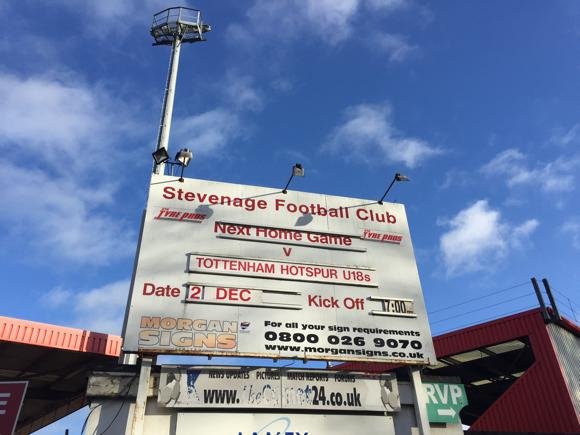 The field of dreams – and the stands around it
Surrounded by greenery, with Knebworth Park a 2min drive, Broadhall Way (aka Lamex Stadium) is an out-of-town ground with a nearby retail park – but not in the post-Taylor sense.
The Lamex still has the intimate feel of Boro's non-league days back in the 1990s. The main difference are the floodlights, a fairly recent addition, and the North Stand, an all-seated affair opened in December 2019 and raising capacity to 7,300. Opposite, the South Stand is the neat away end built after the Football League refused Stevenage entry despite the Conference title win of 1996. Visiting supporters access via gates 17-19.
The Main Stand is also smart, singled-tiered and running the length of one sideline. Opposite, the old-school East Terrace features a row of bright red crush barriers and gabled clock. The most vocal Stevenage support, drums and all, gathers here.
The stadium has also used by Tottenham for under-21 and under-18 games.
Going to the stadium – tips and timings
The ground is a mile south of Stevenage train/bus stations, just the wrong side of an easy stroll, all confusing roundabouts and superstores.
A match-day shuttle bus (£1 return) sets off to the stadium from both the train and bus stations. For a Saturday 3pm kick-off, it leaves Stand K at Stevenage bus station at 15-20min intervals then calls at stop N outside the train station, taking 10mins to reach the ground. Four services then depart from behind the North Terrace, up to 6.30pm, after the final whistle. Buses for evening games run at 25-30min intervals.
Arriva also runs regular timetabled services 4 and 5 from the bus station in town bound for Monk's Wood Stevenage FC about 20 stops/15-20mins away. If you're coming in by train, the bus station is a 5min walk towards the town centre. Weekdays, buses 4 and 5 run every 15mins each, every 30mins after 6pm, every 1hr after 7pm. On Saturdays, it's every 20mins, Sundays every 1hr.
The sat nav code for the Lamex Stadium is SG2 8RH. There's free match-day parking for 500 cars at the Fairlands Valley car park (SG2 8QJ) north of the ground, accessed by a pedestrian underpass and signposted from junction 7 of the A1. Parking at the nearby retail park is restricted on match days and fines are severe.
Buying tickets – when, where, how and how much
Advance tickets are sold from the club shop (currently Thur-Fri 10am-5pm) behind the Main Stand. Online purchases are available up until kick-off, either as a QR code or print-at-home option. Match-day purchases are possible for home and away fans, with a £2 levy across the board in each price/age category.
Paying in advance, it's £18 for a place in the East Stand terrace, £22 for a seat everywhere else. Discounted rates for seniors are £15/£20, under-18s pay £10/£14, under-12s £5/£8.
Shirts, kits, merchandise and gifts
Behind the Main Stand, the modest club shop (currently Thur-Fri 10am-5pm, match days) stocks home (top third red, bottom two-thirds white) and away shirts (top third yellow, bottom two-thirds black), as well as third-choice lilac.
The Boro bear appears on coffee mugs and in mascot form, the club badge on baseball caps, badges and keyrings.
Pre-match beers for fans and casual visitors
Apart from the chain venues at the retail park, there are no outlets in the immediate vicinity of the Lamex.
A 8-10min walk down London Road, just after the junction with Hertford Road, the Roebuck Inn is a handy find, a hotel in historic surrounds with real ale served in the cosy bar. Well behaved away fans welcome. Slightly closer, Our Mutual Friend also caters to both sets of fans, with well kept ales, TV sport and a pool table. You'll find it on via Broadhall Way – pedestrianised pavement on the stadium side of the main road forks off before the Esso garage, where you veer right onto Broadwater Crescent. The pub's just behind.
At the ground, the Broadhall Suite at the corner of the South and East Stands opens 3hrs before kick-off, home and away fans welcome most match days. Packed immediately pre-match, it's still serves Guinness, San Miguel and Tetley's pretty swiftly. There's TV football, too.