The field of dreams – and the story behind it
England has Twickenham, Scotland Murrayfield and Wales the Millennium Stadium. New Zealand has Eden Park. The home of the world's most celebrated sporting XV has staged rugby matches since the early 1900s, and cricket not long afterwards.
International test matches were regular fixtures here in both sports, followed by World Cups in both codes of rugby and cricket. This is New Zealand's showcase arena near the centre of its largest city.
So where does soccer come into the picture? All too rarely is the answer, until the Women's World Cup of 2023, when nine games will be played here. These include the tournament's curtain-raiser as hosts New Zealand face Norway, America's opener against Vietnam and closing group match with Portugal, a quarter-final and a semi-final.
The national side, nicknamed the Football Ferns, had a run-out at Eden Park in January 2023, a comprehensive 5-0 defeat by USA in front of 12,721. New Zealand's men's team used the stadium in September 2022 for their friendly against Australia, if such a thing exists, their trans-Tasman rivalry bringing nearly 35,000 to Eden Park but the All Whites seem more at home at North Harbour Stadium, Mount Smart Stadium or down in Wellington.
Capacity at Eden Park for the Women's World Cup is officially given as 40,536, although it can probably hold closer to 50,000. Prime seats are in the covered, three-tiered North and South Stands lining the long sidelines. Both the West and East Stands behind each goal are open to the elements.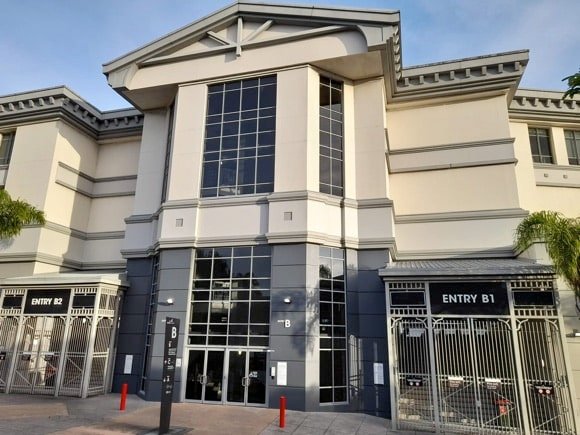 Going to the stadium – tips and timings
Part of Auckland city transport, orange AirportLink buses run every 10mins to nearby Puhinui station (journey time 15-20mins) that connects with train lines into the city centre (overall fee NZ$5.80). Eden Park is beside Kingsland station on the green Western line, via Newmarket on the red Southern line from Puhinui.
Kingsland is located near Walters Road that runs parallel to the North Stand, nearest the Fan Experience Area during the Women's World Cup.
Public transport requires use of an AT HOP charge card. At Auckland Airport, you'll find a machine by the AirportLink bus stop outside Door 4 of the domestic terminal, minimum initial top-up NZ$20 plus the NZ$5 card fee.
Note that travel on public transport is free for match-ticket holders on the day itself during the Women's World Cup.
For a cab, call Auckland Co-op Taxis (+64 9 300 3000).
Pre-match beers for fans and casual visitors
Pubs and restaurants line main New North Road, close to Kingsland station and Walters Road behind Eden Park's North Stand. Citizen Park, an all-purpose establishment with a garden bar, live sports, craft beer and healthy poke bowls.
Diagonally opposite, the Portland Public House feels more local while offering superior platters and original cocktails. Live music is another feature.
Closest to the station and stadium, The Kingslander prioritises sport on big screens, offers specials from its capable kitchen seven days a week, plus DJs and live acts at weekends.
If you're here with the family for the Women's World Cup, leave time to enjoy the fun in the Fan Experience Area behind the North Stand.