The field of dreams – and the story behind it
Replacing a venerable rugby ground with a modern one mainly used for the same purpose, the Waikato Stadium was opened in 2002 with a curtain-raising match featuring Hamilton's main exponents of the oval ball, the Chiefs. 
Ten years later, the team won their first Super Rugby title here in front of 25,000 fans, successfully defending it the following season, again before a packed stadium, although the ground had been somewhat overlooked for the Rugby World Cup shortly before, staging only three games.
For the two soccer tournaments co-hosted here, the Women's U-17 World Cup won by North Korea in 2008 and the men's U-20 World Cup of 2015, the Waikato played a more prominent role. One of two quarter-finals here, USA's 4-2 win over South Korea drew a crowd of over 7,000, one goal scored by Gotham's Kristie Mewla, in the squad for the upcoming senior event. 
The Waikato saw plenty of action seven years later, witnessing several group games and two knock-out fixtures, both involving Portugal.
For the five group games here this time round, remember that most of the Waikato Stadium is uncovered, with roofing only over the seats at the far back of the Brian Perry and WEL Network Stands running along each sideline. 
With a 40% chance of rain in July, it may be worth taking precautions. The Goal Line Terrace at the north end is completely open to the elements, as is the Green Zone Embankment opposite.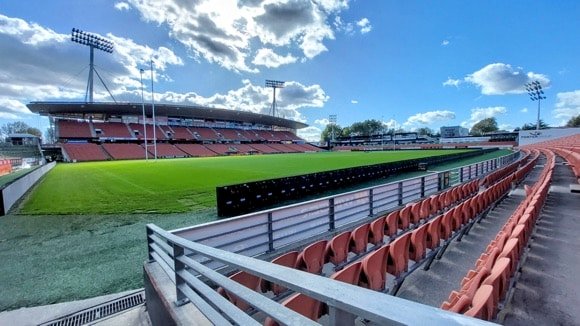 Going to the stadium – tips and timings
Hamilton Transport Centre is on the north-western edge of the city centre, around 1km from Waikato Stadium further north-west. Match-ticket holders can use Hamilton's bus services free of charge on match days during the Women's World Cup. The standard cash fare in the central zone is NZ$3 or it's NZ$1 with a top-up Bee Card.
The stadium is on the hourly 9 bus route from Hamilton Transport Centre (3 stops from platform T to 127 Seddon Road opp FMG Stadium). There's a free shuttle service from the Fan Festival on July 22 and another on every match day from around the Central Business District (CBD) – just flag one down. Walking from the city centre to the stadium shouldn't take more than 15mins.
Pre-match beers for fans and casual visitors
Within easy reach of the stadium, Speight's Ale House, a short walk away on Liverpool Street, is the Hamilton branch of the Dunedin-based brewery in business since 1876. Expect a full range of its ales plus superior pub grub best devoured on the covered terrace. TV sport, too.
At the stadium, the Waikato Rugby Supporters' Club bar should be open to all. It's contactless payment only at all stadium outlets.